1.
A pack of AirPod cleaners because you wanna clearly hear your true crime podcast. Squish the flexible square into your AirPod speaker, peel it off, and gasp in horror at the ear goop that's been dulling the sound quality.
Promising review: "I never usually write reviews but this is an exception. I've had my AirPods for over a year and when the sound quality was diminishing, I was afraid they had a short life expectancy and I would need to get a new pair! Even after using cotton buds to clean the AirPods out, I thought that was enough until my friend said there's stuff built up and hard to see, but there was nothing able to get it out! Enter this product — it literally took five minutes to clean each ear bud effectively and instantly the sound quality was as good as new! Loud, clear, less trouble connecting to my phone, etc. I really suggest giving this product. You don't need a full square to clean them, so you can pull a piece off or reuse a square with a side you haven't used! SO happy I found a solution!" —Amazon Customer
Get 24 from Amazon for $15.99.
2.
An immunity-boosting allergy supplement so dogs with skin sensitivities can just exist without scratching themselves until they bleed. These soft chews deliver a dose of probiotics and other nutrients to help improve immune function, aide digestion, promote healthy skin, and add shine to a dog's coat.
Promising review: "Absolutely the best product. It saved my itchy goldendoodle! We tried changing food, Benadryl, medicated shampoo, fish oil, everything you can imagine... nothing worked long-term. He was itching his face so badly he would make himself bleed. Had sores and scabs all over his face and neck. I bought these because they had good reviews and I was desperate. It changed his life! He no longer scratches AT ALL! His coat looks great and all of his sores are healed. He's the happiest he's been which makes me a very happy momma. He is also very picky and never eats treats... he eats these every time so that's an added bonus!" —Darcie Nation
Get them from Amazon for $26.97.
3.
A pack of dishwasher cleaning tablets to clean your machine as it runs. No need to sigh in frustration every time you open your dirty dishwasher to remove your "clean" dishes.
Promising review: "I rarely post reviews, but this stuff has completely changed our lives. Our dishwasher, utensils, plates, and glasses were covered with dry scale and nothing we tried came close to helping. After using the tablets three times our dishwasher looks like new; our glasses are sparkling like fine china and everything else looks fabulous. Highly recommend, worth every penny, best product BY FAR!!! One great advantage is you can use it with your dishes. Some other products are used to clean the dishwasher but not to clean dishes and glasses. Buy this, you will be blown away!!! It is astounding!" —Jenny
Get a pack of six tablets from Amazon for $8.99.
4.
A reparative K-beauty snail mucin essence for rejuvenating your face, lightening hyperpigmentation, and prepping your skin so it's ready to drink up all the benefits of your moisturizer.
Promising review: "This stuff is incredible. I have suffered from minor acne for almost two years and I finally realized the products I was using were far too harsh for my dry, sensitive skin. After using gentle products and eventually moving onto K beauty, I found this to lighten all the scarring from the years of picking at my breakouts. My scarring is still a bit noticeable but it was gotten tremendously better thanks to this product and this product alone." —Marc

Get it from Amazon for $19.46.
5.
A silverware sorter if you cringe every time you open the drawer and see your forks, knives, and spoons spilling out of their tray.
Promising review: "Wish I would have had this years ago! After years of struggling to keep my one small utensil drawer organized and failing, this organizer has done the job. It doubles the amount of silverware storage space and frees up half of my drawer for larger serving spoons and such. I love it." —Janet Celender
Get it on Amazon for $9.99+ (available in three colors).
6.
An electrical outlet cover with a power strip that'll hide cluttered cords stat. It's also pretty great if you want to push your furniture right up against the wall but can't because your phone charger adapter is in the way.
Promising review: "I have an outlet above our mantel that's meant for a wall-mounted TV. We have a large painting covering it. We wanted to use the plug to power two Wi-Fi speakers on the long mantle. The thinness of the plug is perfect behind the painting. The power strip is hidden by a mantle clock. So, we have our two speakers to either side and no visible wires. This product may not work for every application, but for us, it's 10 stars." —Chashum
Get it from Amazon for $23.95+ (available in three lengths and seven styles).
7.
A teeth-whitening pen because it's a heck of a lot quicker (and tastes a lot better) than those irritating whitening strips that slip and slide all over your teeth. You can use each pen ~20 times and should expect your teeth to lighten four to eight shades.
Promising review: "I was hesitant to try a new teeth-whitening product after using harsh whitening strips that caused pain and lingering sensitivity. But, as a coffee and red wine drinker, I wanted to find a solution. This teeth whitening pen is terrific. Easy to use, works well and does not have the downside of either the strips or the $450 option at the dentist. I also really love this product since whitening my front teeth is the objective. It is a great value as I anticipate the two pens that are included will last one year. I will definitely buy this again and am very happy to recommend it." —Rebecca Shehee
Get a two-pack from Amazon for $19.99.
8.
A bleach-free, no-scrub weekly shower spray so soap scum and shower grime buildup goes bye bye without you ever having to wipe. Rinse it clean the next day, and you'll be amazed to see those hard water stains on your shower door are *poof* gone.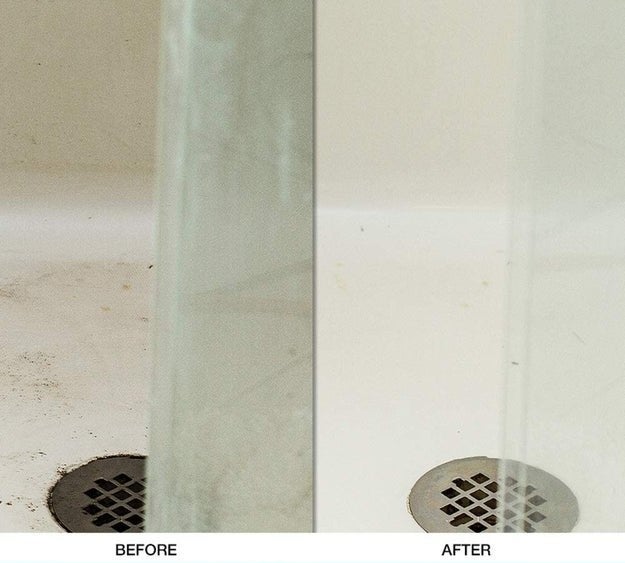 Promising review: "We cannot BEGIN to tell you what a lifesaver this is! We have two old fiberglass tubs with vinyl shower enclosures that no matter what amount of scrubbing we have done with everything from bleach to cleanser to vinegar and baking soda would NOT come clean. After I took my shower last night, I sprayed down the tub and walls. Within minutes, all the built-up water deposits and dirt and grime began to melt away in front of my eyes. I left it on overnight, and when I got up this morning, it did not look like the same tub and shower. This product is a godsend, especially for old folks like us who have difficulty getting down on our hands and knees and scrubbing anything. More importantly, it performs as advertised. This is truly an overnight sensation!" —Amazon Customer
Get it from Amazon for $19.98.
9.
A vegan exfoliating body scrub to slough away the rough bumps on the back of your arms and legs (keratosis pilaris is its name but you may have heard it called "strawberry skin" or "chicken skin") with a combination of powerful alpha-hydroxy acids.
Promising review: "Amazing product! I've suffered with KP on my arms for 15 years and nothing helped. This product didn't just help, it completely cleared it away! I noticed a big difference after just one use, and after a month of using it two times a week, my arms are smooth. I'm so excited! This product has changed my life!" —Sherrie Ruiz
Get it from Amazon for $12+ (available in three sizes). 
10.
A bottle of professional grade callus-removing gel for dissolving hard dead skin in literal minutes. (Seriously, reviewers say you should only let it sit for two to three minutes!) Then, give it a good scrub with a foot file and your heels will be baby bottom smooth.
Promising review: "This stuff truly works. I would go to the nail salon and get my feet done only to have cracked feet two weeks later. This stuff is the real deal. Now I only go to the nail salon for a polish change. 10/10 would recommend. Feet feel soft and it gave me my confidence back! Thank you for a really good product that works!" —kyle causey
Get it from Amazon for $13.87.
11.
A pet hair remover if you're tired of getting fur all over your clothes. Roll it over your couch, bed, favorite blanket, you name it, and watch it lift the fur away. See, we can own nice things!!
Promising review: "This thing is basically the best ever. I have four rescue cats of my own and often I have a foster cat as well, so I get hair all over my stuff. This takes care of it quick and easy, and can be used on floors and jeans for super easy removal. My sister came over a few weeks ago and found it in my bedroom. She immediately grabbed it and asked all about it. I told her to give it a try (my current foster cat sleeps at the end of my bed and makes a huge mess), so she did a quick stripe through the worst of the fur and literally gasped. She is now obsessed and even talks to random strangers about it. She 'ChomChom'd' my entire bedroom because she found it so enthralling and fun and has had several of her friends purchase them. I've had mine since 2017 and it is still working as well as when I first bought it. I use it pretty quick and rough, so I am surprised it help up so well!!!" —Leena

Get it from Amazon for $28.95.
12.
A box of cleaning K-Cups that'll get rid of residue in your machine and prevent flavors from transferring in just one cycle. Or have fun descaling it multiple times. Your choice!
Promising review: "Wow, we were surprised at how well this cleans our machine! Been using vinegar but saw this and wanted to try it. Cleans so much better! No more vinegar, this stuff is great. Love the cups. So convenient. First cup of coffee after cleaning tasted so fresh." —JAC
Get a box of six pods from Amazon for $9.95.
13.
A Glossier cream blush because you're tired of applying blush and looking like a clown. This blendable, buildable formula gives you a beautiful and natural-looking flush of color. Apply it with your fingers for a stunning glow.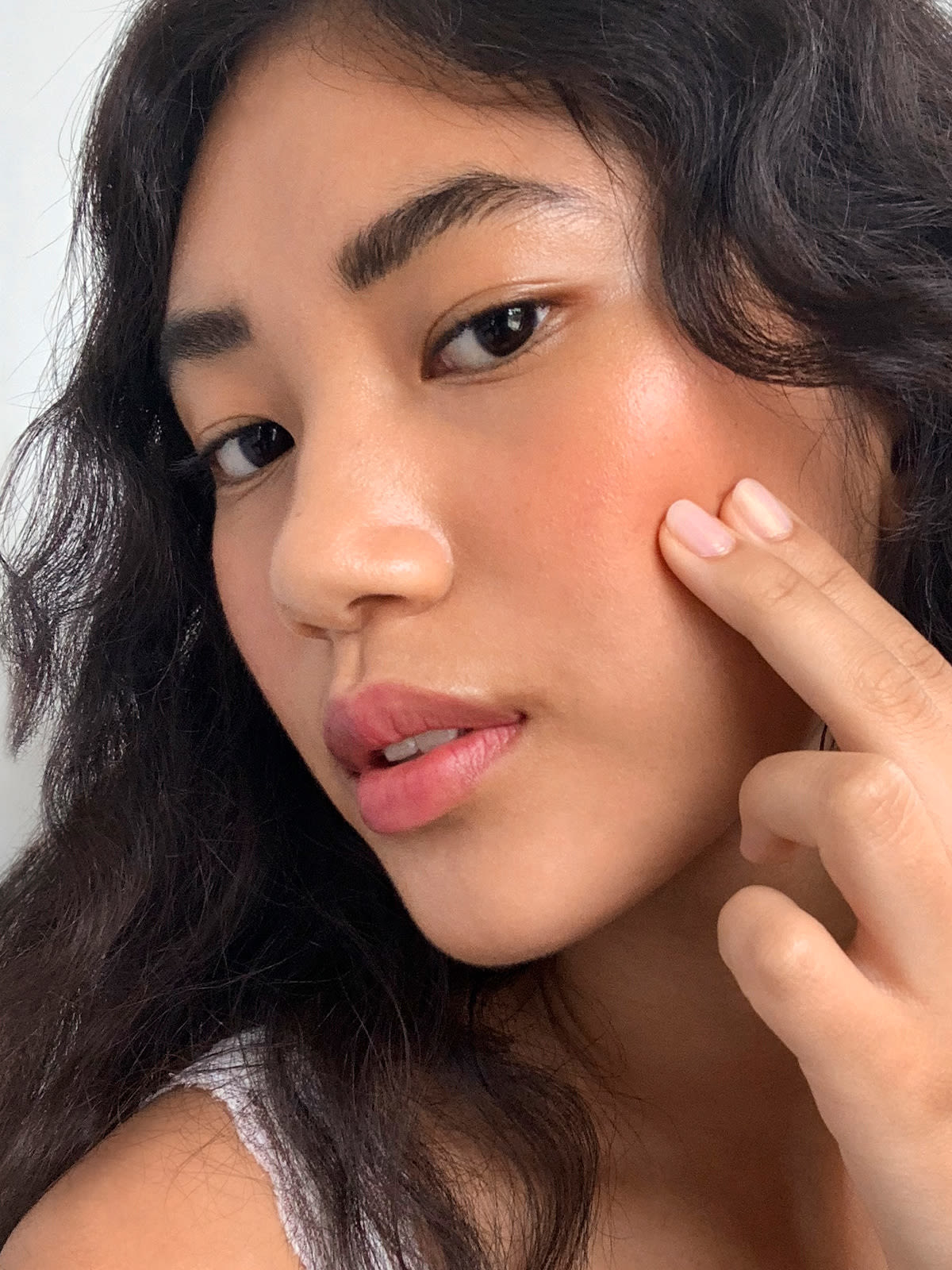 Promising review: "I really love this product!! I don't like makeup, but with Glossier I really like the natural, fresh look it gives! Cloud Paint is exactly as advertised. But do really use only a very tiny dot for both cheeks, otherwise you'll look like a clown. Once you've figured the right amount and how to apply it, it looks very nice and natural. I am not going back to my usual blush from the pharmacy!" —Marie-Annick
Get it from Glossier for $20 (available in eight shades).
14.
A TikTok-famous pink cleaning paste so you can restore your walls and dressers when your little ones go Baby Picasso on your furniture with a permanent marker.
Promising review: "I ran my self-cleaning cycle on my oven and forgot to remove the racks, which resulted in blackened, ruined racks that no cleaning products could even touch. New racks were nearly impossible to find for my 15-year-old wall oven and were about $300 for replacements. With The Pink Stuff and black grill scrubbing pads I was able to clean them to look nearly new for about $15. If this is the only thing I'd ever used this for, it has paid for itself 18 times over. I have used it to detail my refrigerator, the interior of two ovens, my cast-iron stove grates, my dishwasher, my grout and my under-cabinet light covers in the greasy kitchen. I even used it to clean the ring off the bathtub where I attempted to clean my oven racks unsuccessfully. It is slightly abrasive but I just made sure my cleaning cloth was more wet and less product. It worked perfectly for everything. I would use on walls but only in small areas and make sure to use very little and you have a soppy cloth. It arrived in perfect condition. It's a paste consistency and is perfect for just about everything! I'm $300 worth of happy." —KD

Get it from Amazon for $9.99.