1.
A mold and mildew remover so finally — finally! — those unsightly black splotches on your tile grout dissolve, never to be seen again. Just set it, forget it, and come back in a few hours to see grout that looks like new. I'm talking basically every speck of black mold is gone! *Cues up "Do You Believe in Magic"*
Promising review: "The words won't do it justice. I had this little bottle for over a year before I finally used it. What a mistake! I should've used it immediately! We have a small leak in our shower, which leads to a lot of built-up mold and mildew. I had tried everything else — commercial cleaners, even — and nothing touched it. Then I came across the little bottle I had bought over a year earlier and had pushed to the back of the cabinet, and I thought, 'What have I got to lose?' IT CLEANED ALL THE BLACK GUNK OUT OF MY SHOWER! I can't say enough good about it. I will buy more and keep some on hand, at least until we can get this leak fixed. What a lifesaver." —REMayRicks
Get it from Amazon for $13.99.
2.
An ear treatment to clean your poor pet's ears of buildup and prevent inflammation and irritation. These ear drops are designed to protect against a variety of fungal and bacterial infections, like yeast and staph infections.
Promising review: "My dog has had chronic ear infections for years now. Every other month or so she'd get an infection and $200 later we'd have meds from the vet who confirmed what we already knew. I finally decided to give an unprescribed treatment a try and it worked AMAZINGLY. Followed the instructions for a week, and her ear is completely healed! Much easier to pay $20 as opposed to $200 when you get the same results! I highly recommend." —Fromal16
Get it from Amazon for $23.79+ (available in two sizes).
3.
A drill brush kit with three different heads if you gave up on baths a long time ago because getting your tub sparkly clean didn't feel possible. No more furiously scrubbing your tub; instead, just attach the brush head and flip the switch on your drill. Why work harder when you could work smarter?
Drillbrush is a small business started by Anthony LaPolla, a former electrician who opened a car wash. Tony suffered from carpal tunnel so he created a device that would allow him to clean car rims without the painful strain caused by hand-washing — and thus the Drillbrush was born.

Promising review: "If I could give it 10 stars I would. If you have a tile shower that is the bane of your existence like mine...you need these! They clean what no human hands can in half the time. Still hard work to use but way better then the old fashioned way!" —jennifer
Get it from Amazon for $17.95+ (available in soft, medium, stiff, and ultra stiff bristles and six colors).
4.
A pumice cleaning stone for powering through tough rust, lime, and calcium streaks you have to explain to your S.O. are not poop stains — you swear! Give your tired arms a break and let this little guy scrub away discoloration with ease. This non-toxic cleaner is tough on dirt but gentle on porcelain so you can sit atop the glistening throne you deserve.
Promising review: "I have very hard water that leaves hard-water buildup and nasty stains. It's embarrassing to have guests over because the toilets are so gross! I have tried so many products and cleaning solutions — from natural essential oils to harsh chemicals so strong I was lightheaded for the rest of the day. Well, I tried out this pumice stone after reading about it in a BuzzFeed article, and honestly the hype is real! It does take some elbow grease, but the after picture is from only 20 minutes of scrubbing, light enough that I didn't break a sweat! The stone does get used up, but I think this one should last me a couple years at least. So if you have embarrassing toilets, try this!" —Stephanie Ray
Get it from Amazon for $11.99+ (available in two sizes)
5.
A teeth-whitening pen because it's a heck of a lot quicker (and tastes a lot better) than those irritating whitening strips that slip and slide all over your teeth. You can use each pen ~20 times and should expect your teeth to lighten four to eight shades.
Promising review: "I was hesitant to try a new teeth-whitening product after using harsh whitening strips that caused pain and lingering sensitivity. But, as a coffee and red wine drinker, I wanted to find a solution. This teeth whitening pen is terrific. Easy to use, works well, and does not have the downside of either the strips or the $450 option at the dentist. I also really love this product since whitening my front teeth is the objective. It is a great value as I anticipate the two pens that are included will last one year. I will definitely buy this again and am very happy to recommend it." —Rebecca Shehee
Get a two-pack from Amazon for $15.99+ (available in two sizes).
6.
A pack of shelf dividers that'll organize your clothes into neat and distinct piles. These dividers provide stability for soft clothes that tend to fall over into one big pile of mess.
7.
A bleach-free, no-scrub weekly shower spray so soap scum and shower grime buildup goes bye bye without you ever having to wipe. Rinse it clean the next day, and you'll be amazed to see those hard water stains on your shower door are *poof* gone.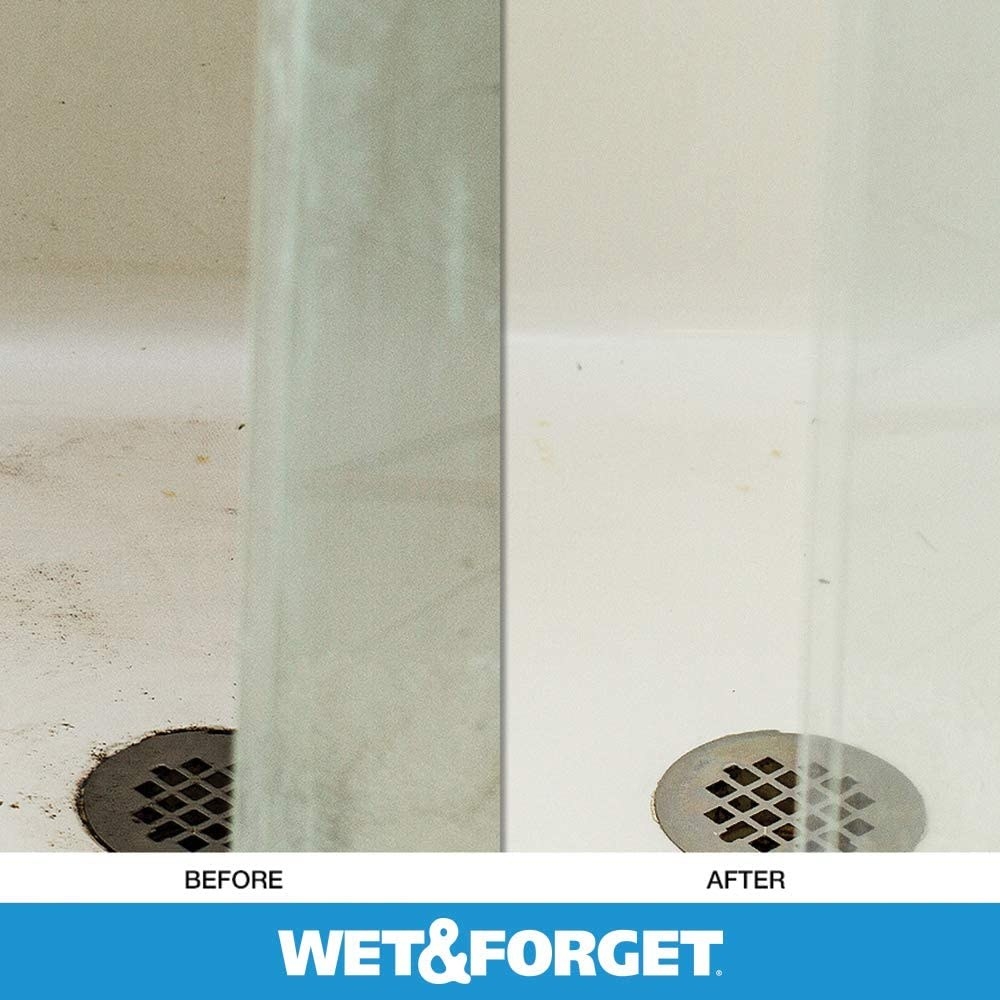 Promising review: "We cannot BEGIN to tell you what a lifesaver this is! We have two old fiberglass tubs with vinyl shower enclosures that no matter what amount of scrubbing we have done with everything from bleach to cleanser to vinegar and baking soda would NOT come clean. After I took my shower last night, I sprayed down the tub and walls. Within minutes, all the built-up water deposits and dirt and grime began to melt away in front of my eyes. I left it on overnight, and when I got up this morning, it did not look like the same tub and shower. This product is a godsend, especially for old folks like us who have difficulty getting down on our hands and knees and scrubbing anything. More importantly, it performs as advertised. We plan on using it as part of our weekly cleanup routine, in addition to purchasing the Wet and Forget Mold and Mildew Remover for use on the vinyl siding of our house. This is truly an overnight sensation!" —Amazon Customer
Get it from Amazon for $19.54+ (available in two sizes and two scents).
8.
Some stain-removing tablets to lift spills, set-in stains, and all the other mess you've made. Toss one in with a regular load and your whites will emerge dramatically whiter.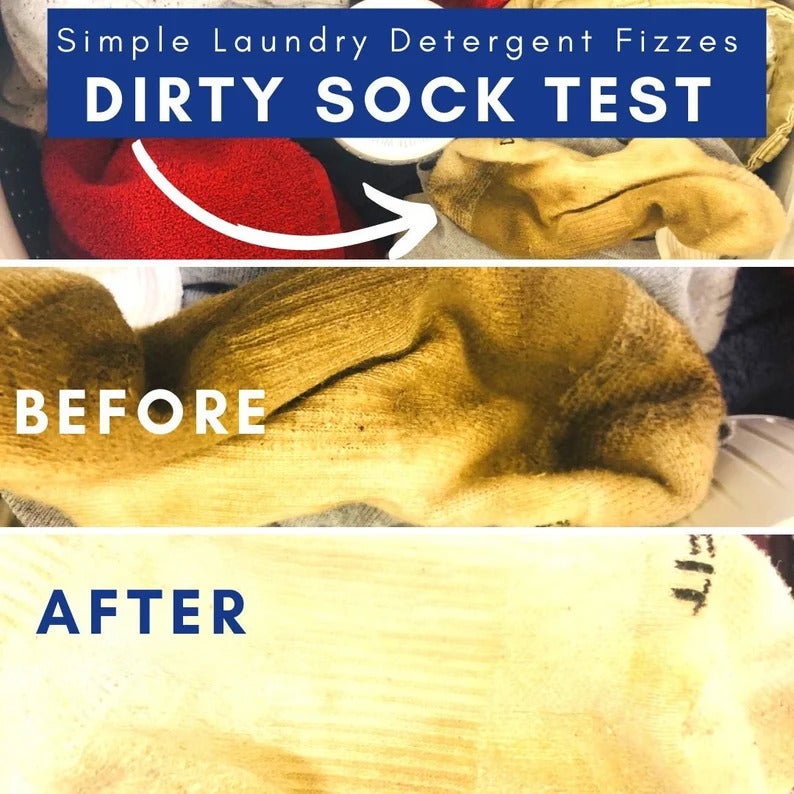 The Fizz Whiz is a small business based in Brandon, Florida.
Promising review: "Washed my clothes and they came out very clean. I put my sneakers in the wash and they were very gross. They came out so clean that they almost looked new. Will buy again, and recommend." —Daniel Law
Get 50 tablets from The Fizz Whiz on Etsy for $16.
9.
A collagen-coating hair treatment if your dry, damaged, and overprocessed strands could use a little TLC. This reparative five-minute hair mask will revive your mane and leave it soft, silky, and smooth.
Promising review: "My hair used to be really soft, and then I discovered hot tools and hair dye. While my hair looks good I really missed the soft texture. This works so well. There are no instructions on the box but I washed my hair with my usual shampoo, towel dried it, worked about two quarter-sized dollops through my hair, let it sit for 20 minutes and then rinsed out. I went to bed with wet hair which usually results in my hair being kind of tangled and rough-looking but I woke up and my hair was as soft and silky as it was before I started coloring it. I'm totally in love with this product, I have long fine hair but this doesn't leave it greasy or weigh it down. I'll definitely buy again." —Ellie

Get it from Amazon for $7.62+ (available in two sizes).
Read our Elizavecca CER-100 Collagen Coating Hair Protein Treatment review to learn more about why my colleague calls it, "the miracle product I've been searching for."
10.
A wall-mounted retractable clothes rack for anyone who lacks a dryer or a lot of extra space. Each rack can hold up to 60 pounds, making it a great drying rack or extra storage for winter clothes in the garage.
Promising reviews: "MUCH better than the foldable floor type. It doesn't fold up and fall over like the other one we had did all the time. It stays out of the way and holds a lot of wet clothes for easy drying. VERY sturdy." —Elizabeth Duff
"I love it! I use it in my laundry room. It's so much better than the conventional clothes rack!" —KAREN J.
Get a rack from Amazon for $36.99+ (available in five colors).
11.
A pack of stain-removing pads because owning a pet is messy business — fortunately these pads can handle 'em. Pee? Check! Poop? Check! Vomit? Check! (You can even use them to clean up your wine spills.)
Promising review: "Our poor older pup started having some incontinence issues and had several accidents in the house. I was really frustrated until I found these. They work amazingly well. They're small, so if the area was larger I had to use two or three, but they pulled up stains and saved the house from being smelly. I even used one on an older stain (that I'm pretty sure wasn't pet related) and it came up after leaving it on for about 24 hours. I make sure to keep a supply of these in the house at all times now." —MC
Get a pack of 20 from Amazon for $27.49.