1.
A collagen-coating hair treatment if your dry, damaged, and overprocessed strands could use a little TLC. This reparative five-minute hair mask will revive your mane and leave it soft, silky, and smooth.
Promising review: "My hair used to be really soft, and then I discovered hot tools and hair dye. While my hair looks good I really missed the soft texture. This works so well. There are no instructions on the box but I washed my hair with my usual shampoo, towel dried it, worked about two quarter-sized dollops through my hair, let it sit for 20 minutes and then rinsed out. I went to bed with wet hair which usually results in my hair being kind of tangled and rough-looking but I woke up and my hair was as soft and silky as it was before I started coloring it. I'm totally in love with this product, I have long fine hair but this doesn't leave it greasy or weigh it down. I'll definitely buy again." —Ellie

Get it from Amazon for $7.48.
Read our Elizavecca CER-100 Collagen Coating Hair Protein Treatment review to learn more about why my colleague calls it, "the miracle product I've been searching for."
2.
A Bissell Little Green machine because your living room looks like you're running a doggy daycare out of it. This portable upholstery and carpet cleaner cleans deeply, penetrating household fabrics and even car interiors to erase any sign of your pet's accidents.
Promising review: "Two months ago we got an 6-month-old puppy who has needed some time to get adjusted. That included more than a few accidents in our living room and on his bed. This machine has made clean up of everything so much simpler and I love that it's deep cleaning and has a nontoxic pet cleaner so that our not-so-little puppy can isn't harmed through exposure or smells. Also helpful since my teenage sons like to camp out on the couch with their friends on long weekends and our couch gets that fresh clean smell in an hour." —Kindle Customer
Get it from Amazon for $123.59.
3.
A bottle of professional grade callus-removing gel for dissolving hard dead skin in literal minutes. (Seriously, reviewers say you should only let it sit for two to three minutes!) Then, give it a good scrub with a foot file and your heels will be baby bottom smooth.
Promising review: "This is the most amazing product for rough feet ever! I have had rough heels for years….no matter what I did I could never truly repair it. I actually had open cracks that hurt so much. After I had read reviews and ordered I spent the two days before it arrived with bandages and Neosporin covering my worst crack. So glad I got it healed up. I soaked for 10 minutes…applied the gel very sparingly…I didn't have gloves so I just wrapped a sandwich bag over a couple of fingers to apply…within five minutes I was ready to use the file I got. Oh my word!! The amount of ick that came off…..incredible! I cannot recall my feet ever feeling this amazing! I'll do it again in a couple of days to try and get the little bit that's left. I cannot recommend this product enough!! Worth every single penny!!" —Famwee
Get it from Amazon for $14.49.
4.
A lawn repair formula that'll regrow the grass so you have something to mow this summer. It's designed to reverse scorch marks from pet urine, damage from digging, and wear in high traffic areas.
Promising review: "I have lacrosse players and dogs and this stuff is amazing. My yard looked like an abandoned lot before this and it literally 'grew anywhere' just like it said. The bag I planted last year actually came back strong this year so I put more down and it is working like a dream!" —chchmom
Get it from Amazon for $16.44+ (available in five sizes).
5.
Some aesthetic highlighters so you can reward yourself for studying — you deserve it!

Promising review: "I am absolutely in love!! The shape of the highlighter itself makes it so easily glide over the paper. Super smooth. The colors are sooooo beautiful! It's not often where what you see is truly what you get. I am very satisfied :)" —Sung Han

Get a six-pack from Amazon for $7.99 (available in two color combinations).
6.
A shea butter–infused cream-to-powder E.l.f. multi-stick to replace your blush, lipstick, *and* eyeshadow. It'll melt into your skin like an absolute dream, giving you the perfect pop of color.

Promising review: "Never liked blush until now. I've tried so hard to wear blush but it always looked wrong on me, no matter what color or brand. I got [Glistening Peach] a pink color that is so subtle it's almost imperceptible but it does something. I can put it on in seconds with no mirror and it will still look good." —Wednesday

Get it from Amazon for $4+ (available in five shades).
7.
A set of kid-safe plastic knives if your tiny sous chef always wants to help with dinner — and now they can! 
Watch a kiddo chop up green peppers like a pro using this knife on TikTok.
PSA: children should still be supervised while using these knives!
Promising review: "These are really nice knives. They cut well through a lot of different foods (apples, carrots, watermelon and chicken). They have a nice grip with the different sizes. We are starting to let our 4-year-old cut things in the kitchen and this made it so much safer. I can run the blade over my hand and not get cut. Don't get me wrong you could still cut yourself with it, but it takes a lot more pressure to do so. Very happy with these starter knives for my child." —Em
Get a set of three from Amazon for $9.95 (available in two color combinations).
8.
A teeth-whitening pen because it's a heck of a lot quicker (and tastes a lot better) than those irritating whitening strips that slip and slide all over your teeth. You can use each pen ~20 times and should expect your teeth to lighten 4–8 shades.
Promising review: "I was hesitant to try a new teeth-whitening product after using harsh whitening strips that caused pain and lingering sensitivity. But, as a coffee and red wine drinker, I wanted to find a solution. This teeth whitening pen is terrific. Easy to use, works well and does not have the downside of either the strips or the $450 option at the dentist. I also really love this product since whitening my front teeth is the objective. It is a great value as I anticipate the two pens that are included will last one year. I will definitely buy this again and am very happy to recommend it." —Rebecca Shehee
Get a two-pack from Amazon for $19.99.
9.
A seamless bodysuit for offering support and smoothing whether you want to wear it under something else or on its own as a top. 

Some reviewers say the bodysuit is comparable to the Skims versions.
Promising review: "I am obsessed. I got the thong Shapewear for a comfy daily shapewear and forget I am even wearing it. The shapewear offers excellent support on my double d chest as well. I will definitely be buying more. The thong does ride up on me but I do not mind it as all thong bodysuits do that. I will definitely look into buying a few brief versions for my time of month and more comfort with clothing that requires no hiding panty lines. I also bought the post surgery shapewear and really enjoyed it but had to return as I had arm lipo and felt it was pushing everything towards my arms. I wish they made a version with long sleeves. For those that have no concern of arms and post surgery, I loved the way it stinched me in in my tummy area and the comfort under my clothes." —Zoka
Get it from Amazon for $34.19+ (available in women's sizes XXS–5XL and seven colors/styles).
10.
A magnetic screen door that'll not only let in the cool spring breeze air (while keeping *out* the buggies), but will also prevent you from having to let your dog go out every 10 minutes. Why is it that dogs stand at the door and bark until you let them out only to bark at the door asking to come back in 30 seconds later???

Promising review: "We got this screen so our dog can go in and out freely without letting the bugs in. At first he wasn't quite sure about going through it; in fact he scratched at it signaling us to open it for him. But after a few training treats he figured it out. Installation was so easy! The Velcro, fabric, and mesh all seem very good quality. I'm also happy that we can take down the screen in the winter and store away easily, then just reattach it in the spring. Very happy with my purchase!" —Crystal K

Get it from Amazon for $26.99.
11.
A bleach-free, no-scrub weekly shower spray so soap scum and shower grime buildup goes bye bye without you ever having to wipe. Rinse it clean the next day, and you'll be amazed to see those hard water stains on your shower door are *poof* gone.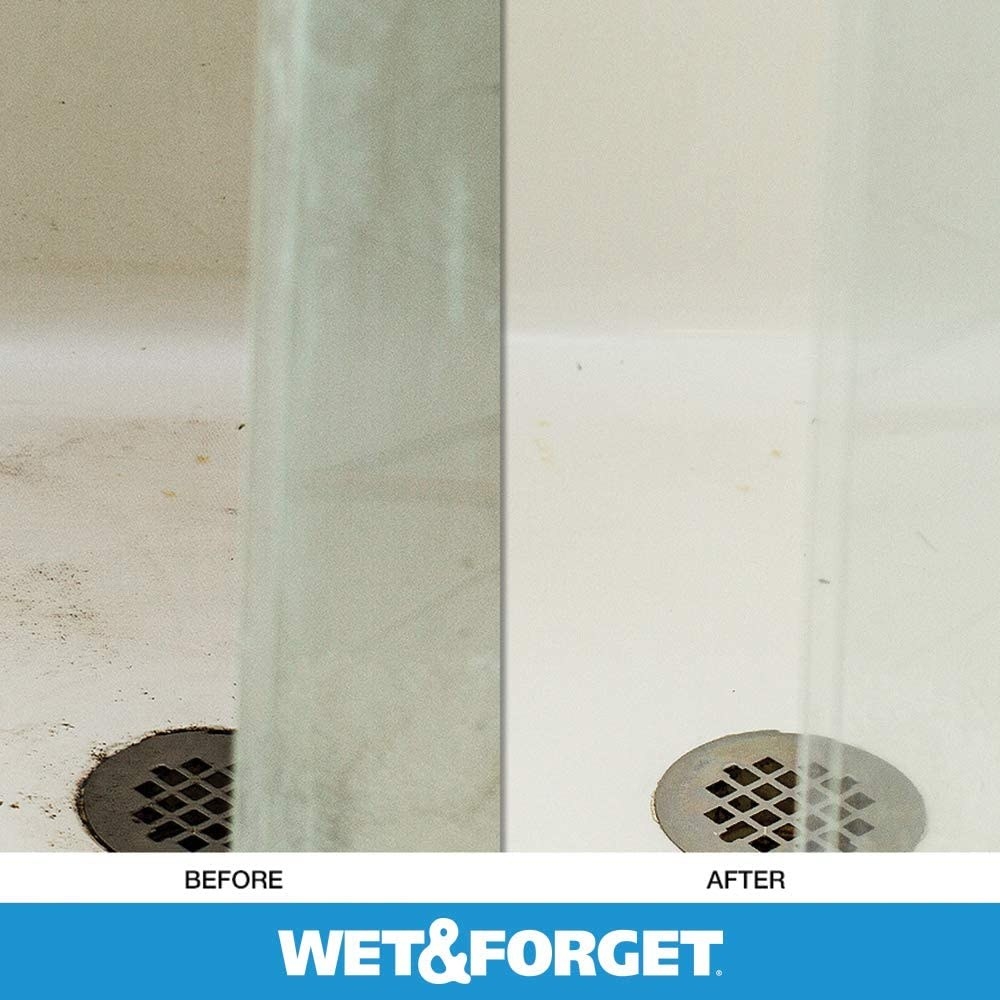 Promising review: "We cannot BEGIN to tell you what a lifesaver this is! We have two old fiberglass tubs with vinyl shower enclosures that no matter what amount of scrubbing we have done with everything from bleach to cleanser to vinegar and baking soda would NOT come clean. After I took my shower last night, I sprayed down the tub and walls. Within minutes, all the built-up water deposits and dirt and grime began to melt away in front of my eyes. I left it on overnight, and when I got up this morning, it did not look like the same tub and shower. This product is a godsend, especially for old folks like us who have difficulty getting down on our hands and knees and scrubbing anything. More importantly, it performs as advertised. We plan on using it as part of our weekly cleanup routine. This is truly an overnight sensation!" —Amazon Customer
Get it from Amazon for $20.52 (available in two scents).

12.
An inflatable pool to make your sunny dreams of relaxing in a pool with a glass of sweet tea a reality — even if you have a small backyard.
Promising review: "We love our little pool! We set up the laptop with a movie and relax. The seat offers extra comfort. All of our kids are grown and gone. We bought this for us. We put a canopy with screen over it to keep out any kind of debris from the trees. We have a small filter in it to keep it clean and ready for cooling off." —merryl
Get it from Amazon for $49.99.
13.
A pet hair remover if you're tired of getting fur all over your clothes. Roll it over your couch, bed, favorite blanket, you name it, and watch it lift the fur away. See, we can own nice things!!
Promising review: "If I could give this product six stars, I would. My husband and I use it almost every day. We have three furry dogs and six fluffy cats, which makes for A LOT of hair. We were using a lint roller before we bought our ChomChom Roller. The lint roller didn't work very well and had to be replaced. We have had our ChomChom Roller for months and it still works just as well as it did when we first got it. We can actually invite our friends over now without worrying about all the pet hair." —Morgan Willis
Get it from Amazon for $24.99 (clip the $5 off coupon for this price!).
14.
A standing weeder because the worst part of gardening is having to kneel for hours plucking weeds. My back hurts just thinking about it! Thankfully, this tool has three steel claws that grip weeds and roots so you can pull them out while standing.
Grampa's Gardenware Co. is an Oregon-based, family-owned small business.

Made with a bamboo handle and powder-coated steel, it uses a simple lever system to made weeding easy.
Promising review: "Oh my god, I friggin' love this tool. I bought this on a whim given we bought our first house and know nothing about caring for a yard. Boy has it come in handy. Our new house had a ton of weeds in the front yard and this tool helped me get most of them out in no time. In fact, the process of yanking out the weed was strangely satisfying! I don't think anyone can say that weeding is fun but this tool made it as close to fun as you can get, especially when you see a long root along with the weed you pulled." —JG
Get it on Amazon for $39.99.
15.
A pill organizer for helping you consistently take your meds — whether you're on vacation or just extremely forgetful.

Promising review: "I love this cute little folding pill box! Perfectly compact and discreet for travel! It stays closed nice and tight and doesn't pop open by itself. I love that it's folded closed so if it's left on the countertop or if you have to go through your luggage in a public place, all your business isn't out on display (we've all been there, am I right?!) I also like the different-sized compartments to fit all of my various vitamins, including my chewable gummy vitamins. It's very sleek, stylish, and would make a great gift for someone who's about to go on a trip! Great price too! Buy it!" —Lea
Get it from Amazon for $6.85+ (available in two sizes and various colors).