1.
A bleach-free, no-scrub weekly shower spray so soap scum and shower grime buildup goes bye bye without you ever having to wipe. Rinse it clean the next day, and you'll be amazed to see those hard water stains on your shower door are *poof* gone.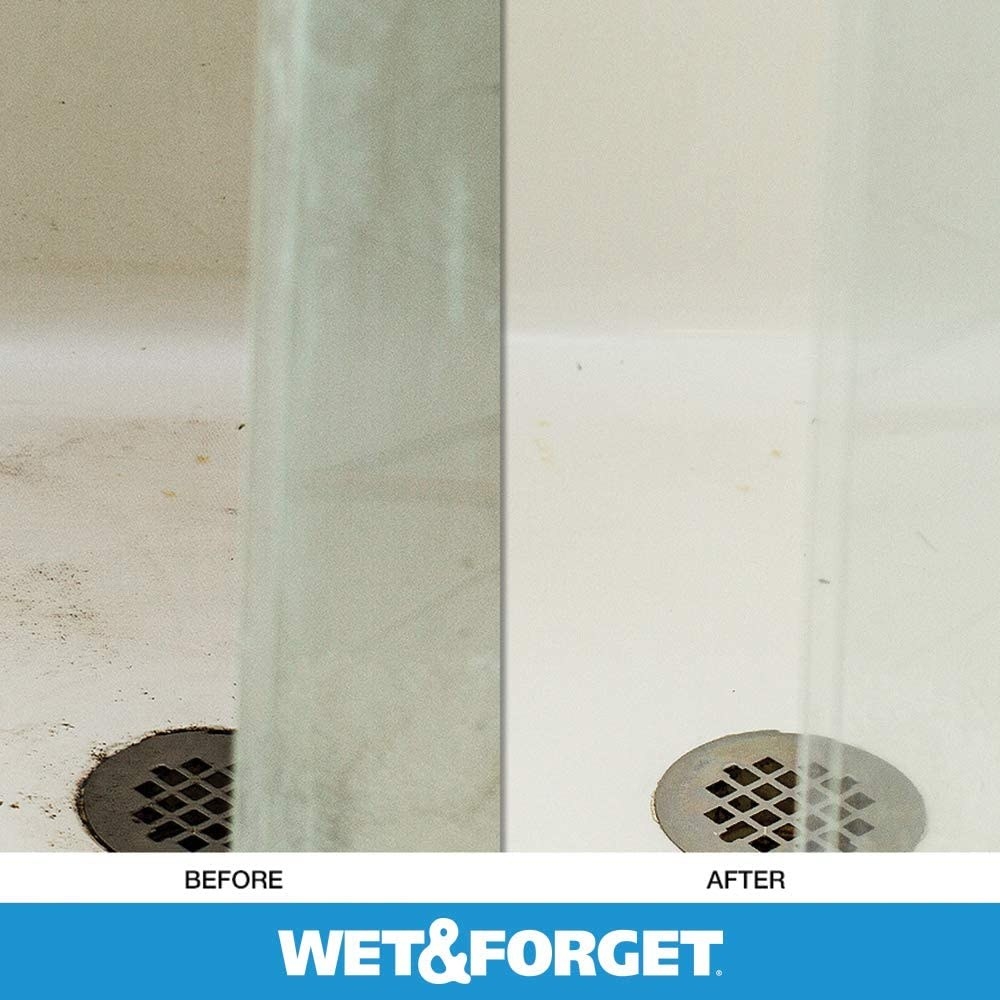 Promising review: "We cannot BEGIN to tell you what a lifesaver this is! We have two old fiberglass tubs with vinyl shower enclosures that no matter what amount of scrubbing we have done with everything from bleach to cleanser to vinegar and baking soda would NOT come clean. After I took my shower last night, I sprayed down the tub and walls. Within minutes, all the built-up water deposits and dirt and grime began to melt away in front of my eyes. I left it on overnight, and when I got up this morning, it did not look like the same tub and shower. This product is a godsend, especially for old folks like us who have difficulty getting down on our hands and knees and scrubbing anything. More importantly, it performs as advertised. We plan on using it as part of our weekly cleanup routine. This is truly an overnight sensation!" —Amazon Customer
Get it from Amazon for $16.89.
2.
A pack of dishwasher cleaning tablets to clean your machine as it runs. No need to sigh in frustration every time you open your dirty dishwasher to remove your "clean" dishes.
Promising review: "Convenient, easy, quick way to keep the dishwasher fresh and working at peak." —Amazon Customer
Get a pack of six tablets from Amazon for $6.25.
3.
An air purifier for anyone who's felt personally victimized by seasonal allergies. This bad boy removes dander, mold, dust, and pollen in the air to help you breathe better.
Promising review: "This is an excellent purifier for those who are affected by cat dander, mold, and other problems associated with breathing difficulties. I have several cats so there is so much hair in the air in addition to their dander. This machine has solved my breathing problems during the night (I use it in my bedroom). In fact I am sleeping better every night, which I'm sure is due to the cleaner air that I am breathing. Another plus is that I'm using a great deal less tissues." —Linda Cruz
Get it from Amazon for $76.47.
4.
A heavy-duty grout cleaner if your tile and grout have been walked all over without a single thought given to treating them to a deep clean. This'll give you an Anne Hathaway in The Princess Diaries-level makeover. The dirt will just disappear. IDK what else to tell you.
Promising review: "Amazing product. We had very rough grout in a high traffic area that I thought for sure would require grinding and regrout. But five minutes and light brushing made it look brand new. Even the really tough areas look new! This works better than any product we've ever tried. Money well spent and one bottle did three rooms!" —Scott S.
Get it from Amazon for $19.95.
5.
An odor-eliminating spray because the smell of pee wafting from your carpet — even though you've diligently cleaned up after every pet mess — makes relaxing in the living room near impossible. Each spray releases bacteria that feeds on the ammonia left behind after your pet's accidents, eliminating the urine completely and deterring your pet from peeing in the same spot again.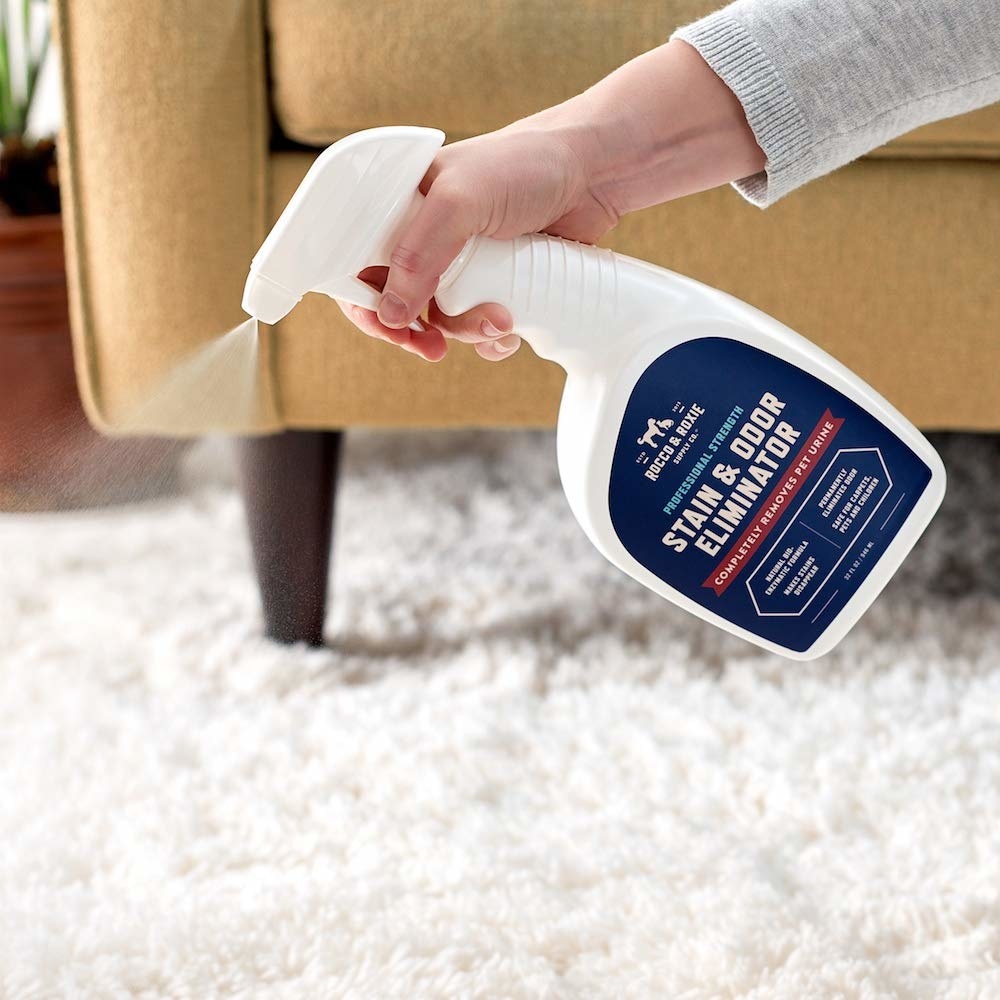 Rocco & Roxie is a family-owned small business named after the Magleby family's pets Rocco, a Labradoodle, and Roxie, a former shelter tabby cat. They make a variety of pet supplies, including cleaners, treats, grooming tools, accessories, and toys.
Promising review: "I have six elderly cats, and a few of them oftentimes leave smelly pee puddles to register their disdain at whatever cats get 'peed off' about. It's not a litter box problem and, although I've caught one or two of them doing it, I can't blame them all. This product works great on fresh messes as well as dried ones. After blotting up fresh pee pads, I saturate the area with Rocco & Roxie's odor remover and let dry. For dried stinky stuff, I just saturate the area and let it dry. It has a pleasant odor and completely eliminates the ammonia odor. Believe me, I've tried all kinds of products, and this one works the best. I buy gallons now just to have on hand. It's better than smelling that awful pee!" —mona mia
Get it from Amazon for $19.97.
Check out our in-depth Rocco & Roxie Professional Strength Stain & Odor Eliminator review.
6.
A box of cleaning K-Cups that'll get rid of residue in your machine and prevent flavors from transferring in just one cycle. Or have fun descaling it multiple times. Your choice!
Promising review: "Thought I was having problems with my machine. Used two cups to flush the entire coffee maker out and it started working like new. Totally satisfied!" —Dara Pazooki
Get a box of six pods from Amazon for $9.95.
7.
A genius humidifier tank cleaner so you can go longer between washes. Hate refilling the water tank only to realize it's coated with a thin layer of slime and sludge? Same! This fish-shaped cartridge swims around the water tank, inhibiting the growth of buildup for up to 30 days.
8.
A devastatingly effective handheld vacuum to suck up pet hair. It has a special rubber nozzle that picks up fur with ease, especially on hard-to-vacuum areas like stairs. There's no bag, so simply pop off the canister when you're done vacuuming and dump the contents in the trash.
Promising review: "I have a 13-year-old beagle and my daughter has two rescue kittens, one of which is a Maine Coon. Needless to say there's lots of hair in my home and on my furniture. I tried a lint remover, a Shop Vac, and manual labor to get all the hair off my couches with no luck. Then I found this on a BuzzFeed article. Wow. The reviews lured me in and the actual product sold me. I spent two glorious, satisfying hours yesterday vacuuming hair off every surface in my house and I can't believe how awesome this little machine is!" —Jacque Jones
Get it from Amazon for $30.99.
9.
A carpet cleaner for getting rid of that questionable stain on your white carpet that's been taunting you and besting every other carpet cleaner you've ever tried — well, every carpet cleaner but this one.
Promising review: "This stuff is AMAZING. We have a 1.5-year-old puppy and have make several futile attempts to clean up carpet stains from her potty training days. Another dog owner clued us into this, and we cannot believe we didn't buy it sooner. Seriously, the same night this arrived, I spilled an entire bottle of beer on white carpet (oops), grabbed the Folex, sprayed a bunch onto the stain, massaged it into the carpet with my finger tips, and blotted with a damp towel. You can't see ANY remnant of a stain. I've also attacked old stains (like one-plus year old) and saw the same results. Seriously, buy this!!!" —AKM
Get it from Amazon for $8.95.
10.
A gel dust cleaner if there's a crumb stuck between your R and T keys and it's bugging the heck out of you. Smushing this lemon-scented slime on your keyboard is weirdly soothing and the end result is dust-free keys.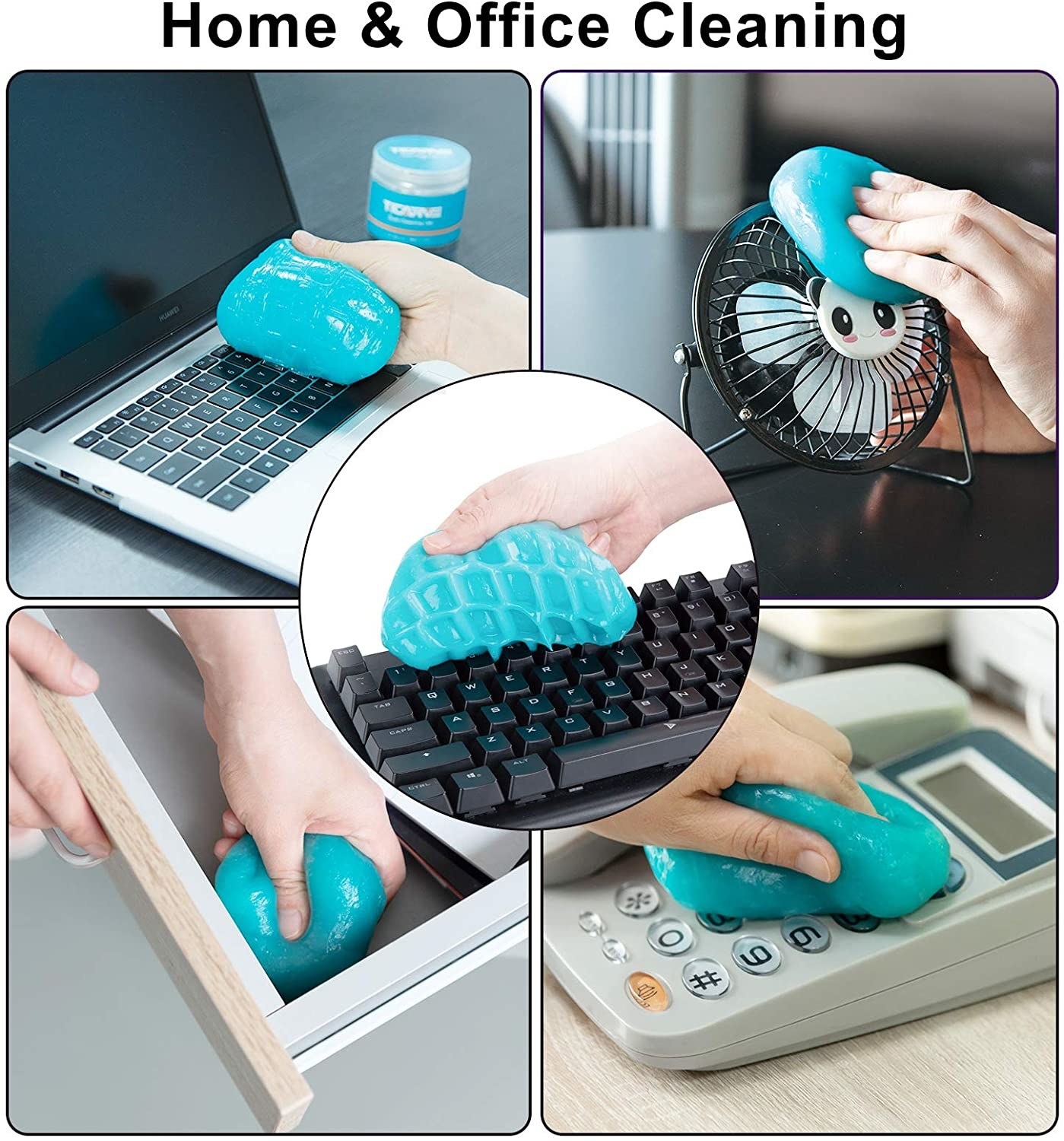 Promising review: "WOW!!! This stuff is incredible! I work in an environment that is very dirty and our office is always covered in a fine layer of dust. Just a few minutes spent mashing this slime into all the cracks and crevices of my keyboard, mouse, phone, etc and it's all clean as can be! This stuff picks up dirt on contact and leaves behind a clean, no smell, no residue surface. I bought a second jar for my vehicle and it works miracles in there as well. My air vents, shifter and seats are now spotless. I couldn't be happier with this product." —Jenna75
Get it from Amazon for $6.99.
11.
A pack of AirPod cleaners because you wanna clearly hear your true crime podcast but don't have any desire to spend 30 minutes trying to clean off the earwax with a cotton bud. Simply squish the flexible square into your AirPod speaker, peel it off, and gasp in horror at the ear goop that's been dulling the sound quality.
Promising review: "I was shocked by how well these cleaned my AirPods after the first try!! Nothing else works as well! I used the AirSquares to clean inside my case as well. Will be buying again" —Amazon Customer
Get 24 from Amazon for $16.99.
12.
A teeth-whitening pen that'll be a heck of a lot quicker (and taste a lot better) than those whitening strips that have to sit on your teeth for 20 minutes and then make no noticeable difference after a month of use. You can use each pen ~20 times and should expect your teeth to lighten four to eight shades.
Promising review: "This worked quick! I'd say I noticed a difference in three days in my teeth. It's super easy to use. Just brush and floss your teeth, dry them with a tissue, and apply. You only have to hold your mouth open for 30 seconds and then you can relax. Not much of a taste either. I love them!" —Amazon Customer
Get a two-pack from Amazon for $19.99.
13.
A mold and mildew remover so you can set it, forget it, and come back in a few hours to see grout that looks like new. I'm talking basically every speck of black mold is gone! *Cues up "Do You Believe in Magic"*
Promising review: "This stuff is amazing. I live in an older apartment complex and even though I scrub and clean my bathtub every week, the caulk around the edge still managed to grow mold and turn brown/ black. I scrubbed with many different products and it didn't seem to make a difference. I found this product and the transformation is huge. First, it's easy to apply because of the squeeze top. I was able to just really focus on the caulk. Then, because it's a gel, it stayed put and didn't ooze everywhere. It really surprised me on those vertical sides. In the first picture, I already scrubbed my tub and even used some sturdy brushes attached to my power drill. The second half of the picture is after five hours of letting this mold remover soak and just wiping it off." —Rochelle
Get it from Amazon for $13.99.