1.
An ultra-fluffy fleece blanket to keep your new friends warm and comfy in their carriers and crates.
Promising review: "My fur baby loves her blanket so much! This was the best purchase ever for being a first-time dog mom. It's so soft it makes her calm. I tried giving her a different blanket while I washed it but it didn't work. When I had it fresh out the dryer she was ready to nap. Affordable and worth the buy." —Keyerra Taylor
Get it from Amazon for $10.99+ (available in five sizes and seven colors).
2.
An interactive cat toy that'll quickly climb to the #1 spot on your kitty's list of favorite toys. Your hair ties will be a close second.
Promising review: "As a new cat owner, I am constantly looking for something NEW. I have spent many dollars and the cat toy basket is full of toys that aren't 'interesting.' BUT this little toy was a hit from the moment it came out of the package. I'm going to get a few more to have on reserve!" —suzanne
Get it from Amazon for $3.53.
3.
A purring cat toy if your rescue kitty is suffering from anxiety. This purple guy has a built-in purring mechanism so your feline can enjoy the sensation of curling up to another purring "cat." It also plays calming, comforting sounds.
Promising review: "Being a first-time cat mom, I wanted to make sure I took every measure to ensure my little boy would be happy and comfortable when we brought him home. Let me tell you, this snuggle toy is his favorite thing in the world! It goes everywhere with us. He sleeps with it every night, we bring it on car rides and even to the vet. He adores this little thing and I couldn't recommend it enough!" —Ashley
Get it from Amazon for $14.99.
4.
Or a plush Snuggle Puppy for your pups who need a friend who can stay close by awhile. Reviewers say both cats and dogs love the heartbeat sound it makes, but don't blame us if your cat grows up thinking they're a dog (I kid!).
Promising review: "I'm a first-time pet mom and brought home a 9-week-old Havanese puppy. Two days before he was set to arrive I saw the Snuggle Puppy on a BuzzFeed list of pet parent must-haves and started to research and read reviews. Thank goodness I ordered it right there and then! From Day 1 my puppy has been able to rest comfortably in his crate and he doesn't cry or whine. I forgot to turn on the heartbeat a few times the first few days and he was immediately more restless so I know the puppy was doing something. I definitely always make sure it's on now to ensure his comfort. Highly recommend!" —marles gonzales
Get it from Amazon for $38.64+ (available in five colors).
Check out my coworker's Snuggle Puppy review for more deets!
5.
A classic Kong toy because 57,500+ 5-star reviews is all the proof you need. The rubber is durable (esp. good if your new pet is a chewer), and the design allows you to stuff the Kong with peanut butter or treats.

Promising review: "Pros: versatile, easy to clean, price. Cons: None for me. As a first-time dog owner, I feel aside from the essentials, this is the best investment I made. I honestly didn't know what kind of toys to get and didn't have the budget to just get a boat load of toys for my dog. I needed something that could be used in a lot of ways and wanted something that would serve as a chew toy and provide mental stimulation. I watched a lot of YouTube videos and the classic Kong was mentioned many times. It has helped my dog a lot with separation anxiety and helped me crate train her. It's also an entertaining way for my dog to get her treats and for me to watch her lol." —Amazon Customer
Get it from Amazon for $7.99+ (available in six sizes).
6.
An odor-eliminating spray so you can lift stains and odors fast. Each spray releases bacteria that feeds on the ammonia left behind after your pet's accidents, eliminating the urine completely and deterring your pet from peeing in the same spot again.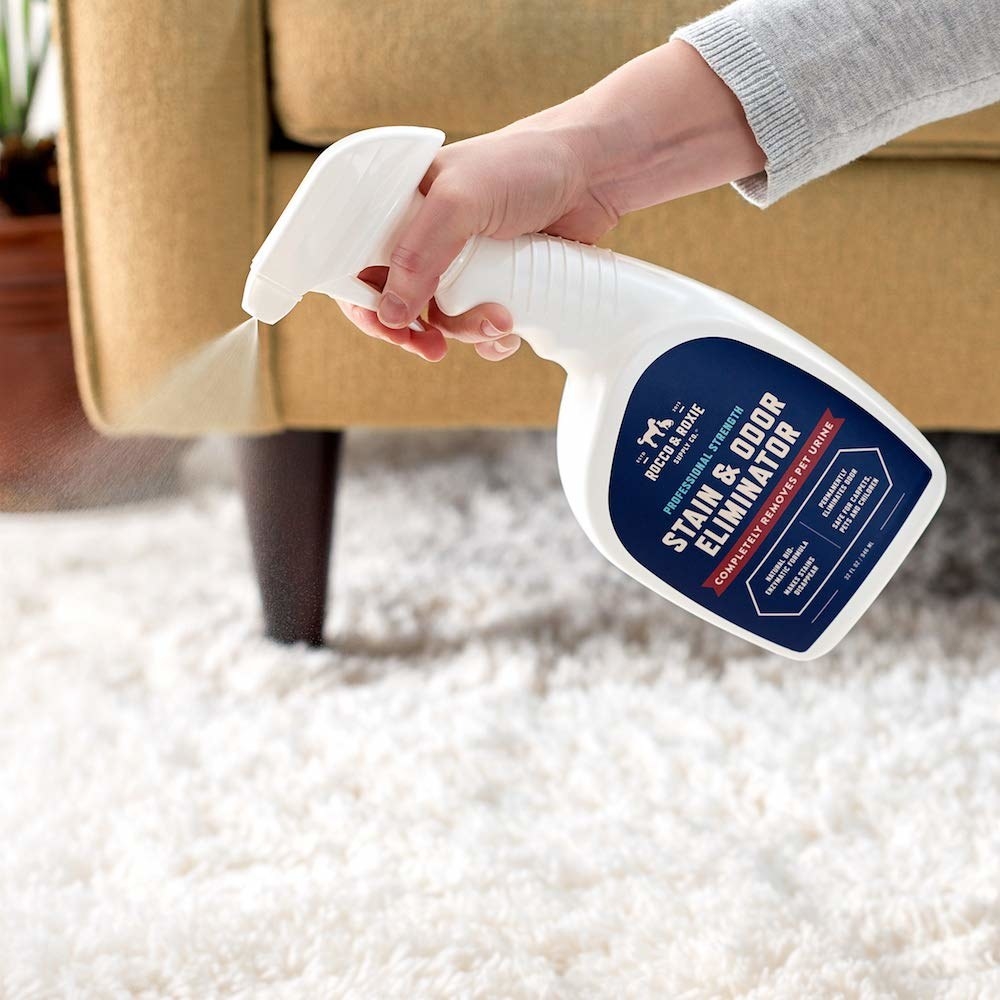 Promising review: "This stuff is the best! We just got a new puppy (first-time dog owners) and I preemptively purchased this knowing accidents were inevitable. It works GREAT. We use it for all kinds of stinky situations now, not just puppy accidents. Totally worth the price!! We found out by accident that it actually makes a FANTASTIC ant killer and deterrent!" —Amazon Customer
Get it from Amazon for $19.97.
Check out our in-depth review of Rocco & Roxie Professional Strength Stain & Odor Eliminator.
7.
An automatic water fountain to encourage your picky cats to stay hydrated. Some cats hate drinking still water (long story short, it's a defense mechanism), so a fountain with running water may be more enticing.
Promising review: "I am a new cat owner, and I find my cat loves to jump in the bathroom sink and drink from a fresh stream of running water. This only works while I'm present, as I can't leave the water running — and when I am there, it is wasteful. This seemed like the perfect solution. The unit itself is simple in construction. The size of it makes it less likely to be toppled. There was some hesitation by the cat since the stream from the flower insert to the green dome under it is a little shorter than my cat is used to at the sink." —D Paranello
Get it from Amazon for $25.87+ (also available in blue).
8.
A LickiMat that'll prevent your chonky pet from gobbling up their food (and their siblings' food) in a matter of minutes. Licking causes a release of endorphins, which can help ease your pet's anxiety and reduce destructive behaviors.
Promising review: "This is absolutely perfect for a first-time dog parent! The first few days are hard but at least you get a 15–50 minute break thanks to this thing! I just put a little bit of Greek yogurt on mine and let our little guy go to town. I just wish it would stick to walls/surfaces a little bit better." —BgJan120 reviews
Get it from Amazon for $8.99+ (available in three styles and in packs of two).
9.
A pet-monitoring camera if you want to keep an eye on your pet even when you're not home. It comes with 1080p HD video, 30-foot night vision, built-in live chat so you can consult a vet 24/7, motion alerts, and two-way communication.
Promising reviews: "I love this product! As a first-time pet owner, it gives me great relief to check in on my pup. He has separation anxiety and it helps for him to hear me and my husbands voice while away. My pros would be that this camera has three degrees of direction I can use so I can move the lens to see. I like that I can hear what's going on in the house and two way speaking As for cons, I would say the night vision isn't as clear as I want it to be, but it gets the job done while monitoring my pup at night. It would be nice if there was a timer setting to automatically record at certain times of the day. All and all, I will be buying a second one! Great buy!" —Amazon Customer
"I'm a first-time dog owner and was worried about how anxious I would be when I had to go back to work and leave him at home. This device is making me feel at ease when I can't be home because I can see him! Was super easy to set up as well." —Jessica Kirk
Get it from Amazon for $34.99.
10.
A crate for creating a relaxing retreat for your pet. This is their safe space when they get anxious or stressed.
Promising review: "This is an awesomely priced, high-quality crate, and is easily the best pet purchase I've made. I recently got my first dog and knew nothing about crates, but chose this one after reading tons of good reviews. It's incredibly easy to set up and then fold down, which makes it very easy to move and travel with. It is quite heavy, but that's to be expected. The latches are super sturdy (there are two on each door) and I don't ever have to worry about her somehow escaping. I also love that it comes with a divider for puppies so that they can grow into it. The divider can be somewhat difficult to move on your own, however it is definitely possible; be aware that if you're using it, the door on the longer side of the crate won't be functional until after the divider has been moved past it. Overall I'm incredibly happy with this crate, and my puppy is too!" —Amazon Customer
Get it from Amazon for $38.99+ (available in five sizes and two styles)
11.
A bag of premium clumping litter because scooping the litter box and having the clumps break into a dozen pieces while releasing a pee- and ammonia-scented cloud is your biggest frustration with your current litter. Ding ding ding! This winning litter will prevent that problem. Plus reviewers say the odor control is fantastic.
Promising review: "As first-time cat parents, we spent quite some time to decide the litter we want for our 3-month-old furball. It absorbs well, and there's not much dirt given our energetic kitten testing it for a week. And above all, the size of particle is just perfect for our kitten — big enough to avoid tracking, small enough to provide some comfort. Good product." —Sabrina L.
Get a 40-pound bag from Amazon for $19.99.
12.
And a top entry litter box so litter stays where it belongs: in the dang box and NOT all over your floors and carpet. It has a grooved lid to catch any litter that's attached itself to your cat's paws, plus it comes with scoop!
Promising review: "We are first-time cat owners and our very skittish and easily spooked 1.5-year-old cat had just come from a foster home where she wasn't thriving. First day in our home and she used this litter box (she had been using a traditional, completely open low box). We opted for the large size since we knew she might grow a bit still. I'm glad we did, because even though she's a small cat, the large size gives her plenty of room. We wanted a covered one because our only place for a litter box was right next to our claw foot tub and we didn't want a bunch of water splashing in and wasting litter. Can't say enough about how stoked we are about this litter box! Not hideous, super easy to clean, and our sweet (and no longer skittish) cat loves it!" —Amazon Customer
Get it from Amazon for $26.98+ (available in four colors).
13.
A pooper scooper to scoop the dang poop so you don't have to kneel down to pick it up.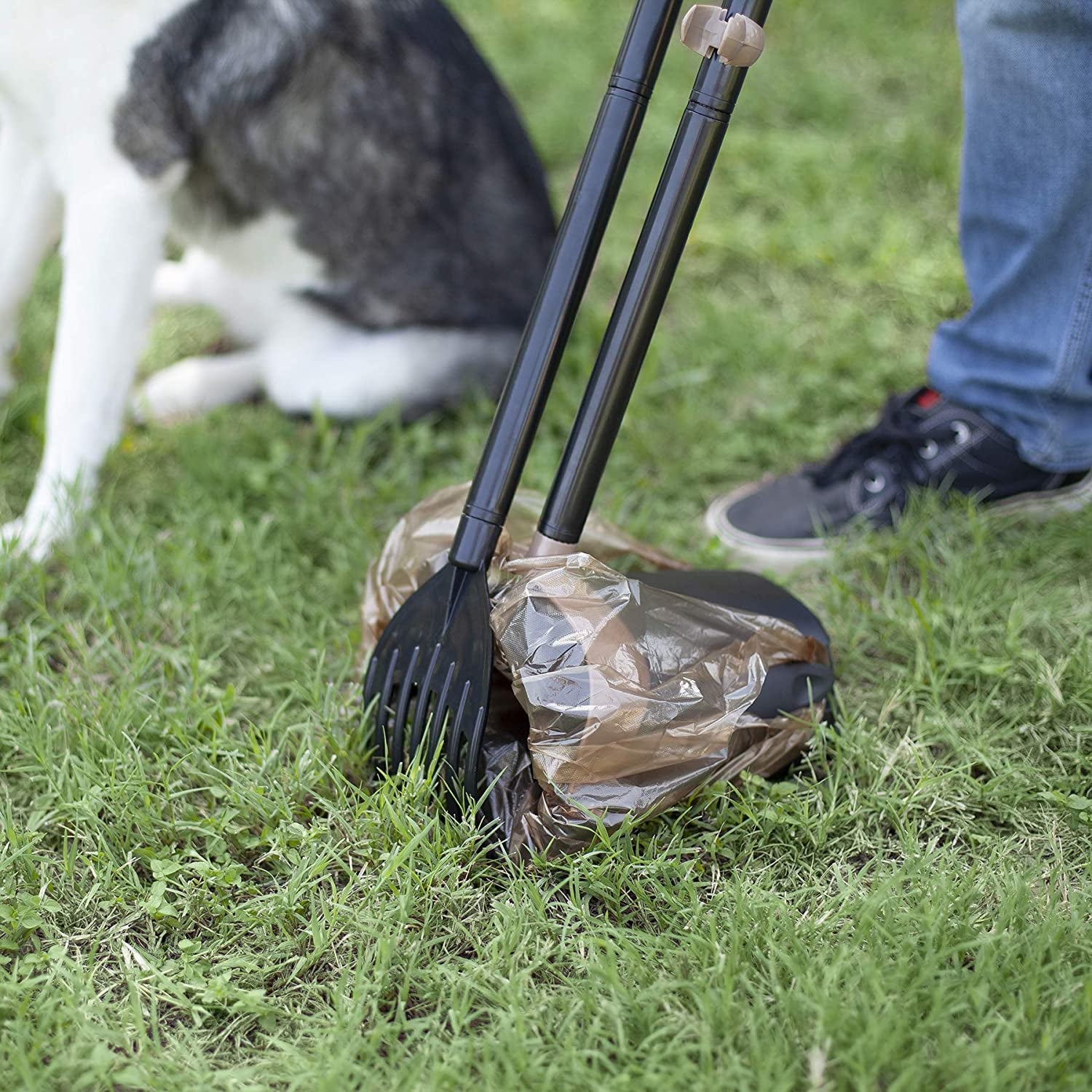 Promising reviews: "This thing is fantastic! It makes cleanup 100 times easier! I got my very first dog six months ago, and was picking up by hand with bags for the first four months. This has made my life so much easier!" —H D
"I own a large dog for the first time in 15 years. Even though my yard is large, the poop does accumulate, so to make it safe for me to play with the large dog and my three others, I decided to scoop the poop! The bags that go along with this bin are large, strong, and do help with smell in garbage can. So far the rake has held together, that is my only concern. The bin pivots to make scooping then walking with the contents work out great. The bags fit securely to bin and protects the bin very well from poop. I do wash both rake and bin each time. The bin has holes to allow water to run out and the rake does clean off with forceful water spray." —KJ
Get it from Amazon for $19.99.