1.
A pair of baggy overalls if your ideal summer wardrobe can best be defined as "art teacher chic." Reviewers swear the loose, flowy, and breathable cotton linen fabric is incredibly comfy and lightweight on the skin.
Promising review: "I have gotten so many compliments on these overalls! I was looking for something comfortable and light enough to wear during the summer since I'm not a big fan of shorts. I'm pretty petite and it fits well and is just baggy enough. I love them so much I ordered another pair in blue!" —Cynthia Cahalen
Get it from Amazon for $15.99+ (available in sizes S–3XL and four colors).
2.
A darling blouse with puffy sleeves for cementing your status as cutest dressed person ever. I'm sorry, this title doesn't come with an award...but it does come with endless compliments.
Promising review: "This top is ADORABLE! So adorable that I bought it in yellow, white, and pink. Then my boss bought it in blue! It's super comfortable and goes great with a cute pair of jeans or dress pants. Love!" —Mari Berggr
Get it from Amazon for $19.99 (available in sizes XS–XL and 27 colors).
3.
A pair of super soft high-waisted leggings because your body deserves this level of comfort. More than 41,000 people have given them a 5-star review and say they're definitely opaque so you can live your best life without worrying about showing everyone your underwear.
Promising review: "These are definitely my new favorite leggings, I own them in four colors and plan to buy more. The colors of the actual leggings are just as bold and vibrant as the photos, which I love. Buying clothes online can be tricky because the colors or fit of the product rarely matches. They fit and frame my body like a glove, and are also sooo soft and smooth. The high waistband is so helpful on days that I want to wear a crop top and isn't uncomfortable at all. I can't get over how soooffffttttt these leggings are. Usually leggings that are soft are a little too warm. These are great quality and feel silky smooth on my skin, keep me warm, but are also breathable. I've worn these alone with just a top, and have also worn them as a base layer under my jeans for a trip that I recently went on. The quality of these leggings exceeds the price. I was worried about them being one size, but they fit me perfectly. All in all I'd say these are a steal for what you pay, and they're definitely something I will be getting a lot of use out of." —Stefania Veneri
Get them from Amazon for $10.99+ (available in one size and plus size; capri or regular lengths; and 23 colors).
4.
A workhorse ribbed tank top to serve as the foundation for all your summer outfits. The breathable cotton fabric keeps you cool, and the stylish high neck and curved shoulder design keeps you ~cool~. And it pairs perfectly with all your shorts, skirts, and pants.
5.
A casual, lightweight wrap dress so you can enjoy the summer sun without feeling like you're constantly 30 seconds away from stripping and finding the nearest AC. 
Promising review: "Love this dress. Breezy and comfortable for a hot day. I wore heels and it looked amazing, but switched to sandals and it looked nice as well. I just had a baby and it worked perfect for nursing because of the tiny button on the chest." —Jamie Young
Get it from Amazon for $36.99+ (available in sizes S–XL and 11 colors).
6.
A pair of Girlfriend Collective compressive high-rise leggings that'll hug your beautiful body with their buttery soft fabric (which is made from recycled water bottles, BTW!).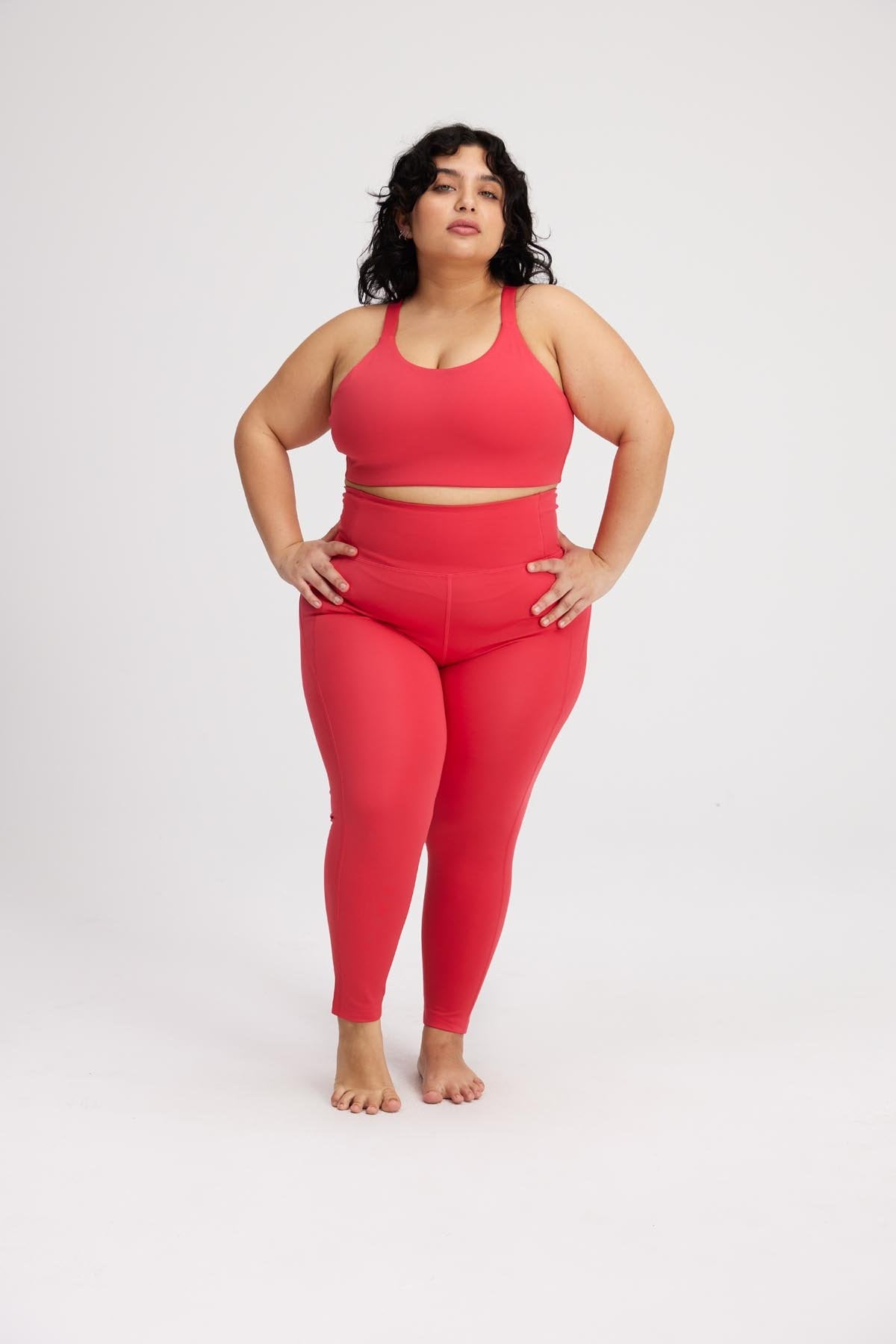 You can check out my full Girlfriend Collective leggings review for more deets but the tl;dr is that they will faithfully support you through any and every exercise. I love these leggings so dang much that I've purchased eight (winces) pairs during quarantine and they're all in heavy rotation. I love the compression fit; it's supportive without constricting my movement or breathing. And as someone who sweats a lot, I especially love that these leggings wick away moisture. If you can afford the splurge, I highly recommend snagging yourself a pair before I buy all of them.
Get them from Girlfriend Collective for $68 (available in sizes XXS–6XL, three lengths, and 11 colors).
7.
A V-neck backless dress if you like to be the center of attention but don't want said attention to come at the cost of your comfort. This little lace number is super soft on the skin and has a cute bow-tie design that'll earn you "oohs" and "ahhs" from every angle.
FYI, this is included in Prime Wardrobe so you can give it a trial run if you're a member!
Promising review: "I loved this super cute and delicate dress. It is adjustable on the back and the strap is well lined. Honestly I wanted one of each color!" —Thais Feijo
Get it from Amazon for $24.99+ (available in sizes S–XL and 31 styles).
8.
A stylish button midi skirt for days when you want to feel the sweet summer breeze between your thighs. This ribbed midi skirt has a stretchy elastic waist, so it won't suffocate you after your weekend brunch (been there done that gave away the skirt). And it has pockets — pockets! — for your essentials.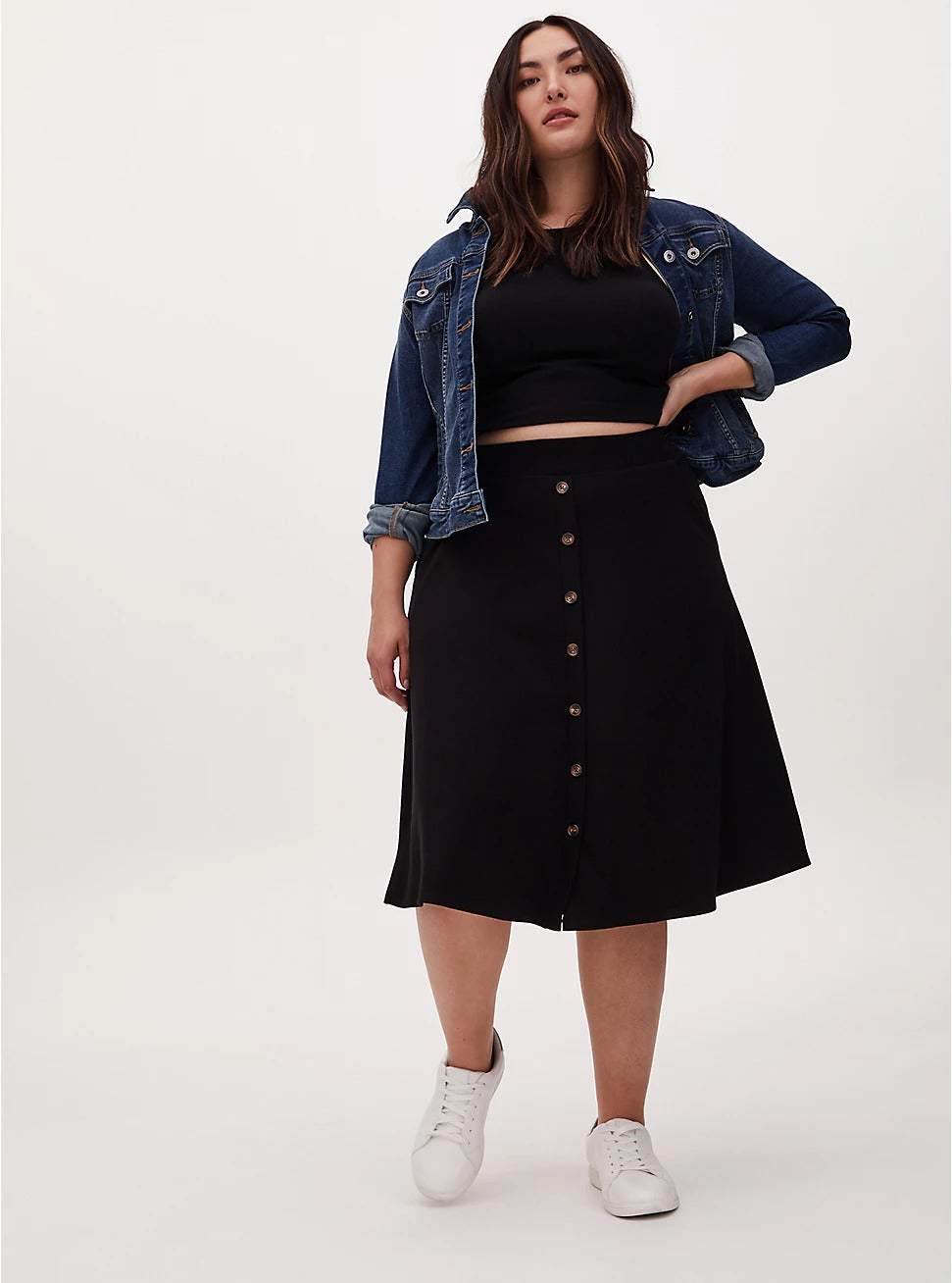 Promising review: "I'm not really a skirt person; I love love dresses, but I feel like I have a hard time making skirts look good on me. They look the best if I pull them up to the higher point of my waist, which means a lot of skirts are a little too short for me. This one is the perfect length, it's comfortable and stretchy. The buttons are really cute. I paired this with their white clip dot tank that they're currently selling with a black cardigan so that it's work appropriate. I look like a teacher or a librarian in the best possible way." —JENIH39
Get it from Torrid for $55.50 (available in sizes 00–6).
9.
A pair of chic paper bag pants because you spent the last year working from home and wearing sweatpants and now "office appropriate" clothing feels too constricting. Reviewers say these slim-fit cropped cuties are decently stretchy = sitting in them for eight hours won't feel like torture. *Looks down at boring work khakis and immediately hits "add to cart."*
Promising review: "I pretty much live in jeans (even to work), so I bought these on a whim to change up my wardrobe a bit. I ended up loving them! They're really comfy and stretchy, the right length, and super cute with a skinny top or bodysuit." —Lauren H.
Get them from Amazon for $17.67+ (available in sizes XS–XXXL and 26 colors).
10.
A tank top bodysuit to give you that tucked in look without the bumps and lumps. It fits like a glove but reviewers with large busts note that it offers plenty of stretch. And don't worry, there's a snap button at the crotch so you don't have to get naked to go to the bathroom. 
Promising review: "I'm OBSESSED with this bodysuit. It's like bathing suit material so it's super stretchy and comfy. I have trouble finding bodysuits that fit me right because I'm tall with somewhat of a long torso but this fits me so well! You don't have to wear a bra as it's tight enough to keep you secure, but you can if you want. I purchased it in black, nude, brown, and white!" —Kelly Lynn
Get it from Amazon for $9.99+ (available in sizes S–XXL and 13 colors).
11.
A compressive-yet-stretchy two-piece workout set so you can ditch your old leggings and sports bras for a set that's made of a moisture-wicking material. No more suffocating summer runs and outdoor workouts...although you may get stopped so much for outfit deets that IDK how much working out you'll get to do.
Promising review: "In love with this!! It's seamless and thick fabric that's still breathable. The best part is they don't roll up. If you have thick legs, you know what I mean!! Some other seamless compression shorts I have get really hot and your a$$ is sweating within three minutes. These are somehow breathable and not as hot. In love! Extremely comfortable and squat-proof." —Jooj
Get it from Amazon for $14.99+ (available in sizes S–L and 13 colors).
12.
A striped linen dress that'll quickly earn the title of "most worn item" in your closet. It's breezy and flowy, so everything under the skirt can air out when things get a little swampy.
Promising review: "This summer dress is a must-have! I must have worn it at least once a week all summer long. It's so comfortable and the material is breathable...even on humid days. The pockets are ideal and the flutter cap sleeves couldn't be cuter. I wore it with white sneakers, sandals, and espadrilles so it's very versatile. Looking forward to pulling it out of the closet next summer." —Nikki Scott
Get it from Amazon for $32.99 (available in sizes 4–10 and seven styles).
13.
A breathable and roomy wide-leg jumpsuit if you want maximum ventilation in the summer heat. It's like wearing PJs in public except everyone is complimenting you instead of looking at you weird.
Promising review: "So comfy and cute. You can wear them for running errands or anything casual yet it has style. This is a lightweight cottony fabric that fit perfectly.  It's easy to wash and I let it hang to dry so it won't shrink, which some reviewers had reported." —Amazon Customer
Get it from Amazon for $14.99+ (available in sizes XS–5XL and in 29 styles).
14.
A pair of frayed cutoffs for folks who want to wear shorts but don't want to feel like their cheeks are hanging out (it me!). They're 98% cotton so they move with you, unlike stiff denim cutoffs.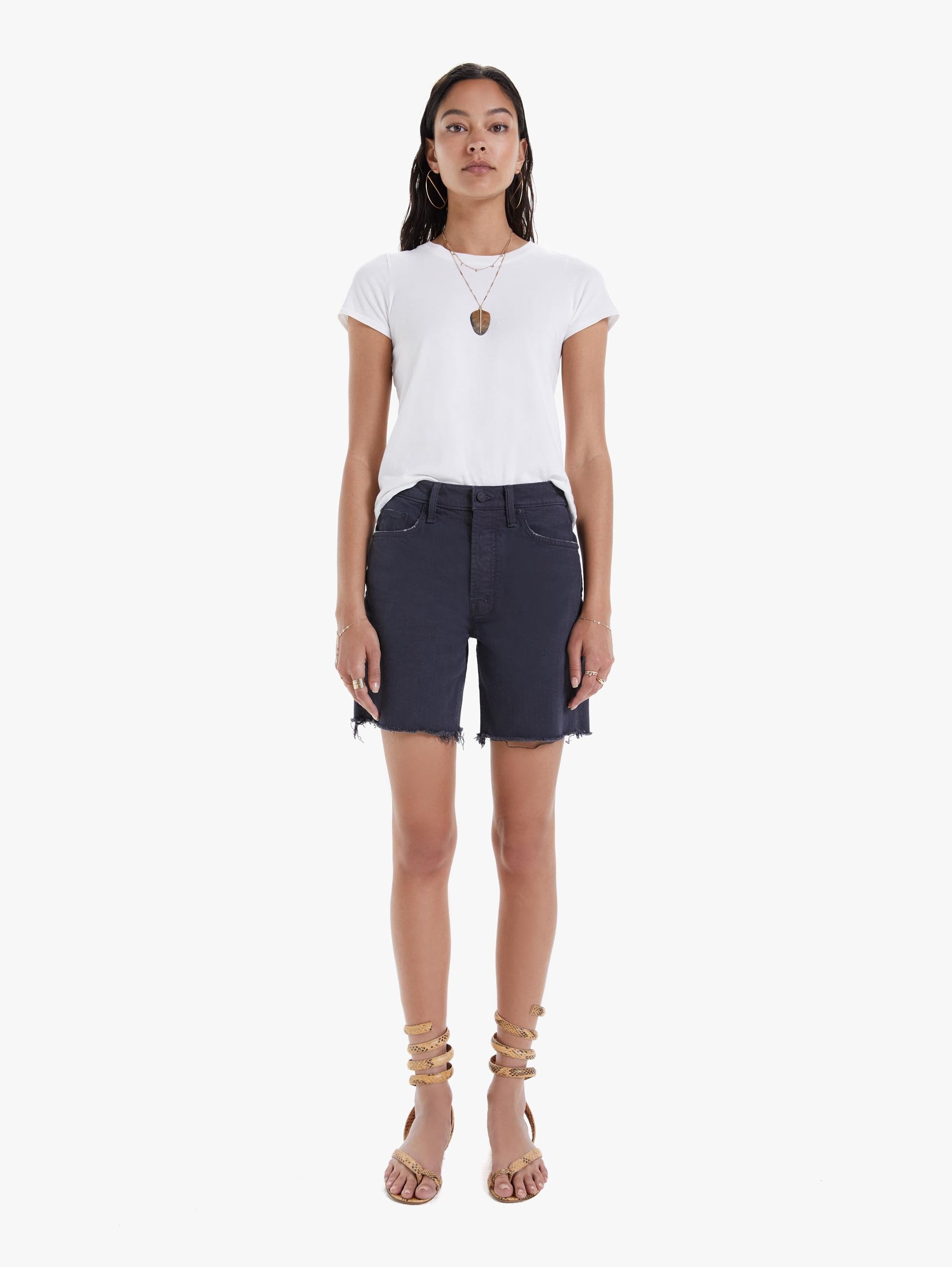 The long denim shorts trend was initially very confusing to me and reminded me way too much of the way my mother would dress (minus the frayed hems), so I painstakingly avoided it. But then I grew tired of constantly pulling down my denim shorts to avoid flashing strangers and having to discreetly unbutton my shorts because they had zero give and would cut into my stomach when I sat and when I ate. Then I slipped into these shorts and found sweet, sweet relief. These cutoffs are surprisingly flexible and not too long that I feel frumpy wearing them. I like how stretchy they are and how I can just exist *gasp!* in them without being uncomfortable. And they're much easier to style than I initially thought. I've worn them with T-shirts and sneakers, as well as oversized button-ups and strappy sandals and they're pretty cute IMO. 
Get them from Mother for $178 (available in sizes 23–34).
15.
An elegant and pregnancy-friendly column dress because some days you don't have the time or energy to deal with elaborate outfits. This simple and sleek maxi dress looks incredible with whatever else you throw on. 
Mien is a woman-founded and POC-owned size-inclusive and eco-friendly small business based in Los Angeles.
Promising review: "I have this dress in three different colors now and LOVE it :). It's extremely comfortable and works as a lazy dress or one that you can dress up with a nice jacket. The dress pockets are a bonus and they're actually deeper pockets, so I could comfortably put my phone if I wanted to. The color is a light, light grey, almost white, which I appreciate. Would say it runs a little big, I bought in a medium, and it's loose but proportions are right." —Jenny T.
Get it from Mien for $98 (available in sizes XS–XL and three colors).