1.
A bleach-free, no-scrub weekly shower spray so soap scum and shower grime buildup goes bye bye without you ever having to wipe. Rinse it clean the next day, and you'll be amazed to see those hard water stains on your shower door are *poof* gone.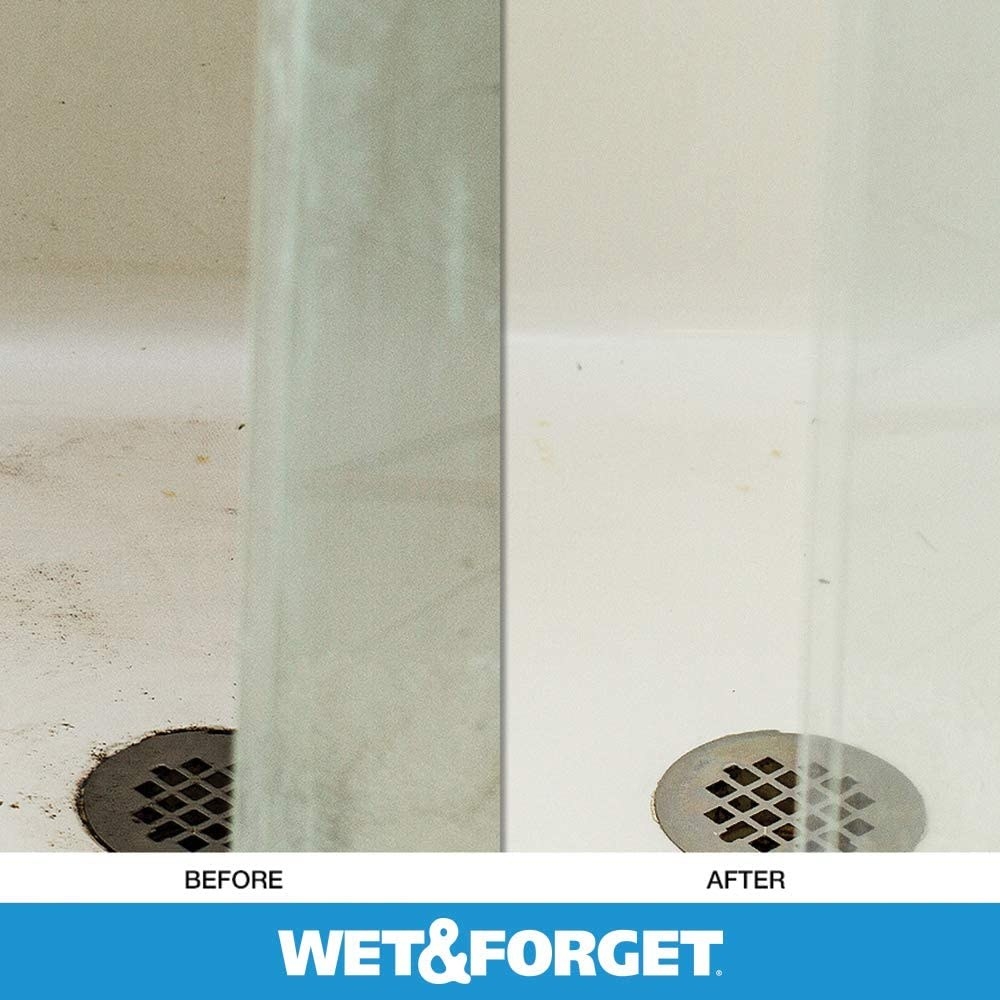 Promising reviews: "This is the best bathroom cleaner I have ever used. I love it. If I can give it 100 stars I would. 😊" —Ruben
"We cannot BEGIN to tell you what a lifesaver this is! We have two old fiberglass tubs with vinyl shower enclosures that no matter what amount of scrubbing we have done with everything from bleach to cleanser to vinegar and baking soda would NOT come clean. After I took my shower last night, I sprayed down the tub and walls. Within minutes, all the built-up water deposits and dirt and grime began to melt away in front of my eyes. I left it on overnight, and when I got up this morning, it did not look like the same tub and shower. This product is a godsend, especially for old folks like us who have difficulty getting down on our hands and knees and scrubbing anything. More importantly, it performs as advertised. We plan on using it as part of our weekly cleanup routine. This is truly an overnight sensation!" —Amazon Customer
Get it from Amazon for $19.98+ (available in two scents).

2.
An adjustable mister for cooling the surrounding area by up to 20 degrees and making your deck bearable when the forecast says it feels like 95 outside. 🥵 It's also great for keeping your plants happy and moist. Some reviewers swear by it for keeping their chickens from cooking in their coop. 
Promising review: "I love this so much I bought two more for my kids' animals. Mine if for my Rottweiler when she is outside on the patio. I bought one for my son's huskies while they are at work to cool off in this heat and bought for my other son for his dogs, or they can try for their chickens. I'd give more stars if I could. Ready right out of the box, just need to pull to shape (takes a minute). I love it!!" —Cathleen
Get it from Amazon for $30.89.
3.
A collagen-coating hair treatment if your dry, damaged, and overprocessed strands could use a little TLC. This reparative five-minute hair mask will revive your mane and leave it soft, silky, and smooth.
Promising review: "Brought this product after seeing it on BuzzFeed. After first use I saw an immediate difference; my dry/damaged hair felt soft and healthy. Would rate 6 stars if I could!" —Natalie

Get it from Amazon for $7.48.
Read our Elizavecca CER-100 Collagen Coating Hair Protein Treatment review to learn more about why my colleague calls it, "the miracle product I've been searching for."
4.
A TikTok-famous pink cleaning paste to restore your walls and dressers when your little ones go Baby Picasso on your furniture with a permanent marker.
See it in action on TikTok here!

Promising review: "I wish I could give this 10 stars. I don't think I have ever been THIS IMPRESSED with a cleaning product. The smallest amount of this stuff with nearly no work took rust that had been caked on for years RIGHT OFF. I was in shock! Wish I had taken before and after pictures, but all of the videos and pictures you see of the results are no joke. Recommending this to everyone I know!" —Abbey Birk
Get it from Amazon for $5.97.
5.
A sun milk with SPF 50+ because it's like a sunscreen and primer in one. It boasts a double-layer UV-blocking system that lasts through sweat and water, while creating a silky-smooth base for makeup. And it corrects skin tone so you can just skip the makeup entirely.
In the progression photos above, you can see a reviewer before applying the sun milk, after applying the sun milk, and then the sun milk under makeup.
Promising review: "Can I give it 10 stars? This sunblock is amazing! I put this on right before my makeup and don't have to reapply even when I'm outside all day. I personally like the matte version but have tried the others and they all provide the same great protection." —T Suzuki
Get it from Amazon for $14.65.
6.
A roll-up straw hat that'll keep the sun out of your eyes and protect your face from sun damage (it's UPF 50+, which means it blocks 98% of the sun's rays) while you're enjoying your tropical vacation. And it rolls up so it takes barely any space in your already crowded carry-on bag.
Promising review: "Wish I could give more than 5 stars!!! This hat is the best! It travels and packs well, and is so versatile you can wear it with most anything. I've taken it on vacation to Mexico, New Orleans, the Jersey Shore, and Cape Cod. Keeps the sun off your face and neck while still looking fashionable. I also wear it while walking my dog and just sitting on my deck. The best compliment I got was from my hubby, who noted that I am really getting my money's worth out of this hat. I think this might be my go-to Christmas gift for all my girlfriends this year!" —Meg C.
Get it from Amazon for $25.99 (available in 21 colors).
7.
A beeswax wood polisher so you can revive your embarrassingly worn, dinged, and dented cabinets and table quick as a flash. Plus, this method is a heck of a lot cheaper than actually replacing the wood or furniture piece, and using this polish on a regular basis can actually help keep the wood hydrated so it lasts longer.
8.
A portable door lock for added security in a hotel or Airbnb if you're traveling alone. It jams the door so it's impossible for an intruder to force themselves in using the door handle.
9.
Some acne patches if getting to see how much gunk they've sucked out of your popped pimples fills you with excitement. Plus they'll prevent you from picking at zits!
These are hands down the best pimple patches I've ever used. Why? Because they actually work. IMO they work best on whiteheads, drawing out the pus and preventing me from picking. Once all the fluids are drained (yum!), I plop a patch on what was once home to a very angry whitehead and replace it twice a day (once in the morning and once at night). In my experience, that has been the best treatment for preventing really noticeable hyperpigmentation and acne scarring, which my skin is really prone to after breakouts.

Promising review: "I wish I could give it 10 stars. I have BIG cystic acne. I recently had several cysts injected at the dermatologist and use prescription creams. Tried EVERYTHING. I'm 33 and have been dealing with this for years and years. I had never even heard of these patches until recently and decided why the heck not. OK friends, they WORK LIKE A MIRACLE. In just a few hours I had to change one out because it had already turned white with puss. It says it won't work on cysts but I decided to go for it anyway. Most of my jawline cysts are actually tiny right now but still red and hard and ugly and painful, and after using a patch on two of them overnight they are FLAT. SERIOUSLY, I cant believe it." —Amazon Customer
Get a pack of 36 from Amazon for $11.97.

Check out the rest of my Hero Cosmetics Mighty Pimple Patches review for more deets!
10.
A pack of foaming garbage disposal cleaners to deodorize your sink ASAP, because if you have to smell last week's rotting veggie peels for one more minute you just might scream.

Promising reviews: "I give 10 stars! Wonderful product. Absolutely love and will continue to reorder. Does a great job cleaning out and freshening the disposer." —Alts
"This product really works! We were dealing with a foul stench coming from our disposal for some time. We tried boiling water, vinegar, etc. This stuff sniffed out the smell real quick and deodorized it as well." —James Tiberius Kirk
Get a pack (good for four uses) from Amazon for $3.78.
11.
A beloved tightening cream because the 20,000+ reviewers who rated it 5 stars is all the proof you need. It's infused with caffeine, coconut oil, and guarana extract to firm, smooth, and add shimmer to the skin. Plus the vanilla, salted caramel, and pistachio scent is better than any perfume out there.

Promising reviews: "OMG! The smell is amazing! I've had people follow me to ask what I'm wearing. The scent lasts most of the day. No need for perfume. Yes, it's a great moisturizer, but it's the scent that keeps me coming back for more. 100 stars!!!" —Autm88
"I am 60 and notice that no matter how much diet and exercise I do, I could not get rid of the cellulite on my legs. I started using this product six weeks ago and can noticeably see a difference. I apply morning and evening, before bed for optimal results. It goes on smooth and has a creamy, non-sticky feel. The smell is dreamy, and even my husband has commented on the improvement. Make sure you apply in a circular motion for optimal coverage, absorption and circulation." —Amazon Customer
Get it from Amazon for $22+ (available in two sizes).
12.
A cuticle oil that'll restore your shredded nails after a gel mani. A combination of sweet almond oil, vitamin E, and jojoba softens the cuticle and strengthens your claws so you'll be proud to show them off.
Promising review: "Wow. If I could give more than 5 stars I would! I have been on a wild search for nail strengtheners all 27 years of my life. I've tried every nail product in stores and every home remedy, and my nails would peel and flake. I went from chips and peels in every nail on my hand to perfectly healthy looking nails. I wish I had known about this product sooner in my life and I will recommend to everyone I meet!!!!!!" —Kelsey
Get it from Amazon for $9.90.

13.
And a nail concealer so you can subtly hide yellowing and staining on your nails.

Promising review: "If I could give this polish more than 5 stars I would. Goes on so smooth with absolutely no streaking even with the initial application. I have trouble keeping polish on my nails; it usually chips within a day. This is the first polish that actually stays and doesn't chip and I am overjoyed with it. Everything in the ad about this product is true, I highly recommend!" —Jill
Get it from Amazon for $20 (available in three shades).