1.
A mounted brush that'll satisfy your cat's ceaseless demands for scritches. Just mount it to a corner with the included adhesive strips and watch as your beloved babies leave you for the warm embrace of this gray and white piece of plastic.
Promising review: "My cat Gambino Bambino would let you brush him bald!!! He loves to be groomed and comes running whenever the brush comes out. Though we love to accommodate, I know he wanted more. He was constantly rubbing his cheeks and ears on the corner of our walls to get even more scratching. I finally came across this product and knew he would love it! It took a little convincing but once he got a hang of it he's been loving it! We have one in the living room, one in the kitchen, one at the top of the stairs and one in the guest room! He is having a great time!!! Very easy to put together and place on the wall." —T. Mangiaracina
Get it from Amazon for $5.49.
2.
An immunity-boosting allergy supplement so your poor pooch can find relief from skin sensitivities and allergies. These soft chews deliver a dose of probiotics and other nutrients to help improve immune function, aid digestion, promote healthy skin, and add shine to a dog's coat.
Promising review: "Absolutely the best product. It saved my itchy goldendoodle! We tried changing food, Benadryl, medicated shampoo, fish oil, everything you can imagine... nothing worked long-term. He was itching his face so badly he would make himself bleed. Had sores and scabs all over his face and neck. I bought these because they had good reviews and I was desperate. It changed his life! He no longer scratches AT ALL! His coat looks great and all of his sores are healed. He's the happiest he's been which makes me a very happy momma. He is also very picky and never eats treats... he eats these every time so that's an added bonus!" —Darcie Nation
Get 90 chews from Amazon for $28.97.
3.
A pet hair roller if you love your fur babies but hate how much they shed...on everything. Roll it over your couch, bed, favorite blanket, you name it, and watch it lift the fur away. See, we can own nice things!!
Promising review: "Where has this been all my cat-loving life? Sticky rollers work fine for clothes, but this is the only product that has ever COMPLETELY removed all the cat hair from my bed. I have a long-haired 20-pound tabby and if you run your hands up his back a few times and fling the hair everywhere, it looks like it's snowing — he never stops shedding no matter what I do. After using the ChomChom, I can put on a black dress and roll around on my bed and not get a single hair on me. It's absolutely amazing. Everyone is getting one for Christmas, even if they don't have a pet. I don't care, it's THAT good." —Stephanie
Get it from Amazon for $29.95.
4.
A broom for pet hair to loosen the fur trapped in your carpet. It works just as well on wood and linoleum, with the rubber head working as a magnet to attract stray hairs. There's also a built-in squeegee for wiping up liquids or for cleaning glass. Plus, the handle extends from 36 to 60 inches so it can reach practically any mess.
Promising review: "I bought this broom based on the tons of great reviews and I am not disappointed. I love this broom! It is lightweight but sturdy. I have used it on tile floors and carpet and it does a great job of getting the pet hair, lint, and dirt. I like this so much better than our traditional push broom. It is very easy to clean after use just using my hand, unlike our old broom. It also has a telescoping handle so that you can adjust it to whatever height you need. There is also a squeegee for doing the house windows and the car windows. I highly recommend it." —Joyce V

Get it from Amazon for $16.99.
Check out my colleague's FURemover Evriholder broom review for more deets and some very satisfying photos of the globs of hair she removed from her carpet.
5.
An interactive cat toy for giving your energy-filled pet quite the workout with minimal effort on your part.
Promising review: "I have a whole room filled with cat toys that my cat is not interested in. It's funny how the least expensive cat toy I have makes him go crazy. He plays with this until he's panting like a dog and I have never seen him jump so high. I'm certain this toy will help him lose his belly. He loves it! I highly recommend it!" —Kwoo
Get it from Amazon for $3.53.
6.
A creamy paw butter because your pet deserves a little spoiling. This balm moisturizes dry, cracked paws and snoots and is safe if licked or swallowed.
Promising review: "One of my puppers is a super athlete who lives to go for walks and on runs. She is about 9 now and the vet gave her a stellar bill of health save one thing: her pads were getting really rough and worn from paved trails and city walks, and this may be uncomfortable, especially as summer comes and pavement heats up. I was skeptical about any kind of balm as I figured that it would leave a mess on my floors or one/both dogs would just lick it off their feet. No problems whatsoever, and after a single application, both dogs' pads are really soft and supple. Hopefully the dogs can feel the difference. I can surely see it and feel it. Also, the balm smells like oatmeal cookies, so bonus for that." —Todd Snyder
Get it from Amazon for $6.65.
7.
A lawn repair formula that'll regrow the grass so you have something to mow this summer. It's designed to reverse scorch marks from pet urine, damage from digging, and wear in high traffic areas.
Promising review: "I have lacrosse players and dogs and this stuff is amazing. My yard looked like an abandoned lot before this and it literally 'grew anywhere' just like it said. The bag I planted last year actually came back strong this year so I put more down and it is working like a dream!" —chchmom
Get it from Amazon for $19.99+ (available in five sizes).
8.
A pack of matatabi chew sticks so you can spoil your sweet baby *and* help them keep their teeth clean. Matatabi is a plant native to Japan and a catnip alternative (great for kitties who show no interest in catnip!).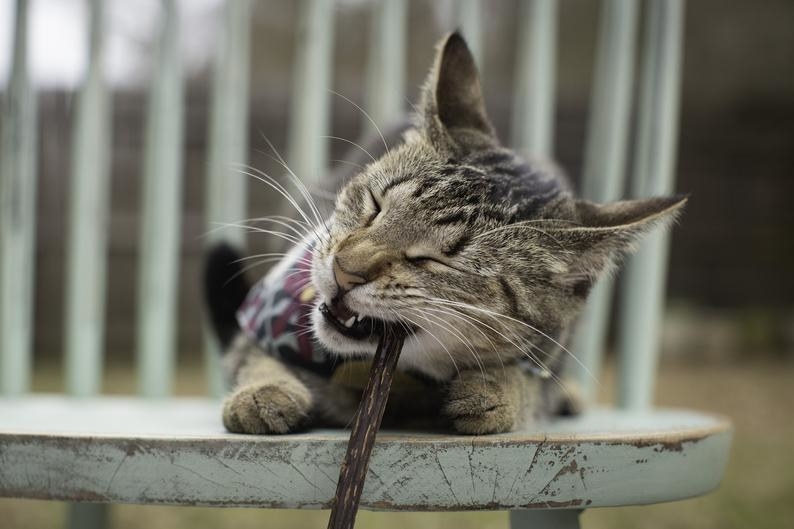 Meowy Janes is a wonderfully named small business based in New Egypt, New Jersey. It specializes in catnip and catnip alternatives.
BuzzFeed editor Chelsea Stuart loves these...or...her cats do!
"I recently tried some of these out with my cats and they were a hit! TBH they've never really been super into catnip — they'll play with it but they don't go wild — so I was excited to see they were into these. They bat them around, rub their faces all over them, and ultimately, when they're done, hide them under a chair or in their cat condo so they can come back to them later."
Promising review: "The second I put a stick down our kitty was obsessed! Our cat loves 'chewing' so these are a great fit for him. All natural, great packaging, and quick shipping! Thank you." —kr323
Get it from Amazon for $10.21 and Meowy Janes on Etsy for $11.85.
9.
A purring cat toy if you're waking every hour because your anxious kitty won't stop meowing. This purple guy has a built-in purring mechanism so your feline can enjoy the sensation of curling up to another purring "cat." It also plays calming, comforting sounds.
Promising review: "Works like a charm! I recently found myself a cat mama of an abandoned week-old kitten. I bought this knowing she needed just something to cuddle up to in her bed. Turns out it basically hypnotizes her to sleep. She crawls to it, kneads it, and eventually her meows turn to silence. I wish the purring lasted longer but for $10 it is a lifesaver. She's pooped on it a couple times so I've had to throw it in the washer and dryer minus the battery pack. It's held up great." —S Leytem
Get it from Amazon for $14.98.
10.
A top entry litter box to keep the litter where it belongs: in the dang box and NOT all over your floors and carpet. It has a grooved lid to catch any litter that's attached itself to your cat's paws, plus it comes with scoop!

Promising review: "We are first-time cat owners and our very skittish and easily spooked 1.5-year-old cat had just come from a foster home where she wasn't thriving. First day in our home and she used this litter box (she had been using a traditional, completely open low box). We opted for the large size since we knew she might grow a bit still. I'm glad we did, because even though she's a small cat, the large size gives her plenty of room. We wanted a covered one because our only place for a litter box was right next to our claw foot tub and we didn't want a bunch of water splashing in and wasting litter. Can't say enough about how stoked we are about this litter box! Not hideous, super easy to clean, and our sweet (and no longer skittish) cat loves it!" —Amazon Customer
Get it from Amazon for $35.99+ (available in three colors).
11.
Or an enclosed litter box for some privacy (and extra storage space!) while kitty is taking care of business. If you don't have room in your home to put the litter box somewhere out of sight, *ding ding ding* this little guy will keep your secret! And it certainly doesn't hurt that this box will blend in seamlessly with your decor instead of standing out like a stinky eyesore.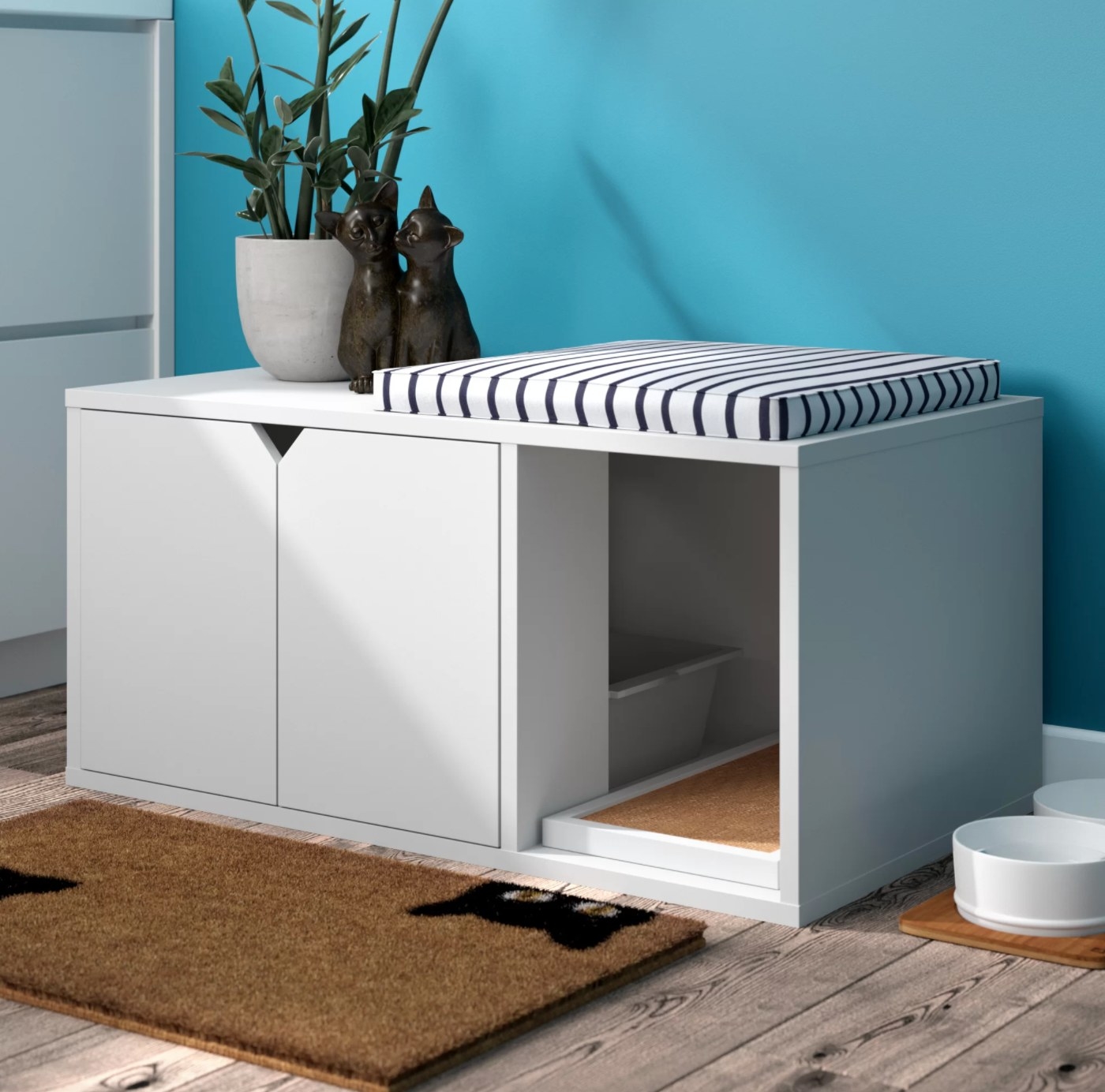 Some reviewers recommend adding a waterproof liner underneath the litter box to prevent liquids from absorbing into the paperboard.
Promising review: "Looks really good and was easy to build. It can blend in with furniture; you can't tell it's a litter box enclosure, so it's great for people who are looking for that. Also if you have small children, it can be really useful." —Joyce
Get it from Wayfair for $73.99+ (originally $129.99; available in five colors).
12.
And of course a bag of premium clumping litter because scooping the litter box and having the clumps break into a dozen pieces while releasing a pee- and ammonia-scented cloud is your biggest frustration with your current litter. Ding ding ding! This winning litter will prevent that problem. Plus reviewers say the odor control is fantastic.

Promising review: "Love this litter! Finally a litter with no odor! We have two cats; they're sisters. We have two litter boxes in a 2,500-square-foot, 150-year-old house. Before switching to Dr Elsey's litter I could smell those litter boxes no matter where I was in the house, no matter what brand the litter was, and we tried at least a dozen of the top name brand litters! Dr Elsey's litter clumps well and is lightweight. My one kitty is very particular/fussy about her litter. We changed just one litter box, to this litter at first, because we still had some of the previously purchased litter left. The fussy kitty would no longer use the litter box with the old litter in it. Dr Elsey's litter is very clean and not dusty. And the price for this litter is very competitive. I would easily give this litter a 10-star rating." —Diane Zillich
Get a 40-pound bag from Amazon for $20.55.
13.
A pooper scooper that'll scoop the dang poop so you don't have to kneel down to pick it up.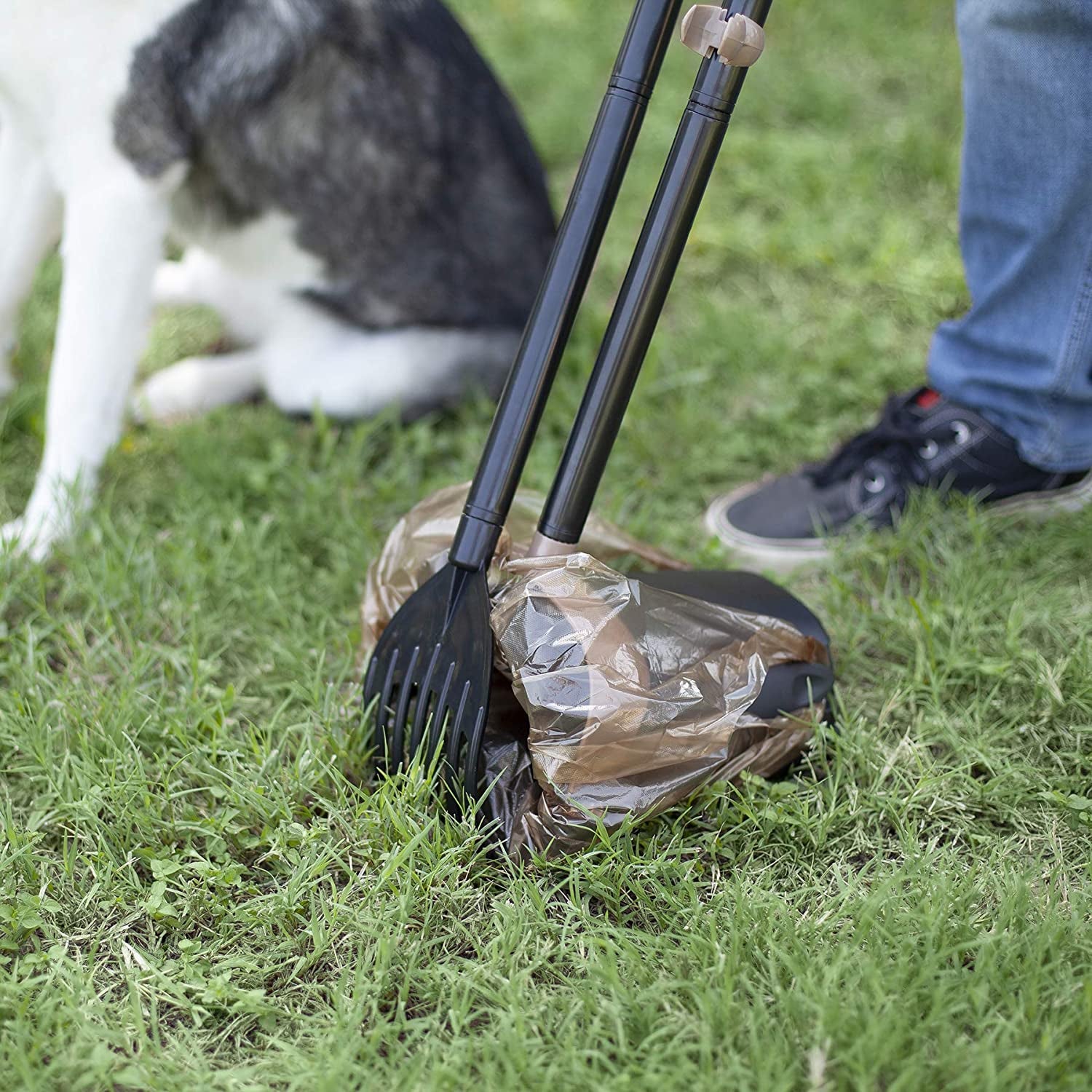 Promising review: "With three dogs, two small and one large, scooping the yard is a never-ending job. But with the Arm & Hammer swivel bin and rake, there is no more bending to pick up the doggy droppings. I am able to easily use the rake to push the droppings into the bag covered bin. When I am done cleaning up the yard, I just simply remove the plastic bag from the scoop, tie it off, and dispose. I do spray the rake off with the hose sprayer and then clip the rake onto the scooper for easy storage. I really like this handy scooper. It makes a very icky job much easier to handle." —Kelly Eldred
Get it from Amazon for $19.99. 
14.
An odor-eliminating spray so you can lift stains and odors fast. Each spray releases bacteria that feeds on the ammonia left behind after your pet's accidents, eliminating the urine completely and deterring your pet from peeing in the same spot again.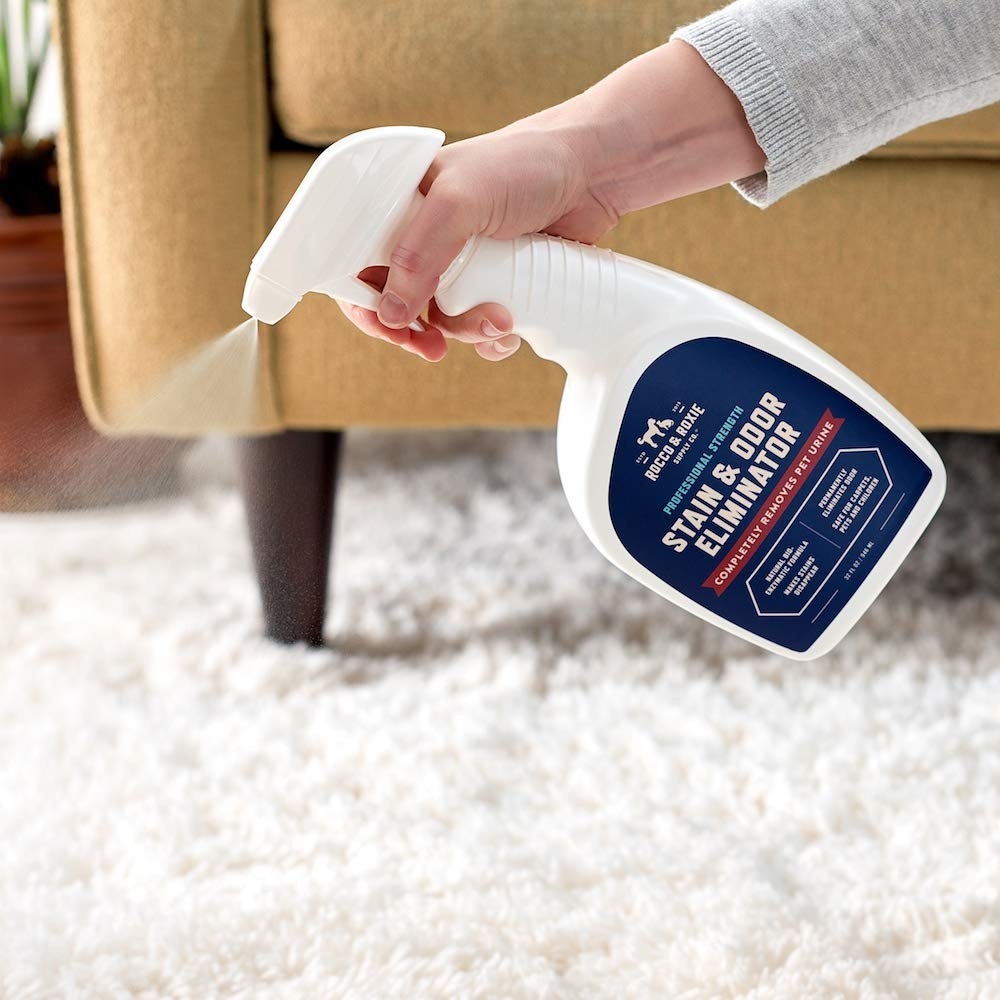 Rocco & Roxie is a family-owned small business named after the Magleby family's pets Rocco, a Labradoodle, and Roxie, a former shelter tabby cat. They make a variety of pet supplies, including cleaners, treats, grooming tools, accessories, and toys.

Promising review: "I have six elderly cats, and a few of them oftentimes leave smelly pee puddles to register their disdain at whatever cats get 'peed off' about. It's not a litter box problem and, although I've caught one or two of them doing it, I can't blame them all. This product works great on fresh messes as well as dried ones. After blotting up fresh pee pods, I saturate the area with Rocco & Roxie's odor remover and let dry. For dried stinky stuff, I just saturate the area and let it dry. It has a pleasant odor and completely eliminates the ammonia odor. Believe me, I've tried all kinds of products, and this one works the best. I buy gallons now just to have on hand. It's better than smelling that awful pee!" —mona mia
Get it from Amazon for $19.97 (or Subscribe & Save for $18.97/month).