1.
A reviewer-beloved veggie chopper if you've got pounds of produce in your fridge just waiting to be prepped for dinner and absolutely zero desire to spend more than five minutes chopping it all. No more tears because the recipe calls for diced onions! 
Promising reviews: "I bought this to ease my chopping. I have a large family that I cook for and spending anywhere from 20 minutes to an hour sometimes just chopping things was extremely exhausting. I have used this multiple times since I've purchased this and I am grateful. It was easy to use and the clean up was a lot faster than normal." —Jameelah Sheffield

"I make salads every night for a family of five. This takes me about two minutes to chop everything but the lettuce. This is saving me so much time. I throw my onion, baby tomatoes, and Persian cucumbers in it. Absolutely love it!" —Ricky
Get it from Amazon for $29.99 (available in black or white).
2.
A truly ~egg-cellent~ rapid egg cooker so everyone can enjoy an omelet (or a soft-, medium-, or hard-boiled egg as well as poached eggies — so many options!) in mere minutes. 
Promising reviews: "We are a household of eight: two adults and six children ages 9 through 17. The fact that this little machine is easy to use and can make eggs for eight different tastes makes cooking eggs so much easier. It's very easy to use and I save on water and electricity by not having to boil water in a pot and use the stove." —Heather in Little Elm
"I purchased this product in hopes that it would help with the task of cooking eggs. I have to say I absolutely LOVE this item!!! I have a large family that loves eggs. Boiling eggs was always such a chore for me. I never knew how much water to add, how long to cook the eggs for, etc. This product saves me time, and cooks the eggs perfectly every time. It is easy enough to use that my kids are now able to make their own eggs. I ended up buying two of these so that I could make 12 hard-boiled eggs at a time if needed. The price is right and the size is small and compact. I highly recommend this product!!!!" —10shiningstars
Get it from Amazon for $17.99+ (available in seven colors). Like the reviewer above, you can opt to buy two machines if you know you need more than six slots — or you can opt for this two-tier egg cooker (from the same company!) that has 12 slots.
Check out our Dash rapid egg cooker review to learn more!
3.
A lasagna trio pan to help you prepare meals for everyone, regardless of their dietary restrictions. Mamma mia! *insert chef finger kiss*
Promising review: "In a family of six, there are always SOME who don't like what everyone else is eating. This is a pan where making three different kinds of lasagna doesn't require much if any more effort than making a single lasagna with the same dimensions. Takes the same amount of time to layer the noodles, same amount of time to build the things...but you have three different builds to satisfy those darned picky kids. Or hey, go adult gourmet in a way that Olive Garden cannot. What's fun with this pan is it's not just lasagna. I tried making breads with it to good effect. Yeah, the loaves looked a little weird but I DON'T CARE. I did it, and that's all. It gives me what I prize most in cooking gear...versatility. Easy to clean, certainly...and nonstick, though that requires a little care (use wood, not metal utensils). With proper care and feeding, these are made to last pretty much forever. I love it." —J. Tant
Get it from Amazon for $22.99.
4.
A pack of slow cooker liners that'll come in handy if you have a lot of hungry people to feed. With the disposable liners, you can cook different recipes at the same time, reducing your overall cook time *and* saving you from having to wash a huge stack of dishes.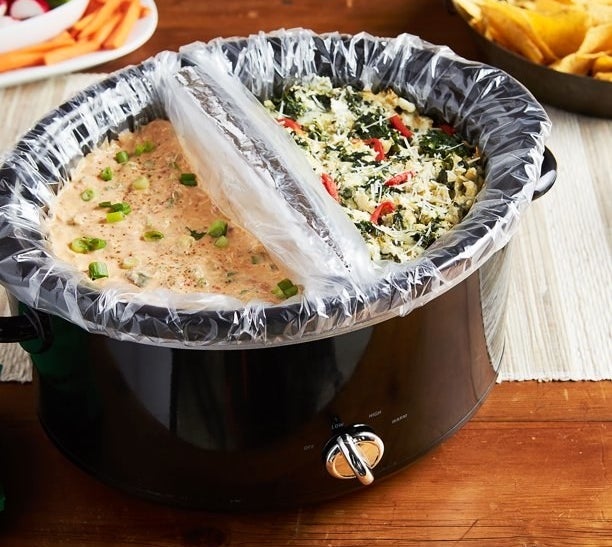 PS: They also come in handy with dishes going into a water bath (think: cheesecakes, custards, and puddings). 
Promising review: "We constantly use our crockpot for easy meals. I'm a teacher and my husband is a firefighter, and it's just easy for our family of five. No real cleanup. I toss the bag in the trash after use and will just run a wet rag around the inside of the pot for good measure. Never have a problem with holes or burning." —Ashley Matthews
Get a pack of six from Amazon for $3.48.
5.
And a 10-quart slow cooker because...duh! It can hold a 10-pound turkey or 12-pound roast (though reviewers say it can hold more!) and has easy-to-grip handles and a clip-tight sealed lid that make transportation easy — even if you're only moving it from the counter to the dinner table. When the food's gone you can toss the stoneware crock and the glass lid in the dishwasher!

Promising review: "We have a family of eight people, so a large slow cooker is great. I will say though, this is probably larger than we even need though. It's huge. I love the fact that I could easily double or even triple a recipe in this thing though. Cooking seems to be great, even when we are only putting things to half full (a typical 8–10 serving recipe will be half full in this)." —Christina

Get it from Amazon for $89.99.
6.
A Souper Cube, a silicone freezing tray for storing perfectly portioned meals. Prep a recipe ahead of time and freeze them in these trays so you can quickly grab them as needed and defrost them for an easy meal.
Each tray has four fill lines — 1/2 cup, 1 cup, 125 mL, and 250 mL — which is ideal for people who like to portion their food.
Promising review: "As a person who sometimes relies on a frozen entree when I am not up to cooking, these Souper Cubes are a perfect way to portion out meals, freeze overnight and then pop out frozen block into a freezer bag. Defrost one or more of these blocks and reheat either in a slow cooker, microwave, stove, wherever! 'Souper convenient!" Great for people who live alone or have an empty nest or is good for large families who eat different things at one meal." —J. Wood
Get it from Amazon for $19.95.
7.
An 11-in-1 Instant Pot Duo Crisp if you want to whip up dinner fast and without dirtying every pot and pan you own. In addition to being a pressure cooker and an air fryer, the IP Duo Crisp can also sauté, steam, sous vide, bake, broil, dehydrate, and more.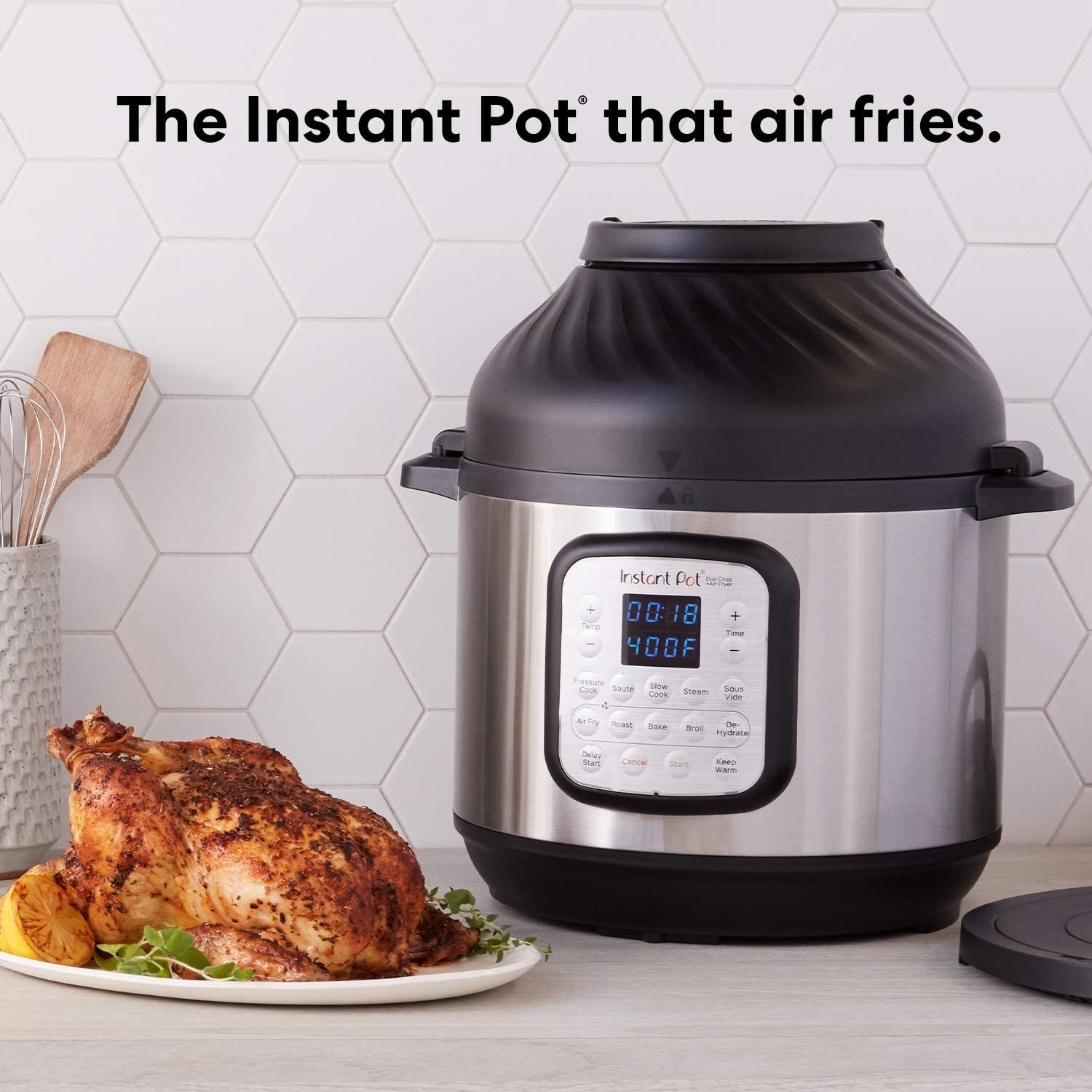 Promising reviews: "I already had an 8-quart Instant Pot Duo but was wanting an air fryer. I figured I'd get this one and sell my original. My husband was skeptical that this was worth the money but after trying it, he agreed it was the best purchase of the year. I ended up keeping both because they do have different functions and having two speeds up meal prepping. We have two young kids and two middle school-age kids and this is the perfect size for making dinner for all of us without using every pan in the house. The air fryer is great for heating up my toddler's frozen nuggets and veggies. I can have his food made in less than 10 minutes and they are cooked to perfection, no more preheating the oven to 400+ and waiting 20 minutes for nuggets. It's also nice for reheating leftover fast food that doesn't get eaten the first time. If you're looking to make homemade fried food, you still need to use a batter but the air fryer gets the food nice and crispy without all the extra grease. This has been a huge time saver in more ways than one for me." —Courtney
"I'm the cook for our large family and this appliance is very handy. It save money and time. A cheap round roast can be pressure cooked to be tender and then automatically slow cook the veggies to make a great hands-off meal. Or a lunch of air-fried wraps in 10 minutes. It's just great!" —William Kirk
Get it from Amazon for $149.95+ (available in two sizes).
8.
A silicone baking mat so you don't have to cool and wash the baking sheet every time you want to pop something in the oven. Just swap out the baking mats instead!
Promising reviews: "My husband got me two of these a few years ago, and I recently bought two more just so I could do more baking/cooking between washes. I have a large family so we regularly use 3+ sheet pans in one meal to roast meat and vegetables, or make homemade fries. These work well. They still need a little oil or nonstick spray for some things, but cookies bake beautifully on them dry, and even when I'm making meats or veggies they make clean up so much easier. I highly recommend." —J. Holum

"I've been using these for months and I love that they help with easier cleaning. As a family of 6, anything I can do to cut back on the time I spend washing dishes is a bonus! Cookies and biscuits come off easily!" —mamajen
Get a set of two from Amazon for $18.24. 
9.
And a Nordic Ware extra large baking sheet big enough to hold an entire package of bacon. Now one-pan meals will actually only require one pan.

Promising reviews: "I am the pickiest shopper, especially when it comes to cooking gear. We have five kids, so I needed something that would fit more food. After lots of research, this was the pan I chose. I'm so glad I did! This pan is literally the best purchase I've made in a long time! It's so easy to clean, fits perfectly inside my oven, and the price was impressive for this mom on a budget. I recommend it to all of my friends and family." —Robert

"Love this size! It's almost the same size as my oven. I used to use two pans to cook sides for my family of six, but I just use this one pan. Things crisp well, or bake evenly. Sturdy and thick so it doesn't pop when taking out of the oven. Would buy again." —ROBERT C RAINEY
Get it from Amazon for $17.99.
10.
A meal planner that'll help you outline dinners for the week. Gone are the days when you were just cooking for one and a bowl of dry cereal with no milk was dinner. (That said, I have nothing against cereal for dinner!)

Promising review: "Just what I needed. We have a family of five so meals can get chaotic. I bought this to help me organize a little and I love it! You can easily take off the grocery side, which is great! Definitely recommend if you're looking to organize weekly dinner!" —Nicole M

Get it from Amazon for $9.99.
11.
A 17-inch Lodge cast-iron skillet because making meals in batches is a huge time suck. This spacious and oven-safe pan has plenty of surface room for all your ingredients. You can even cook pizza in it!

Promising review: "Highly recommend this pan! I purchased this pan because I have a large family (six adults and four children who I cook for every night) and it was annoying having to make things like casseroles, homemade biscuits, cookies, etc. in batches because my other cast-iron pans were just too small. The pre-seasoned surface was surprisingly smoother than I was expecting. I literally opened the box, washed the pan, and put my homemade pizza dough in and baked it. Didn't stick at all! I am 1,000% satisfied with this purchase. I 10/10 would definitely recommend!" —Kimberly Mattson

Get it from Amazon for $69.99.
12.
A pancake batter bottle for households that gobble down crepes, pancakes, and waffles quick as a flash. This genius invention is both the mixing bowl and the pourer (no more messy ladles and odd-shaped pancakes), meaning less mess at the end of breakfast.
The bottle isn't just for dispensing, either. It also has a whisk ball in the bottom so you can mix up your batter with just a few shakes. 
Promising review: "I love this thing! It is easy to clean. The only thing is that I add water then powder mix; if you do it the other way it will clump up and not mix and you will have to open it and knock it loose to shake some more. You may not have that problem depending on how much you're making but I have a family of six so we make a lot at once." —Danielle
Get it from Amazon for $14.99.
13.
A "Bread Buddy" dispenser if your family goes through a bag of sandwich bread every couple of days. This will potentially prevent spoilage if your little ones often forget to properly close the bag when they're done. 

Check out a TikTok of the Buddeez sandwich bread dispenser in action. 
Promising review: "Great product and easy to get to the bread. No worries about spending time tying the bag. Just pop the lid on and go! I highly recommend it. It saves time for me. As a single mom with six kids, I love it." —Toni Drake
Get it from Amazon for $12.49 (available in two lid colors).
14.
A set of "floating" kitchen knives so you can easily cut through whatever ingredient the recipe calls for: tough root veggies, delicate tomatoes, you name it. You've got a lot of chopping, slicing, and dicing to do so you need knives that can keep up.
Each set comes with 13 professional chef knives, kitchen scissors, a peeler, a two-stage stage knife sharpener, and an acrylic knife stand.
Promising reviews: "The knives are very attractive; my family (6 including grandparents) enjoys using them and say that often. Having college athletes at home full time who work out daily, chop coarse vegetables (carrots) and meats constantly, and have quite a bit of free time to constantly explore culinary options, the knives needed to be sharpened occasionally. There have been no issues whatsoever with the handles, appearance, etc..and considering these are used A LOT, they look brand new. The nonstick sides need extra protection though, so dishwashing is not recommended overall in our experience since we have hard (albeit filtered and treated) water." —dawn savick
"LOVE LOVE LOVE! We're a family of soon to be eight and are on a tight budget for a one-income family. To find something reasonable in price with the quality of something more expensive, we were more than pretty pleased to find this product. Not only stylish but great quality" —Crystal Mara
Get the 17-piece set from Amazon for $39.99+ (available in two finishes).
15.
An extra-large nonstick baking pan to be your favorite sidekick when you're whipping up enough lasagna, casserole, or roasted meat to feed a small army (aka your family of five).

Promising reviews: "Very well made and pretty too. They hold a lot. We have a very large family (22) and this made enough for leftovers after a family dinner. I bought three!" —Nancy Riffel
"Roasting pan is great! The nonstick surface is very easy to clean and evenly distributes the heat. The large size allows for a good amount of food when cooking for a family of four. Great value for the price." —Amazon Customer - CT
Get it from Amazon for $32.99 (available in four colors).