1.
The Clean Ball, a genius German invention so you can get rid of purse sand — y'know, the fine layer of dirt, dust, crumbs, grit, and who knows what else that you scrape your hand against whenever you're rooting around your bag and you brush the bottom of your tote. Inside the honeycomb pink ball is a smaller sticky ball that picks up debris and washes clean so you can reuse it.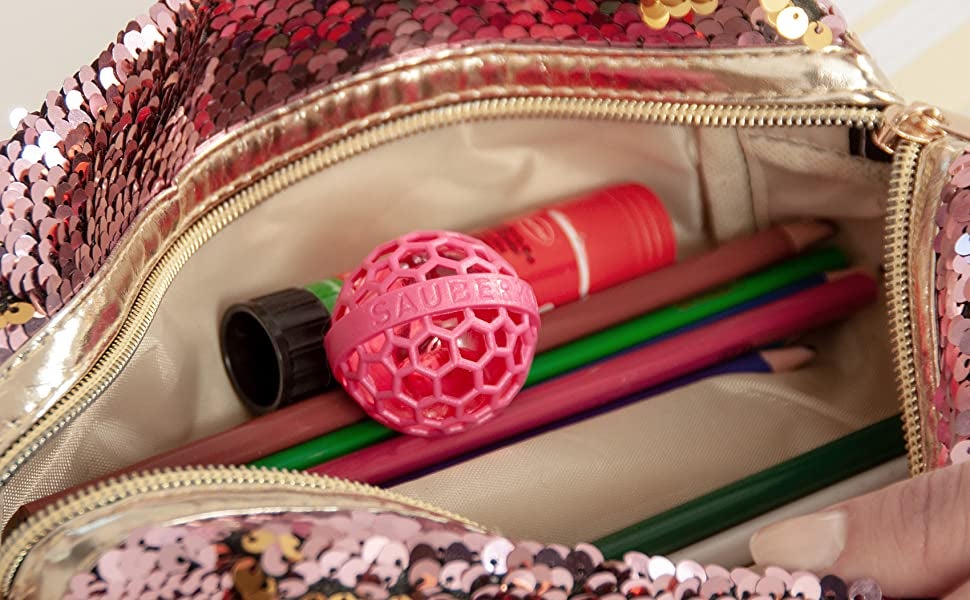 Promising review: "This little ball is genius! It rolls around in my purse, which I live out of. It picks up a lot lint, debris, or even crumbs. It's easy to find with the bright pink. Just remove and wash and it's ready to go again. The price was great and something I can use for years. If you live out of your purse this a must have!!" —dj3biggs
Get it from Amazon for $12.99 (available in pink and gray).
2.
A headrest hook to keep your purse nearby so you're not the driver who turns around to dig through their purse in the backseat and misses the green light. It'll also help prevent the contents of your purse spilling all over the car floor if you take a turn too fast or have to slam on the brakes.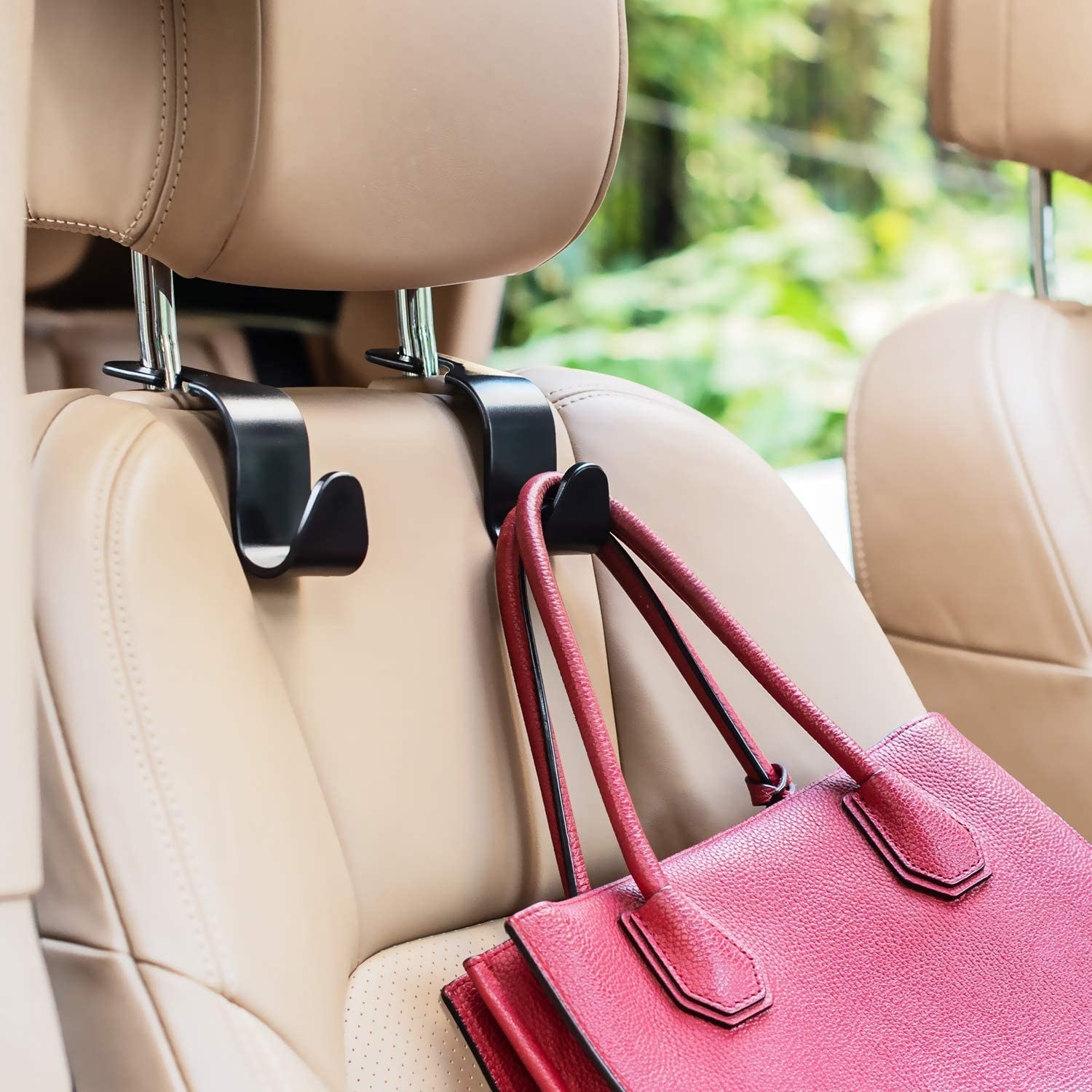 Promising review: "These hooks work great and function exactly the way I had hoped for! I actually turned them around and use them for the front of the seat, rather than the back. These hooks have solved the dreaded 'bag dump' when you have to brake suddenly. No more lunch spilling all over the inside of my work bag!!" —KLGS
Get a four-pack from Amazon for $8.99.
3.
A pack of stain-removing pads because owning a pet = a lot of messes. And these pads can handle a lot of them: Pee? Check! Poop? Check! Vomit? Check! (You can even use them to clean up your wine spills.) Just lay them over the spot, give 'em a stomp to activate their cleaning powders, and watch the stain disappear — no bulky carpet steamer necessary!
Promising review: "WOW! Honestly, I was a little skeptical of the promise of these pads, but I bought them just to try out. THEY WORKED AMAZINGLY WELL! Seriously. I have some stains that are 1.5–2 years old. I've tried everything to get them out. I put these pads on the stains (two to cover the spot), let sit for about an hour, pulled them up, and the stain was gone. I truly couldn't believe it. The pad was yellow. Somehow the old urine was soaked up into the pad. My carpet looks like new. I couldn't recommend these any higher for what I wanted and what I got. Wish I could give this more than five stars." —Matt
Get a pack of 20 from Amazon for $24.99.
4.
A volcanic stone face roller for removing oil and shine from your face. And unlike oil-blotting sheets, the ball can be popped out and washed so you can use this over and over and over again.
Promising review: "First off, if you have extremely oily skin, this. is. it. I was so tired of getting blotting powder/wipes. It felt wasteful and always left residue on my face. I saw this on TikTok and NEEDED it. Not only is it affordable, but it's also washable, which helps you save money and be less wasteful. It felt like the holy grail had been delivered to my front doorstep. After my first use, I was in love. Now, it doesn't pick up everything but it does make it more matte and gives you a natural look. I am so excited this product exists and I already feel more confident." —Kelsey B.

Get it from Amazon for $11.65.
5.
A set of adjustable clip holders if you're wearing a racer-back top and need to hide your bra straps. These clips attach to both straps across your back, so from the front no one can see your bra straps.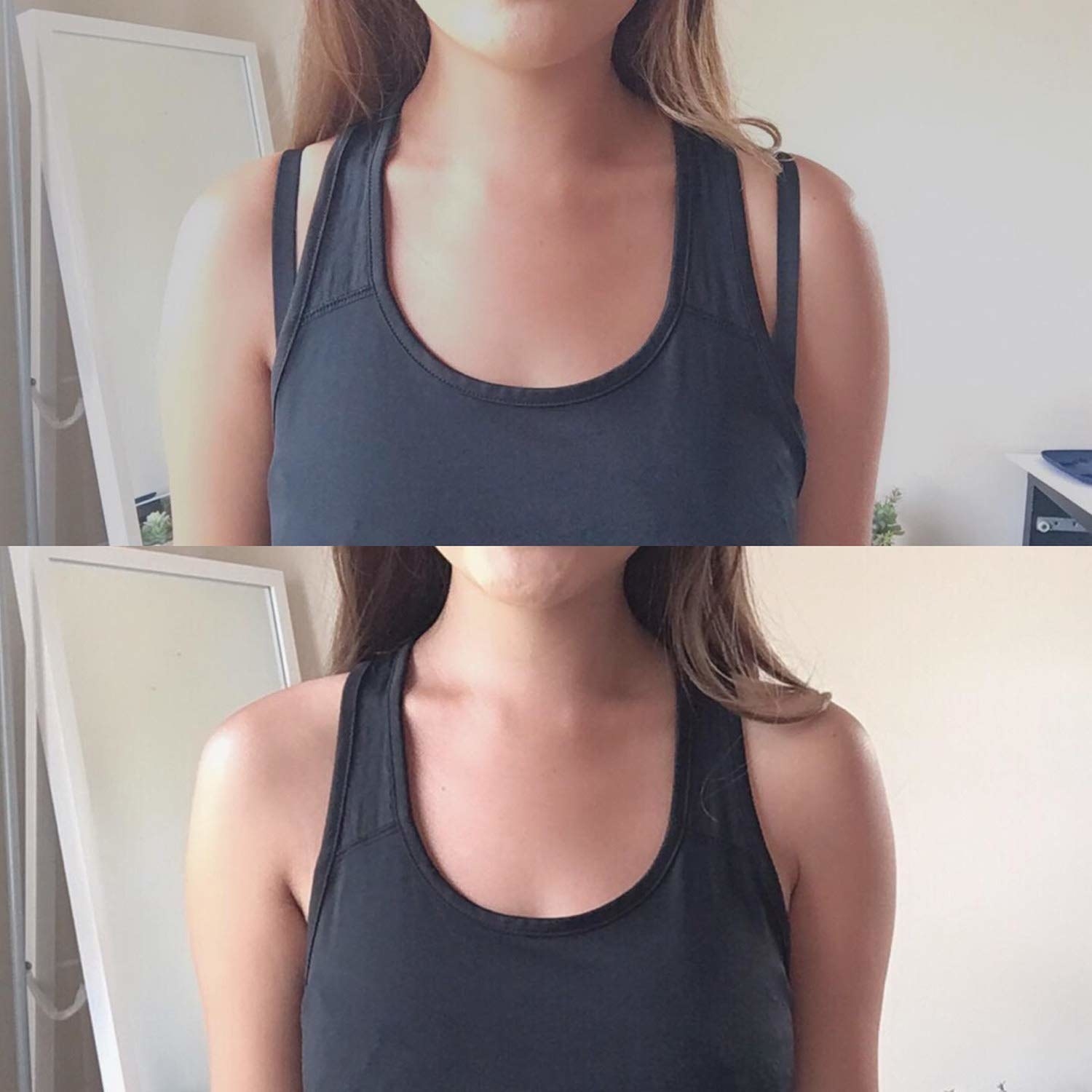 Promising review: "My bra straps spent more time off my shoulders than on them. I have bras that fit perfectly, but the straps are too wide-set or something. I'm so glad I bought these little bra strap clip holders because they've solved the problem. I've used them for three days now, and my straps have not fallen off of my shoulders even once in that time. Amazing! I love them! I put a clip holder on my bra and then put the bra on like a T-shirt — over my head, put my arms in, then fasten it as usual in the back — pretty easy. The length of the clip holders are adjustable. I have fully extended them to fit across the back of my 38DD bras. At first it felt a bit odd because it was different, but it doesn't take long to adjust to the feel of it. The strap clip holders do the job, and they are pretty cheap, so give them a try." —Polly Esther
Get a set of three from Amazon for $6.99+ (available in eight styles).
6.
A set of magnetic air fryer cheat sheets that'll ensure your foods emerge perfectly cooked instead of still raw or burned to a crisp because you guesstimated the cook time.
Promising review: "So glad that I came across these very handy sheets. I love having this information handy and easy to use. The magnetic sheets are strong and stay in place well, even with the fridge door opening and closing a lot. It's handy having them right in view for quick reference. It helps us to use the air fryer more, as it's easy to glance over and time things correctly. I like that it is a dark color so it doesn't get messy as easily, and it has all the things we are most likely to use the air fryer for. The envelope the magnetic sheets come in is cute and would make a nice gift, perhaps in a basket or bag of related items. Happy to have these!" —Small~Town~Girl
Get them from Amazon for $7.64+ (also available in white).
7.
An easily washable drip catcher so there isn't a puddle in the counter space between the back of your faucet and the wall after you wash the dishes. This absorbent mat sits snugly around your faucet so the back section of your sink area stays dry.
Hustle & Sew is a small shop based in Saint Helens, Oregon.
Promising review: "LOVE these splash catchers! They save me from having to chase the puddles that form around the base of our faucet before they start creeping over the counter. So reasonably priced, made well with neatly finished edges, and packaged with gift-ready care." —Alina
Get it from Hustle & Sew on Etsy for $13.50+ (available in four sizes and six colors).
8.
An electrical outlet cover with a power strip to clear cluttered cords stat. It's also pretty great if you want to push your furniture right up against the wall but can't because your phone charger adapter is in the way.
Promising review: "It looks perfect! So clean! I have so many wires for the TV and it looked so ugly. This hid everything. So glad I saw this on TikTok! They made me buy it, and I don't regret it!! LOL." —Lisette J Haslam

Get it from Amazon for $23.95+ (available in seven styles).
9.
A pack of AirPod cleaners because the last time you offered your buddy an earbud to listen along with you, they actually recoiled in disgust when they saw how gunked up your AirPods were. Squish the flexible square into your AirPod speaker, peel it off, and gasp in horror at the ear goop that's been dulling the sound quality.
Promising review: "I bought this after seeing it on some BuzzFeed list and thinking about how gross my AirPods probably were. When they came in the mail, I used them immediately. They got all the gunk out that was in the little holes. THEN my husband comes in and sees and wants to use them for his. I learned he has never even tried to clean his own AirPods (?!) DISGUSTING and amazing. It got everything out of his." —Amazon Customer
Get 24 from Amazon for $16.99.
10.
A set of wad-free pads from Shark Tank for keeping your bedsheets from tangling in the wash. If you've ever opened the dryer expecting...well...dry sheets, only to find them tangled in a damp ball, you need this. Doing the bare minimum = having to dry your bedsheets only once.
Wad-Free is a small biz that was launched during the pandemic. Cyndi Bray, the founder, learned CAD (computer-aided design) to create the pads.
Promising review: "Wow!!! You wonder if things like this really work and well, I can absolutely confirm it does! First, I was impressed that the package came with two of the devices because I was only expecting one. So there was one for the fitted sheet, and the flat sheet. Finally, I tried it out and my sheets not only did NOT wad up, they came out of the dryer feeling fresher, feeling more dry, and unwrinkled! I will be buying a set of these for each of my immediate family members and close friends! What a great gift!!!" —katy
Get it from Amazon for $18.99.
11.
A nail file board if your pup hates getting their nails trimmed but the scratch marks their overgrown claws make on your wood floors make you sad. This is like an emery board for your dog!
ScratchPad for Dogs is a small biz based in Atlanta.
Promising review: "Love this scratch pad! We adopted our dog almost a year ago and he's been terrified of clippers and grinders since day one. We've never been able to maintain his nails due to his super reactive anxiety around nail care. That's all changed since we got the Scratch Pad a few weeks ago! He took to it right away and his nails have shown significant improvement in just a few sessions!" —Kira Armajani
Get it from ScratchPad for Dogs on Etsy for $44.95+ (available in four styles and three grit levels).
12.
An acupressure mat and pillow set that may actually ease pain and loosen tight muscles thanks to spikes that massage your pressure points.
Promising review: "Honestly a friend sent me a TikTok video on this item. I was like for 20 bucks I'll try it, and oh my god, I have lower back problems and 20 minutes lying on this spiking mat helped relieve pressure. I work remotely and am sitting down for 8 to 10 hours a day, so tension builds up and this totally worked. So many ways to try using the mat." —Arlington Ink

Get it from Amazon for $29.99+ (available in 14 colors/styles).
13.
A wireless transmitter so you can watch the free in-flight movies with your Bluetooth headphones even though you forgot your corded earbuds.

It also comes with a USB-C charging cable, travel pouch, keychain holder, quick-start guide, and a manual.
Promising review: "I love this gadget ... I fly a lot, and this works on the majority of wide-body planes I've taken over the past six months. Just plug into one of the three-prong outlets (or single outlet in economy), and you can connect any Bluetooth device. Doesn't always connect on the first try as I have multiple devices that my headphones are searching for, but if you turn off all other devices, it seems to connect right away. Once connected, it works for many hours. A few planes I've taken recently (Qatar Airways) have USB charge points so close to the headphone jack that you can even plug it in while it's working and never lose the charge. Highly recommend for travelers." —Joseph Sikorsky

Get it from Amazon for $44.99+ (available in four styles).

14.
An adorable octopus-shaped blackhead remover to exfoliate your skin while pulling out whiteheads, blackheads, and other pore-clogging yuckies. 
Promising review: "After just two days of use, this adorable little octopus has done wonders for me, smells great too. Here's how I used it: I wore down the stick just a little to where the texture from the salt is visible, scrubbed around on my face so there was plenty of product, then I used my fingers to gently massage all the gunk away. Rinse, pat dry, and enjoy the softness. Highly recommended for people with sensitive skin like myself." —LuckLocust
Get it from Amazon for $12.50. 
15.
A creamy paw butter because your pet deserves a little spoiling. This balm moisturizes dry, cracked paws and snoots and is safe if licked or swallowed.
Promising review: "One of my puppers is a super athlete who lives to go for walks and on runs. She is about 9 now and the vet gave her a stellar bill of health save one thing: her pads were getting really rough and worn from paved trails and city walks, and this may be uncomfortable, especially as summer comes and pavement heats up. I was skeptical about any kind of balm as I figured that it would leave a mess on my floors or one/both dogs would just lick it off their feet. No problems whatsoever, and after a single application, both dogs' pads are really soft and supple. Hopefully the dogs can feel the difference. I can surely see it and feel it. Also, the balm smells like oatmeal cookies, so bonus for that." —LRL
Get it from Amazon for $9.50.