We hope you love the products we recommend! All of them were independently selected by our editors. Some may have been sent as samples, but all opinions and reviews are our own. Just so you know, BuzzFeed may collect a share of sales or other compensation from the links on this page if you decide to shop from them. Oh, and FYI — prices are accurate and items in stock as of time of publication.
1.
A set of two cooling pillows to save you from making hot-headed decisions... like *not* buying them. Inside is a plush gel fiber that provides the ideal level of support to back, stomach, and side sleepers. And they're machine washable as well as stain- and fade-resistant.
Promising review: "I can't believe I finally found pillows that I'm not allergic to. For years I suffered with swollen, crusty eyes when I wake up. These pillows are sensational. They make me feel like a kid with a teddy bear. I actually get excited when it's time to go to bed. They really help me to breath at ease with just the right comfort. I now wake up with clear allergy-free eyes. I will be buying again!" —T's ShopWisely
Get it from Amazon for $35+ (available in queen and king).
These won our budget pick for best pillow!
2.
A splurge-worthy shredded memory foam pillow so you can customize your head cushion and make it as soft or as firm as you like. The CertiPUR-US certified foam is made without harmful chemicals and is also vegan and cruelty-free. And it's so loved by reviewers that it's earned an impressive 8.6K+ 5-star reviews.
Promising review: "My last pillow was down stuffing from Ikea and was causing me allergy problems. As advertised, this one is not causing me any issues. And it's very comfortable! While you can adjust the amount of stuffing, with the amount it came with, it's soft but firm. My head sinks into it but only so far and then is being cradled. Very comfy!" —Joe the Prof
Get it from Amazon for $79.99+ (available in queen and king).
3.
Or a shredded memory foam bamboo pillow if you prefer a cheaper option but still want the luxurious feel of memory foam. Sweaty sleepers, rejoice! This eco-friendly cooling bamboo pillow allows for increased ventilation and breathability so you can stay fast asleep.
Promising review: "I've been looking for a pillow for about a year. I suffer from allergies and need something firm and also cool (as in temperature). This one does all of that and more! And, you can even remove some of the memory foam to customize the firmness (or not) that you prefer. Finally, a great night's sleep. Give this pillow a try — you won't be disappointed!" —Amazon Customer
Get it from Amazon for $29.99+ (available in queen and king).
4.
A pack of two down alternative pillows with a supportive gusset for sleepers who want to wake with no neck pain, no sniffles, and no itchy eyes. They provide the look and feel of luxury hotel pillows so we won't blame you if you confuse your bedroom for the penthouse suite.
Promising review: "In my house most of us have allergies. That's why I decided to try these pillows. I should say my family loves them. The morning sneezes have reduced a lot. They are soft but give the desired support. Your head will not sink in. After opening wait for 24 hours to set." —anand mudagal
Get it from Amazon for $36.99+ (available in three sizes and two styles).
5.
A bougie Brooklinen down alternative pillow because this US-made vegan and allergy-friendly cushion is made with shaved microfiber that feels like down but won't trigger the coughing, congestion, and tightness.
Promising review: "I recently bought this pillow because I was waking up every morning with a stiff neck and a migraine. The first night I tried this pillow I instantly fell asleep and didn't move all night long. I was originally worried about it being too soft but even the plush pillow allows your head to sink in while still supporting it. I've been waking up feeling refreshed and migraine-free ever since!" —Kathryn H.
Get it from Brooklinen for $59+ (available in two sizes and three support levels).
6.
A Parachute down alternative Euro pillow that'll look lovely on your bed while also providing back support while you curl up with a new book. The filling is a hypoallergenic microfiber and it's encased in a soft 100% cotton sateen.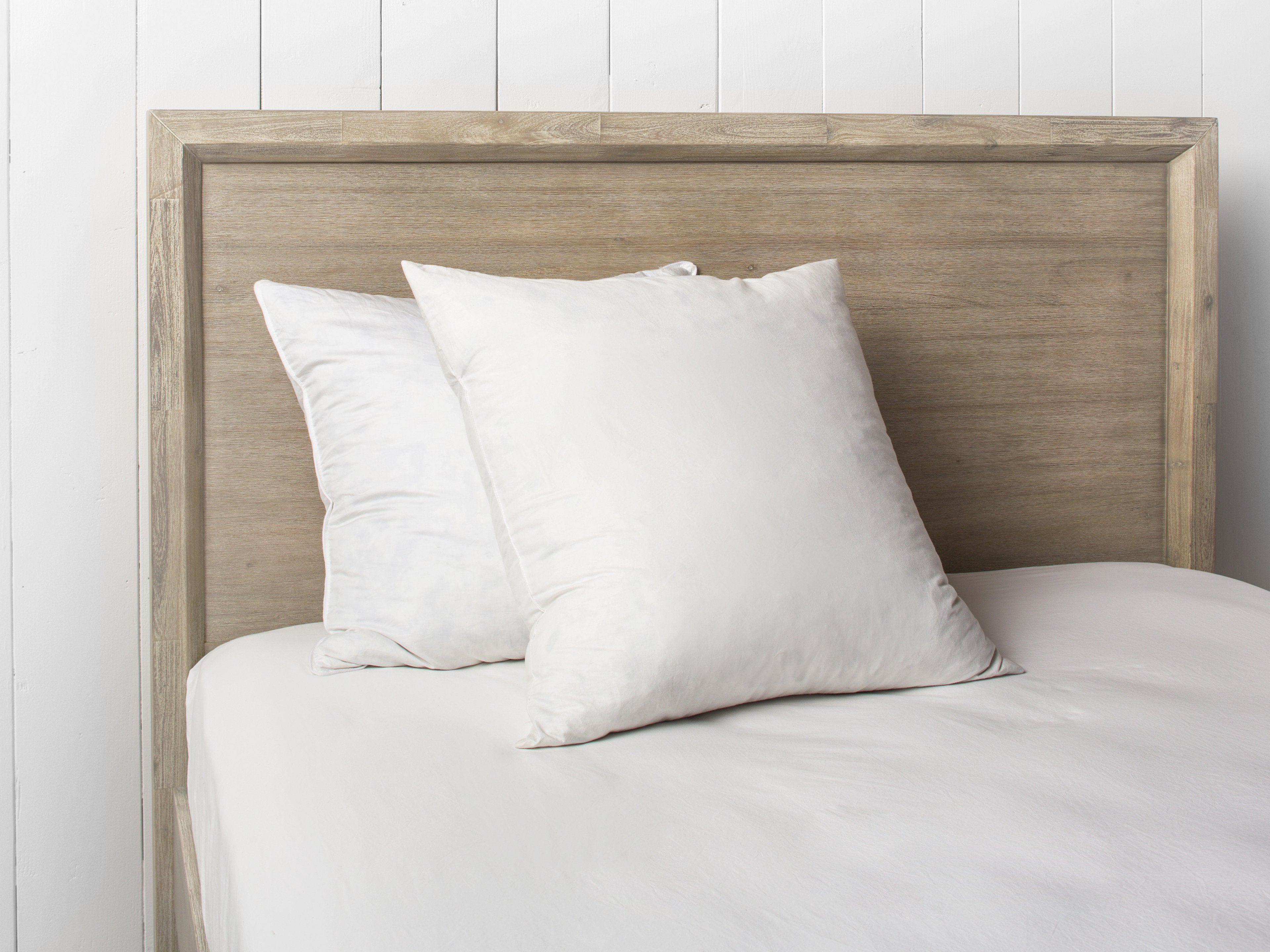 Promising review: "I love the feel, soft and cozy. I love how it looks. Every night we get in our bed we say how much we love the feel. I sleep better." —Dolores A.
Get it from Parachute for $29.
7.
A set of two firm gel pillow for side and back sleepers to conform to and support your neck no matter what orientation you're sleeping in. The 100% cotton outer shell is breathable and antibacterial, while the hypoallergenic microfiber fill helps you breathe easy overnight.
Promising review: "The absolute best pillows I have ever slept on. Not too firm yet not soft where your head hits the bed. They come flat and when unsealed they start to take shape. Give them a few days to fluff up beautifully. I ordered three more sets after the first set I ordered. I do not wake up with neck pain in the morning anymore. I never write experiences but thought I would share what a supportive pillow this is. There is absolutely no smell as well which is wonderful because my daughter has allergies. You have nothing to lose because if you do not like the pillows you can always send them back." —happy with pillows
Get it from Amazon for $28.99+ (available in three sizes).
8.
A Tempur-pedic Cloud pillow so you feel like you're sleeping on a ____ (fill in the blank). A cloud, y'all! It's in the name. Inside is the fancy schmancy Tempur material that adapts to your head for the perfect level of support. It's surrounded by a hypoallergenic 100% polyester knit cover that's removable and washable. 
9.
A set of two hypoallergenic pillows for back and side sleepers if you want that deep, restorative, drool-worthy sleep. Each pillow is made with a 100% Egyptian cotton shell designed to keep dust, pet dander, pollen, and other common allergens from disrupting your z's. 
Promising review: "This pillow is great for its price. It's not too expensive and offers great support. It is firm, but also soft and fluffy. It is hypoallergenic, which is great because I suffer from allergies. It is a nice and cool pillow and doesn't get extremely warm. It is a perfect size for my head and is not too small." —Lynn
Get it from Amazon for $27.99+ (available in three sizes).
10.
A ventilated latex pillow for treating yourself to top tier comfort, a hypoallergenic and breathable latex core, a moisture-wicking construction, and a super cool honeycomb pattern.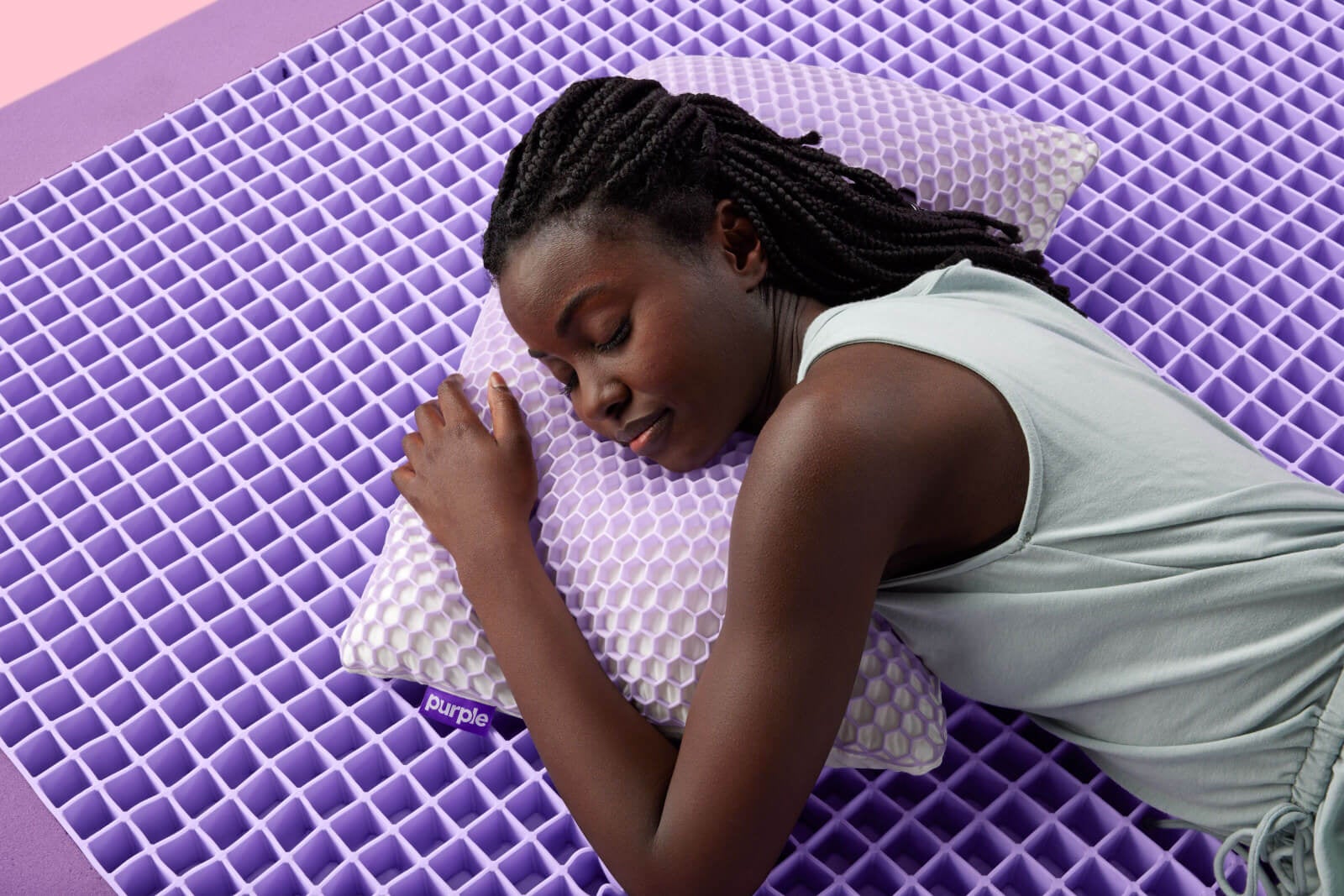 Promising review: "This pillow is a gift from heaven! It's firm in that your head doesn't immediately hit the mattress when you lay down. Yet it is also soft enough that it cradles your head perfectly when you sleep. The best part though is it sleeps really cool and never needs fluffing! First pillow I have ever owned that I didn't have to flip and adjust throughout the night." —Justin D.
Get it from Purple for $159.
You after a good night of sleep: