1.
A mold and mildew remover because you can set it, forget it, and come back in a few hours to see grout that looks like new. I'm talking basically every speck of black mold is gone! *Cues up "Do You Believe in Magic"*
Promising review: "This stuff is amazing. I live in an older apartment complex and even though I scrub and clean my bathtub every week, the caulk around the edge still managed to grow mold and turn brown/ black. I scrubbed with many different products and it didn't seem to make a difference. I found this product and the transformation is huge. First, it's easy to apply because of the squeeze top. I was able to just really focus on the caulk. Then, because it's a gel, it stayed put and didn't ooze everywhere. It really surprised me on those vertical sides. In the first picture, I already scrubbed my tub and even used some sturdy brushes attached to my power drill. The second half of the picture is after five hours of letting this mold remover soak and just wiping it off." —Rochelle
Get it from Amazon for $13.99.
2.
A pet hair remover if you're tired of getting fur all over your clothes. Roll it over your couch, bed, favorite blanket, you name it, and watch it lift the fur away. See, we can own nice things!!
Promising review: "If I could give this product 6 stars, I would. My husband and I use it almost every day. We have three furry dogs and six fluffy cats, which makes for A LOT of hair. We were using a lint roller before we bought our ChomChom Roller. The lint roller didn't work very well and had to be replaced. We have had our ChomChom Roller for months and it still works just as well as it did when we first got it. We can actually invite our friends over now without worrying about all the pet hair." —Morgan Willis
Get it from Amazon for $26.95.
3.
A nail polish organizer for storing your polishes in a way that lets you see your entire collection at a glance. And when you're not painting your nails, just slide this under your bed so it doesn't clutter your shelves.
This holds 48 bottles and is double-sided.
Promising review: "This is better than advertised. All my bottles fit perfectly in the standard size boxes. My Julep colors fit two in a compartment! The first row has adjustable dividers, you can use them to keep odd-shaped bottles or do what I do: use one side for my nail stamper, dotting tools, and the drying drops and the other for foam wedges and nail pens. It looks way neater easily tucked under my vanity instead of the baskets and baskets of polishes I had to hunt through!" —Clouds
Get it from Amazon for $27.89 (available in two colors).
4.
A bleach-free, no-scrub weekly shower spray so soap scum and shower grime buildup goes bye bye without you ever having to wipe. Rinse it clean the next day, and you'll be amazed to see those hard water stains on your shower door are *poof* gone.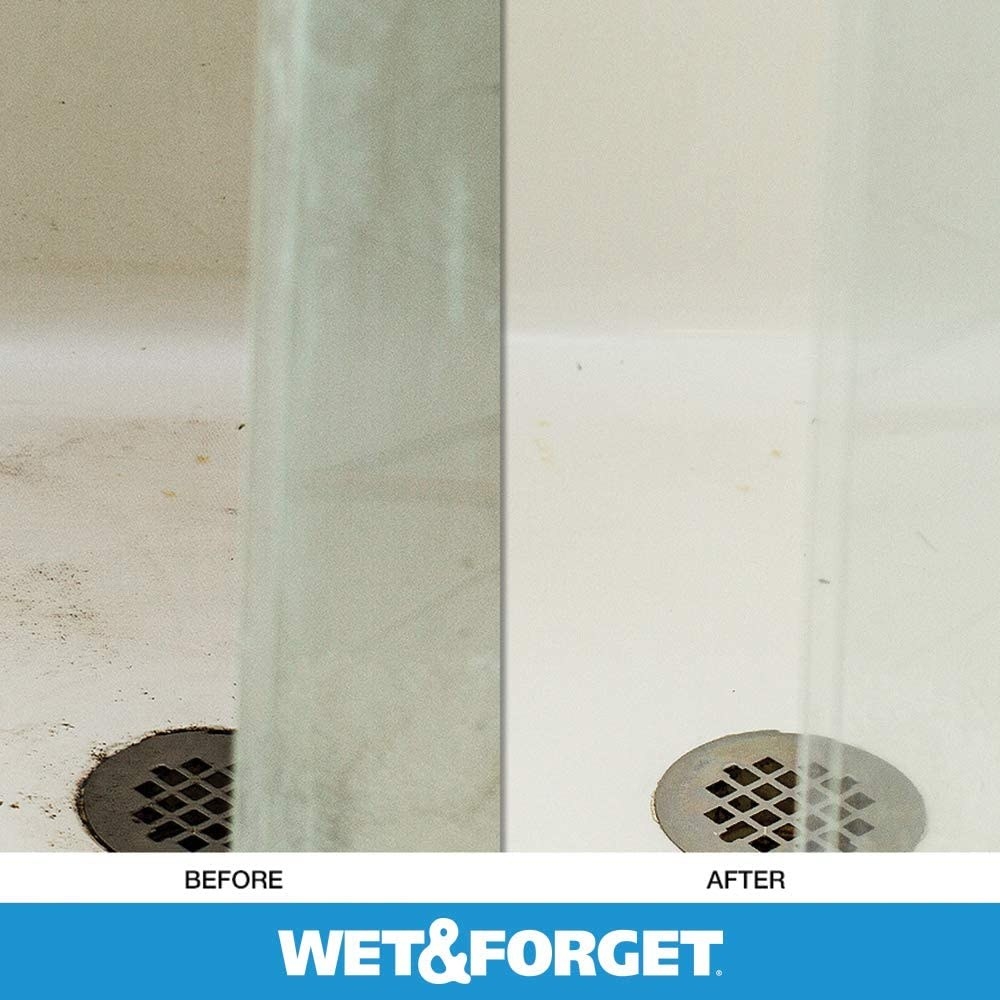 Promising review: "We cannot BEGIN to tell you what a lifesaver this is! We have two old fiberglass tubs with vinyl shower enclosures that no matter what amount of scrubbing we have done with everything from bleach to cleanser to vinegar and baking soda would NOT come clean. After I took my shower last night, I sprayed down the tub and walls. Within minutes, all the built-up water deposits and dirt and grime began to melt away in front of my eyes. I left it on overnight, and when I got up this morning, it did not look like the same tub and shower. This product is a godsend, especially for old folks like us who have difficulty getting down on our hands and knees and scrubbing anything. More importantly, it performs as advertised. We plan on using it as part of our weekly cleanup routine. This is truly an overnight sensation!" —Amazon Customer
Get it from Amazon for $17.97.
5.
A pack of dishwasher cleaning tablets to clean your machine as it runs. No need to sigh in frustration every time you open your dirty dishwasher to remove your "clean" dishes.
Promising review: "I rarely post reviews, but this stuff has completely changed our lives. Our dishwasher, utensils, plates, and glasses were covered with dry scale and nothing we tried came close to helping. After using the tablets three times our dishwasher looks like new; our glasses are sparkling like fine china and everything else looks fabulous. Highly recommend, worth every penny, best product BY FAR!!! One great advantage is you can use it with your dishes. Some other products are used to clean the dishwasher but not to clean dishes and glasses. Buy this, you will be blown away!!! It is astounding!" —Jenny
Get a pack of six tablets from Amazon for $5.99.
6.
A plant-based stainless steel cleaner and polish that'll help you conquer the very time-consuming task of wiping down all the appliances in your kitchen. Reviewers say it helps keep your surfaces smudge-free for longer, meaning less cleaning for you!
Promising review: "I live in an apartment. The sink is about 35 years old and has become badly stained and scratched from neglect and indifferent care. This has made a noticeable difference. This sink will never look brand new again, but your product removed, I would say, about 80% of the stains, without any extraordinary effort, and put a really polished look on the sink. It is gleaming and actually looks very clean for the first time since I have lived here. I am betting that with continued and consistent use of Therapy cleaner, it will continue to improve. Thank you for a most excellent product." —David Brennan
Get it from Amazon for $16.95.
7.
A pack of stain-removing pads because owning a pet = a lot of messes. Just lay them over the spot, give 'em a stomp to activate their cleaning powders, and watch the stain disappear — no bulky carpet steamer necessary! Pee? Check! Poop? Check! Vomit? Check! (You can even use them to clean up your wine spills.) 
Promising review: "WOW! Honestly, I was a little skeptical of the promise of these pads, but I bought them just to try out. THEY WORKED AMAZINGLY WELL! Seriously. I have some stains that are 1.5–2 years old. I've tried everything to get them out. I put these pads on the stains (two to cover the spot), let sit for about an hour, pulled them up, and the stain was gone. I truly couldn't believe it. The pad was yellow. Somehow the old urine was soaked up into the pad. My carpet looks like new. I couldn't recommend these any higher for what I wanted and what I got. Wish I could give this more than five stars." —Matt
Get a pack of 20 from Amazon for $24.99.
8.
A grout paint pen if you're ready to cover the years of residue from dirty feet, uncleaned spills, and mysterious stains that bother you every time you look down at your floors. It works like a regular marker, so even people who failed art can use it.
Promising review: "This stuff is amazing! After over 10 years of the grout not being cleaned, and a botched repair job, the bathroom floor in this house looked horrendous. Two pens covered the entire bathroom floor, with plenty left over in the second pen, even with applying two to three layers (which you will definitely need as the paint is a bit thin and also absorbs into the grout). Super easy to apply, works exactly like a regular paint marker. Be sure to press the pen tip on a separate (thick) cloth to activate it before actually using on the grout so you don't end up with a huge mess on the tile when the paint floods out at first. If you see the first side of the tip is getting frayed, just pull it out and turn it around to the other side." —regalle
Get a white pen from Amazon for $8.99 (also available in other colors).
9.
A pumice cleaning stone for powering through tough rust, lime, and calcium streaks that have retired many a toilet scrubbing brush. Give your tired arms a break and let this little guy rub away discoloration with ease. This nontoxic cleaner is tough on dirt but gentle on porcelain so you can sit atop the glistening throne you deserve.
Promising review: "I'm doing a happy dance right now! My toilets have had mineral rings in the bowls from well water since we bought our house five years ago. During those five years, I have purchased NUMEROUS products to try to remove the rings. Every single one failed. I had come to terms with the idea that if I wanted pristine looking crappers, I was going to need to replace them. Three of them. Ugh! I ordered the pumice cleaning stone as a last ditch attempt. Received it today, and immediately went to town. My extreme enthusiasm for scrubbing johns was actually a bit odd, but I was feeling optimistic. Turns out I had reason to. THIS PRODUCT IS AMAZING!!! SO amazing, it actually inspired me to take a picture of my TOILET!!!! My hoppers are saved!!!!! Seriously, the rings are COMPLETELY GONE. If I could give 10 stars, I would." —Sassyscribbler
Get it from Amazon for $10.99.
10.
A heavy-duty oven scrub so it's like the years of baked-on dinner explosions and drippings that coat the inside of your oven — poof! — never happened. It'll clean stains right before your eyes; no need to let it sit overnight!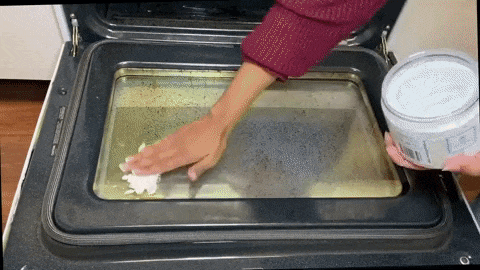 Everneat is a small business based in Fairfield, Connecticut, that specializes in natural cleaning products.
Promising review: "This product is amazing! It works fast with pretty minimal elbow grease. The stainless-steel sponge that comes with it makes it easier. And it smells great!" —Melissa C.
Get it from Everneat on Etsy for $19.99+ (available in a plastic or glass container).
11.
An electrical outlet cover with a power strip to organize cluttered cords stat. It's also pretty great if you want to push your furniture right up against the wall but can't because your phone charger adapter is in the way.
Promising review: "I have an outlet above our mantel that's meant for a wall-mounted TV. We have a large painting covering it. We wanted to use the plug to power two Wi-Fi speakers on the long mantle. The thinness of the plug is perfect behind the painting. The power strip is hidden by a mantle clock. So, we have our two speakers to either side and no visible wires. This product may not work for every application, but for us, it's 10 stars." —Chashum
Get it from Amazon for $23.95+ (available in four lengths).