So, obviously, in case you've forgotten or missed it, in the series 9 finale Hell Bent , the Doctor hit some fancy Timelord button and forgot everything he knows about Clara Oswald.
(If you did miss it, you probably shouldn't continue reading. You know, because, spoilers.)
I'm here to tell you why I think he's full of shit and he remembers everything.
This is the 12th Doctor we're talking about here. AKA written by Steven Moffat. AKA the king of plot twists, subplots within subplots, and generally complicated things.
1) When he talks to Waitress Clara, he acts way too nonchalant and happy.
Something I've noticed about the Doctor, in all his regenerations, is that when he has to leave a companion, he'll smile and act like nothing's wrong and nothing hurts (even if the companion is crying). Likely so that the companion doesn't hurt even more due to his pain, or maybe so that he can deny to himself that he's truly upset. Examples of this could be when Ten left Rose on the beach, smiling and nonchalantly saying "Oh, I'll just go back to the TARDIS," or Eleven giving Clara a comforting, soothing smile and reaching for her hand in the last few seconds of his regeneration. Either way, I feel like you can always tell when the Doctor is putting on a brave face. He always raises his voice an octave or two, he always acts like he's got nothing figured out and doesn't have a care in the world. When the Doctor is speaking to Waitress Clara, he sort of shrugs without authenticity when he claims he doesn't remember what she looks like and "nothing's there."
2) If the Doctor didn't remember a companion, wouldn't he be a little distressed or upset or panicked?
I know that the Doctor was supposed to forget how intensely he loved - *ahem*, I mean felt for Clara, but even so, I somehow doubt the Doctor would lose an entire portion of his life and hardly be bothered by that. I doubt that, once he comes to his senses and realizes he pushed some button and forgot everything, he'd just be chilling with some waitress, talking to her like nothing's a big deal.
3) Isn't he too complex/genius/etc for such a large portion of his memories to be taken away?
This theory isn't the best, but I still think it's important to consider. The Doctor is a Timelord, superior in every way possible. Is it really plausible that, even with Timelord technology, something can just disappear from his mind? Something tells me that The Doctor is incapable of having knowledge taken away just like that, and he knows it. Remember in The Rings of Akhaten when he offers his memories to the parasite, and the parasite takes them (and is still hungry)? I don't know if the parasite was actually supposed to take them, but if he was, because he clearly took something from the Doctor, the Doctor didn't appear to forget a thing. Something tells me that nothing and no one is even remotely capable of taking anything away from the Doctor's mind, because it is likely the most full mind in all of time and space. He has seen more and felt more and lost more and lived through more than likely anyone or anything ever has. I somehow don't think anyone is capable at chipping away at that.
4) Could the memory wipe have functioned like Donna's?
I know that this was a Timelord technology memory-wipe...thingy, but wouldn't the Doctor have remembered Clara the second he heard her name, the same way Donna could never hear about anything relating to the doctor? When Clara finds out that the Doctor wants to wipe her memory, she tells him he won't take her memories because they were the best years of her life and they are hers. Don't you think he would've corrected her and told her that she wouldn't necessarily forget the memories, she'd know the stories, she just wouldn't have the pictures and feelings to go with it? If this is true, and if he would have remembered Clara the second he heard her name, this brings me to #5.
5) The way he says Clara's name when he wakes up in the American desert.
First he says "Clara", but not like a question, not like he doesn't know who she is, but like he's a little disoriented and coming to his senses. In a way that says "Clara left me here? Wait, what? what happened? How did we both get here?" He eventually says "Clara" again, in a way that sounds more solid and confirming, a way that says "Oh...Clara! Oh yeah, that's right one of us wiped our memories. Oh, I guess that was me." Maybe then, with his super-fast-Timelord planning skills (like in Heaven Sent when he plans something in like 7 seconds while he's falling out a window), he creates the plan to pretend he doesn't remember Clara so that they are both able to leave each other, which is why he finally says "Clara who?" to begin his lie. Never forget Rule #1: The Doctor lies.
6) He fully discloses everything about himself to some random British waitress in an American diner.
I know the Doctor doesn't necessarily keep the fact that he's a Timelord a secret, but something in my mind tells me he wouldn't just randomly spill everything about Gallifrey and the cloisters and his TARDIS to some random human that probably can't understand any of that, even in the form of a "story." Which brings me to #7,
7) Did he not notice how clearly Waitress Clara grasped all the shit he told her?
Let's say, theoretically, you see some Scottish guy waltz into a diner and tell some waitress about his time machine that's bigger on the inside and his superior asshole alien race and his impossible *cough* girlfriend *cough* companion that he doesn't remember a thing about. Don't you think you'd be a little confused if she wasn't creeped out or having trouble keeping up? Clara even says, "What about your TARDIS?" so knowingly, because obviously the word is very familiar to her. Don't you think that the Doctor would have noticed the way that it rolled off her tongue, that she didn't stutter or say "time machine thing" or "TAR-whatever it's called" like some naive human? Don't you think he would've noticed how generally un-freaked out this random human was by his very detailed and grand story? I mean, he is Doctor Idiot, but come on. This brings me to my final point,
8) Did he not notice the entire diner de-materialize around him?
THE DINER LITERALLY DEMATERIALIZED AROUND HIM, AND THEN HIS TARDIS SHOWED UP. In his own words, he is Doctor Idiot, but COME ON. if he was really looking for Clara, don't you think Mr. Grey-Haired Pudding Brains over there would've been like "Oh, how'd that happen? Oh, I guess the waitress was Clara, guess I should go after her now with my TARDIS." He would have, unless he already knew that that was Clara.
Boom.
So, how are you feeling now? Is your mind blown? Are you once again suffering from all the Whouffaldi feels? Sorry to re-open those wounds.
On the brightside, at least we know she's still running?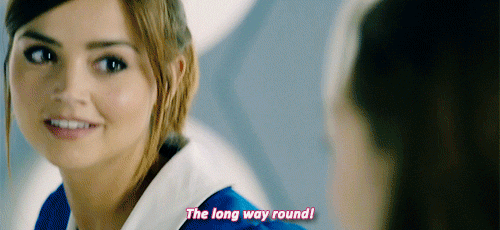 This post was created by a member of BuzzFeed Community, where anyone can post awesome lists and creations.
Learn more
or
post your buzz!