Subway tiles, fake wood flooring, and so, so, so much gray are just a few of the little things that scream "flip" when you're looking at a house. The home-flipping game is all about scooping up older properties, giving them a makeover, and then reselling them for profit, but it's not as simple as it sounds.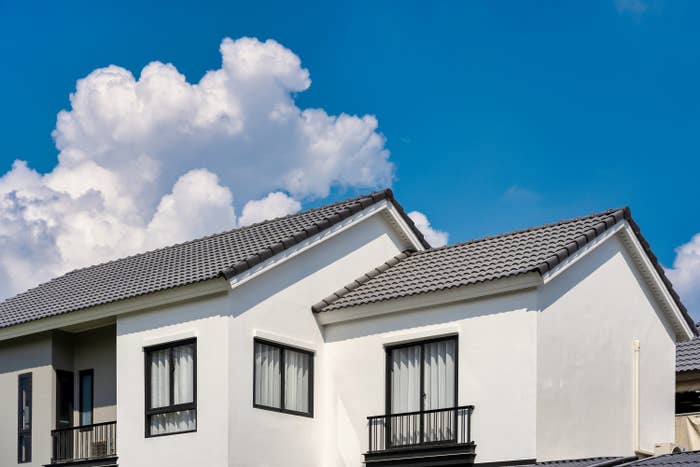 Flippers have a reputation for cutting corners to make a home look new and up-to-date without necessarily doing things right or fixing underlying structural problems — and homeowner Kaitlin Mattes's (@theedelweisshaus) TikTok videos about her "horribly flipped house" show exactly how this impacts the future inhabitants of these homes.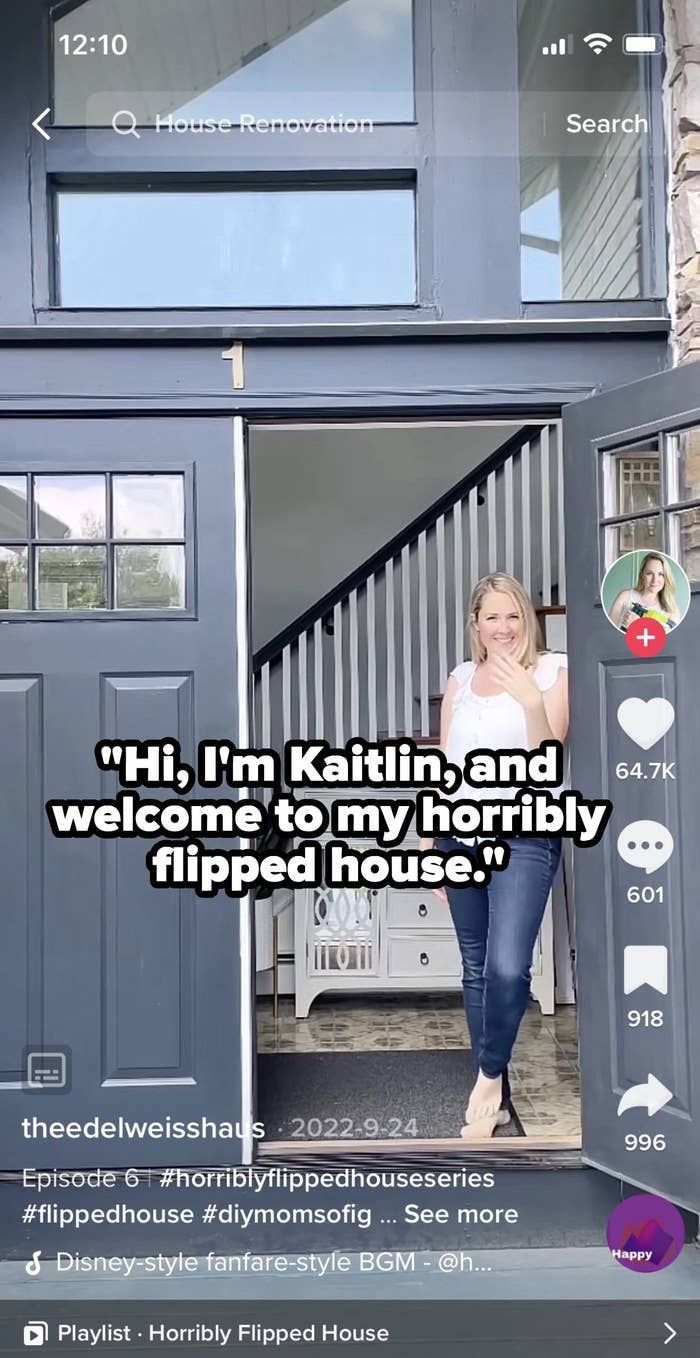 In these videos, 38-year-old Kaitlin shows viewers all of the many things that the people who flipped her home missed or messed up, while peppering her commentary with fun, G-rated insults for the sloppy flippers such as "you wilting turnips" and "you absolute crockpot full of squirrel stew."
In one video, she shares that one of the toe kicks in her kitchen fell off because the flippers didn't use grout or mortar basically anywhere. She also spends some time scraping paint off her driveway because the flippers left big globs on the cement.
She goes on to say, "Of course, my skinny worm children found where they forgot banisters. Lovely." And she shows the random "butt holes" the flippers left in her stairs, which her kids have discovered are a fun place to leave Legos, rocks, leftover granola, boogers, and lord knows what else.
Next, she shows how her rain gutter butts up against a doorframe, causing a cascade of water that leaks under the door when it actually, ya know, rains. She quips, "Who even needs to live a mile from the ocean when you could just bring it right inside your door?"
But wait, there's more. Her garage door opener is installed right next to a door so it appears to be the doorbell. And her laundry cabinets were installed with the handles in the absolute wrong places. And all that in just one installment of a (so far) seven-part series.
In the comments, people are commiserating by sharing the problems they've discovered in their own horribly-flipped homes.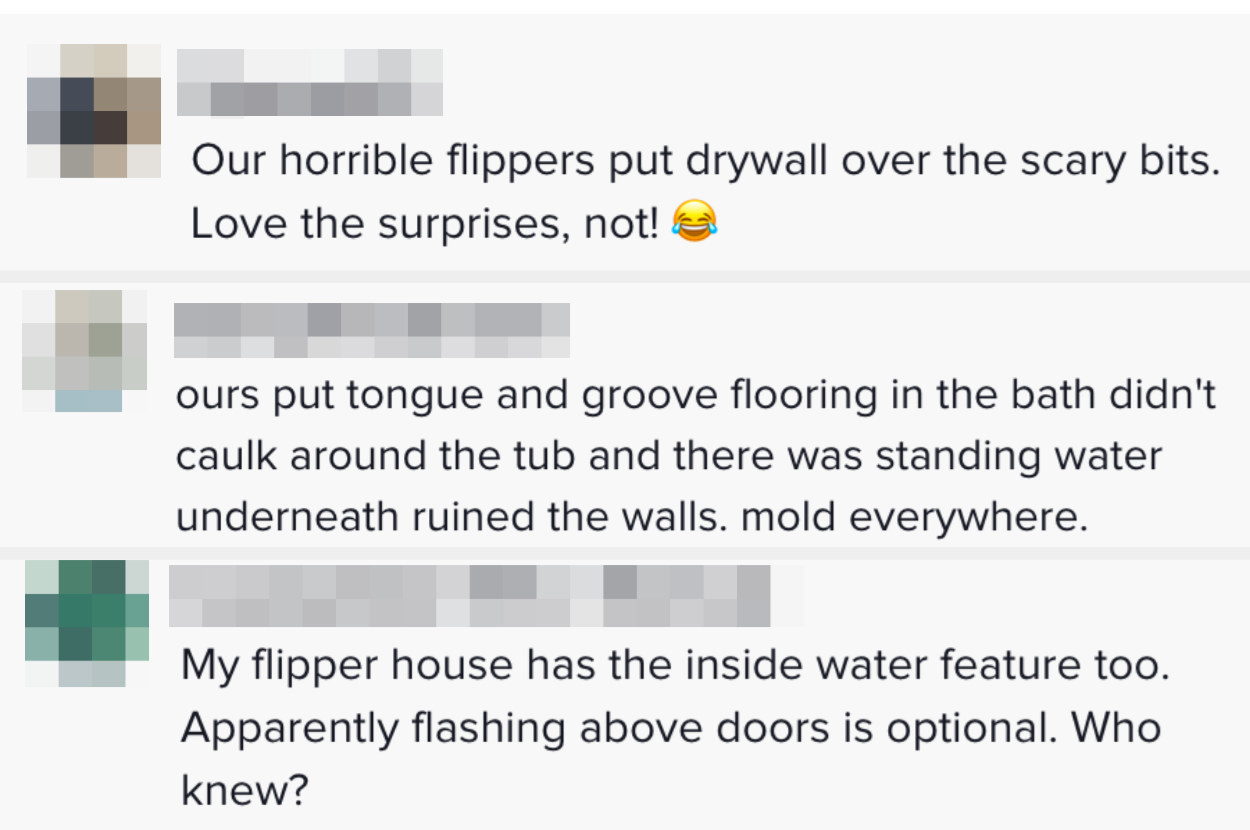 And commenters also have a lot of questions, mainly how did this house pass an inspection? And why on earth did you buy this house?

Well, as it turns it, yes, they did have the house (sort of) inspected before they bought, but even finding a house to buy at all was extremely difficult. Kaitlin told BuzzFeed that she and her husband starting looking to move to Cape Cod from upstate New York in January 2022 after he got an exciting job offer. But the housing market posed some big challenges.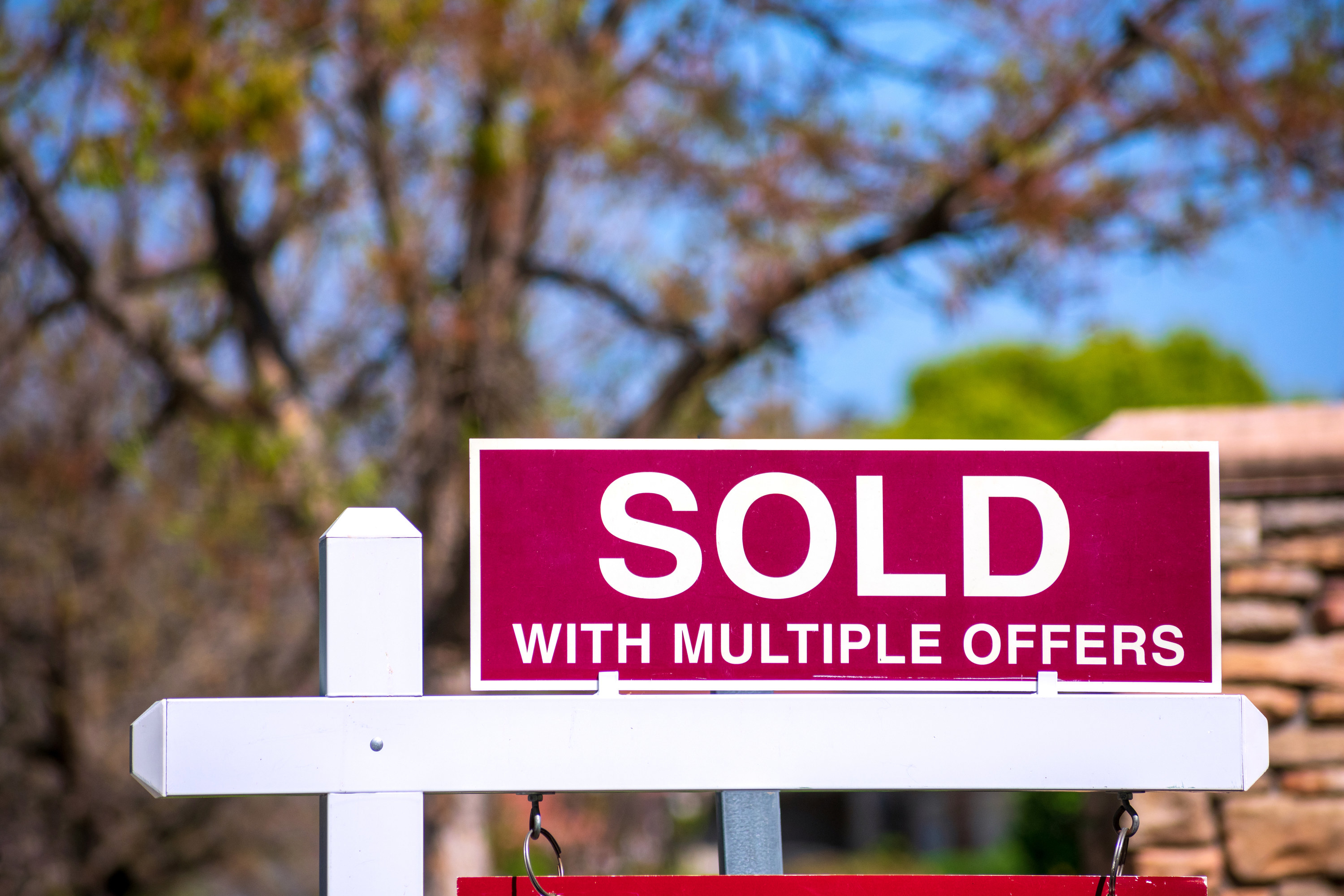 "There was no inventory, interest rates sky-rocketed, and in came many people who were looking for a little vacation home paying in cash upwards of $100k-500k over asking price, waiving all contingencies and home inspections," Kaitlin says. "A home that fit our family of five in the state of NY was triple that on the Cape now, and we were fighting against impossible odds in the fourth most sought-after area in the United States at the time."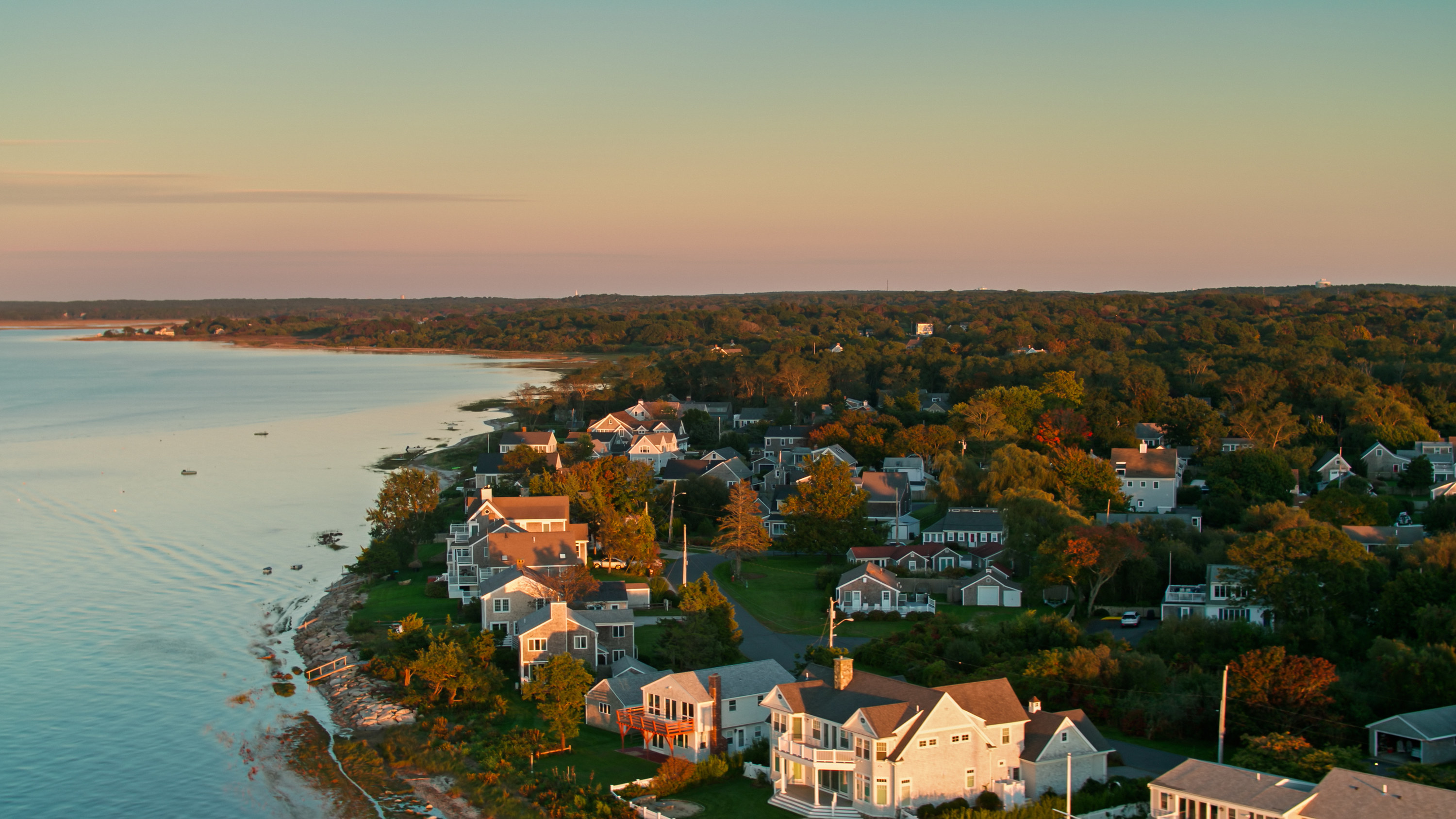 And she says they went into their horribly flipped house with open eyes. "Our house was on the market for a while, and we knew why. It was a flipped house and over-priced. Simply put. We couldn't find a house fast enough, but my husband had already left NY and was living in MA working full-time while I stayed in NY with our three little children. It was hard for all of us to be separated and to keep being turned down, house after house."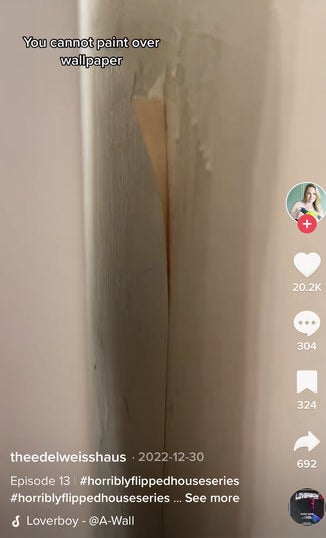 And here's where the inspection comes in. Kaitlin says, "We made our offer at asking and asked for an inspection as 'information only,' and to my shock, they accepted the offer. Whatever we did find, it would not be able to be used to negotiate pricing like one would typically do in housing offers. We had it looked through to check for structural and electrical deficiencies, and it was fine in those departments. Up until we officially moved in, I still had only seen it virtually, knowing that I was about to get a bucket full of surprises, but nothing would have prepared me for the dumpster of surprises."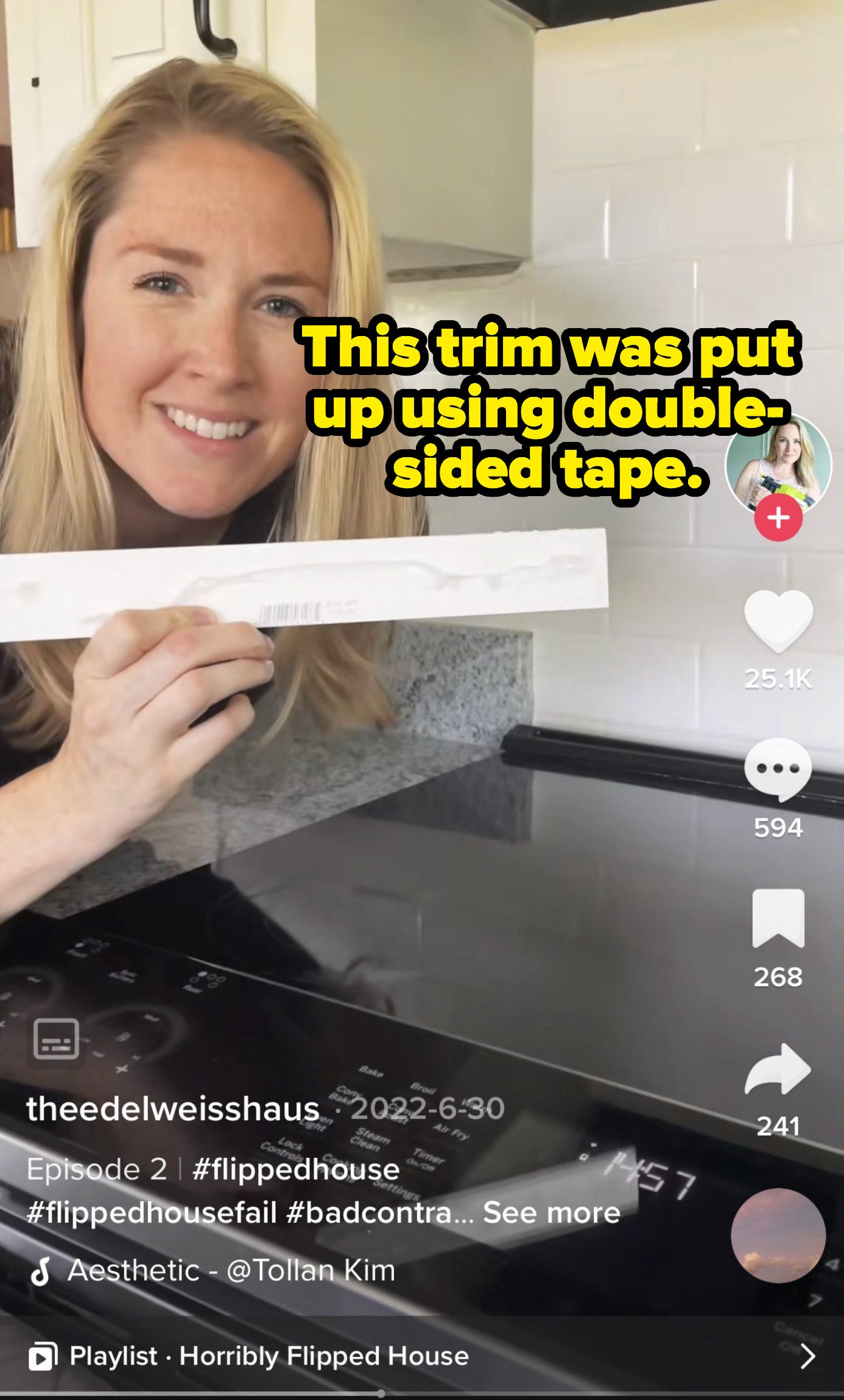 Kaitlin shared that she started making videos about the problems with her house to humorously vent, and kept making them to highlight the problems with flipped houses in general. "The main point is to bring to light that people that practice under the guise of being 'contractors' and flip houses for a living should be held to much higher quality standards. I'm lucky with the fact that I can fix these issues, but what about those that aren't versed in home renovations? Who has the money these days to fix what should have been done properly in the first place, especially when families are now forced to pay top dollar for homes."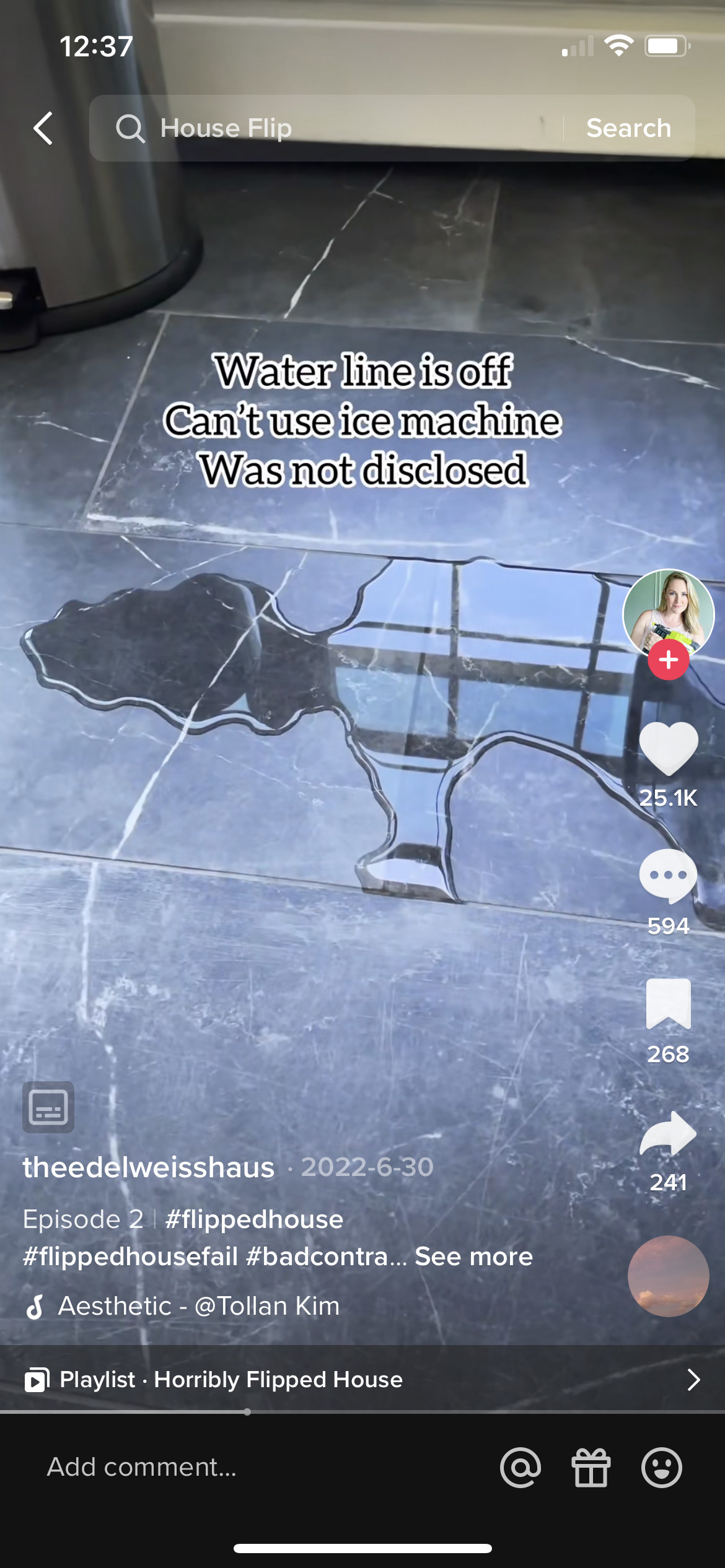 But despite all the problems with her house, Kaitlin is determined to make it into a functional and attractive home. "The only reason we moved is to give our three children the life we could only dream of, and it has been the best thing we have ever done. I vowed to this old house that I will help her find her heartbeat again. Meticulous intention and care and perhaps a few tears and heartbreak, we will get there together. We are not a family of giver-uppers!" HGTV, give this lady a show!!