If you buy a pricey item like a luxury brand purse, you might assume that the higher cost equals higher quality. But leather craftsman Tanner Leatherstein is using his TikTok (@tanner.leatherstein) to educate viewers by literally cutting designer purses apart to show whether they're worth the price tag or not. And even though watching it makes me stress-sweat, I cannot look away.
For example, in this video that's been viewed over 2 million times, Tanner takes his scissors to a Chanel wallet that sells for $1,200 and breaks down how much the brand likely spent on labor and materials. Spoiler alert: It's nowhere near the price of the item.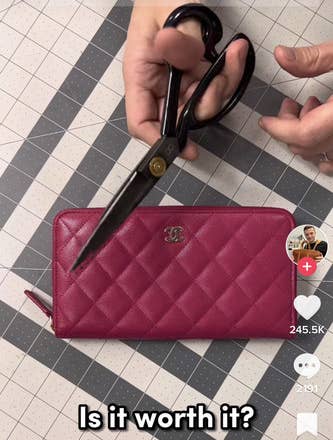 Tanner proceeds to cut up the wallet, calling it "a very well-constructed piece." He says, "On labor and craftsmanship, I give them a generous estimate of $50. For other accessories, probably another $10. But here's where I have a problem with the leather."
He points out that the wallet is made from calfskin. However, the heavy "basketball"-like finish covers up the material's natural quality. "They overdid it, and it feels like plastic. I don't feel the leather." He continues, saying, "To be honest, you could use any kind of leather for this kind of finish because it's going to hide a lot."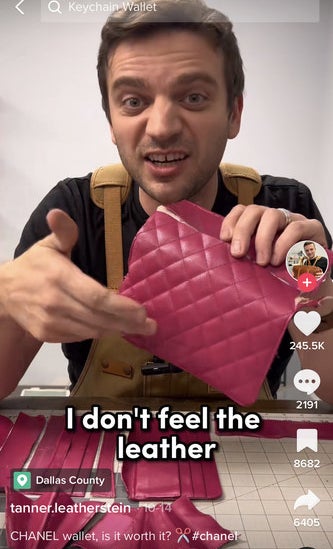 Tanner concludes that the wallet is made up of about $30 worth of leather, bringing the estimated cost to manufacture it to $90. Tanner says, "At it's $1,200 price tag, you're paying a lot for the status that comes with the logo. If you're in it for the leather, there is not much to enjoy."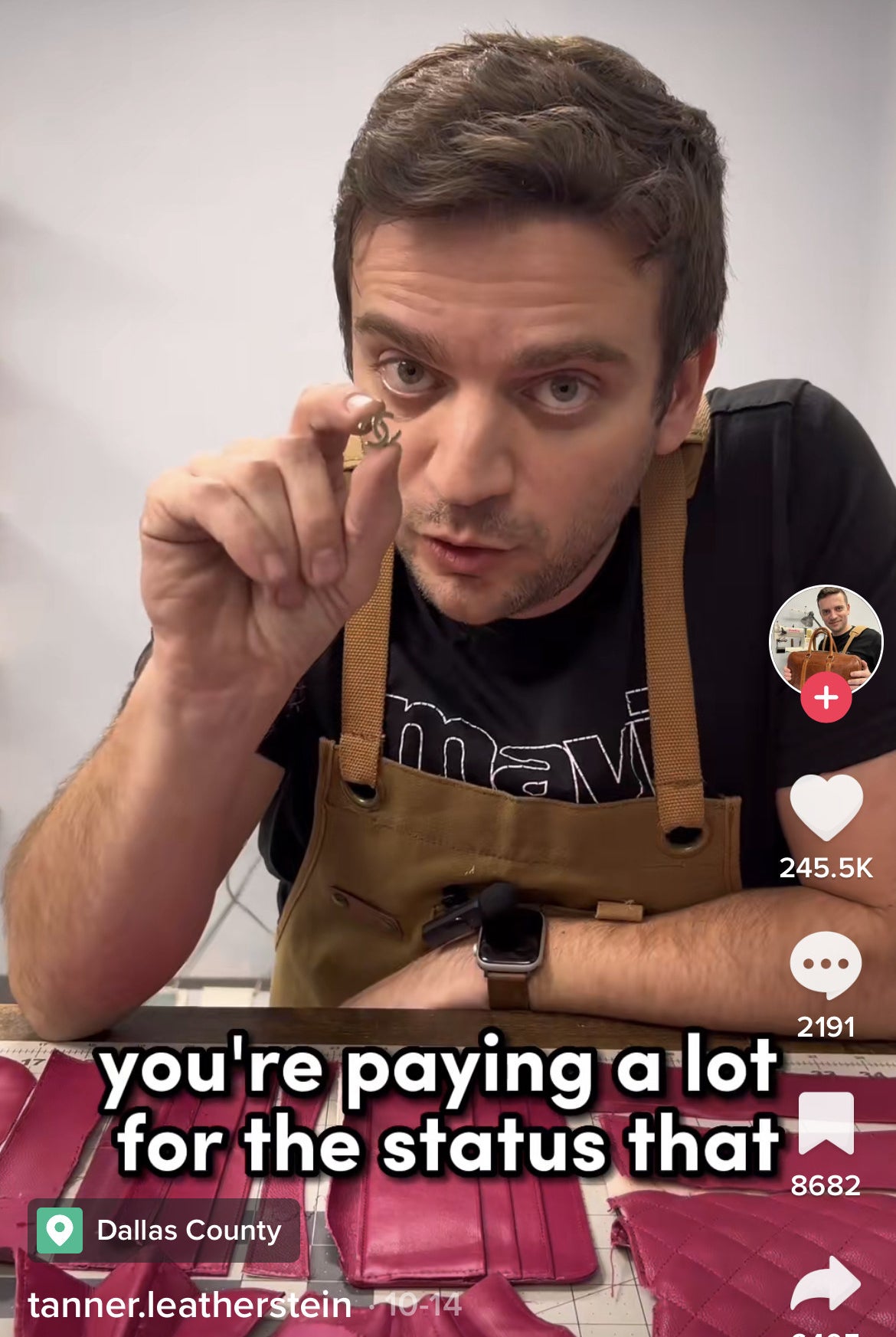 And in the comments, people are eager to see Tanner analyze more designer products while also, like me, getting nervous tummies from watching him cut them apart.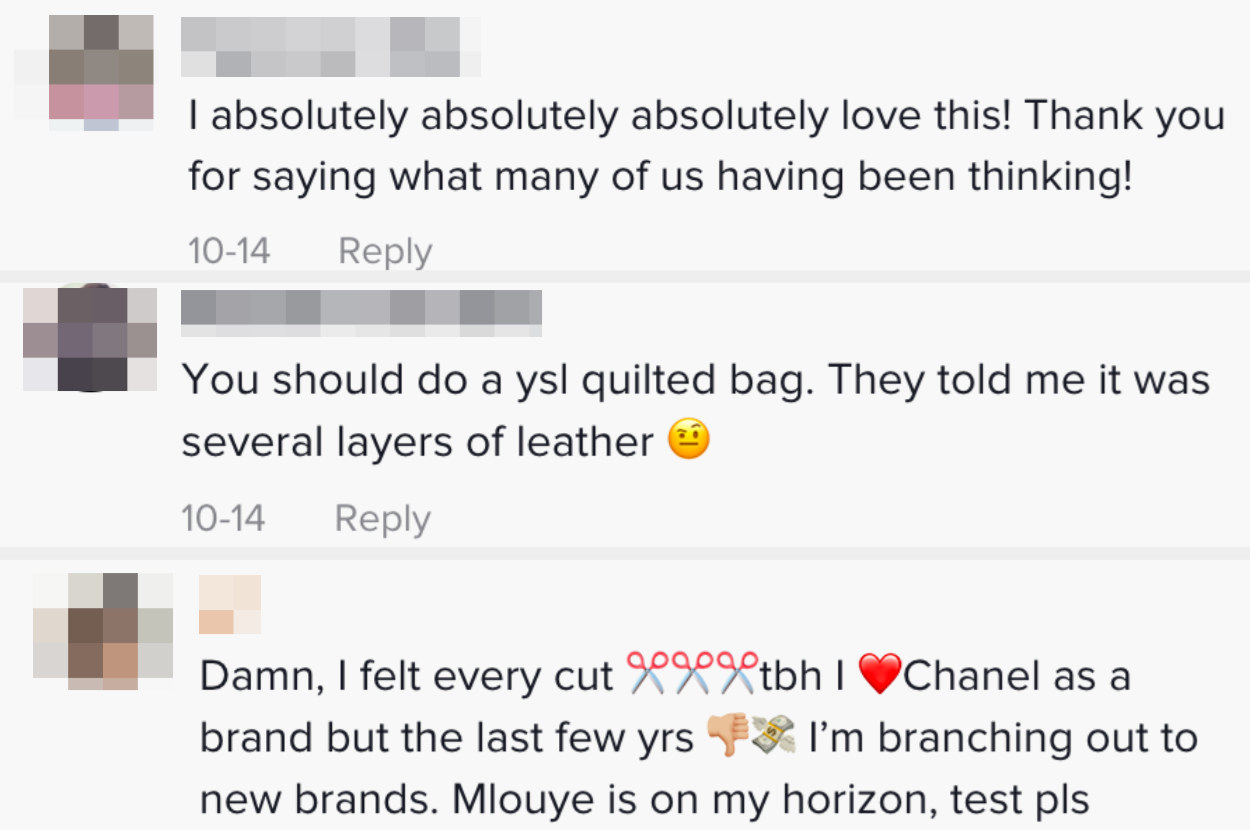 In another clip, he cuts into a Prada bag, saying, "Can you believe I paid $2,200 for this bag?" To show what kind of finish is on the leather, he rubs acetone on part of the bag and also lights a bit of the material on fire to perform an ash test.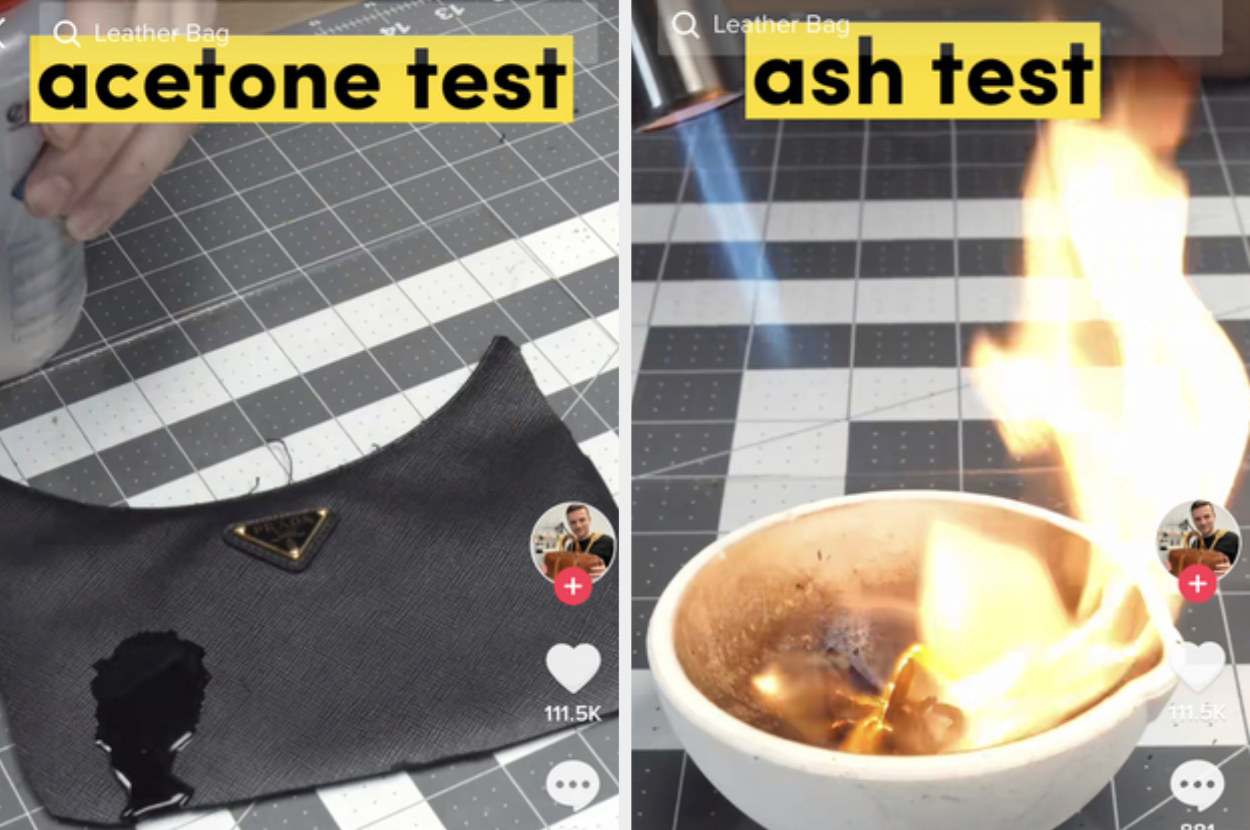 Tanner explains that the vinyl-like finish on this bag is known as Saffiano leather, which he says is water resistant, is scratch resistant, and has a polished look. He ultimately determines that with leather costs at about $50 for 5 square feet of material, a bag like this could be made for just $120.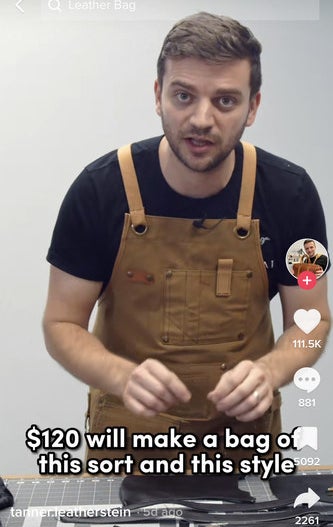 I was instantly obsessed and reached out to Tanner to learn how the average person can tell if a leather item is good quality — preferably without cutting it into pieces or lighting it on fire.
He says, "Leather is a feeling thing. It is never standard. If there are variations on the grain instead of a perfect look, it is a good sign that you are looking at a minimally finished, naturally beautiful leather. An earthy pleasant or neutral smell. Not too much chemicals. A lively touch, not a dead plasticky feel."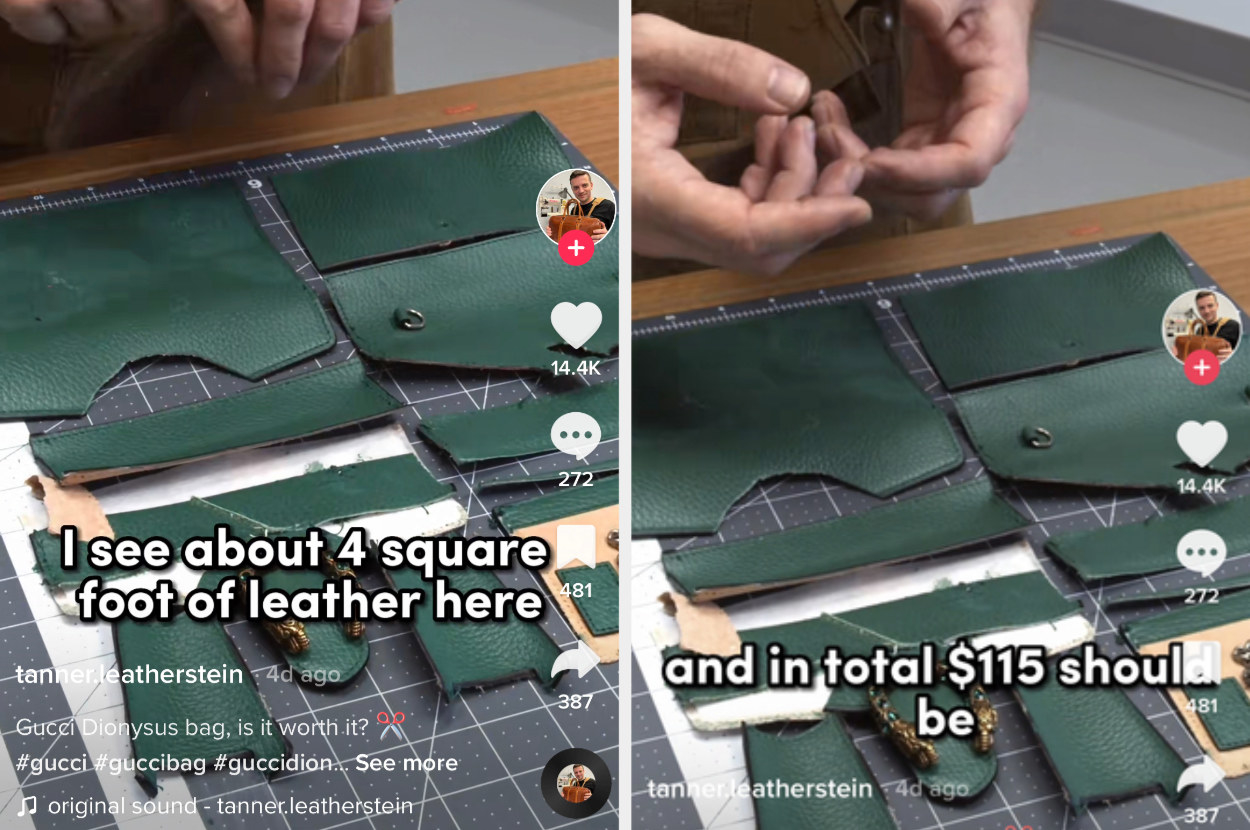 And Tanner says you can also learn a lot by reading the product's label. "Artisans and brands who use good leather can't stop talking about it. Try to see full grain, top grain, aniline, semi-aniline, veg-tan (vegetable tanned) kind of terms in the labels, since they are all signals of high-grade leathers. Try to be cautious about 'genuine leather' labels since they are abused big time in the market today."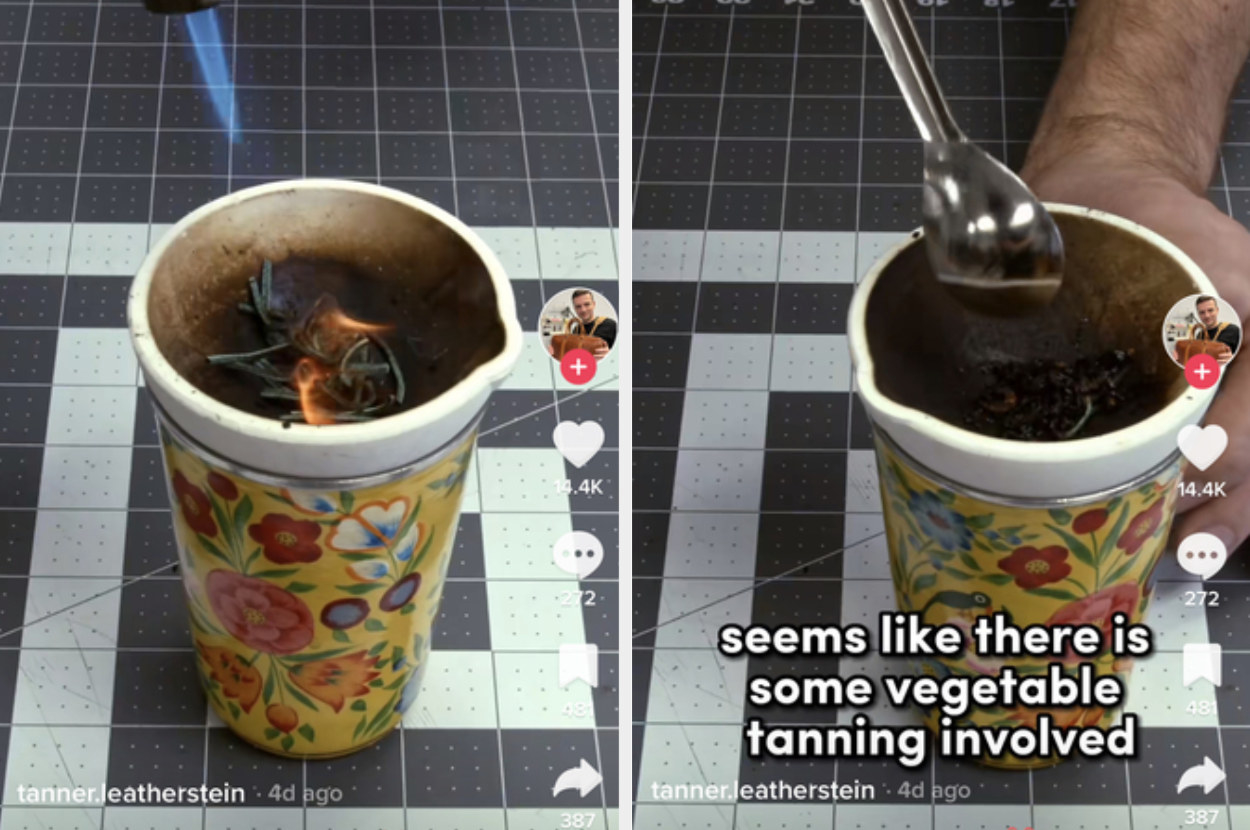 Tanner says that his passion for leather started in childhood. "I was born into a family who owned a tannery in Turkey. My dad loved taking me along to the tannery since I was a kid. I tanned my first five sheepskins to make my own leather jacket when I was 11, and what started as a game turned into a lifelong passion."
He says that after coming to the US, he spent a year working in the corporate world but realized it wasn't for him, so he went back to working with leather and started his brand, Pegai. "I quit my job and went back to Uber driving for a few months, and that's when I decided to go into making leather crafts under my brand, Pegai. In the past six years, Pegai got good response from my customers, and I was able to establish a workshop with seasoned masters who did production for major brands in the past. So now, we have the ability to find the finest leather, which is my obsession, and apply that to ever-improving sophisticated crafts to make it available for more people through a lean online business model."
Ultimately, Tanner hopes that his content will help more people understand and appreciate the beauty of leather goods. "This has been my calling since childhood. All my friends asked me if the leather product they just got was a good one or not. And once I joined the corporate world, I looked for a nice bag for myself but couldn't find anything that appealed to my senses, even from all the good brands. This is when I realized people don't know enough about leather and they just take the price as the signal of the quality, which is a very misleading practice in today's leather market."