I didn't think that I was ever going to lose you.
I miss you more and more every single day. When it happened, it felt like I was crumbling apart. We hadn't even graduated high school yet. You would have graduated tomorrow. I graduate exactly 350 days from now. When you're young like we were, you think that you're going to live forever. You think you're immortal. Sadly, that wasn't the case with us. You took your own life 3 years ago today. I never imagined that I'd ever have to live without you, but I have been for quite a while. It's been a hard adjustment to make; One that I obviously didn't want to make, but one that I had to.
You gave me a hug and told me everything was going to be okay.
In 7th Grade (You were in 8th Grade) I decided to sing a Lady Gaga song for the school talent show because that Greyson Chance kid had just gone viral for singing one at his school concert or something. I figured that I would sing one too. I remember being scared to audition because at the time, I was a horrible singer and I knew that kids would judge and laugh at me. You gave me a hug and told me everything was going to be okay, and then I went and did it, and got in, and so did you!
I dragged you to sit with me on the bus...
I remember when that time rolled around the next year. I dragged you to sit with me on the bus in the morning so I could tell you all about how auditions were coming up again. I bugged you and bugged you about what I should sing, and I finally settled on 'Yesterday' by the Beatles. I remember always high five-ing you out the window of your bus every single day, but I remember more high five-ing you, locking my fingers with yours and telling you the Friday before it happened that I had got into the talent show!
It happened on a Monday...
The next week was the last week of school. It happened on a Monday. I was basically jumping up and down because I couldn't wait to tell you how great the little rehearsal in the music room went. I rushed outside when the bell rang, because our buses were parked right next to each other. But you weren't there. I figured your mom must have picked you up or you left school early because you were sick or you just didn't go to school that day.
It hit me, took me a little bit to process it, and then I just burst into tears.
I was completely oblivious to the fact that you had committed suicide for the next two days. I saw statuses posted on Facebook about how a student from the high school had done so, but I didn't know that it was you. I found out on Wednesday morning when someone told me in the middle of the Jr. High gymnasium. It hit me, took me a little bit to process it, and then I just burst into tears. My friends huddled around me and hugged me so nobody would stare at me. I went to homeroom that morning, bawling my eyes out. The guidance counselor came and got me, and I stayed in the principal's office all morning. I couldn't stop crying. I couldn't stop crying because you were gone, and I didn't want to believe it. My first thought was to call you or text you but I couldn't.
I wonder what it's like up there for you...
I wonder sometimes what heaven is like for you. Are you safe up there? Is everything okay? Although the hole where you once were in my heart is gone, I know that you are at peace, and you don't feel horribly anymore. I hope that each day you spend up there is filled with everything that you love.
Me being at peace with the fact that you are no longer with us will never mean that I don't miss you. I will always miss you. I will miss you every single day for the rest of my life. I loved you so much. You were loved by everyone. All of your friends. All of your family. We love you and miss you every single day of our lives.
Since you've been gone...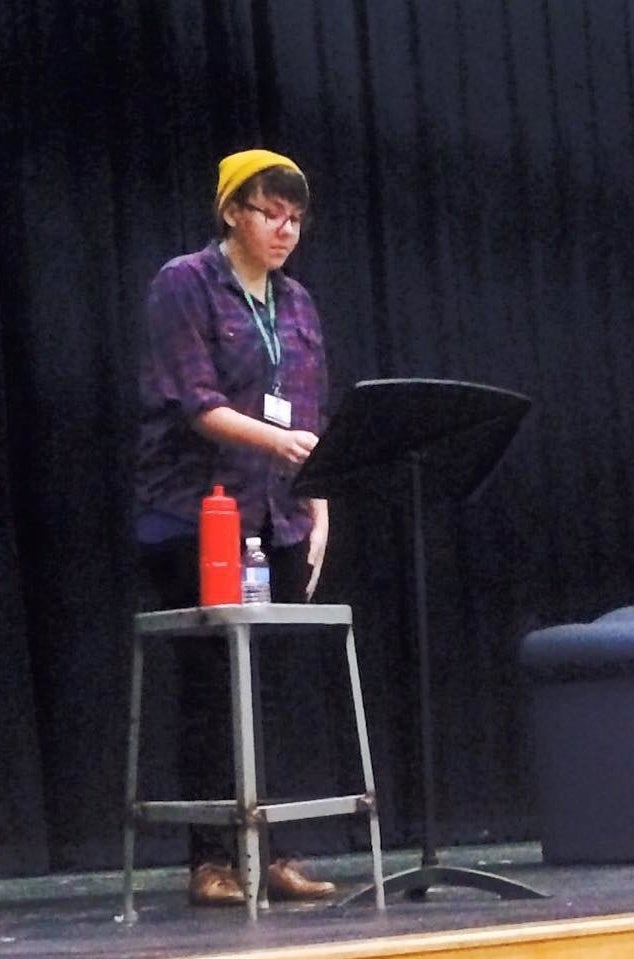 Since you've been gone, I have become a suicide prevention speaker. I've spoken to the health classes at my new high school here in Maine twice, I've traveled to Massabesic High School to speak, to the Sanford Strong Coalition, the Sanford Rotary Club, and to the Sanford Kiwanis Club. Since I lost you to suicide, I've made suicide prevention part of my life. I love you so much, and this is what I'm doing to honor you.
It will never be 'good-bye', just 'see you later'.
Thank you so much for the time that I got to spend with you. You made my life so much better just by being in it. I appreciate everything you ever did for me, because I know it was all done with love. Thank you for being you. It will never be good-bye, just 'see you later'.
This post was created by a member of BuzzFeed Community, where anyone can post awesome lists and creations.
Learn more
or
post your buzz!