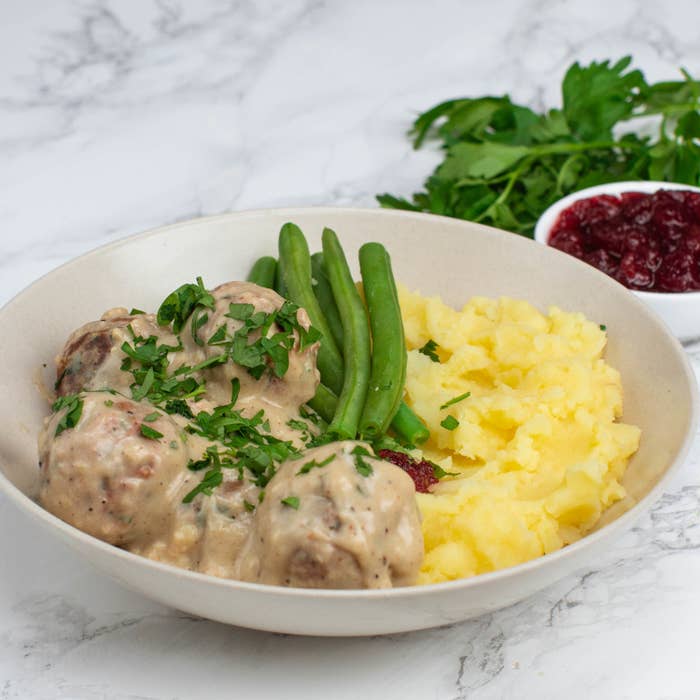 Ingredients
Meatless Balls
400g package The Meatless Farm Co Mince
1 clove garlic, finely chopped
10g parsley, chopped
½ tsp ground nutmeg
¼ tsp black pepper
Pinch sea salt
2 tbsp olive oil
Gravy
20g plain flour
240ml vegetable broth
600ml unsweetened almond milk
1tsp Dijon mustard
½ tsp nutmeg
¼ tsp black pepper
Sea salt, to taste
To Serve
Mashed potatoes
Steamed green beans
Lingonberry or cranberry sauce
Parsley, chopped
Preparation
1. Combine The Meatless Farm Co Mince, garlic, parsley, nutmeg, and pepper in a medium bowl.
2. Gently roll into 16 balls.
3. Heat oil in a large frying pan over medium heat.
4. Add meatless balls to the skillet. Cook for 1 minute, on each side, or until browned, on each side.
5. Remove the meatless balls from the frying pan, set aside.
6. Add flour to the frying pan.
7. Stir until flour and oil are fully combined. Cook for 1 minute to make a pale roux.
8. Add vegetable broth, mustard, nutmeg, and black pepper. Stir until smooth.
9. Add almond milk, and bring to a boil. Let simmer for 5 minutes, or until thickened.
10. Add the meatless balls, coating them with the gravy, and simmer for a further minute.
11. Serve with mashed potatoes, green beans, and cranberry sauce, and sprinkle with chopped parsley.