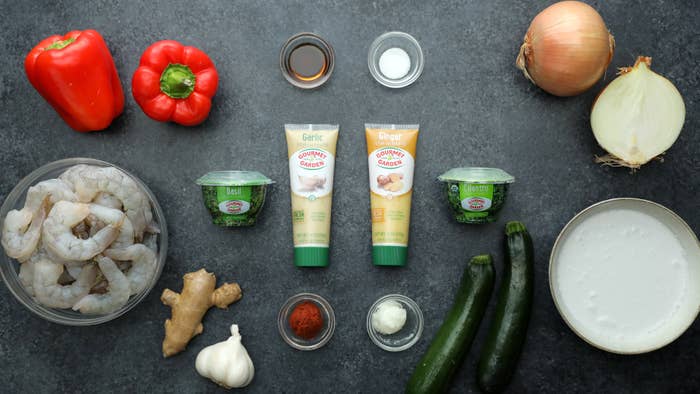 Ingredients
1 tablespoon coconut oil
2 teaspoons Gourmet Garden Garlic Stir-In Paste
1 tablespoon Gourmet Garden Ginger Stir-In Paste
1 tablespoon red curry paste
1 can unsweetened coconut milk
1 & 1⁄2 teaspoons fish sauce
1⁄2 teaspoon sugar
1⁄2 yellow onion, cut into 1-inch pieces
1 red bell pepper, cut into 1-inch squares
6 ounces zucchini, cut into half moons
1 pound shrimp, peeled and deveined
1⁄2 teaspoon Gourmet Garden Lightly Dried Cilantro, plus extra for garnish
1⁄2 teaspoon Gourmet Garden Lightly Dried Basil, plus extra for garnish
Rice, for serving
Preparation
1. Melt coconut oil in a large saucepan over medium-low heat. Add Gourmet Garden Garlic Stir-In Paste and Gourmet Garden Ginger Stir-In Paste. Stir and let sizzle for a minute. Add red curry paste. Stir and let sizzle for 1–2 minutes, until fragrant. Stir in coconut milk, fish sauce, and sugar. Bring to a very light simmer. Let simmer for 3 minutes.
2. Add onions and cook for 5 minutes. Add red bell pepper and cook for another 5 minutes. Add zucchini and cook for 5 more minutes or until tender. (If liquid doesn't slightly submerge vegetables, cover with a lid while cooking.)
3. Add shrimp and cook for about 3 minutes, just until cooked through and no longer translucent.
4. Stir in Gourmet Garden Lightly Dried Cilantro and Gourmet Garden Lightly Dried Basil. Serve with rice and garnish each plate with a little more cilantro and basil. Enjoy!