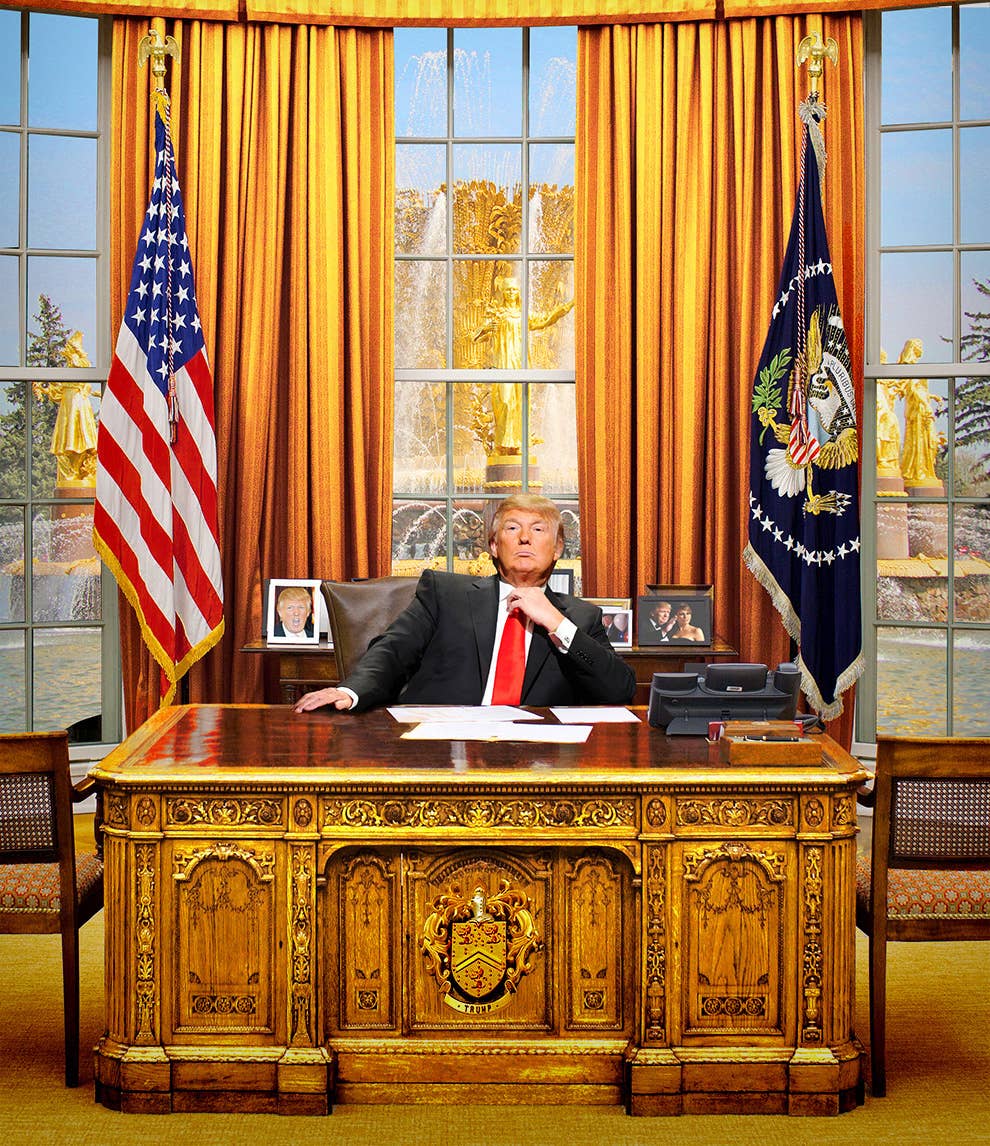 Donald Trump is sitting in the passenger seat of a black SUV packed with four well-dressed yes-men — and me — as we wind through the snowy roads of Manchester, New Hampshire, on a quiet Tuesday morning in January. He has just finished a series of speeches and interviews at the New Hampshire Institute of Politics designed to stoke speculation about his political ambitions. His most recent gambit has been to make noise about running for governor in New York, but none of the students, activists, and local politicos he just spent the morning glad-handling seemed interested — a fact he notes with a tinge of frustration as soon as we get in the car.
"They didn't ask one question about running for governor," Trump tells his aides, rubbing his hands together as the vehicle fills with the alcoholic scent of hand sanitizer. "They didn't care."
There is a tense moment of silence before the driver offers, "They probably think you're already past that."
Trump likes this theory. "That's interesting," he says, raising his voice so that everyone in the car can hear. "Did you hear what he said? He said they think I'm past that. I can't tell you how many people have said that to me. They say, 'What are you doing running for governor?'" He punctuates the last word with the sort of disgusted tone he might use if someone asked him to trade in his private plane for a Bolt Bus ticket. "It's a good point."
The notion that he is simply too big — too presidential — for a measly job in the Albany Statehouse has temporarily quelled his insecurity. But after this morning, Trump can no longer escape the fact that his political "career" — a long con that the blustery billionaire has perpetrated on the country for 25 years by repeatedly pretending to consider various runs for office, only to bail out after generating hundreds of headlines — finally appears to be on the brink of collapse.
The reason: Nobody seems to believe him anymore.
This was evident earlier this morning at the Politics & Eggs forum — a longtime rite of passage for presidential prospects looking to get face time in the Granite State — where Trump triumphantly announced that he had drawn the biggest audience in the history of the event.
It was true: A few hundred Republicans had reshuffled their Tuesday morning schedules to take in the spectacle. But as soon as he opened his mouth, it became clear he was aiming his remarks at the reporters in the back of the room, peppering his speech with deliberate tweetbait like, "I wish I would have run [in 2012] because I would have won" and "[Chris Christie] is one email away from disaster." His rambling style of public speaking, in which he drifts from one subject to another without a thematic anchor, occasionally landed him in choppy rhetorical waters. "Whether or not you liked Saddam Hussein," he inexplicably told the crowd at one point, "he used to kill terrorists."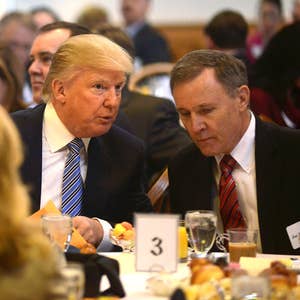 Standing by the press riser in the back of the cafeteria, I kept looking around to see if Trump's comments were setting off the sort of frenzy he routinely generated in the political media during the 2012 campaign cycle. Instead, I saw a bored gaggle of blank-faced cameramen and sleepy local reporters begrudgingly there on their editors' orders. Some chatted idly with one another, ignoring Trump's speech entirely, while others swiped casually at their iPhones. I became mildly self-conscious when I realized I was the only reporter from a national outlet who had ventured outside the Acela corridor to see the Donald in action. All morning, I got the same question over and over from the local reporters.
"You didn't come all the way up here for this, did you?"
Ever since the last presidential election — during which Trump strung along the press for months as he feigned interest in jumping into the GOP primary — many in the media have soured on his political sideshow. Covering Trump's various stunts and inflammatory comments feels increasingly like a chore, akin to donning a network-branded parka during a snowstorm and shouting into the camera about a predictable phenomenon that viewers somehow still find surprising. Trump's supposed political aspirations, in particular, inflict upon reporters made to cover them a special sort of journalistic indignity; it's like hyping the "storm of the century" before a single flake has fallen.
I, of course, am part of the problem. I came to Manchester on the promise that I would be able to catch a ride on Trump's private jet back to New York (where a real-life blizzard, it turns out, is descending on the city), for the purpose of pressing him on why he is so intent on continuing this charade. But what I found was a man startled by his suddenly fading relevance — and consumed by a desperate need to get it back.
In our 15-minute ride to the airport, this anxiety has translated to a frenzied series of orders barked from the passenger seat, and a sort of panicked game of conversational pinball as the yes-men scramble to please "Mr. Trump."
"Did [Mark] Halperin see it?" Trump demands, referring to the co-author of the 2012 campaign book Double Down, in which he plays a starring role. "Someone ask Halperin, did he see the speech? Tell him it was the biggest crowd they ever had. Tell him to watch."
One of the yes-men is on it.
Trump turns his attention to the weather in New York, where snow is piling up at LaGuardia. His pilot has called to warn him that it may be difficult to land. Trump wants more information, and two of the aides whip out their phones to get reports from the tarmac.
While he waits on that, Trump wants a status report on the Halperin request he made less than a minute ago.
"How did we do with Halperin?" he asks.
Halperin has not responded yet, but don't worry, he is assured, Halperin always responds. (Halperin, Trump will learn later, has already retweeted a local reporter declaring the event the largest ever.)
Now, it's time to talk to a reporter at the conservative political site Breitbart News. There is some confusion about which number to dial, but finally the correct one is punched into a flip phone, which is then passed up to Trump. (He prefers the ancient model because he likes how the shape places the speaker closer to his mouth.) He spends less than five minutes on the interview, and within hours, the site will blast out its all-caps "exclusive": "TRUMP: SELECT COMMITTEE NEEDED TO INVESTIGATE BENGHAZI SCANDAL."
As Trump passes the phone back, he asks, "What about BuzzFeed? Did BuzzFeed like the speech?"
"It was interesting," I reply weakly, still trying to get a handle on the frenetic pace of the conversation, and slightly distracted by my up-close view of Trump's famous mane — a pale yellow sheet of (god-given) hair folded like origami and held together with strategically placed splotches of product.
Before I can elaborate, though, one of the yes-men has a weather update. LaGuardia is effectively shutting down, and we may have to wait a few hours before they can clear a runway for us. Trump is not interested in waiting. He has an idea: What if we just skip New York altogether and fly to Palm Beach? Trump owns a sprawling beachside mansion there, and he's due in Orlando the next day anyway.
One of the aides begins talking Trump through his calendar to see if the last-minute Florida jaunt is feasible. There is some sort of business meeting in New York, but it seems likely to be disrupted anyway due to the weather. There is also the fact that tomorrow is his anniversary with his third wife, Melania. Trump doesn't seem to mind missing it. "It's fine," he says, prompting chuckles from the yes-men.
By the time the SUV pulls into the driveway of the airfield where his 757 is parked, Trump has ordered his pilots to reroute to Palm Beach International Airport. He has solved the weather problem. But the question of his vanishing political celebrity must still be weighing on him, because when someone reminds him that I'm still in the car, Trump says, "Bring him to Florida!" The invitation sounds vaguely like an order.
"I just hope he's OK with the plane," he adds, grinning.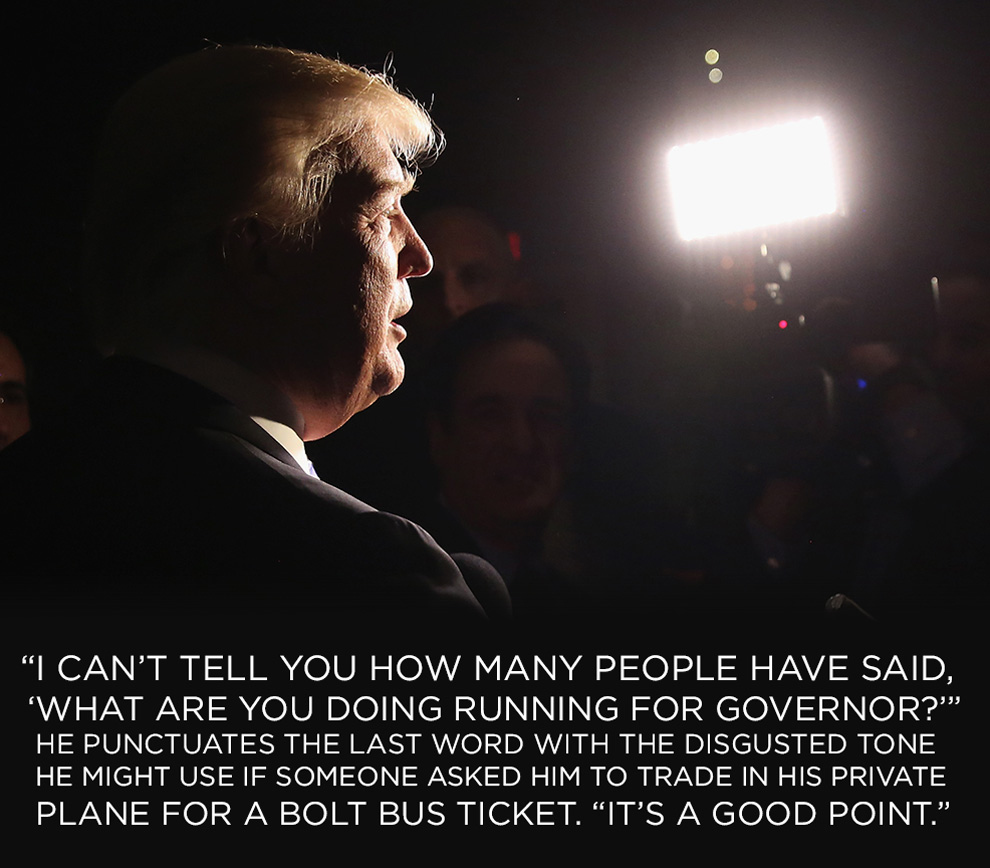 Donald Trump's first experience with politics came in the most prosaic form imaginable: navigating Manhattan zoning issues. As a young entrepreneur working to expand his father's real estate empire, Trump engaged in regular favor-trading with the bureaucrats who got to decide exactly how tall his skyscrapers could be. He freely admits now it was a rather sleazy business. "When you need zone changes, you're political … You know, I'll support the Democrats, the Republicans, whatever the hell I have to support."
But the real genesis of Trump's long, storied career in political noisemaking dates back to 1987, when a Republican activist in New Hampshire named Mike Dunbar invited the real estate tycoon to speak at the Portsmouth Rotary Club. At the time, Trump — who had not yet fully embraced self-caricature — was primarily known to the public as a hard-charging scion-cum-billionaire with an impressive collection of tall buildings and glitzy casinos to his name, and a budding career as a how-to guru. (He was a couple weeks away from releasing The Art of the Deal, the first in what would become a series of best-selling business advice books.)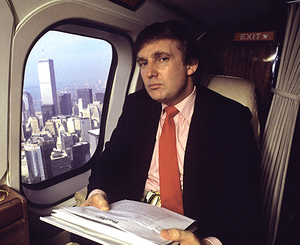 Dunbar thought Trump's brash public persona and business savvy would make him an ideal candidate to marshal a "grassroots movement," and he told him so. In Dunbar's telling, Trump was intensely interested in the idea, and invited the activist to New York to talk strategy. The "Draft Trump" campaign that ensued quickly caught the attention of the press, and newspapers across the country ran stories speculating about a long-shot Trump '88 presidential bid. On Oct. 22, Trump and Dunbar arrived via limousine at a Portsmouth restaurant named Yoken's, where Trump delivered his first political speech.
"It was literally standing room only," Dunbar recalled. "All the tables were taken. People were lined up around the room. There were cameras up on a platform in the back. It was a heck of a show."
The alliance between the two men would not last: Dunbar ultimately quit politics and authored a series of teen adventure novels that feature a rich, conniving rock agent who was inspired by the Donald, and Trump, of course, opted to forgo the 1988 race. But he had discovered a novel way to generate attention. Over the next 27 years, he would return to New Hampshire six times, usually around the time of a presidential election.
Today, Trump is adamant that he had nothing to do with the "Draft Trump" effort in 1987. "It was just a speech for a friend of mine, but because it was in New Hampshire, everybody went crazy," he says.
In Trump's version of events, America is constantly pleading with him to descend from his eponymous tower and submit himself to the world of terrestrial politics for the good of the country — all while he does nothing to invite the attention. "People have always wanted me to run," he says.
But what about that "Trump 2000" campaign button that was prominently displayed in a glass case at Saint Anselm College in Manchester?
"No, no, people made buttons," he explains. "I didn't have buttons."
Trump's most recent political flirtation — with a gubernatorial bid — is instructive. Early in January, rumors of a potential Trump candidacy began to surface in the New York press. The origins of the speculation were murky: Did the notion really spring from the minds of state GOP officials desperate to nominate Trump, or was it seeded by one of Trump's yes-men? "I didn't start the governor thing," he says. "I was approached six weeks ago by the biggest leaders in the Republican Party, and I said let me think about it. And they approached me again and again and again."
It hardly matters which account is true. Almost immediately, Trump began enthusiastically fanning the flames, telling every reporter who would listen that he was seriously considering a run, that he was prepared to commit tens of millions of dollars to the campaign, that he was "the only Republican who [could] win."
And yet, even as he has manically built up expectations for his gubernatorial bid, Trump has — as always — carefully erected a trap door that will allow him to escape the unpleasant business of actually running when the time comes. In this case, he has conditioned his entrance into the race on the wildly unrealistic scenario that the entire state party line up behind him and hand him the nomination on a platter at the convention.
The purpose of all this posturing is clear; Trump very badly wants to be taken seriously as a potential political candidate and not be written off as a man-boy who cried wolf. But, at the same time, he plainly has no interest in actually running for office.
Pressed on this, he insists, "The only time I really considered doing it was the last time. And I wish I did it, because you would have had a different result."
"The last time" refers to the 2012 presidential election, during which he publicly weighed entering the GOP primary, then announced that he wasn't running, then announced that he was entertaining a third-party bid, then announced that, never mind, he would endorse a Republican, then finally dragged Mitt Romney onstage at his Las Vegas hotel to announce he was backing the man who would ultimately become the nominee. In between the announcements, he spent lots of time talking about President Obama's birth certificate.
In the end, Trump chose his lucrative reality show, Celebrity Apprentice, over a presidential campaign, a decision he is still worried makes him look silly.
"It sounds trivial," he says. "It's like, 'Oh, can you imagine? For The Apprentice he didn't [run]?' Well, it's not that trivial. You know, people all over the world, it's their big dream to someday be on television. Here, I have two hours of primetime every Sunday night and I'm gonna say, 'To hell with it?' No matter how rich you are, it pays a fortune. Like, big money. You see the stuff with Jennifer Aniston — they're all rich people. And I get more than all of them." (Trump personally pocketed $63 million for the most recent season of the show, according to the New York Post.)
It's a reasonable point, but it raises a bigger question: If history is any judge, Trump is about as likely to run for president in his lifetime as he is to accept follicular defeat. So why is a man who is worth billions of dollars and is watched by millions of television viewers every week so obsessed with stringing along the unglamorous world of insider politics? For a person who has carefully cultivated an image of cartoonish gravitas, his constant courting of the political press seems grindingly small: picking fights with pasty, underpaid reporters, feeding sound bites to niche right-wing political websites, trekking up to frozen New Hampshire in January on the off chance that his antics will flash across a dayside cable news chyron for a few seconds. Why bother?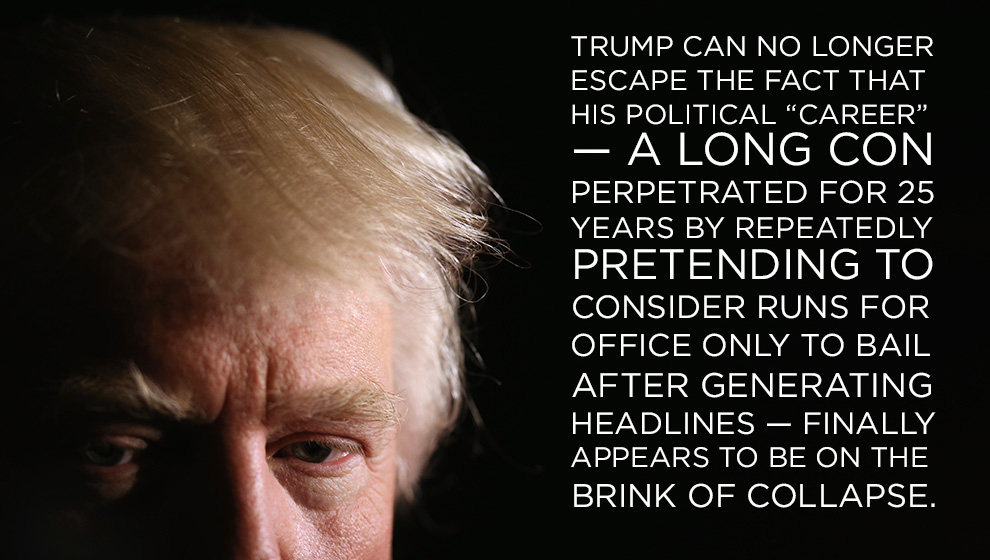 The first thing that strikes me upon boarding Trump's plane is how familiar it feels, like a sitcom living room. It's all exactly as it has appeared on TV a thousand times: white carpet, gold-plated seat belts, cream leather couches, velvet pillows, and an intricately woven Trump family coat of arms — which he had to lobby Scotland's heraldic authority to make official — serving as the primary decorative motif.
"What do you think of the plane?" Trump asks as I settle into one of the seats. "Are you satisfied?"
"Yeah, I think this will work."
Persuaded that I am sufficiently awestruck, he tosses me a bag of pretzels and retreats to a bedroom near the front of the plane to flip channels.
I am joined on the flight by Keith Schiller, a former New York Police Department detective who has worked security for Trump for 15 years, and Sam Nunberg, a young conservative activist turned operative who now works as Trump's political right hand.
As we ascend, the large flat-screen TV in my section of the plane, which is connected to the one in Trump's bedroom, flips back and forth between Fox News and MSNBC, apparently in search of coverage of his New Hampshire visit. But the networks' cameras are all trained on Chris Christie's inauguration. After about an hour, the channel stops changing. Trump has given up and gone to sleep.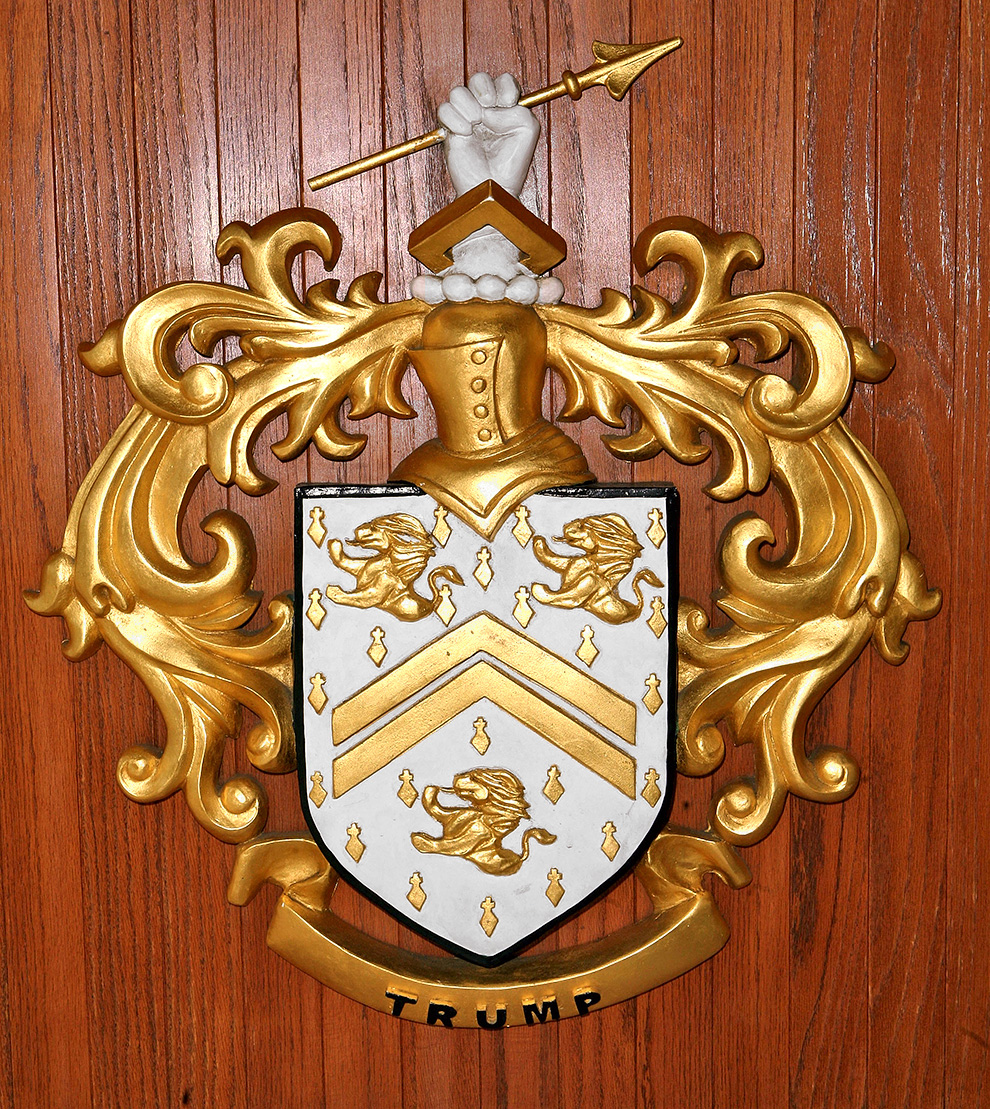 Trump bought the Mar-a-Lago, a 17-acre Moorish estate in Palm Beach, Fla., that stretches from the ocean to Lake Worth, for $10 million in 1985, and promptly set about Trumpifying the 60-year-old mansion, adding jacuzzi tubs, a 20,000-square-foot ballroom, and a spa. During the winter months, it functions both as a private club for Trump's rich and famous friends, and as a personal weekend getaway for Trump himself. (During his divorce with his second wife, Marla Maples, helicopters hovered overhead to get B-roll for the splashy tabloid story.) On any given afternoon, a well-mannered staff of over 200 can be found scurrying around the complex, preparing for orchestral performances and elaborate dinners, whipping up wild boar burgers upon request, and catering to the various whims of its members, like author James Patterson, New England Patriots owner Bob Kraft, and Woody Allen.
Because we came here with Trump, my fellow passengers and I are treated like royalty. After arriving on site in a miniature motorcade, we are ushered into a golf cart, which ferries us less than 100 yards to the cottages overlooking the pool. My room has the feeling of a nice, if slightly dated, hotel, with an aesthetic that matches Trump's plane — white carpet, gold fixtures, and tiny bottles of Trump-branded hair conditioner. It contains a large television with a dimming screen, and an old-school radio alarm clock that I will later find difficult to turn off.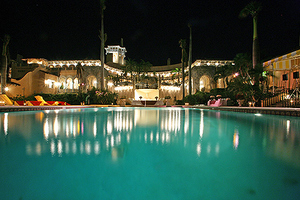 Once I've settled in, I make my way to the terrace and find Trump scooping sprouts onto his plate at a makeshift salad bar.
"What do you think of the place?" he asks me.
"It's beautiful," I respond.
Turning to a server, he says, "He's going to need lunch right now, and then he'll need a room for a couple nights. Whatever he needs, take care of him — food, a change of clothes, whatever."
"Of course, Mr. Trump," the server replies. I try protesting that I'll only be here one night, but nobody seems to hear me. Earlier, when Trump suggested I not write about staying at Mar-a-Lago because it would look like a conflict of interest, I informed him that BuzzFeed's ethics policy would require the company to send his office a check to cover my expenses. He magnanimously waved me off at first, and when I insisted, he scoffed. "Oh, give me a break," he said. "OK fine, you owe me $100,000 for the flight to Florida." (Upon request, the company eventually sent us a bill for $857.27.)
Once he finishes talking to the server, Trump leans in close, and lowers his voice. "There are a lot of good-looking women here," he says. Then he strides off, salad in hand.
I sit down at a poolside table with a few of the yes-men in hopes of picking up some gossip now that the boss is gone. Schiller and Nunberg are there, along with Larry Glick, a senior executive at the Trump Organization who is in town to see the boss speak at a PGA merchandise show tomorrow. Schiller, who carries a gun and speaks in a thick New York accent, stands out as the most fiercely loyal aide in the group, in no small part, I imagine, because of the perks his position has afforded him. "This beats knocking doors in drug dens in Harlem," he says as a warm breeze drifts across the terrace.
But it's Nunberg, a solidly built Manhattan native who wears well-tailored suits and Trumpian ties, who seems to perfectly embody the Donald's mischief-making brand of politics. His first foray into presidential campaigning came in 2007 when he worked as a volunteer for the Romney campaign while attending law school on Long Island. He was put in charge of organizing turnout for the New York City GOP straw poll; with a little bit of hustle and political voodoo, he managed to pull off an upset win for Romney over hometown hero Rudy Giuliani. (According to one source with knowledge of the incident, Nunberg paid voters cash to show up and vote for Mitt; Nunberg declined to comment.)
Nunberg went on to work as an opposition researcher, digging up dirt on the backers of the so-called "Ground Zero Mosque" in 2010. One day, while sitting in class, someone emailed him a Weekly Standard profile of the notorious Republican operative Roger Stone. The article described Stone as a "Nixon-era trickster" who blackmailed reporters, lied constantly to everybody, and had, among other ploys, engineered an explosive feud in 2000 between Pat Buchanan and Donald Trump as part of a hazy scheme to help the GOP avoid a third-party threat. It quoted Stone describing politics as "performance art, sometimes for its own sake." Nunberg had found his mentor — he now works for Stone's consulting firm, which counts Trump among its clients.
As I quietly eat my salad and listen to the three men talk, I am struck by their reverence for the boss, to whom they unwaveringly refer as "Mr. Trump," even among one another. The notion that Trump is a credible threat to run for president is treated with nothing but credulity — even when we're off the record, and even when they're carrying on private conversations they don't know I'm eavesdropping on.
In a way, it makes sense. The day after the 2012 election, I spoke with one of Trump's confidantes about his political appeal to working-class men in flyover country. "If you have no education, and you work with your hands, you like him," the confidante told me. "It's like, 'Wow, if I was rich, that's how I would live!' The girls, the cars, the fancy suits. His ostentatiousness is appealing to them." The more time I spend with the yes-men, the clearer it becomes that Trump has surrounded himself with a similar type. They are the outer-borough kids who made good, and they are hypnotized by his grandiosity. Trump's lavish lifestyle and his brash proclamations that everything he touches is the best, the greatest, the most incredible — all of it contributes to an illusion of electability within his inner circle.
And yet, among the chorus of "Yes, Mr. Trump"s and "You were great, Mr. Trump"s that tumble out of his yes-men at even the faintest prompt, the Donald can still hear the din of guffaws coming from a political class that long ago stopped taking him seriously. And it's driving him crazy.
I meet Trump for our official interview around 5 p.m. in the "living room" — a cavernous, ornate chamber at the center of the complex with high gold ceilings, massive chandeliers, and a collection of flamboyantly baroque furniture spread throughout the premises. Trump leads Nunberg and me to a large dining hall, where the staff is setting the table for a wine dinner to be held later tonight. He introduces me to an older, German-accented gentleman who appears to be in charge of the event.
"He's the biggest blogger in the world," Trump tells the man. "You look at him, and he's sort of handsome, but his power is immense." He turns to me. "Isn't that right?"
Before I can answer, he is facing the German gentleman again. "Have you heard of BuzzFeed?"
The man doesn't want to say no, but it's clear he's unfamiliar.

"It used to be the New York Times, now it's BuzzFeed," Trump explains. He pauses a beat, and then adds, almost wistfully, "The world has changed."

Before Nunberg leaves us to our interview, he tells Trump he has "good news." "CNN, Fox, and MSNBC all covered your speech," Nunberg reports.

"That's good!" Trump replies, straining to conceal his excitement. He nods approvingly as the aide describes each network's treatment, and when the briefing ends, Trump seems satisfied: "Good."

We retreat to a den off the main room, this one with walnut-paneled walls and a large portrait of a young, sweater-clad Trump staring down at us. I ask him why he believes the media are so interested in him. "I don't know, but they have been forever," he says emphatically. He claims that even when he played baseball as a teenager at a military school in upstate New York, his talents were the talk of the town. "If I got a hit, I got bigger stories than other people who got a hit." (Exactly which news outlets were clamoring to cover his high school baseball heroics, he does not specify.) Later in life, the legendary boxing promoter Don King told Trump, "You have the look. You are the only one who has the look." Trump doesn't explain what this means, but it appears to have stuck with him. "Maybe it's what I say, maybe it's a look — you never know what it is. But I get a lot of press."

"I mean, you see it today," he continues. "It's all over the place on television. The speech is all over. Every time I turn on the news I see myself on television. I mean, I'm not looking for it. You know, I'm watching CNN, I'm watching MSNBC, I'm watching Fox, and it's all over the place. And it had a big impact."

While it is thrilling to watch Trump concoct his spin in real time — whipping a few raw data points into an oozy lather of absurd hyperbole and fast-talking salesmanship — it is clearly not the whole truth. One of the least believable plotlines in Trump's self-styled personal narrative is his dutiful endurance of a spotlight he claims to never seek. He labors to exhibit nonchalance when I ask questions about his relationship with the media. "I don't have a press agent, you know," he says. And in 1997, he told the New Yorker, "I think the thing I'm worst at is managing the press."

But in fact, Trump's preternatural ability to hold the media's attention is arguably his most impressive and enduring talent, one that has been central to his long career as a showman. His most elaborate, and perversely effective, political performance in 2012 was his yearlong "birther" crusade, during which he riled up the right-wing fever swamps with a conspiracy theory that Barack Obama was born outside the United States and engaged in a large-scale cover-up so that he would appear constitutionally eligible to run for president. Trump championed the theory in front of every camera he came across, and he claimed to have sent investigators to Hawaii to unearth the truth. The message appealed to the worst instincts of the conservative fringe and drew charges of racism from many corners, but it proved irresistible to cable news bookers. (For the record, he denies that his accusations were racially motivated: "I am so not a racist, it's incredible," he says.) Later, Trump tried to up the ante by publicly offering to donate $5 million to a charity of Obama's choice if he would release his college transcripts and passport paperwork — but by then, even many of his fans were rolling their eyes, and reporters who had once covered his various stunts with gusto were now openly mocking him. Stephen Colbert seemed to capture the general sentiment when he responded by offering to donate $1 million to Trump's favorite charity "if you will let me dip my balls in your mouth."

I ask Trump if he has ever heard the word "trolling," and at his request, I define it for him. He mulls it over for a second, and then confesses, "I do love provoking people. There is truth to that. I love competition, and sometimes competition is provoking people. I don't mind provoking people. Especially when they're the right kind of people."

A large part of his success in working the press is rooted in the strategic relationships he has cultivated with prominent media personalities. He is not a news junkie per se, but a collector of journalistic alliances. When I ask him who his favorite reporters are, he ticks off 18 names in rapid succession. They include Times columnist Maureen Dowd ("a terrific person"); Diane Sawyer (also "a terrific person"); New York Post columnist Andrea Peyser ("a firecracker" who "actually is a legitimate reporter"); Good Morning America co-host George Stephanopoulos ("he has treated me really, really fairly"); CBS News correspondent Bob Schieffer ("such a professional"); Morning Joe co-hosts Joe Scarborough and Mika Brzezinski ("they have a wonderful show"); the entire Fox News primetime lineup; Rush Limbaugh; Mark Levin; and, of course, Mark Halperin.

"It's funny; I have a tremendous hit show on NBC, and the NBC guys…" he pauses to choose his words carefully. "Chuck Todd does not treat me nicely… Brian Williams is not someone who treats me well." But, he hastens to add, "That's his prerogative."

Eventually, he arrives at the template he uses to judge reporters. "I go by two things: I go by how well they treat me, and I go by if they are fair and if they are right."

Trump explains that he doesn't necessarily "like" the members of the press so much as he "respect[s]" them. More to the point, he understands them — how to feed them, how to flatter them, how to use them, how to put on a show for them, and how to intimidate them. Sometimes, he does all of it in one interview.

At one point in our conversation, I check my iPhone to make sure the app I'm using to record the interview is still working. Trump glances down at the screen and asks, "Who's that?"

I tell him it's a picture of my wife and 1-year-old daughter.

"Wife and baby? Wow! Congratulations!" he emotes. "I was just looking down and saying, 'Wow, that's a good-looking woman!'"

But later in our interview, he feels compelled to fire a warning shot. "If I am treated unfairly, I will go after that reporter," he tells me. Trump, who doesn't use email, has been known to print out articles about himself that he doesn't like and scrawl handwritten hate notes across the top before mailing them to reporters.

"Are you going to come after me when this article comes out?" I ask.

"Maybe."

Near the end of our conversation, I try to press him on the unsolved mystery of his motivations. I tell him flatly that I'm skeptical he will ever actually run for president — or governor of New York for that matter — and that I'm confused about why he's so intent on keeping up the pretense. He insists that he's serious, and I insist that he's not. Running for office, I tell him, would mean spending months or even years enduring the joyless slog of the campaign trail — giving speeches to small, sweaty audiences, maneuvering through crowded diners, sucking up to obscure state senators. And, in the end, the house awarded to the winner would be an undeniable downgrade from his current digs.
"It's not glamorous," I tell him.

"Not like this," he says, extending his arms in recognition of our surroundings. "The endgame would be that I think I could do an incredible job. I think this country has great potential. I want to make this country strong and rich again."

It's a stump speech. Isn't it possible he's simply bored with real estate and reality TV, that he's searching for stimulation?

Trump shrugs. "Who knows what's in the deepest part of my mind? That could be possible."

This seems to be about as introspective as Trump is willing to get, so I wrap up our interview and thank him for his time and hospitality. But as we make our way back through the living room, where white-shirted servers nod deferentially as we pass, I keep thinking about something he told me during one of his long diatribes about the burdens of fame. He was recalling the swarm of fans that surrounded him in Manchester earlier this morning asking for pictures and autographs. "You know, it's a lot of work to smile for an hour and a half," he said. "At the same time, I always say to myself, how would it be if I stood there and there was nobody wanting it? That wouldn't be so nice either."

Within the bubble of luxury and loyalty Trump has created for himself, he hears about his own greatness every day from people on his payroll, or people who profit from his TV show, or people who are simply excited to see a famous person in real life. In this context, his mission to make me and my colleagues in the political press take him seriously seems to have little to do with answering a call to public service, or even a juvenile cry for attention. It's about satisfying his insatiable thirst for validation from a world where people don't reflexively call him "Mr. Trump."

By the time we step outside, the sun has almost set behind the well-placed palm trees that populate Mar-a-Lago's carefully manicured grounds. Trump says it's a shame my wife couldn't join me here.

"Yeah," I agree. "She's very jealous."

We chat briefly about family, and for the first time all day, he momentarily seems more like a human being than a cartoon character. I tell him I'm eager to see my daughter again.

"Enjoy that," Trump says. "There's nothing better. Trust me, there's nothing better."
Later that night, Nunberg and I are dining on shrimp salad and steak at a table near the outdoor bar when Trump spots us.

"Have you begun doing your work?" he asks me, jabbing his index fingers into the air, in an action I think is supposed to resemble typing.

"I just started transcribing," I tell him.

The conversation turns to the blizzard in New York, and we inform him that the earliest flights home we could book were for tomorrow evening. Trump waves down our waitress and instructs her to open up the spa store so that we can pick out suitable beach attire for the following day. "Whatever they want, give it to them. On the house!"

I thank him, but decline, again citing my company's ethics policy. He ignores me. "Stay as long as you want."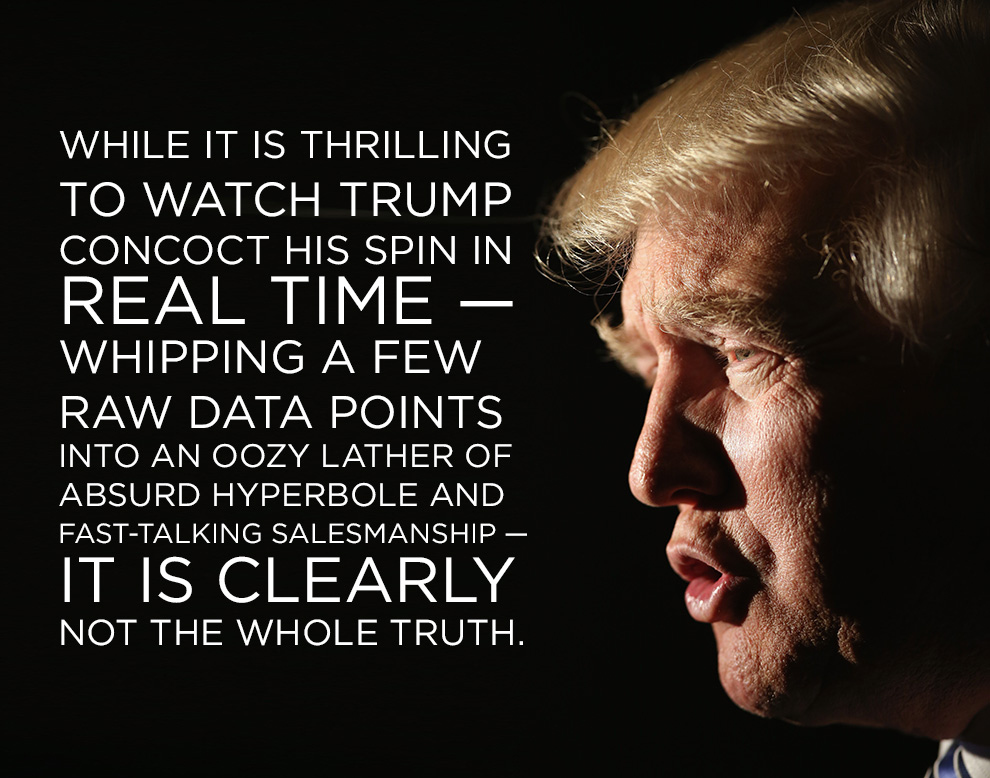 A few weeks later, I walk into a reception hall at the Grand Hyatt in Midtown Manhattan, where Trump is scheduled to deliver the keynote address at the New York County GOP's annual Lincoln Day Dinner. In the corridor outside, Republicans in cocktail attire nibble on Brie, browse through the New York Mets memorabilia available for silent auction, and sit for a caricature artist sketching attendees alongside the Donald. An Uncle Sam on stilts juggles nearby.

In the VIP section, Trump is posing for photographs with guests as a few eye-rolling reporters look on, snarking about the spectacle. "Do you think he's going to run this time?" one asks sarcastically. "Just kidding." Another says, "This is such a sham."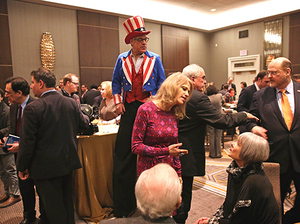 I come across Manhattan GOP Chairman Dan Isaacs, who organized the event, and ask him what he thinks of the Trump-for-guv buzz. Like most of his Republican colleagues in attendance, he treats the whole thing more like a fun in-joke than a credible option to consider. Will he actually run? "We're gonna find out tonight, maybe!" he exclaims. (Spoiler: We won't. But Trump does reiterate that he would do it if the party shuns all other challengers.)
A few minutes later, I spot Nunberg, who cheerfully slaps me on the back and introduces me to his mother. He tells me, with what I think I detect as a hint of respect, that Isaacs tricked a number of reporters into coming tonight by falsely promising exclusive interviews with the evening's star. When Trump finishes with the pictures and tries to move from the reception hall to the main ballroom, a scrum of grumpy reporters surround him, all trying to cash in on their promised access at the same time.
Nunberg edges between a couple reporters to get Trump's attention. "Remember him?" Nunberg asks, gesturing toward me.
"How you doing?" I ask.
Trump immediately recognizes me. "Is it gonna be good or bad?"
"The story?" I ask, slightly taken aback.
"Good or bad?"
I hesitate for a moment, unsure of what to say, and then decide to answer honestly. "I think you'll like it."
Trump points at me menacingly and mouths a few words I can't hear before he is swallowed again by the gaggle.