Aprenda a fazer o estrogonofe de forno com batatas crocantes McCain:
(vídeo embed)
Você vai precisar de:
1 pacote de batatas McCain
Para o estrogonofe:
1 colher de sopa de azeite
2 colheres de sopa de cebola picada
1 dente de alho picado
600g de carne bovina (alcatra, patinho ou filé mignon)
1 colher de sopa de extrato de tomate
1 colher de sopa de molho inglês
150g de champignon fatiado
400g de creme de leite fresco
1 colher de sopa de mostarda
½ colher de chá de sal
¼ colher de chá de pimenta
100g de queijo muçarela ralada
100g de queijo prato ralado
100g de queijo parmesão
Modo de preparo:
1. Preaqueça o forno a 180ºC.
2. Em uma panela forneável, coloque o azeite, a cebola, o alho e refogue.
3. Coloque a carne e cozinhe até ela ficar marrom e começar a soltar líquido.
4. Coloque o molho inglês e o extrato de tomate. Misture.
5. Acrescente os cogumelos e refogue até eles amolecerem.
6. Desligue o fogo e coloque o creme de leite, a mostarda, sal e pimenta. Misture e ligue o fogo baixo novamente.
7. Cozinhe até chegar na cremosidade desejada.
8. Polvilhe queijo muçarela, queijo prato e parmesão. Reserve
9. Em uma travessa, distribua as batatas Mccain de um lado. Do outro lado coloque a panela
com o strogonoff.
10. Leve ao forno por cerca de 20 minutos, ou até que o queijo gratine e as batatas fiquem
crocantes.
11. Bom apetite!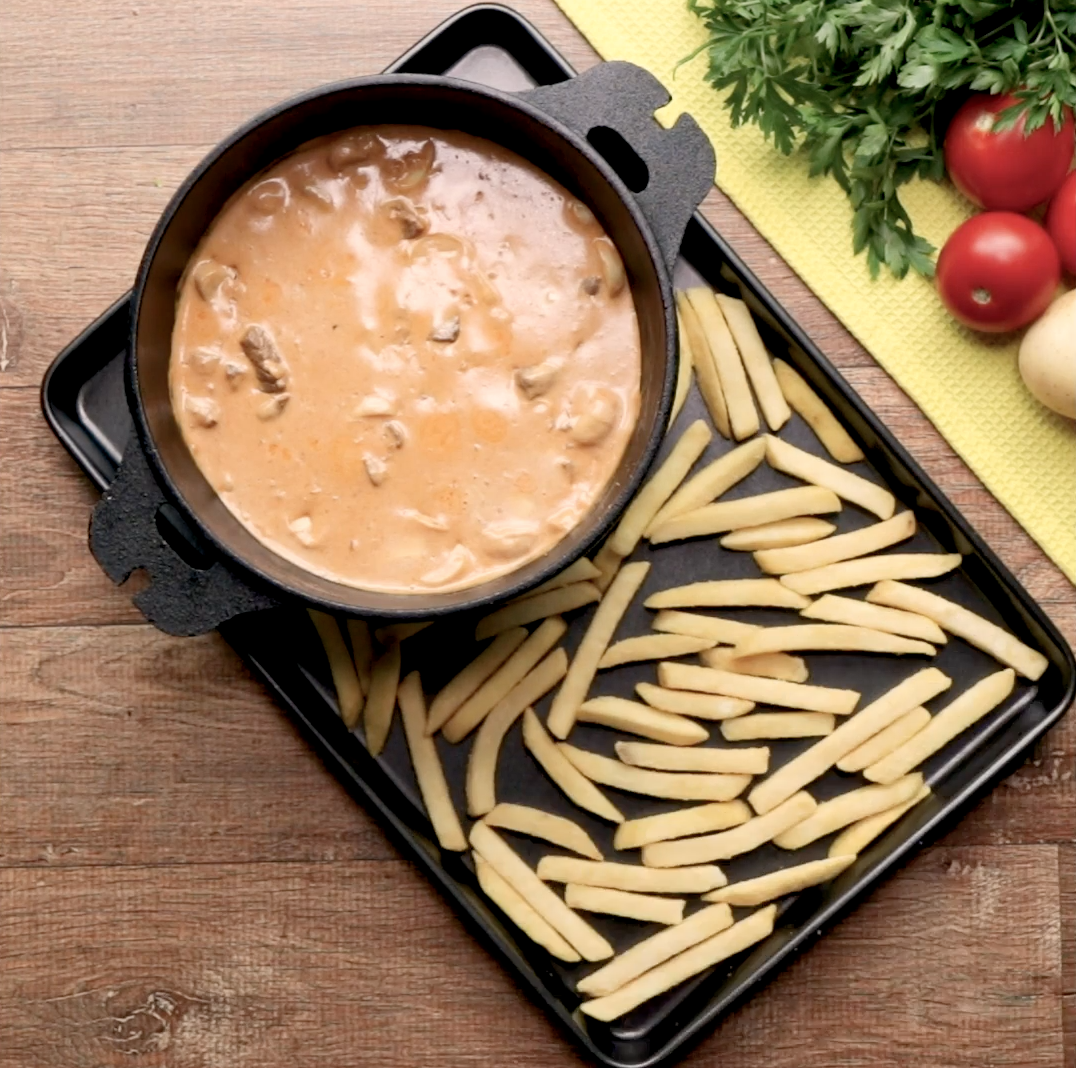 Looks like there are no comments yet.
Be the first to comment!