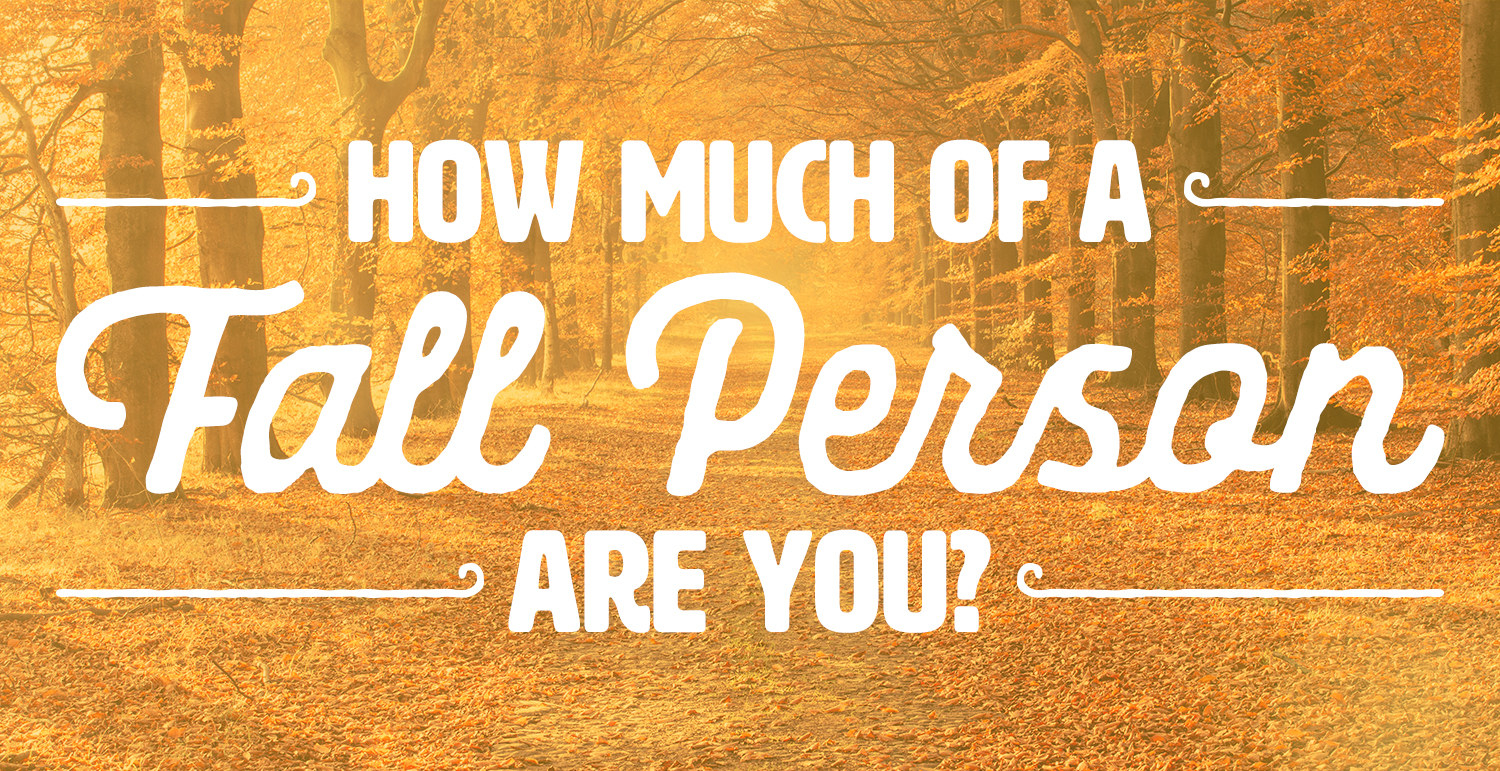 Check off all the items that apply to you:

You love the colours of the changing leaves.

You will go out of your way to walk through crunchy leaves.

You yearn for the first whiff of a wood-burning stove each September.

Once it turns even a little cold, you are ready for all the flannel shirts.

You will allow any excuse to wear a scarf with your outfit.

You wear sweaters before it's even cold out.

You have a special collection of sweaters that you store separately until after Labour Day.

You have at least one turtleneck-based outfit.

You legitimately enjoy raking leaves.

You have, as an adult, jumped into a pile of leaves.

You go apple-picking every single year.

You've bought more than one jug of apple cider at a time.

You have bobbed for apples.

You wish every food had cinnamon and apples as ingredients.

You go pumpkin-picking every single year.

You will carve the heck out of any pumpkin.

You love that first moment when you can see your breath in the air.

You are all about a fire in the fireplace.

You've streamed that "show" that's just a fireplace on TV.

You love pumpkin spice, and you don't care who knows it.

You would support a law that required all beverages to be pumpkin-spiced from September through December.

You love the word "harvest," even though you've never harvested anything.

You've harvested lots of things, and you still love the word "harvest."

You've admired the look of a scarecrow before.

You get excited at the idea of a hayride.

You wish your morning commute included a hayride.

You are super-thankful to have Thanksgiving as a holiday.

You don't get people who don't get Halloween.

You've eaten handfuls of candy corn before.

You attend fall sporting events at high schools you didn't go to.

You run out of mulling spices more than once a season.

You begin to refer to corn as "maize" starting in September.

You pity locations that are too temperate to get a proper autumn.

You think daylight savings time is overrated.

The word "cornucopia" suddenly finds its way into your vocabulary for three months a year.

Ditto to "brisk," "foliage," "windbreaker," and "autumnal."

You specify colours like "burnt orange" or "yellow ochre."

You have filled your house with decorative gourds.

Seriously, you would throw out food or toiletries to make room for decorative gourds.

You'll drive over an hour to see the best foliage.

You have firm beliefs about the tree with the best foliage in your town.

You will fight about this tree. IT IS THE BEST TREE.

You would gladly trade February for a second October.

While we're at it, you could trade June for a second November.