Vogue's Style Editor-at-Large Elisabeth von Thurn und Taxis deleted an Instagram that appears to show a homeless person flipping through the magazine after receiving criticism Saturday for posting it.
"Paris is full of surprises....and @voguemagazine readers even in unexpected corners!" reads the caption to the photo, posted from Paris, where Von Thurn und Taxis was for Fashion Week.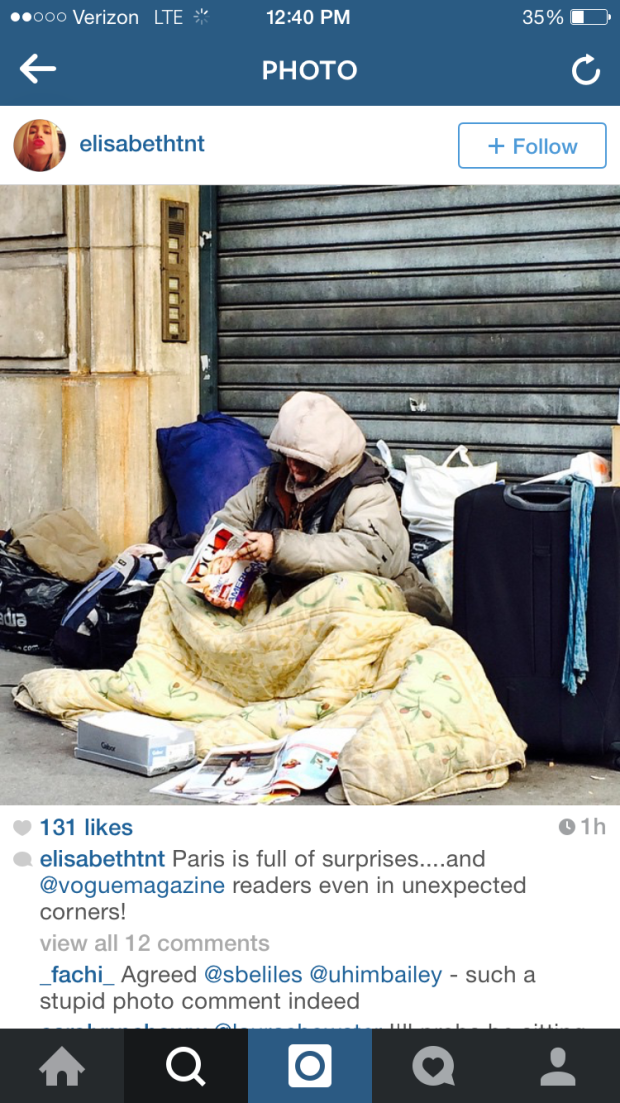 Many followers reacted negatively to the since deleted Instagram, saying it was "shameful", "cruel" and "tasteless," according to The Sydney Morning Herald.
The 32-year-old editor, who is known as TNT, responded on Saturday to commenters, asking "Why cruel? The person to me is as dignified as anyone else!"
On Sunday, after the picture had been deleted, TNT posted an Instagram of the Seine in Paris with the caption: "I wanted to extend my sincerest apologies for the offense my post has caused. Yours truly Elisabeth."
Fashionista, who first reported the Instagram, said it showed the editor is "disturbingly out of touch."
"The things she writes, both in Vogue and on social media, often straddle the line between entertaining/aspirational and disturbingly out of touch. On Saturday she crossed that line," the article reads.
She is a German princess, the daughter of of Countess Gloria von Schönburg-Glauchau, and Johannes, 11th Prince of Thurn and Taxis, who were known for their crazy parties and an open marriage.
TNT started her career with a blog called "The Princess Diaries," which appeared in the London-based Finch's Quarterly Review and talked about "normal issues" royalty face. She became an editor for Vogue in 2012.