UPDATED — Aug. 19, 1:05 a.m. ET: Deng was found alive at an area hospital Monday night, police said.
Police were given a tip that she was at the hospital, New York Daily News reported. It is not clear why she was admitted to the hospital, but Deng's friend Roblé said on Instagram, "She is safe and sound."
Deng was reported missing by her boyfriend Grant Monohon on Aug. 16, according to DNA Info. Monohon told police that Deng said she wanted to sleep in a park the last night she was seen.
The New York Police Department asked for help Monday in the search for Ataui Deng, who has been missing for almost two weeks.
The model was reportedly last seen in Manhattan around midnight Aug. 6 outside of the nightclubs XVI Lounge and Attic Rooftop.
Deng's friend Roblé, who is a famous chef, said two other friends saw Deng near the Attic after a party for Major Model Management, according to the Village Voice.
The 22-year-old model was born in Khartoum, Sudan, and moved with her parents to San Antonio in 2004. She was later discovered in Dallas, during a model expo, and signed with Trump modeling agency in New York in 2008.
Court documents reveal Deng is in the process of divorcing husband Kortney Hopkins, who's also a model signed to Trump agency.
The New York Police Department said the model's full legal name is Ataui Deng Hopkins and described her as 6 foot 1 inch tall, weighing 110 lbs, black hair with dark complexion, and a thin build.
Deng has worked with L'Wren Scott, Proenza Schouler, Kenzo, and Zac Posen, and has appeared in editorials for Vogue, Harper's Bazaar, and more.
Almost 300 people have posted notices on Instagram for the missing model in the past six hours, since the NYPD released the bulletin asking for help locating the model.
Rihanna, whom Deng had been photographed hanging out with three months earlier, posted that Deng was missing as well: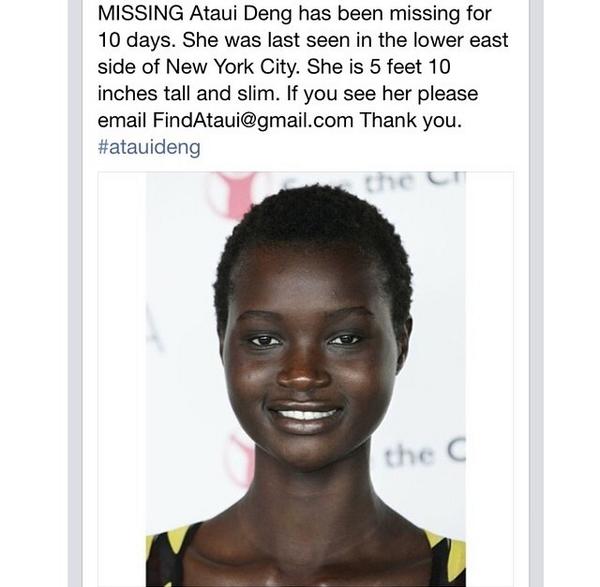 Deng's last Instagram post is from Aug. 1, and features a picture of her and Wilmer Valderrama, the actor best-known for his role as Fez in That '70s Show.
Michelle Broder Van Dyke is a reporter and night editor for BuzzFeed News and is based in Hawaii.
Contact Michelle Broder Van Dyke at michelle@buzzfeed.com.
Got a confidential tip? Submit it here.