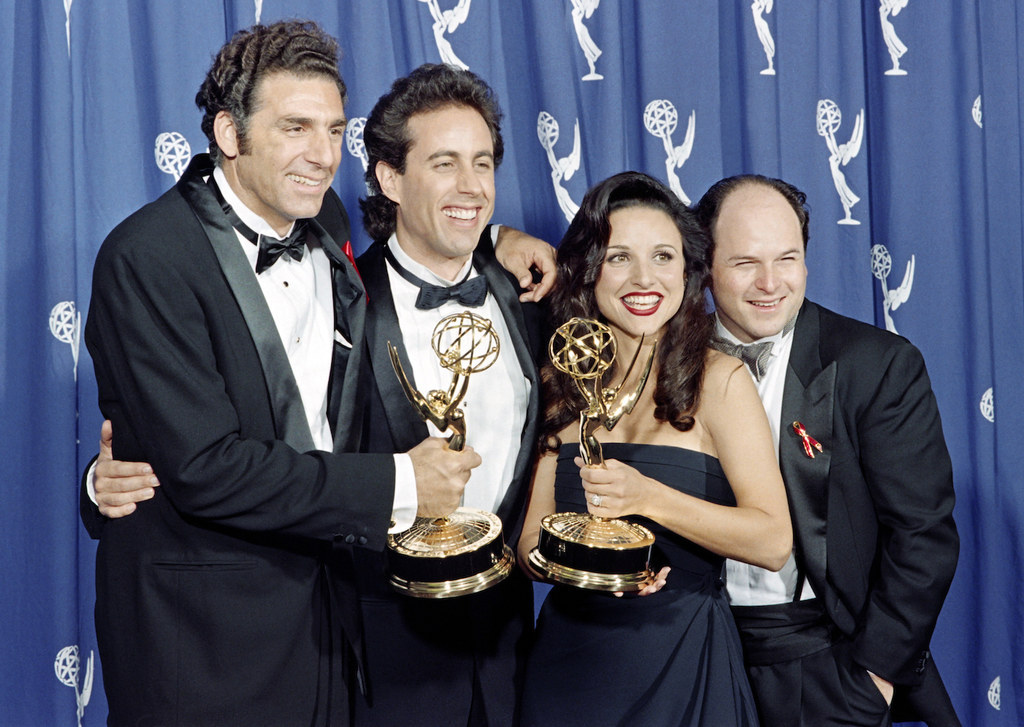 Hulu has acquired the rights to all nine seasons of Seinfeld, the streaming service announced Wednesday morning at its upfront presentation. All 180 episodes, in their original versions, will be available to subscribers in June.
Hulu's SVP of content, Craig Erwich, was joined by Seinfeld star and co-creator Jerry Seinfeld on stage at the Hulu upfront presentation in New York on Wednesday to announce the exclusive acquisition.
"You could've put the DVD in but I guess nobody wanted to do that," Seinfeld joked.
"There's no question that Seinfeld has played a major role in TV history, which is why we cannot wait to make all episodes of the series available to stream for the first time ever on Hulu," Erwich said in a statement obtained by BuzzFeed News. "Whether you are an existing fan who just wants to relive your favorite moments over and over again, or are a new viewer who wants experience Seinfeld from the very beginning, Hulu will now be your destination to stream what has been dubbed as one of the greatest shows of all time."
The Wall Street Journal broke the news about Hulu acquiring Seinfeld Tuesday night, reporting that the deal with Sony Pictures Television was for nearly $1 million per episode. Earlier in the upfront presentation, however, Billy Eichner, the star of Hulu's upcoming comedy Different People, joked, "They spent $130 million on Seinfeld and one day on set they told me I couldn't get an everything bagel!" By comparison, last year, Netflix acquired the rights to Warner Bros.' Friends for a reported $500,000 an episode.
The acquisition is one of the biggest for Hulu to date, though the streaming service made another big deal in February with CBS TV Distribution for more than 300 episodes of the serial drama CSI.
Hulu announced on May 20 the series will be available to stream on June 24.