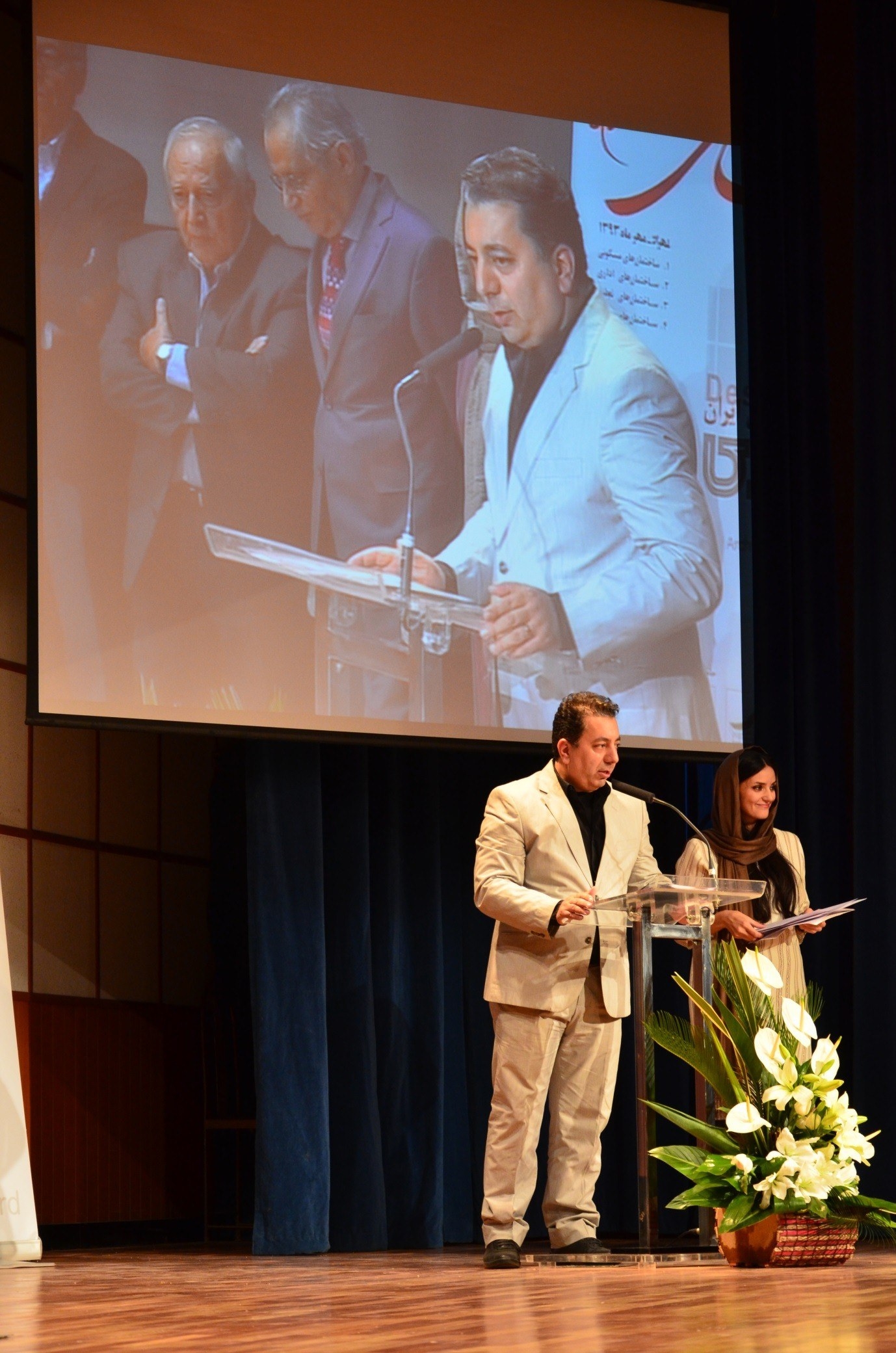 Q: To begin with, we'd take the opportunity to congratulate you and your wife, Negin Farrokh to become the proud parents of Radan Zohadi.
A: Thank you so much
Q: To begin with, could you please tell to our readers that who is Ahmad Zohadi at present?
A: Sure, at this time I am the Editor in Chief, Chief Executive, and Publishing manager of both Iranian Architecture & Construction Magazine as well as 2A International Architectural Magazine. Besides my accomplishments and merits can be précised as:
•Head of Organizing Committee of 2A Asia and Europe Architecture Award [2A Continental Architectural Awards for Asia and Europe] and also
•Head of Organizing Committee of Iranian Architecture Award [based in Tehran]
•Head of Organizing Committee of 2A International Architectural Film Festival
•Head of Organizing Committee of 2A Ideal City for Well- balanced Living & Multidimensional Growth & Progress
•Architectural Theoretician & Researcher, Curator & Author
Q: Tell us about your vision for the 2A and Architecture & Construction Magazine.
A: I have carefully chosen the theme for each issue of both the magazines. At the moment, we are issuing 43 issues of 2A Magazine in addition to the 55 issues that assert more than a few subjects of Iranian Architecture. Thankfully, I have received quite a lot of greetings from quite a few universities and pros for the same.
Q: When have you first started publishing 2A Magazine and what is the procedure for selecting the theme and approach of this magazine? What is the focus of 2A Continental Award and what are the goals that you intend to achieve by organizing this event?
A: 2A magazine has been published since 2005, and in each issue, it focuses on a specific architectural topic that is close to our view towards architecture. We, in 2A magazine, believe that architecture is an art and profession, which plays a multi-dimensional role in any society. Its function and responsibility are not merely to create beautiful living spaces; it has to reflect and respond to the social, cultural and economic needs and challenges of that specific society, country, region or continent. In this regard, we have always aimed to create a forum for international interaction of professional architects and also the exchange of the theories and practices of architecture.
Q: Why have you chosen to shift your attention from a global architectural award to a continental architectural award?
A: This choice has been based on four reasons that I'm going to explain:
1.Uniqueness, regional culture and historically specific characteristics of each continent.
2.Different esthetic criteria based on specific regional references and backgrounds.
3.Highlighting and recognizing the particular characteristics and the fundamental principles of their unique architectural styles that were somehow hidden or in some cases lost in today's mixed global architecture.
4.The re-introduction and giving respect to one's cultural roots and values will create and balance the social forces, which result in creating social unity among the inhabitants. This unity will help the nations to move toward progress in every way harmoniously and positively.
Each of these continents (Asia and Europe) has different cultural and historical backgrounds. Therefore their social and architectural needs are also different. Architects of each continent had to consider their local and regional concerns and needs such as geography, climate, customs, culture and religious values, history and other social factors to design. These different concerns have led to the formation of different and contrasting styles of architecture in each continent. In fact, our goal was to unite together through architecture so that we could support a Contextual Analysis and Study in Asia and Europe.
Q: What do you mean by "Uniting Together through Architecture"?
A: Any form of art like architecture has the power to help both the artists and its observers to shift their attention to more subtle aesthetic, ethical, social, cultural and sometimes spiritual dimensions, and in doing so it helps to bring people closer together, and enhance peace, kindness, and unity among different nations. In a way, it shifts the focus from separation to unity, from superiority to more common human emotions such as the need to love, charity and peace. So that's how we hope that we can unite together through architecture.
Q: We would appreciate it to know about the judging criteria that have been considered by respective jury members in each continent.
A: The honourable jury members have assessed the projects based on the following criteria:
•Design Achievement including Concept, Strategy, and Proceedings.
•Technical advancement including engineering achievements (structural, mechanical, etc.) and innovative use of materials.
•Reflection of sense of place and cultural identity and ecology; environmental sustainability (including ecological, and sociocultural sustainability)
•Social responsibility and community and urban connectivity.
•The effects of economic condition on the project.
•Transcendent Dimensions of Architecture
All through the eras, we can find great men who took the leading steps down the new and undiscoverable roads equipped with nothing but their idea and considerations. Ahmad Zohadi is one of those leaders. The most noteworthy thing about meeting and talking with him is his vision and way of observing the world architecture. With an eye on the professional aspects of architecture and the other one on its traditional roots and standards, he suggests a heavenly balance of social and architectural needs. We wish that his vision may motivate architects and artists to turn their dreams into reality.
This post was created by a member of BuzzFeed Community, where anyone can post awesome lists and creations.
Learn more
or
post your buzz!
Looks like there are no comments yet.
Be the first to comment!