First up was the Korean breakfast, and for the most part, the kids weren't really into it.
Next, they tried Brazilian breakfast, and they were really thrown off by the coffee.
And even though they had never heard of Finland...
They seemed pretty into the Finnish cuisine.
While the smell turned some of the kids off from the Vietnamese breakfast...
Once they gave it a try, they seemed to enjoy it!
This little guy was really pumped when he saw the breakfast from Poland, but once he took a bite, he was not having it...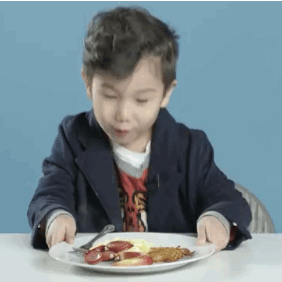 It's safe to say everyone's favorite was the chocolatey toast breakfast from the Netherlands, which the kids couldn't believe was actually a breakfast food.
All in all, the kids seemed to enjoy the food...even if they had no idea where it came from.