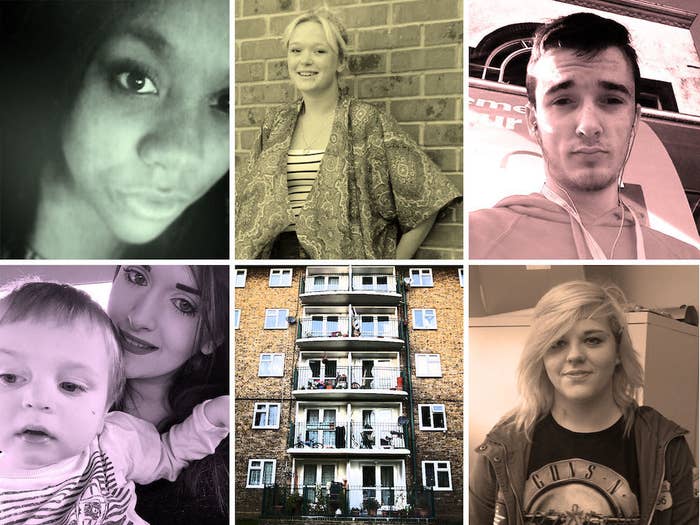 Chancellor George Osborne announced in the budget this month that he will end automatic entitlement to housing benefit for people aged 18-21 from 2017.
Although he promised exemptions for vulnerable people, those who cannot return home to their parents, and those who have had long-term employment, housing charities criticised the move.
Who are the people who end up on housing benefit while still teenagers? BuzzFeed News spoke to some of them about their fears of losing their benefits and potentially becoming homeless.
Kelly Malin, 19, Southend
If they cut housing benefit then I'll be back at square one again. Back on the streets. My mum and me didn't get along, and in the end she kicked me out. My dad passed away when I was 16 so I couldn't stay with him. I ended up being homeless from a month before Christmas until March. I felt like I had no hope, support, or future, like I was trapped and there was no way out. I was staying with friends, but it came to a point when they could no longer put me up.
I moved into YMCA-supported housing in Southend, where I've now been living for a year and four months. I'm much happier here than at home. But without housing benefit, I wouldn't be able to pay my rent here. I'm currently signing on because I can't find work at the moment. The job market is very competitive and it's even harder when you're young. But if places don't give you a chance, how are you ever supposed to get any experience?
The last job I had was working at a nightclub, but I only worked on weekends so it wasn't exactly ideal. Plus the late nights and early starts really drained me. At the moment, I'm volunteering with a youth group, which I love. In the future I'm hoping to study youth work, but for now I'm just applying for anything and everything. I've got customer service experience from working in Monsoon so I'm looking for lots of retail work.
Relying on jobseeker's allowance is tough. I have to scrape my money to get by. Each month, I pay rent, council tax, electricity, and food, so I have a strict budget and even plan out all the food I'm going to eat. After that, there's not much money left for going out with friends or buying clothes.
Personally I think cutting housing benefit is horrific. There are so many young people that need it, especially the ones living in supported housing that haven't got anywhere else to go. I'm feeling very anxious at the minute, but I'm not the only one. Lots of other people living here are feeling worried too.
The young people here are looking for jobs but there just aren't jobs around. If people lose their housing benefit, they're going to be homeless, because they have no home to go to. They don't have relationships with their families or other people that they can live with. Like them, I'll also end up homeless if the government goes ahead with plans. I'm keeping up to date with the news, following it all very closely. Fingers crossed.
Perry Palmer, 20, Burton-on-Trent
When you're young, you need to find your feet, and housing benefit is a lifeline. Getting rid of it will devastate a lot of people. I'm looking for work and claiming housing benefit so will be directly affected if it gets cut.
I had to move out of my home a year ago because I had a big fallout with my mum. I know my mum really struggled for money, and that put a strain on our relationship. She worked in a care home, but I'm the oldest of six and she had to support all of us. In the end, stuff reached breaking point and she asked me to leave. I sofa-surfed for two or three weeks with friends, but then I started claiming housing benefit and got my own place.
I can't live without housing benefit. Without it, I would literally have nowhere to go. I know I'd be able to stay with friends for a little bit, but after that lifeline had been spent, I honestly would be buggered.
I keep looking for work but am struggling to find anything. Since finishing college at 17, I've done warehouse work for Boots and other places. Other than that, I spend lots of time repairing and building computers and phones. I'd say I'm a bit of a computer nerd. My dream job would be to work for Apple. I know a lot about Apple products. I've only got an old iPod and iPad, but I'd like to buy more if I could afford it.
I don't know where the government expect all the young people to go if they cut housing benefit. How are you supposed to find work when you're homeless? If you're on the streets, you'll struggle to afford to look nice and travel to job interviews.
Rebecca Withnall, 18, Wolverhampton
If they cut housing benefit, I won't have anywhere to go. If it happens, I'll be on the streets. I wouldn't be able to move back in with my family because they're too many people there and they have no money to move somewhere bigger. At the moment, I live in supported housing in Wolverhampton and I'm claiming housing benefit and jobseeker's allowance.
I moved here four months ago when we got evicted from our family home. The council said all they could offer us was a two-bedroom place, but that's not enough room for my mum, my older brother, two younger sisters, and me. The council said, "Well, it's not our fault – your two older children are old enough to go out and live on their own." I was 18 so I had to move out.
Being separated from my mum was scary. We're really close and she would've never kicked me out. She was always there for me. She was like my lifeline, cooking my meals and making sure I got to appointments on time. It was really scary learning to do it all on my own.
Every day, I'm looking for work. But there just aren't many jobs around here. I've been searching for receptionist work, retail, stuff that involves art and science. Anything really. While I'm searching, I'm doing work experience at Eurofins, a food-testing lab, which I'm really enjoying. It's made me realise I want to work in a laboratory when I'm older. I'm planning to enrol for A-levels in chemistry and microbiology in September.
But that will be difficult to do if they go ahead and cut housing benefit. I don't know what I'll do. I will honestly have nowhere to go. I can't go back with my family. I'm worried about what will happen to me but my mum will probably be a lot more worried than I am.
If they cut housing benefit for under-21s, people are going to be homeless. Didn't they say before that they wanted to get kids off the street and put them into hostels? And now they're putting them back on the street. It doesn't make sense.
Sapphire Harvey, 19, Wolverhampton
The decision to scrap housing benefit for under-21s is crazy. We're all under 21 where I live in Badger Court YMCA accommodation in Wolverhampton. If it happens, where are we meant to go? Most of us will be left on the streets. At the end of the day, we're all in here for a reason. We're not here because we want to be – we're here because we were homeless. If you can't find any work, how are you supposed to afford rent with your jobseeker's allowance?
I moved here because I could no longer live at home. After my mum had a car accident, she couldn't work, because she was injured. In the end, she couldn't afford to pay all the rent. When she got in rent arrears, we were evicted and made homeless. My mum and brother were moved somewhere else, but because I'm 19, I had to move into Badger Court. If housing benefit hadn't been there to support me, I would've been left with nowhere to go.
Recently I've started an apprenticeship at a care home, but before that I was unemployed. My real dream is to be a midwife. I love children, so I'd love to be able to help a woman bring their child into the world. I had my interview for college today, so fingers crossed.
If they cut housing benefit, youth homelessness will rise. David Cameron's not going through what we're going through. He's got a nice house. He's got good money. We haven't. What are we meant to do with no housing benefit? He should think about other people's feelings, not just saving money.
Also, if kids are on the street, they're going to run reckless. Loads of young people who've got things going for them are going to turn to crime because they've got nowhere to go. They'll be more theft, violence, and people getting arrested. After all, how are you meant to find a job when you're living on the streets, not showering?
Olivia Deans, 22, Nottingham
Housing benefit started me on my life. A home is the most basic thing a person can have. It's the base of everything. You build on everything else from there. I grew up in Grimsby with my mum, stepdad, and two siblings. We didn't have a happy home life – I was basically like a surrogate parent. I was just there to serve the children. I used to bath, feed them, and look after them every day. But whenever my mum got annoyed with me, I was kicked out. As far I'm concerned I never really did anything wrong. I was never rebellious, I never did drugs, and I didn't even drink until I was aged 18. I think they had their own issues.
In the end, my mum said, "You're not welcome here any more," and refused to have anything to do with me. If I'd stayed at home any longer, my mental health would've deteriorated.
But I was very fortunate that I was able to get housing benefit to help me recover from that. Housing benefit was my last chance to get me back on my feet. Mentally I wasn't in a place that I could work so I claimed jobseeker's allowance for a year. I'd been diagnosed with post-traumatic stress disorder, and I was in a very bad place. I was really alone and I didn't want to leave the house.
In the end, I moved to Nottingham and the jobcentre helped me with some money for a deposit on a flat. After that I got a place at Nottingham Trent University and found out I was pregnant. Suddenly things changed a lot. Since then, my life has gone from strength to strength. I'm studying education studies and early years and I've just finished my second year. Being a mother and doing a full-time degree is pretty full-on, but having a child makes you more determined to do something.
It concerns me what's going to happen to young people if they cut housing benefit. It's going to be dangerous because lots will be on the streets – it's going to add yet more stress on already vulnerable people. Without housing benefit, I'd have had no support at all, and I wouldn't be where I am now.