World
Russian TV Scrambles To Play Down Ukraine Protests
Sunday's anti-government protest, which attracted several hundred thousand people, may be the largest in Kiev yet, but Russian reporters are withholding the truth. One man even interrupted a reporter to hand him an Oscar "for his coverage."
KIEV, Ukraine — As several hundred thousand people took to the streets Sunday in possibly the largest anti-government protest since Ukraine's political crisis started last month, pro-Kremlin Russian media desperately scrambled to play down numbers.
Channel One claimed that "only a few hundred" people attended the protests, which were "dying out." NTV, famous for its pseudo-documentary hit pieces on the Kremlin's enemies, had a reporter spend a whole week filming an elderly woman complaining about the noise the protests made near her apartment.
Since massive demonstrations erupted a week ago in response to President Viktor Yanukovych backing out of a deal with the EU and the violent breakup of a tent city, the other state TV channel, Rossiya, has outstripped its competitors in showing bizarre, paranoiac, and misleading reports.
One host said Swedish Foreign Minister Carl Bildt was an ex-CIA agent who organized the protests to get back at Russia for the battle of Poltava in 1709; another claimed Ukrainians were only angry because of sharp seasonal changes in the weather.
They also showed a historical documentary about the Battle of Kiev in 1943.
Boxer Vitali Klitschko's opposition party, UDAR, tweeted a picture from the protest to the channel with the caption, "You think there aren't a lot of us?"

УДАРВіталія Кличка
@udarKlichko
@vesti_news Вони кажуть нас мало? #УДАР#Євромайдан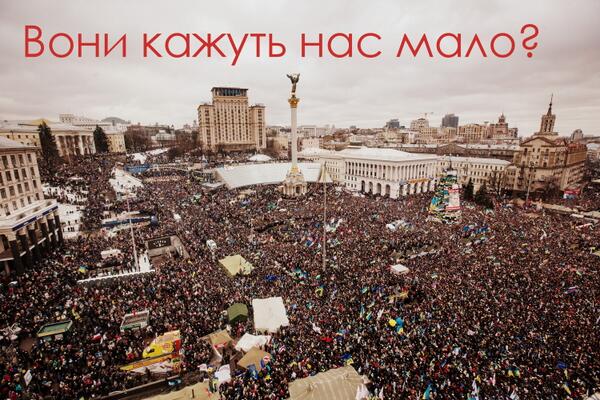 / Via
Kol shoved the man out of the shot and struggled to be heard over the crowd's chants of "Tell the truth!" and "Shame on you!" in Ukrainian - which he translated as calls for Rossiya only to show positive coverage of the "Euromaidan" protests.
Correction: An earlier version of this story claimed that Channel One showed video of Sunday's protests while claiming only a few hundred attended. The channel made the claim; they did not show the video.