1.
This week Melbourne besties Caitie and Demi were first to cook, deciding on a fashion fusion menu of Japanese/Italian cuisine.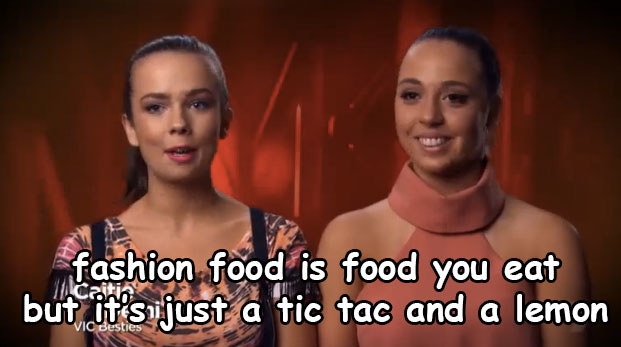 2.
"It's kind of like a deconstructed sushi," they said about this stupid fucking sounding entrée.
3.
We learned that Caitie cannot say "cinnamon".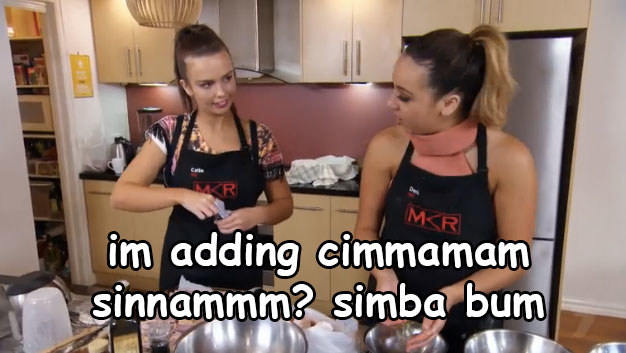 4.
The girls decided that, to make a Japanese mayonnaise, they needed to use MSG as a key ingredient.
5.
Guest Judge Darren visited the girls in the kitchen and asked about their ~controversial~ ingredient.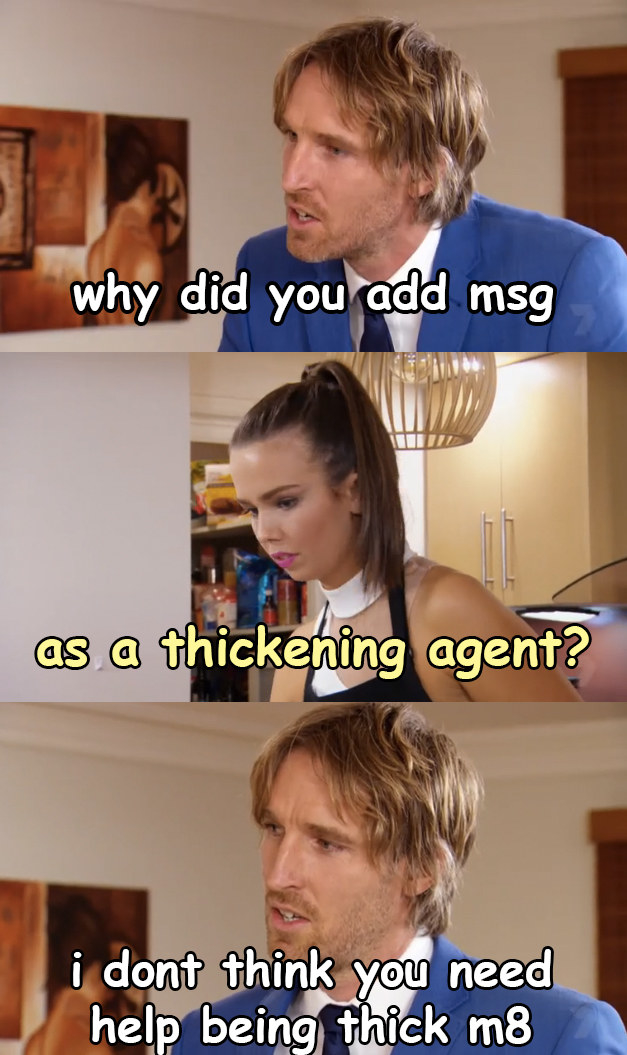 6.
Mama Val made sex eyes at Darren all night.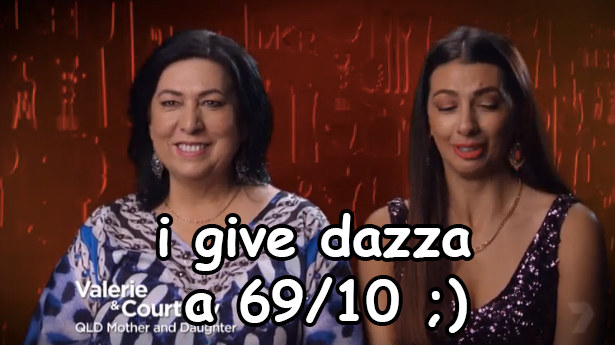 7.
The judges later revealed the secret ingredient of MSG and the looks of shock from the other contestants were so OTT it was like they just found out they lost the Oscar for Best Picture.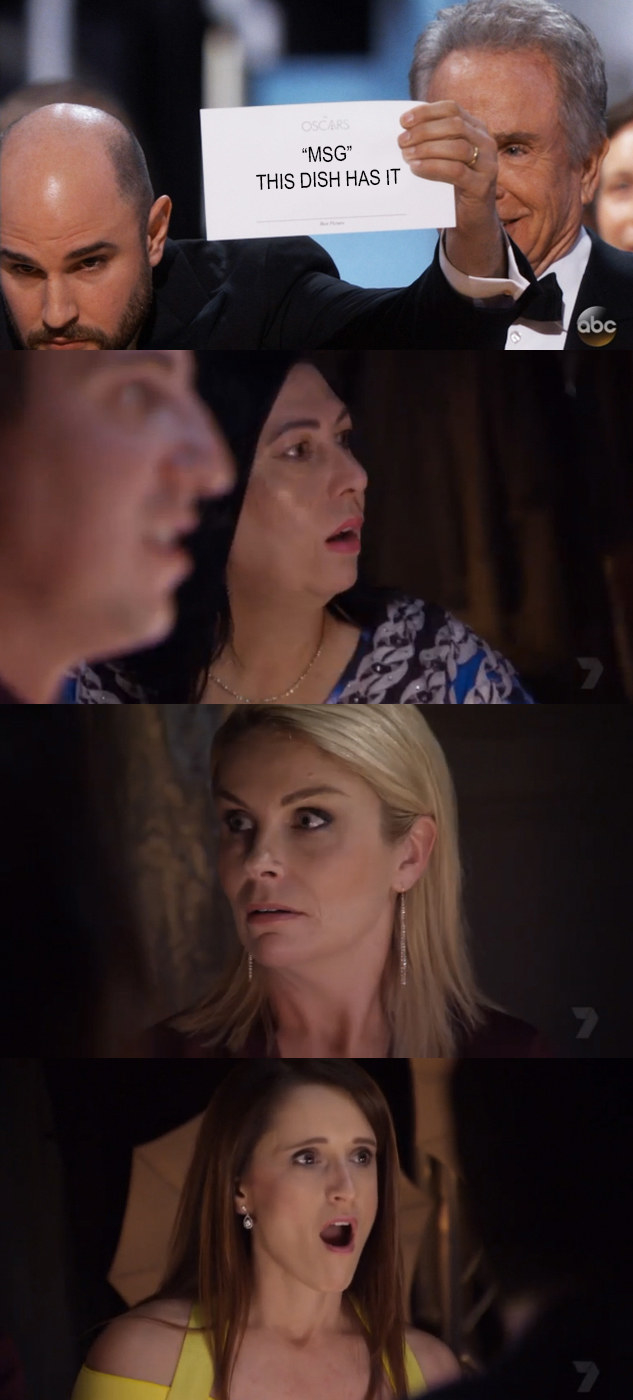 8.
Overall, the girls got a final score of 60, putting them at the bottom of the leaderboard.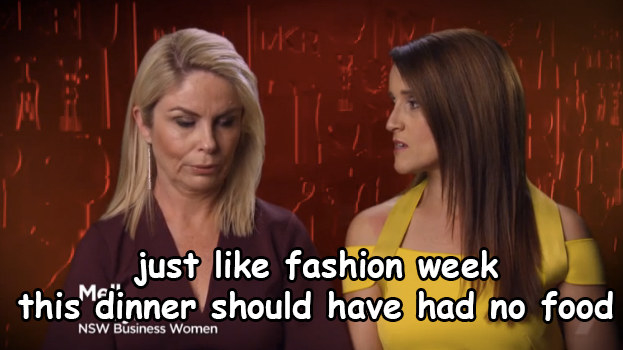 9.
Next up to cook were Lebanese cousins Lama and Sarah.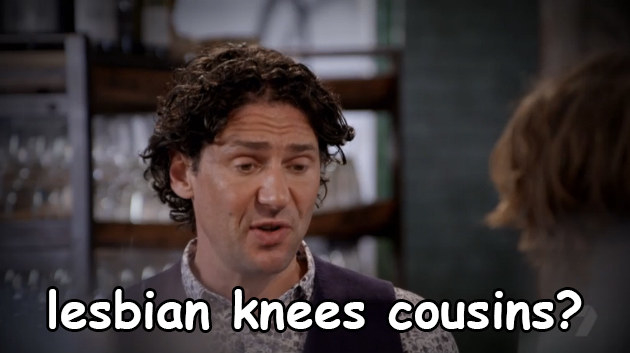 10.
Tension was running high in the kitchen, with the cousins bickering at every step.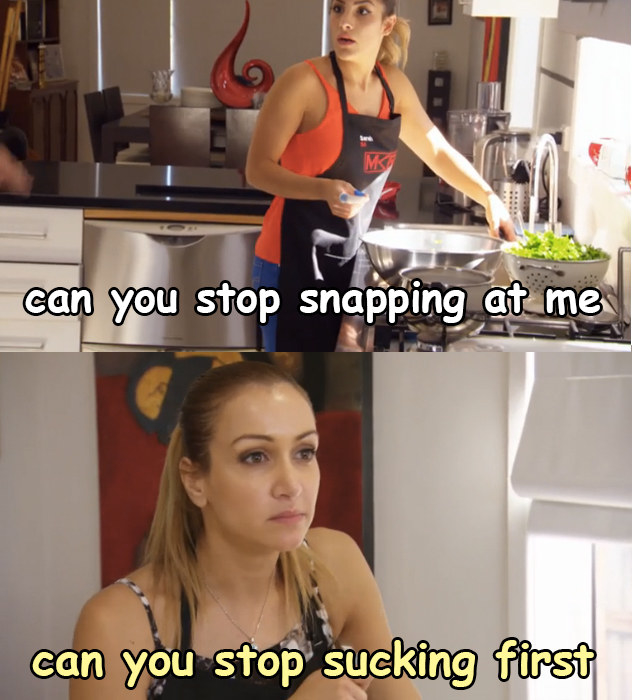 11.
Mama Val was still grinding on that Darren and Colin vibe.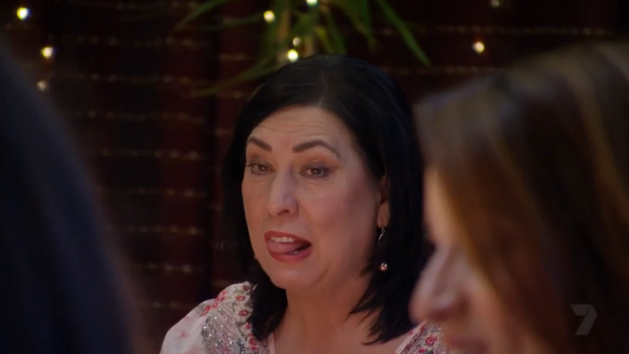 12.
Caitie revealed a skill of hers is telling incredibly shit jokes, which I related to on a spiritual level.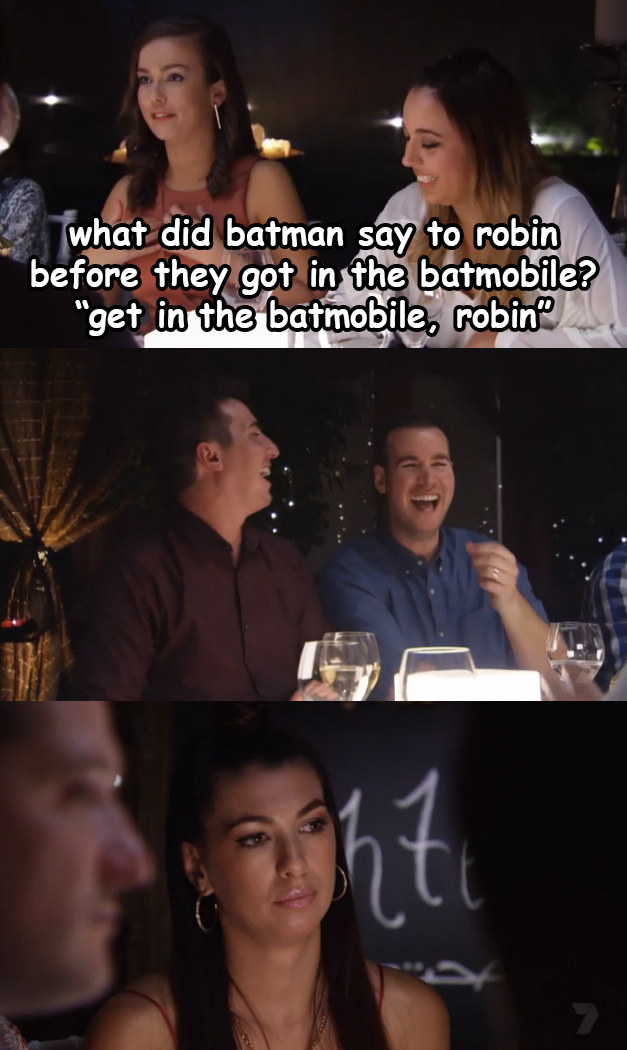 13.
Colin joined the ladies in the kitchen and forced them to hug to diffuse some of the tension.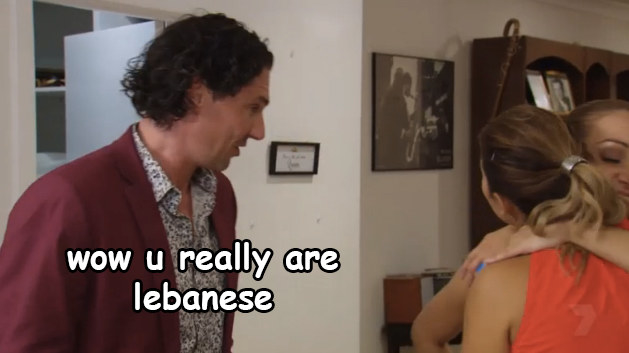 14.
While "bellydancing", one of the footy friends smacked his head into a lantern which answered the question: What does it take to get Mell and Cyn to laugh?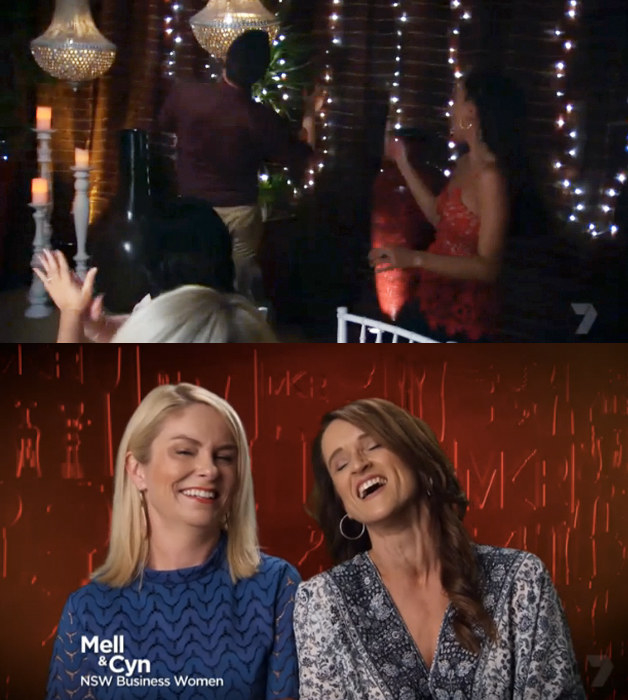 15.
As Lama and Sarah made their dessert custard, they realised they had accidentally scraped the enamel off the bottom of their pot.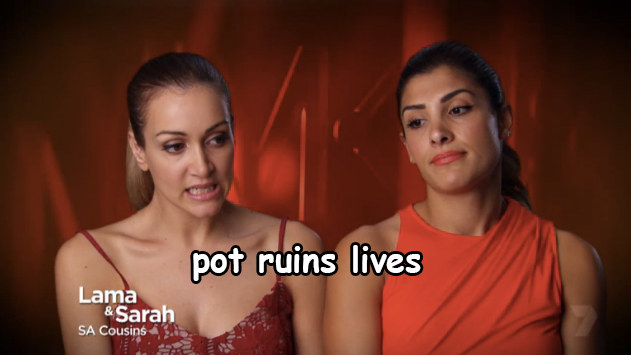 16.
TWO AND A HALF HOURS after serving their mains, the ladies delivered an underwhelming dessert.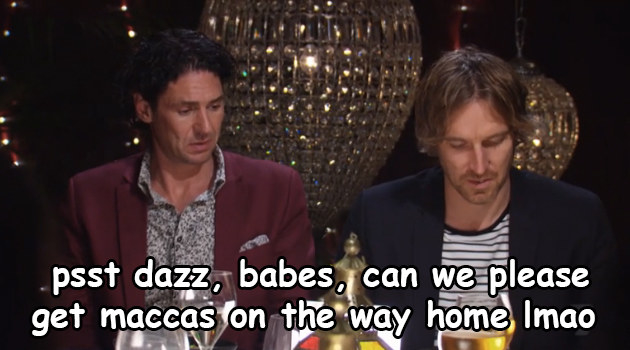 17.
The third team of the week to cook were heterosexual married couple Brett and Marie.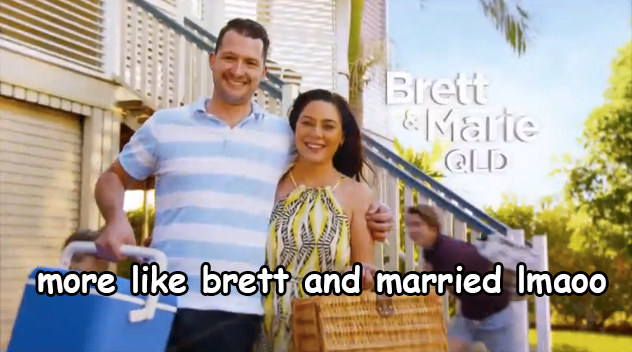 18.
Because they are a married couple and they were making a clear soup from a rich flavoured stock, I made this pun: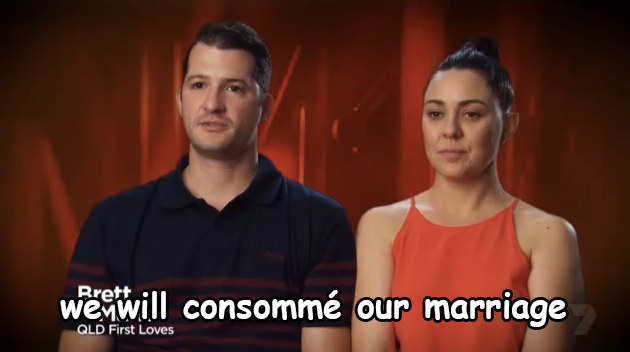 19.
Brett and Marie'd called their restaurant "Just In Time" for which I don't remember the reason (it was boring), but I can only assume it was an homage to the Justin Timberlake film In Time.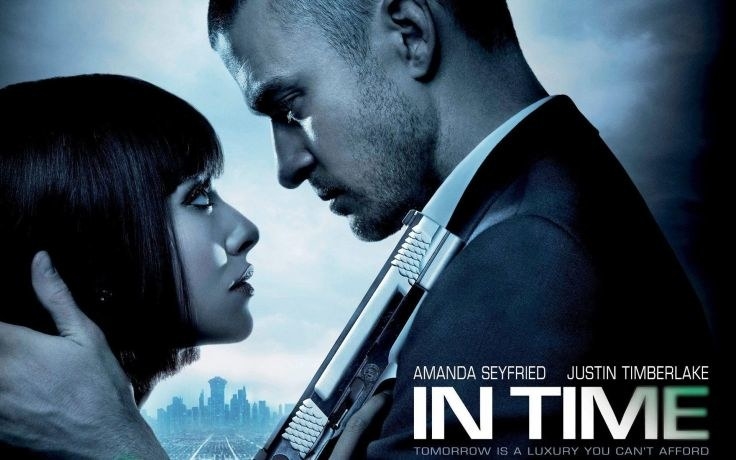 20.
After he announced they were going to get a score of 95, Brett and Marie served up an average entrée.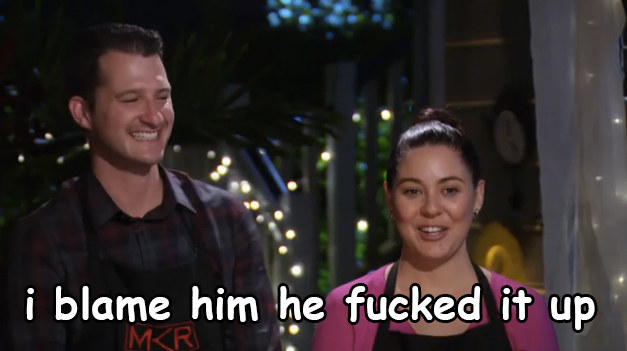 21.
The two then delivered a pretty strong main course followed by an uneven dessert.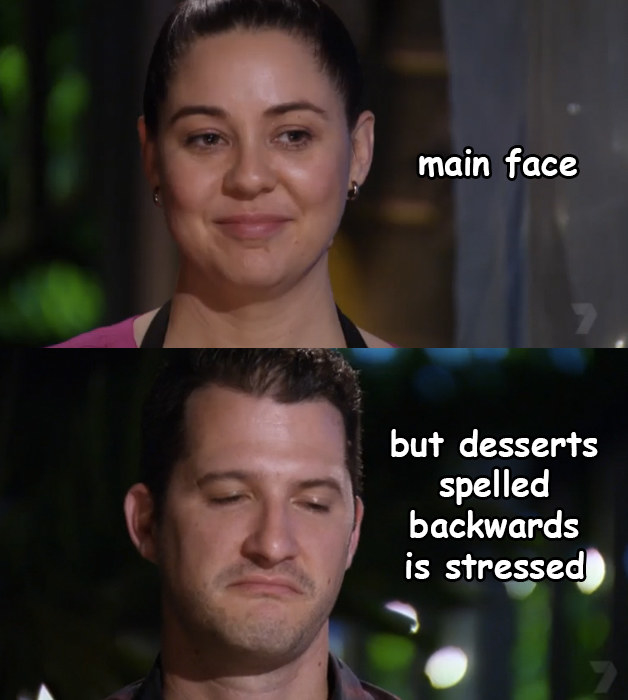 22.
The married couple ended up with a final score of 69.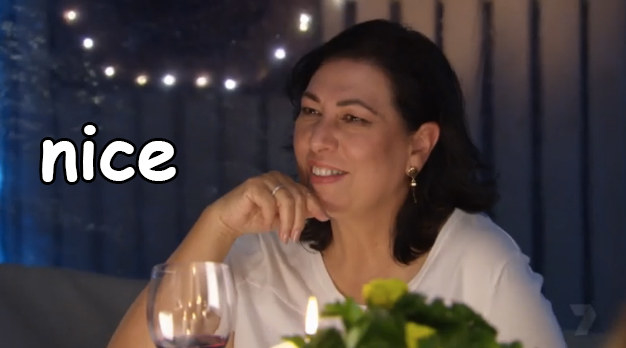 23.
The final team to cook for the week was mother-daughter duo: Thirsty Val and Courtney.
24.
Caitie and Demi came to dinner dressed as cultural appropriation.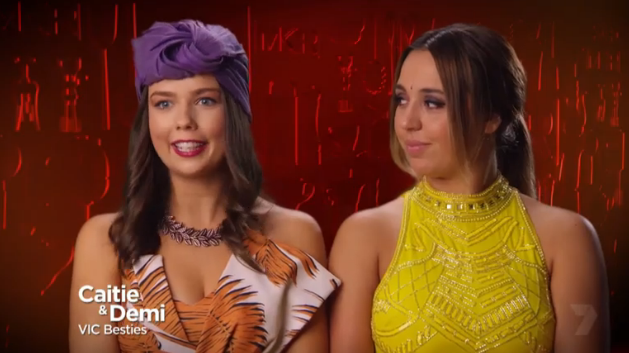 25.
As Val and Courtney began preparing their dishes, they kept discussing how much spice they were using. Yes, these two... were definitely.... The Spice Girls.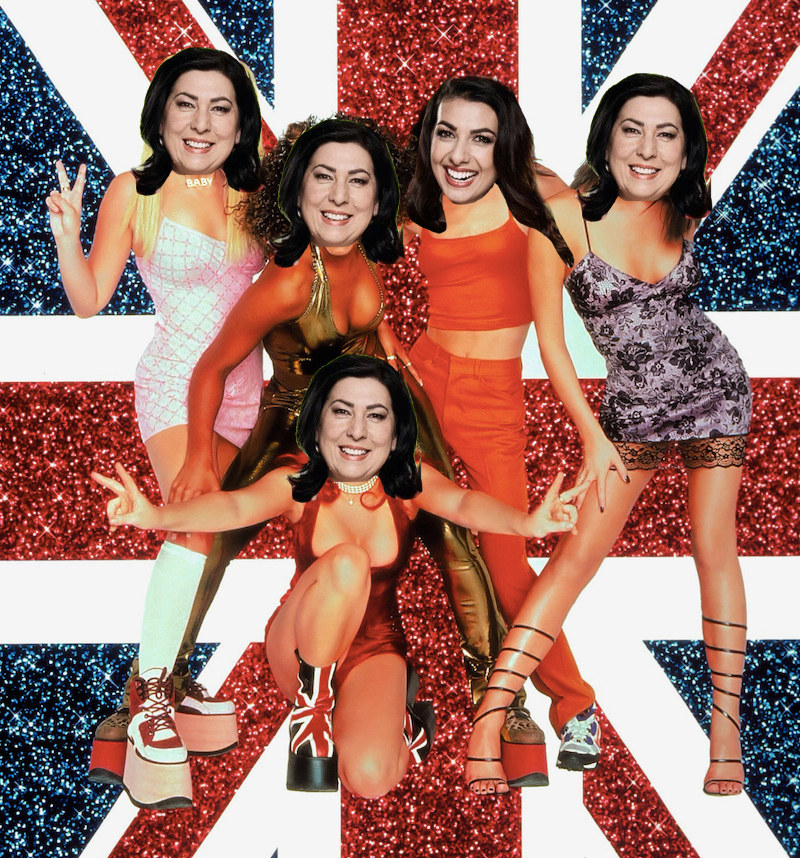 26.
Meanwhile, at the table, the business women were busy having all the fun in the world!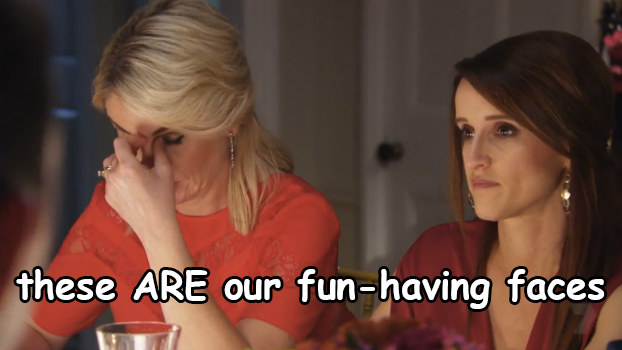 27.
Mama's main dish was super meaningful to her, being a dish she cooked with her father.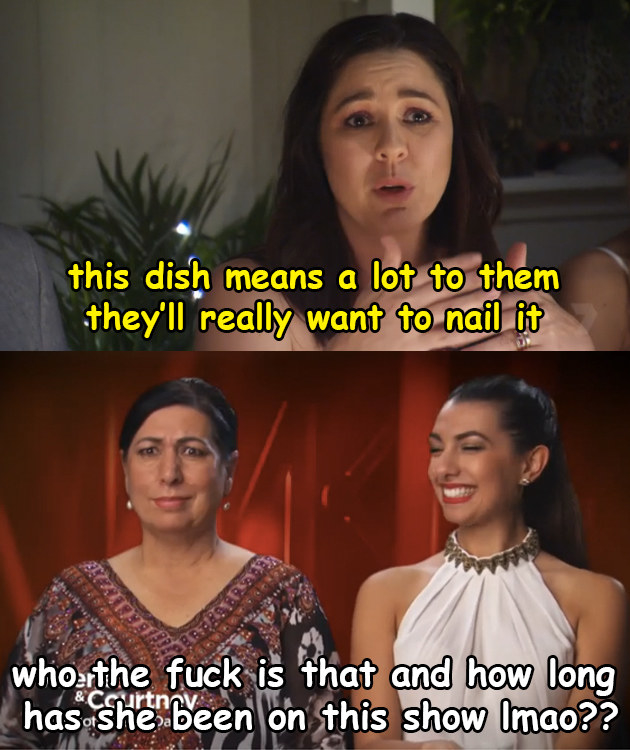 28.
THEN, in the weirdest moment of the whole show, Mell or Cyn went on an insane rant about the show, and people scoring strategically.
29.
Unfortunately their dessert didn't go to plan, meaning their great momentum of a good entrée and a great main fell flat with the final course.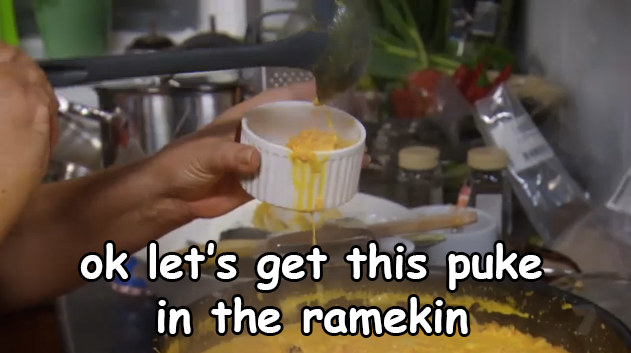 30.
Even though their dessert was a mess, Val and Courtney ended up with a final score of 72, putting them at the top of the leaderboard.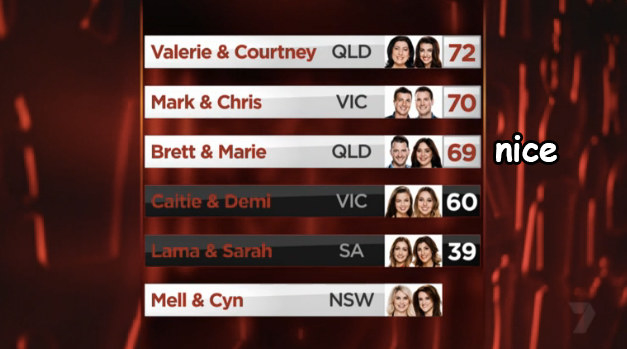 Next week we'll see the end of group three with the business women cooking up a business storm, plus the kitchen HQ showdown between the two lowest-scoring teams.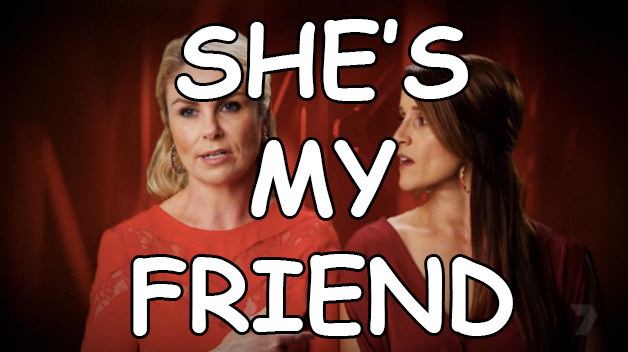 Looks like there are no comments yet.
Be the first to comment!