We Watched Episode 7 Of "The Bachelorette" And Had A Lot Of Thoughts
"IT'S FUN FACTS, NOT SAD FACTS"
by
,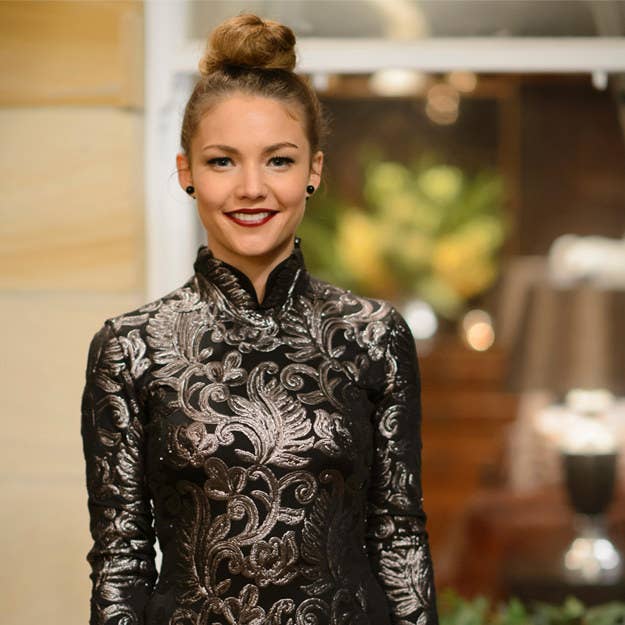 1. The boys are just casually hanging out on exercise equipment. As you do.
2. They look like they're in a prison yard.
3. But a glam AF prison that has tons of roses and tealight candles.
4. I appreciate all the ~guns~ on display.
5. Osher always looks so handsome.
6. Oh it's the LAST solo date! This has gone so quickly. Too quickly.
7. Michael wants the solo date because he is "here" and "genuine".
8. "I think I deserve to win because I am here".
9. It has to go to Sash right? They haven't had a date in FOREVER.
10. Tho Michael hasn't had one at all awks.
11. The one-on-one time after the group date was practically a single date anyway.
12. It's so weird that Michael is a frontrunner when we barely see him and Sam really hitting it off.
13. Do they have off-screen chemistry? Because I don't really see it on screen.
14. YASSS SASH GOT THE DATE.
15. It makes sense that Sash gets the final solo date. Because he will get the final rose.
16. Poor Michael except not really like I still kinda get bad vibes from him.
17. This group date sounds awful.
18. Five handsome dudes vying for your attention and cooking for you.
19. ...Wait no that sounds awesome.
20. "I'll do canapés," Richie says, as if he's volunteering as Tribute in The Hunger Games.
21. It's just canapés Richie.
22. Imagine if he did like cabanossi and cheese. Classic.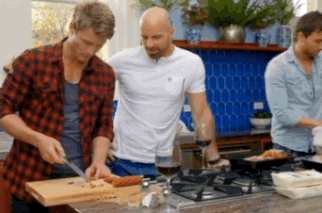 23. Meanwhile Dave is doing the entree, Alex is doing the mains and Michael is like "I'll do the wine" as though that's a course in itself.
24. Which, I mean…
25. Of course Sash is doing dessert because it is the best and he is the best.
26. "It's the last supper" LOL. Does that make Sam their Jesus?
27. These guys standing around the kitchen cooking dinner for their lady love is exactly the kind of content I came here for.
28. Richie just said "ca-naps". He kills me.
29. Wait. He's doing haloumi and chorizo for his ca-naps, literally upscale cheese and cabanossi.
30. Richie, please cook those ca-naps.
31. What if Richie just serves a piece of raw haloumi with some chorizo on top? Would that be a dealbreaker???
32. Dave is like "maybe I'm not going home this week after all."
33. Oh thank god Richie is going to cook his meat and cheese. He's safe for now.
34. Dave is definitely going home this week.
35. Whoa Alex is going IN on Michael about not having a solo date.
36. Someone pass Michael some ice for that burn.
37. But like Alex, m8, you haven't really been in the picture since you stood in that glass box of butterflies, don't get too cocky.
38. Michael has mentioned taking Sam to Brisbane 300 times this episode already.
39. Do you think he lives in Brisbane?
40. OMG SASH MADE NAME CARDS FOR THEM ALL. HE'S SO ARTISTIC AND SENSITIVE.
41. I want Sash to make me a name card.
42. It would say Mrs Sash because that is my name now.
43. The way they're agonising over the seating arrange and table settings is too much.
44. This is so damn goofy I love it.
45. Sam looks flawless, as per usual.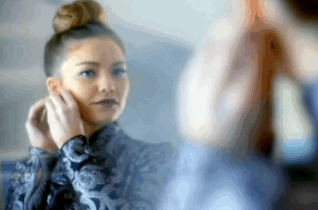 46. Sash and Dave, just a couple of blokes, getting dressed up together, talking about their feelings.
47. ALEX IS IRONING HIS SHIRT HALF-NAKED THANK YOU.
48. There has not been nearly enough semi-nudity lately.
49. Sam arrives and is like "I've never been in this situation before."
50. What, five hot guys don't regularly cook you dinner and wait on you hand on foot, Sam?
51. Neither. :(
52. This show is goals tbh.
53. I love that Richie presented his ca-naps like "haloumi with wilted spinach".
54. M8 that's three things you stacked into a pile.
55. This whole date is one giant pissing contest.
56. It feels so awkward. So tense.
57. I am here for it.
58. Richie definitely has the best spot at the table, looking directly at Sam.
59. Tho the guys on either side of her could get ~sneaky~.
60. OMG how many of them do you think are trying to play footsy with Sam but really are just rubbing each other.
61. WAIT DAVE IS SERVING A PRAWN COCKTAIL.
62. With extra garlic for Sash. That's sabotage.
63. Sashotage.
64. Ew at Michael calling it the fish of love. Fish are not an animal I'd associate with love.
65. "Yo baby, do you like goldfish? Cause I'm only gonna remember you for three seconds."
66. Ugh. Michael no.
67. Dave looks so sad.
68. Or bored. Dave looks bored.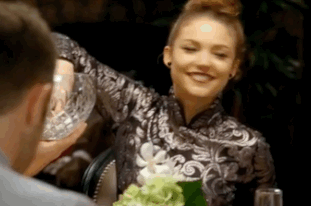 69. TBH the way they can all balance multiple plates on their arms is impressive AF. I would have smashed like 10 by now.
70. Sash made brownies. Of course he did. That's so cute.
71. SAM LOVES THE BROWNIES!
72. SAM LOVES THAT SASH CAN BAKE.
73. SAM LOVES SASH.
74. Same.
75. Oh this fun facts thing is gonna be awkward. Yes, good.
76. WAIT ALEX HAS NO EARLOBES.
77. He's just a man on a journey to find true lobes.
78. Is Dave's fact that his teeth are fine?
79. Sam just put her whole hand on his teeth. Like she couldn't quite grasp that his teeth have grown back since childhood.
80. Aw Richie's fact is cute. I'll sleep under the stars with you Richie.
81. Ew Michael's fact is bad.
82. Dave looks pissed.
83. HE HATES THESE FACTS!!
84. HE SAID "FUN FACTS NOT SAD FACTS!"
85. Here's a fun fact for you: I am now dead. I died of laughter. RIP me.
86. "I have feelings for all of you!" That's not awkward at all.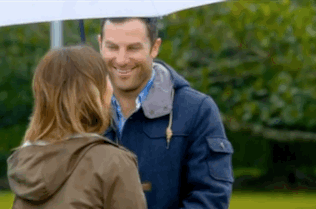 87. OK HERE WE GO LAST SOLO DATE WITH SASH YES YES YES.
88. Awwww she based it on all his favourite things. That is so sweet.
89. THEY KISSED ON THE LIPS IN GREETING IT'S TRUE LOVE.
90. This is one stunning couple.
91. IF THIS DOESN'T WORK OUT IT'S GOING TO BREAK MY GODDAMN HEART.
92. They're doing art! Because he loves art! SO CUTE!
93. These outfits are on point. Especially Sash's white tee mmmhmmm.
94. I love that this date is also for a good cause.
95. SASH'S ARSE.
96. BEND OVER MORE SASH.
97. Sorry, back to the date.
98. OK this painting is… not… great. BUT IT WAS PAINTED WITH LOVE.
99. Sash is inwardly cringing like "please don't put my name on this I'M AN ARTIST."
100. But actually he doesn't seem to care and that is even sweeter.
101. Their conversation is very personal, they're totally connecting.
102. These guys do have a crazy amount in common.
103. Almost like they were meant to be together nbd.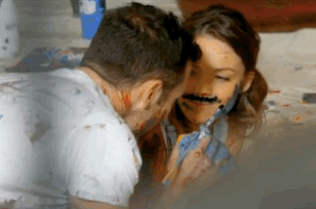 104. HE'S PAINTING HER FACE ARRRGGH.
105. Sam mustache you to kiss her now.
106. YES YES YES.
107. This kiss is so freaking hot but they are definitely getting paint in their mouths.
108. Honestly I could just watch an hour of them making out.
109. NGL I hate fondue. It's like dipping spit sticks into lukewarm chocolate.
110. Fondon't.
111. "I didn't realise my feelings would develop this quickly." MARRY HER.
112. Or you know, go on a third date.
113. THEN MARRY HER.
114. Sam is not even talking she's just staring at him lovingly with hearts coming out of her eyes like a permanent Snapchat filter.
115. I like that she clarified she doesn't have warts, she is so adorably awkward.
116. THEY WANT MORE OF EACH OTHER. SAME.
117. YES SASH GET THAT ROSE.
118. Omg he called her Samantha they are so cute.
119. They should auction off Sash's t-shirt instead of that painting.
120. I would buy that.
121. And never wash it.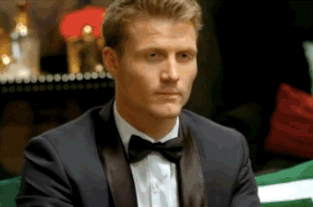 122. LOL at all the guys in their suits and Sash walks in jeans and a tee covered in paint.
123. He should stay in his paint-covered shirt for the rose ceremony tbh.
124. It's a good look.
125. Michael is so pissed.
126. Dave looks like the kid from Problem Child with that bowtie.
127. Wait did Alex just say the top three are Richie, Michael and Sash?
128. So he's… given up????
129. I mean, he's right. But still.
130. DAVE IS STILL SO UPSET ABOUT THE FUN FACTS NOT SAD FACTS!!!
131. This is seriously killing me.
132. "THOSE AREN'T FUN FACTS. THEY'RE NOT FUN."
133. RIP me.
134. Sash: "They were interesting facts." Dave: "WE SHOULD HAVE SAID THAT."
135. I am a ghost.
136. WAIT DID DAVE JUST SAY RICHIE, MICHAEL AND SASH ARE THE FINAL THREE ALSO?
137. WHY ARE HE AND ALEX EVEN STILL THERE THEN?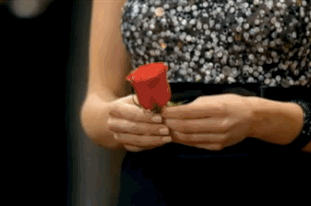 138. I love that Sash is helping Dave out, like he clearly loves Sam but also he wants to support his mate.
139. Dave walks up to Sam, muttering under his breath about sad facts.
140. Blake reference. Drink!
141. This solo time is weird. I just don't know if there's anything there. He's definitely going.
142. That'll be a sad fact.
143. At least Sash already has a rose. I can't wait to meet his mum.
144. Michael is in the final four without ever having a solo date. That's so weird.
145. Thank god Richie is safe. That haloumi must have been delish. Just like his abs.
146. Poor Dave tho. :(
147. Now he really has a sad fact to talk about.
148. I'll listen to your sad facts Dave.
149. But if we're talking FUN FACTS NOT SAD FACTS: HOME VISITS NEXT EP YAAASS.