A Guatemalan And A Filipino Try Each Other's Favorite Childhood Snacks
"It's crazy how two different cultures from two different parts of the world can have so many similarities."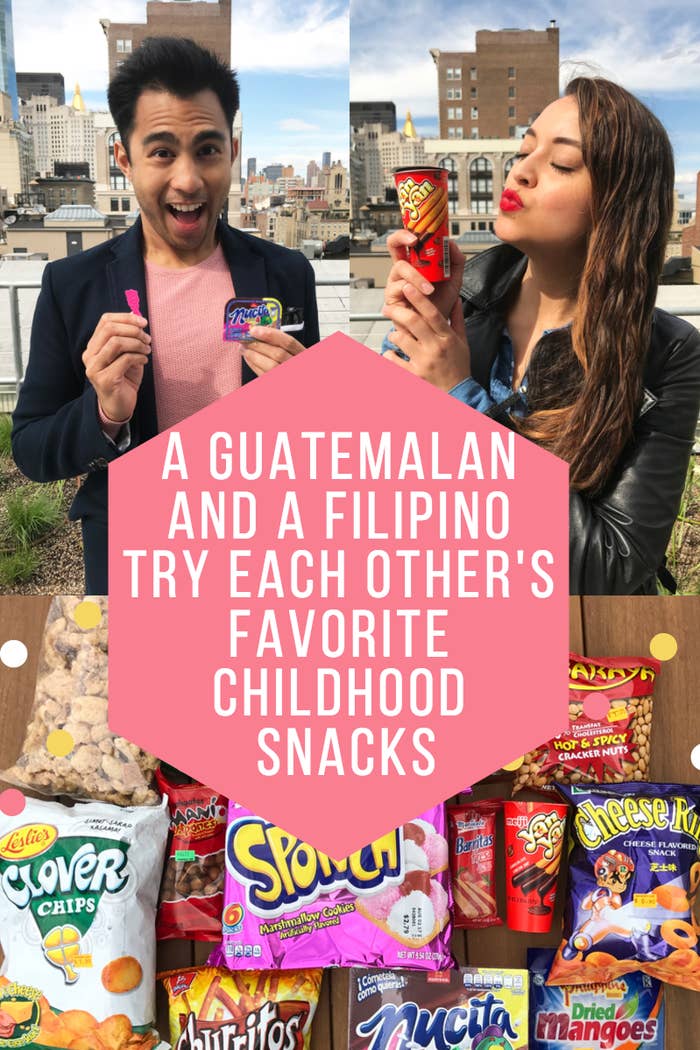 Hi! We're Jess and Matt. We're editors for BuzzFeed and immigrants living in the United States. And, as our photos above point out, we love food.
Jess: My childhood in Guatemala was filled with memories of food and family. Food brought my whole family together at my grandma's house most Sundays, so we could share quality time while eating delicious meals. Those times were some of the happiest ones when I was kid. Aside from our great local food, there were always dozens of snack options in every tienda around the city. Going to a tienda to get snacks was always such a pleasant experience, you would get to say hello to the local store owner AND would walk out with your favorite snack.
Matt: My childhood Sundays in Manila were also spent at my grandma's! My lola would make food for lunch, then she'd give me and my cousins some money to go to the sari-sari store around the corner for merienda. We'd buy our favorite junk food and share them with everyone back at the house. Like Jess said, food has such an added value of bringing people together — even more so for immigrants, who might be separated from their families and homes.
Jess: Yeah, when I moved to a primarily white neighborhood in the U.S., I was so sad to find that all my beloved snacks were not available anywhere near me. Besides the language barrier and being far away from my family, not being able to eat all my favorite foods was definitely the toughest adjustment I had to go through when I emigrated to this country.
Matt: Totally, same. And because I'm not that good at cooking Filipino dishes, I couldn't just whip up adobo whenever I needed it. I'd have to go looking for it. Luckily, there are a lot of Filipino neighborhoods in New York that serve home-cooked meals, but snacks were always an easier way home. Portable bites that would instantly transport me back to my childhood, a la Proustian madeleine.
Since we had such a similar love for our childhood snacks as immigrants, we shared some of our favorites with each other to taste the similarities and differences!
Jess: I spent hours in Corona, Queens trying to find snacks specifically made in Guatemala, but couldn't find the real deal. Thankfully I found some snacks from when I was a kid. Though these are mostly made in México, they're available in virtually every tienda in Guatemala, so I thought they were a good representation of what growing up over there was like. I was REALLY upset I wasn't able to find Tortrix — my favorite — for Matt, but at least he got to try some Nucitas!
Matt: I got lucky in Chinatown where I found a whole lot of my fave junk food. I'm a little miffed that they end up being so much more expensive in the States when they're so cheap back home. But that's a built in immigrant tax, I guess! Still, you can bet that I bought multiples of everything — some for Jess to try, and more for me to take home!
🇬🇹 Chicharrones vs. 🇵🇭 Chicharron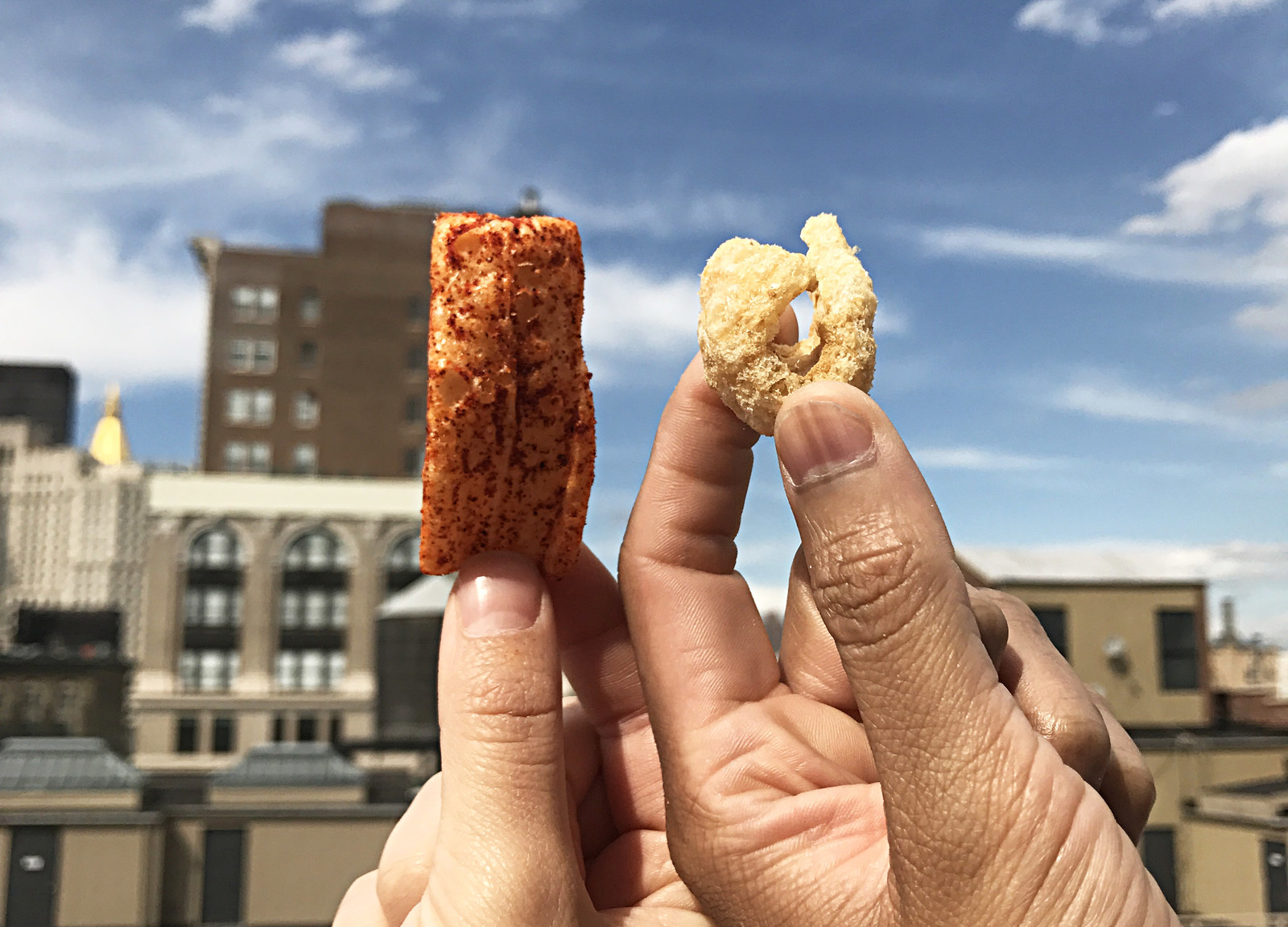 🇬🇹 On Jess's chicharrones:
Jess: These are chicharrones with chili and lime. I used to eat these on road trips with my family as they were always a nice treat to have during hours stuck inside a car. I'd get so happy every time I ate them because the flavor is my favorite and it was almost like a reward every time I had them.
Matt: Oooh i like these! These are more sour than spicy for me. They're a familiar kind of taste, but nothing I can place specifically. I think my little cousins would love these on road trips too. We'd always go ham at the gas station pit stops to pick up junk food and I think these would be on their list.
🇵🇭 On Matt's chicharron:
Matt: This brings back memories of trying to sneak sips of San Miguel beer from my uncles at inumans and at family get-togethers. These are soooo unhealthy — like, it's literally fried pork skin — but they just taste like home.
Jess: These are AMAZING! They're actually closer to what most chicharrones look and taste like in Guatemala. (I'm so bummed I wasn't able to find the REALEST thing on the stores near my house.) The flavor is definitely different from the chicharrones I've had though, but that extra kick of vinegar was an extremely pleasant surprise. Wish these weren't so fattening so I could have the whole bag!
🇬🇹 Churittos vs. 🇵🇭 Prawn Crackers
🇬🇹 On Jess's churritos:
Jess: These were some of my favorite snacks growing up, but I feel like the version I got wasn't as good? I remember them being full of flavor and wanting to eat like 100 at a time, but these are sort of weird flavored and too spicy. :/
Matt: They look like Red Hot Cheetoes! Not as hot though, but I don't think — OH THERE IT IS. Yeah, that's jolly spicy. I imagine that you could be literally caught red-handed with these lmao. This is chill, but not something I'd look for during lunch breaks or during recess at school.
🇵🇭 On Matt's prawn crackers:
Jess: WOAH! These smell like straight-up seafood! It's interesting to me that they were able to add so much smell to them... OK, so I'm not super in love with them. They tasted kind of sweet, which was unexpected. They weren't terrible, but my taste buds aren't used to the taste at all, so they're rejecting them.
Matt: Listen, these were my FAVORITE growing up. There's another kind where they're ~flakes~ and that's pretty good too. I didn't grow up knowing that 'prawn' was supposed to be the flavor, so I never had the 'seafood' association. I understand that it could take some getting used to for anyone who didn't really grow up with these, but yeah, I could eat these in one sitting.
🇵🇭 Pinoy Cracker Nuts vs. 🇬🇹 Guatemalan Cracker Nuts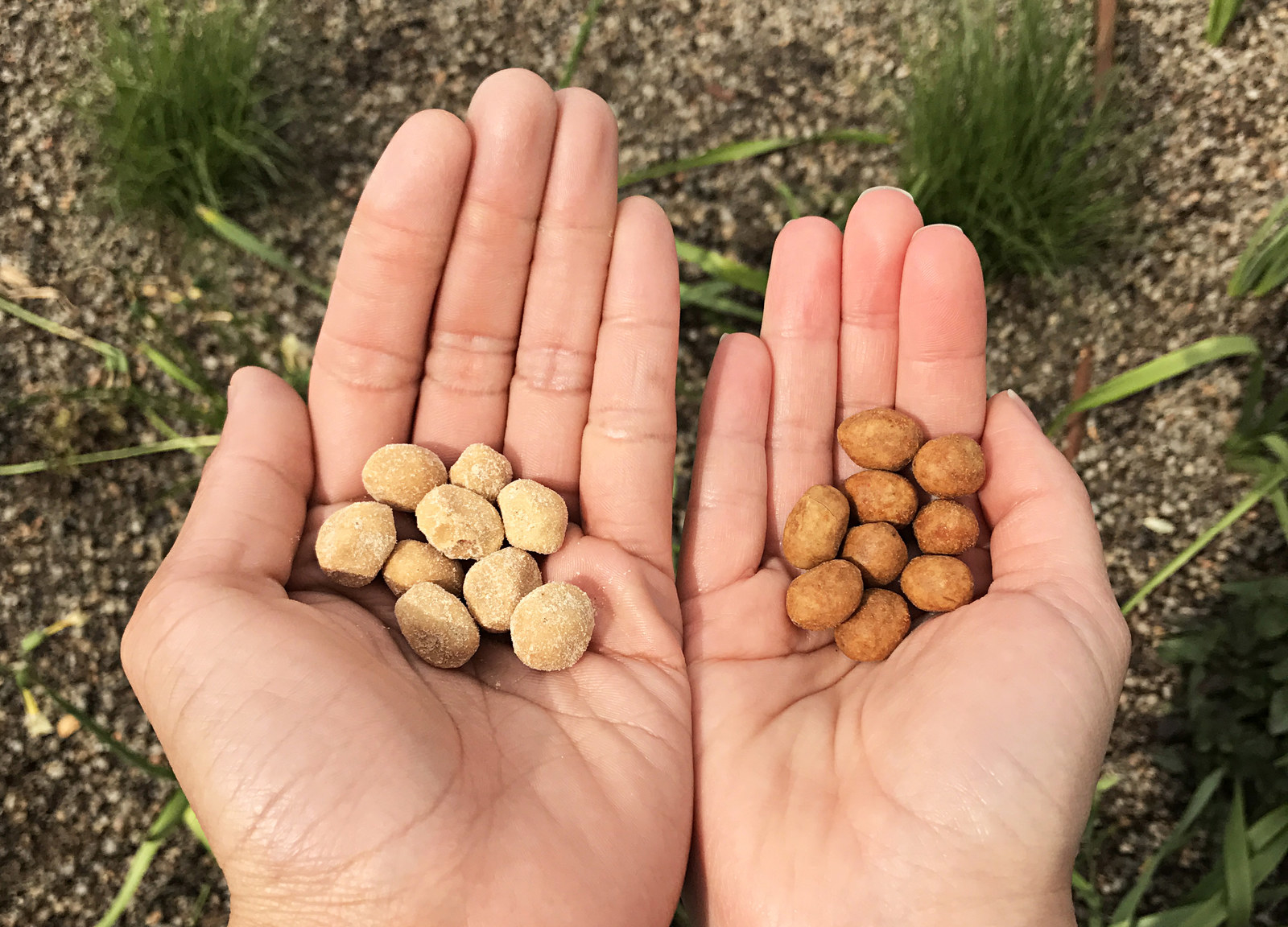 🇵🇭 We'll talk about both cracker nuts, because they're so similar! 🇬🇹
Matt: Honestly, if you gave me this, I'd be like, "Oh, I had these growing up! But they changed the recipe a little…" The outer shell on the Guatemalan ones is less crunchy than the Filipino ones. I prefer those because of the kick and spiciness, but I love that Jess and I could have traded lunch boxes across the world when we were kids!
Jess: OMG our peanuts are THE SAME!! Besides some textural differences, the taste is essentially the same, which makes me so happy. It's so crazy to realize how two different cultures from two different parts of the world can have so many similarities.
🇵🇭 Dried Mangoes vs. 🇬🇹 Marshmallow Cookies
🇵🇭 On Matt's dried mangoes:
Jess: I loooove mangoes, so dried mangoes are actually something I've had before. As always, these are so great! I feel like these can give you a sugar overload if you eat too many, which I probably will.
Matt: I actually didn't eat a lot of dried mangoes growing up. I started to like them more once I moved to America since it was so common in Filipino-American grocery stores. So many places do dried mangoes all ~artisan~ nowadays with like dark chocolate and sea salt and stuff. That's all well and good, but seeing these beauties are forever second to none.
🇬🇹 On Jess's marshmallow cookies:
Matt: It's so bubblegum pink, but it's not that sugary at all! It just smells like it. Maybe that's for the kids to make it more appetizing. But as an adult, it kind of makes me wanna pass on it. But, like many things, once it's in your mouth, it's actually not bad (hehehehe).
Jess: These marshmallow cookies are something I used to carry in my lonchera to school almost every day — they made for a great trading item with other kids — and were always so good. Eating them now as an adult is a whole different experience, since my cravings for sweets have lessened significantly, but I can honestly say that I still love them and want to eat as many as possible.
Matt's Yan-Yan vs. Jess's Nucita
🇬🇹 On Jess's Nucitas:
Jess: Nucitas were my fave sweet snack growing up! These were what you ate when you wanted a sugar rush FAST. Basically, they're different flavored Nutellas in a little cup that taste like pure sugar and happiness. I don't think I can eat the whole thing now, but these definitely remind me of good times in elementary school.
Matt: Again, this is pretty bubblegum-ish, but not as much as the cookies. I could imagine little Jess and little Matt getting crazy sugar highs from this and playing out on their neighborhood street on the weekends. Another pass from me, but I love that it matched my outfit.
🇵🇭 On Matt's Yan-Yans:
Jess: Yan-Yans just get better every time I eat them! They're sort of like Nucitas, except that you can actually eat the stick! What I love the most about them is that the stick actually neutralizes the extra sweet taste of the chocolate, so that you can't really tell how much sugar you're eating.
Matt: Yeah! The pretzel/bread sticks are my favorite things about Yan-Yan. Sometimes I'll skip the chocolate and just eat the sticks, tbh. Yan-Yans are actually a broadly Asian snack — I think they're from a Singaporean company — but you def saw these in Filipino sari-sari stores everywhere back home. I'll never grow out of them.
So, what did we learn from trying each other's favorite childhood snacks?
Jess: Throughout this experiment, I couldn't help but notice how we tied every single snack with a fond memory of our childhood. It was great to be able to relive some happy times and bond with Matt over our differences and similarities. So what I learned was the important role food plays in people's lives and cultures, and how it shapes their personal story.
Matt: Completely agree with Jess! I love that food can really unlock a memory or even just an abstract feeling of 'home.' It makes sense, being that we're both from cultures that really revolve around family and food. So that was a lovely thing. Also, lol, at the same time, it was interesting to think how much of our culture and language was so influenced by Spanish colonialization, but it's nice to gave great takeaways in the end. You will def see me in Guatemala on a food trip with Jess soon!
What are some of your favorite childhood snacks? Let us know in the comments below!