With myriad mutations from Week 1 stud to Week 2 dud and vice versa, the bar is set high for a Week 3 judge. Seemingly the entire league has put forth a strong case yet also subjected itself to a damning prosecution. That means for many teams the jury is out, making this weekend our best indicator yet of the final verdict.
Given the murky state of the current NFL landscape, it's fair to declare this week's betting board "tougher than the rest." So in place of extended analysis when there's less meat on the bone than usual, we have an excuse to call an audible and accompany the read with Bruce Springsteen, in honor of The Boss turning a spry 67 yesterday. Here he is, accompanied by wife Patti Scialfa, live from the L.A. Sports Arena in March, just moments before dropping the curtain on the venue one final time.
The road is dark
And it's a thin thin line
Teaser: Packers -1 vs. Lions, Cowboys -1 vs. Bears
But even a thin line presents opportunity when it offers an edge. Teasing two of this week's bigger home favorites down to a thin number that simply requires winning outright is one of those edges.
For the Packers, some long overdue home cooking stands to serve them well. After opening the season with back-to-back road games, on the heels of consecutive weeks on the road to end the preseason, Lambeau Field against the Lions is the setting to right the ship if Green Bay's lofty preseason expectations are to remain afloat.
On the second leg of the teaser, banking on the Cowboys to beat the Bears is banking on anything but an utter implosion. While laying a big number on Dallas at home is historically a surefire way to lose money, things aren't looking pretty for Chicago with or without Jay Cutler.
Chargers/Colts Under 51
At full strength, these rosters might to produce the highest-scoring game of the week. Alas, injuries for both teams should lead to decreased offensive efficiency and a slower pace.
For the Colts, it looks like a banged-up Andrew Luck without his most physical wide receiver in Donte Moncrief. For the Chargers, after losing Keenan Allen and Danny Woodhead for the season in Weeks 1 and 2, Antonio Gates' availability is in doubt. If Gates can't go, Philip Rivers will be without his top five pass catchers from last season.
Thanks to the injury bug, points look to be at a premium in Indianapolis.
Pick of the Week: Buccaneers -5 vs. Rams
With a healthy Doug Martin, a 10 a.m. Pacific Time kickoff, and a point spread still at the opener of Bucs -4, this would probably be the biggest ticket of the season to-date. With Martin out, a regular 1 p.m. body clock kickoff for the Rams, and the best of the number having gotten away, it's a smaller play - but a play nonetheless, thanks to a spot that could hardly be better for Tampa Bay.
As noted heading into Week 2, things are rarely as good or as bad as they seem in a one-game sample size. Last week featured what's likely to go down as L.A.'s biggest win of the year and the Bucs' worst loss. The Rams have letdown written all over them as they get back on the road, whereas the Bucs have bounceback top of mind heading into their home opener.
On the heels of an emotionally charged triumphant return to their L.A. roots, this Sunday it's back to reality for Jeff Fisher and the Rams.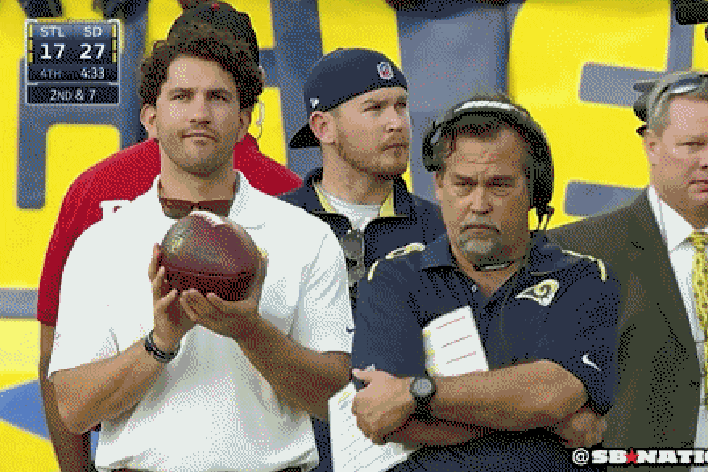 Scoreboard
This week: 2-1
Season: 5-4
Picks of the Week: 1-2