Eleven games is often enough to get a good read on a football team. But almost three months into the season, subtle yet significant factors remain that stand to present opportunity this weekend in New England, Chicago, Seattle and Pittsburgh.
Rams +13 at Patriots
At face value, the lowly Rams visiting the almighty Patriots is about as lopsided as it gets. But the particulars of this matchup could make it more challenging for New England to build a cushion than this point spread suggests.
Without having to account for the injured Rob Gronkowski when the Patriots have the ball, L.A. can play its base defense and let its stout front seven loose against a hobbled Tom Brady, keeping New England's scoreboard output in check. On the other side of the ball, while Jared Goff and his supporting cast on offense are nothing special, neither is the Patriots' defense.
At this number, there's room for a ticket on the Rams to cash even if the Patriots win easily. And it could quite possibly be tougher than it appears for Bill Belichick's team when you scratch below the surface.
Teaser: Bears +8 vs. 49ers, Seahawks -1.5 vs. Panthers
Bears-49ers is the ultimate crapshoot between two bad teams. It's hard to see either one doing enough right to win by more than a touchdown, making it a fit to take the short home underdog up through the key numbers of 3 and 7 in what's projected to be a low-scoring game, increasing the relative value of each point.
In the second leg of the teaser, the Seahawks look to get back on track after last week's train wreck in Tampa. A primetime setting at home against a downward-spiraling Panthers team makes this the time, place and opponent for Pete Carroll's squad to regain its swagger.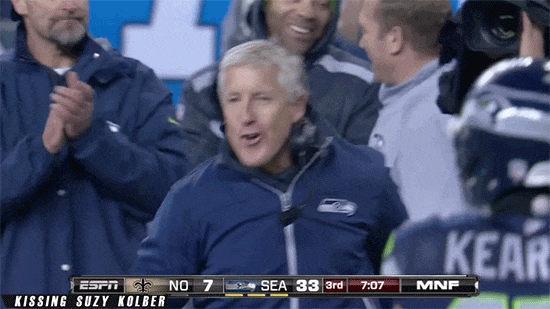 Steelers -6 vs. Giants
The 8-3 Giants are the beneficiaries of a record that overstates their true ability, as evidenced by a season-long point differential of a paltry +18. Excluding the last two weeks against the cellar-dwelling Bears and Browns, New York has twice as many wins and losses despite a negative point differential in that span. The Giants might be good, but they're not as good as their record suggests. It's a different story, however, for their competition this Sunday.
The Steelers come in with a strong run defense that, coupled with New York's subpar ground game, can make the Giants one-dimensional. That may mean plenty of box score production for Eli Manning and his receivers, but sadly not enough balance to keep up with Big Ben, Le'Veon Bell, Antonio Brown and the high-flying Pittsburgh offense at a raucous Heinz Field.
Overtime
Rams/Patriots: Coming into the season, New England's offense had a chance to be something special - with Brady's surgical precision, a versatile set of weapons at RB and WR, and the game's most athletic tight end tandem in Gronkowski and Martellus Bennett, opposing defenses were set to be overmatched. But between the Brady suspension for the first month and now Gronkowski's season-ending injury, it simply didn't come together. Although the Patriots remain atop the league's totem pole, a team with a defense of L.A.'s caliber should be able to keep the deficit within less than two TDs.
49ers/Bears: San Francisco made a shrewd decision to limit its traveling by staying back east after last Sunday's game in Miami, but their choice to practice this week in Orlando is a head-scratcher. With Chicago's wintry forecast calling for temperatures in the 30s and snowfall throughout the game, the 49ers might as well be walking into a different world come game day.
Panthers/Seahawks: With Pro Bowl center Ryan Kalil placed on injured reserve this week and All-Pro LB Luke Kuechly still unable to go after suffering a particularly disturbing concussion in Week 11, the already beat-up Panthers come in with even bigger shoes to fill on both sides of the ball. In a hostile environment against a Super Bowl contender, they should struggle to fill the void left behind by two of their strongest leaders.
Giants/Steelers: The spot here significantly favors Pittsburgh. While the Steelers come in on extra rest not having played since Thanksgiving, for New York it's the second straight road game, with a monster showdown against Dallas on deck.
Scoreboard
Last Week: 2-1
Season: 17-19
Picks of the Week: 6-6