This Calendar Shows The Best Roundabouts From Around The World
"No place in the world exerts such attractive power as an island." – Robert Louis Stevenson
Move over, One Direction. Step aside, Kate Upton. The battle for the biggest-selling calendar this Christmas just got interesting with the release of the UK Roundabout Appreciation Society's 2016 offering.
Kevin Beresford, 63, selected his favourite roundabouts of the world for the calendar, pulling off the tricky task of picking just 12 from hundreds of suggestions sent to the society by fellow gyratory appreciators across the globe. All quotes are from the Roundabout Appreciation Society.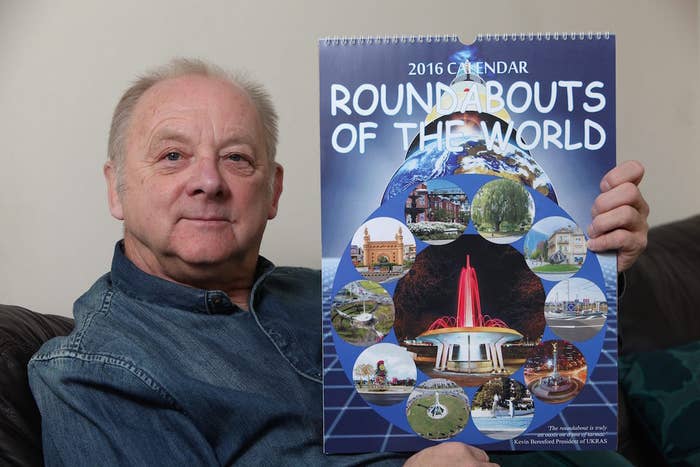 Roads are often condemned as being scars on the landscape but with the coming of the roundabout in all their glory, they counteract the road's unsightliness.
On road systems anywhere in the world there is nothing more expressive than the one-way gyratory.
You can put anything on a gyratory … statues, fountains, monuments, war memorials, gardens, topiaries, sculptures, laser & light shows, ship's anchors, canal locks, winged horses, pubs, cinemas, clocks, churches, shrines, duck ponds, giant barometers, windmills, flying saucers, cricket grounds, pagodas and even Houses of Parliament (Canberra, Australia), you name it anything goes on a roundabout, and this is what makes them so special.
It's widely accepted that William Phelps Eno was the bright spark who first devised the idea of a one-way rotary system in 1903, for Columbus Circle, New York City, USA. Closely followed by Eugene Hernard, Chief Architect of Paris, France in 1907.
Great Britain's claim in the history of gyratory circles was that the term 'roundabout' was coined by us in 1926, and replaced the term 'gyratory'. Our first true 'gyratory flow' system was developed at Sollershot Circus, Letchworth Garden City in the late twenties.
A lot of people don't realise [roundabouts] have become havens for wildlife. Surrounded by busy traffic, animals are protected from predators and people don't interfere. Wildlife is left to thrive.