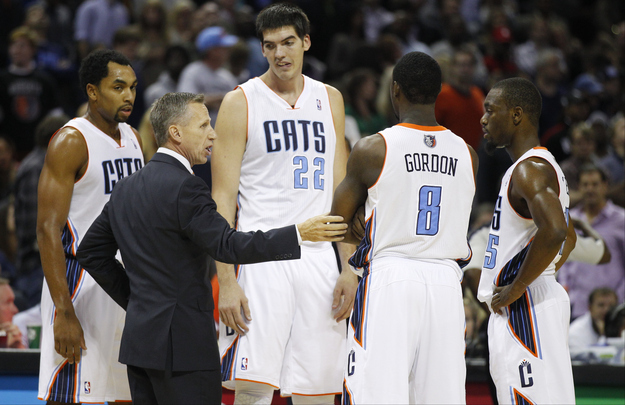 In the late 1990s and early 2000s, college basketball coaches were a hot commodity in the NBA. NCAA coaching stalwarts John Calipari, Mike Montgomery, Lon Kruger, Leonard Hamilton, Tim Floyd landed gigs in the the pros. With with pro teams becoming younger — nearly half of the first-round picks in the 2001 draft were high schoolers or college underclassmen — it seemed like a good idea; presumably college vets would be better at relating to players that age. But each college coach washed out of the league, and all have returned to the amateur (or "amateur") ranks, a checkered college-to-pro history which made the Charlotte Bobcats' decision last offseason to hire Mike Dunlap — an assistant last year for a mediocre St. John's team — even more unusual. How can Dunlap succeed where his predecessors failed? We put the question to a half-dozen former NBA coaches as well as some players and came up with a few rules to remember.
1. The "You're Not The Boss Of Me" Rule. Retired point guard Speedy Claxton played for ex-Stanford coach Montgomery, who was hired by Golden State after leading the Cardinal to ten straight NCAA tournament appearances. Claxton remembers coach-player interactions being noticeably strained at Montgomery's first practices: he fixated on dictating details and didn't understand the importance of choosing his battles carefully. Says Claxton: "At first, [Montgomery] was too concerned with the small details, like making sure everyone's jerseys were tucked in throughout practice." Veterans weren't happy. "We had a mix of veterans and young guys," Claxton remembers. "If we had a team full of young guys, the transition might have been smoother since [Montgomery] could have micromanaged better."
2. The "They Don't Need Another Jim Rome In Their Life" Rule. As Brett Gunning, who was a longtime college assistant and is now on Orlando's staff, put it, NBA players — who are fighting for their livelihood in front of fickle fans and grandstanding sports-radio hosts and newspaper columnists — rarely need to be pressured. An NBA coach's job is less about setting expectations and more about helping players meet expectations that they already understand. Adding more weight to their shoulders by shaming them in public is counterproductive; an eye roll is often more effective than a shouting match. Former Iowa State, USC, Hornets and Bulls coach Tim Floyd said that in the NBA he often counted to ten before reacting to mistakes. "That is something I did not have to do at Iowa State," he says.
3. The "Private Tutoring Is Not Just For Kids Whose Parents Really Need Them To Get Into Princeton So They Don't Lose Face At The Country Club" Rule. One frustrating aspect of the fact that coach-player relationships become more important in the pros is that NBA teams also practice less, giving coaches less time with their team. "You are lucky as a coach if you get three days of practice over a two week period," says Floyd. It's more common to see coaches and players working via private, informal meetings on flights or in hotels. "There is more done in a one-on-one setting, and it's a way to convey to the player that no matter how they perform in games, they have your support," says Floyd.
4. The "Show Me The Money (Just Kidding, Please Don't Make A Jerry Maguire Reference To A 21-Year-Old Kid)" Rule. Simple force of personality and an authoritative presence go a long way in college. Pro players are inclined less to worry about displeasing an authority figure than they are with finding someone who puts in effort to help them become better — and thus more valuable — as individual players.
Given the guidelines above, the Bobcats' Dunlap might not be as odd a choice as it might initially seem. At St. John's, Dunlap's duties entailed techique and defense; he was not involved with recruiting, nor did he have to give alumni speeches. "In college, there are so many hats a coach has to wear," says Wake Forest's Jeff Bzdelik, who coached in Denver. "When you enter the league, your duties have been stripped down, because you are dealing with guys whose job is to be a basketball player, not a student-athlete." Dunlap has made his name as a skills-development coach, not a glad-hander or a builder-of-men inspirational figure . And in Charlotte — an overwhelmingly young team that won only seven games last year — there is no shortage of skills that need developing.