Grilled Swineapple Dogs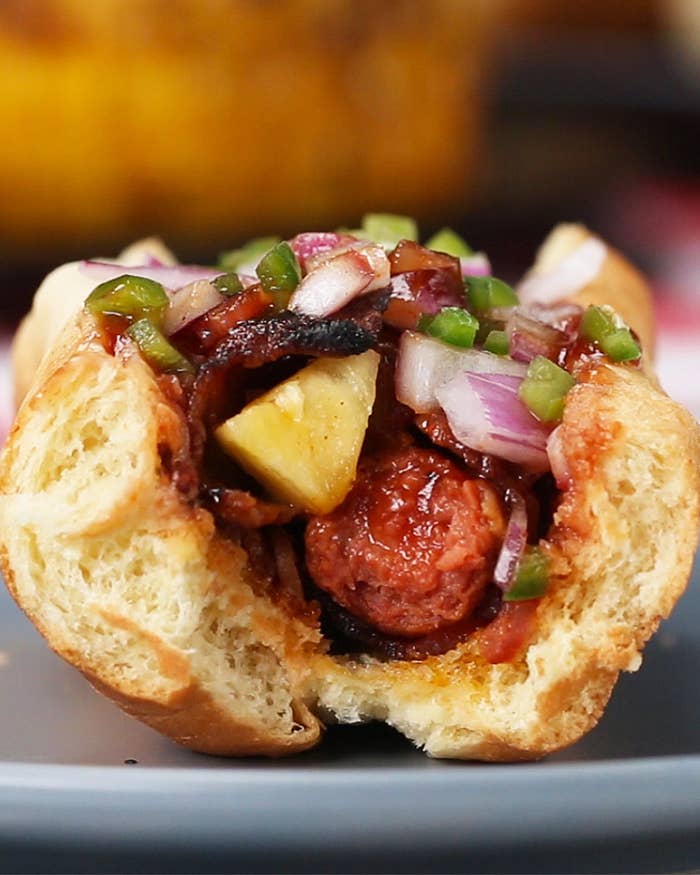 INGREDIENTS
2 teaspoons paprika
½ teaspoon black pepper
½ teaspoon salt
1 teaspoon chili powder
1 teaspoon garlic powder
1 teaspoon onion powder
½ pineapple, cut into 12 thin spears
24 slices of bacon
12 pork hot dogs
12 hot buns
Garnish
Barbecue sauce
Red onion, minced
Jalapeño, minced
PREPARATION
1. Preheat a grill or grill plate to medium-low heat.
2. Sprinkle the paprika, garlic powder, chili powder, onion powder black pepper, and salt over the pineapple spears in a bowl. Mix until they are completely coated.
3. Lay a slice of bacon at a slight diagonal angle on your work surface. Lay a second slice above it making sure they slightly overlapped in the middle.
4. Place one hot dog and one thin pineapple spear near the bottom part of the first slice of bacon. Tuck the end of the bacon around the hot dog and pineapple and roll across the counter until they are completely encased. Use toothpicks if needed to get a tight seal.
5. Place the hot dogs on the grill and cook gently until the bacon is crispy and the pineapple and hot dog are heated through, about 40 minutes.
6. Place into hot dog buns, top with barbecue sauce, minced red onion, and minced jalapeño (optional).
7. Enjoy!