Romantic Roast Chicken Dinner for Two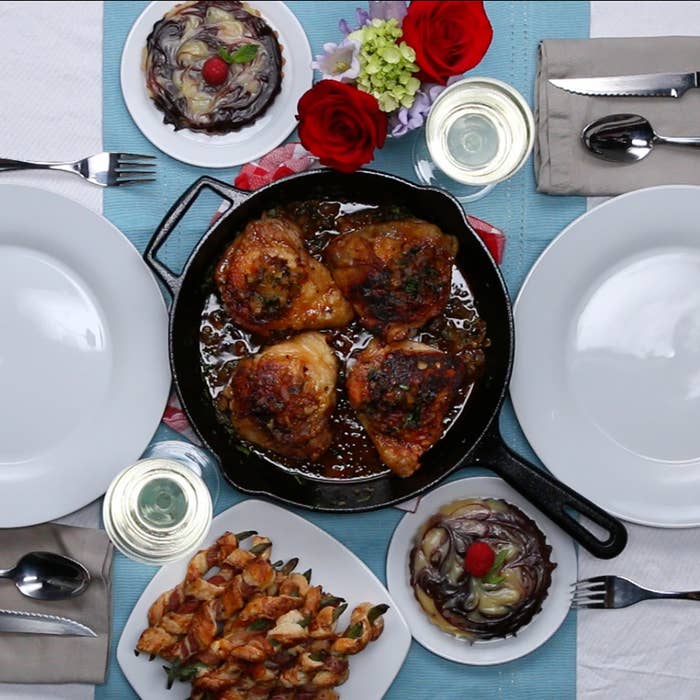 Bacon Green Bean Twists
INGREDIENTS
Servings: 2
1 sheet puff pastry
½ pound bacon
½ pound green beans, trimmed
1 egg, beaten
Salt
Pepper
PREPARATION
1. Preheat the oven to 400˚F/200˚C.

2. Cut one sheet of puff pastry into long ½ inch wide strips and set aside.

3. Cut strips of bacon in half lengthwise and set aside. 

4. Take a trimmed green bean and carefully wrap it with bacon and the puff pastry to completely cover the bean. 

5. Place the tightly wrapped beans on a parchment paper-lined sheet pan. Brush the wrapped beans with the egg wash, and season with salt and pepper. 

6. Bake in the oven for 20 minutes, or until bacon is crispy and the puff pastry is golden brown. 

7. Serve the twists warm or at room temperature. Enjoy!
Garlic Brown Sugar Chicken
INGREDIENTS
Servings: 2
4 chicken thighs
Salt
Pepper
6 garlic cloves, minced
1 small onion, chopped
½ cup brown sugar
½ cup chicken broth
1 tablespoon thyme, minced
1 tablespoon parsley, minced
PREPARATION
1. Season the chicken thighs with salt and pepper. 

2. Heat a cast-iron skillet or pan over medium-high heat, and add the chicken skin side down. 

3. Cook the chicken until it has a dark brown and crispy skin. Flip the chicken and cook until the chicken is cooked through, about 5 more minutes. Remove the chicken from the pan and set aside.

4. Add the garlic and onion to the remaining chicken fat and cook, stirring frequently until the onions are softened and caramelized. 

5. Add the brown sugar, chicken broth, thyme, and parsley and stir to combine. Bring the sauce to a boil and and cook for 1-2 minutes, until slightly reduced.
6. Add the chicken back to the pan and coat it in the garlic brown sugar sauce.

7. Serve hot. Enjoy!
Triple Chocolate Tarts
INGREDIENTS
Servings: 2
1 whole pie crust
1 cup sugar
2 tablespoons cornstarch
¼ teaspoon salt
1 cup whole milk
2 whole egg yolks
1 tablespoon butter
2 teaspoons vanilla extract
2 ounces dark chocolate, finely chopped
2 ounces bitter-sweet chocolate, finely chopped
1 ounce white chocolate, finely chopped
PREPARATION
1. Preheat the oven to 425˚F/220˚C.

2. Roll out a circle of pie dough and cut in half. Press the dough into two small tart tins, and remove any excess dough. Use a fork to prick the base of the pie dough. 

3. Bake in the oven for 20 minutes, or until the tart is golden brown. Remove from the oven and cool completely.
4. Add the sugar, cornstarch, and salt in a medium saucepan over medium heat, and whisk to combine.

5. Pour in milk and egg yolks and whisk, until the mixture just barely comes to a boil and becomes thick like pudding, about 6-8 minutes.
6. Stir in the butter and vanilla, and remove the saucepan from the heat.

7. In three separate microwave-safe bowls, melt each of the chocolates by microwaving for intervals of 15 seconds, stirring until smooth. 

8. Pour the pudding into each of the separate bowls of melted chocolate. Stir until they are well combined and silky.

9. Spoon many small dollops of each chocolate pudding into the pie crust. Make any design you would like with a toothpick. Chill in the fridge for 2 hours, until set.

10. Garnish with fresh fruit, mint, or enjoy as is!