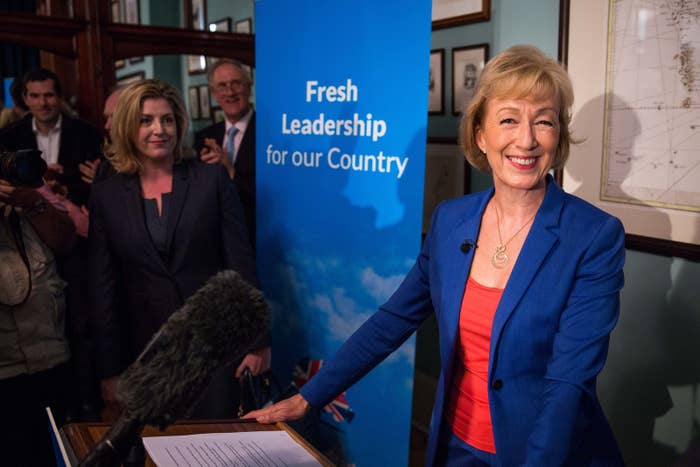 Andrea Leadsom is in the middle of a major row over comments she gave to the Times newspaper suggesting being a mother gives her an advantage over Theresa May in the race to become Tory leader, and prime minister.

The row began when the front page of Saturday's Times was tweeted last night.
The energy minister is quoted as saying she would be a better prime minister as she has a "very real stake" in the future of the country.
Leadsom, 53, and her husband have three children, while home secretary May has spoken of her sadness of not being able to have children with her husband.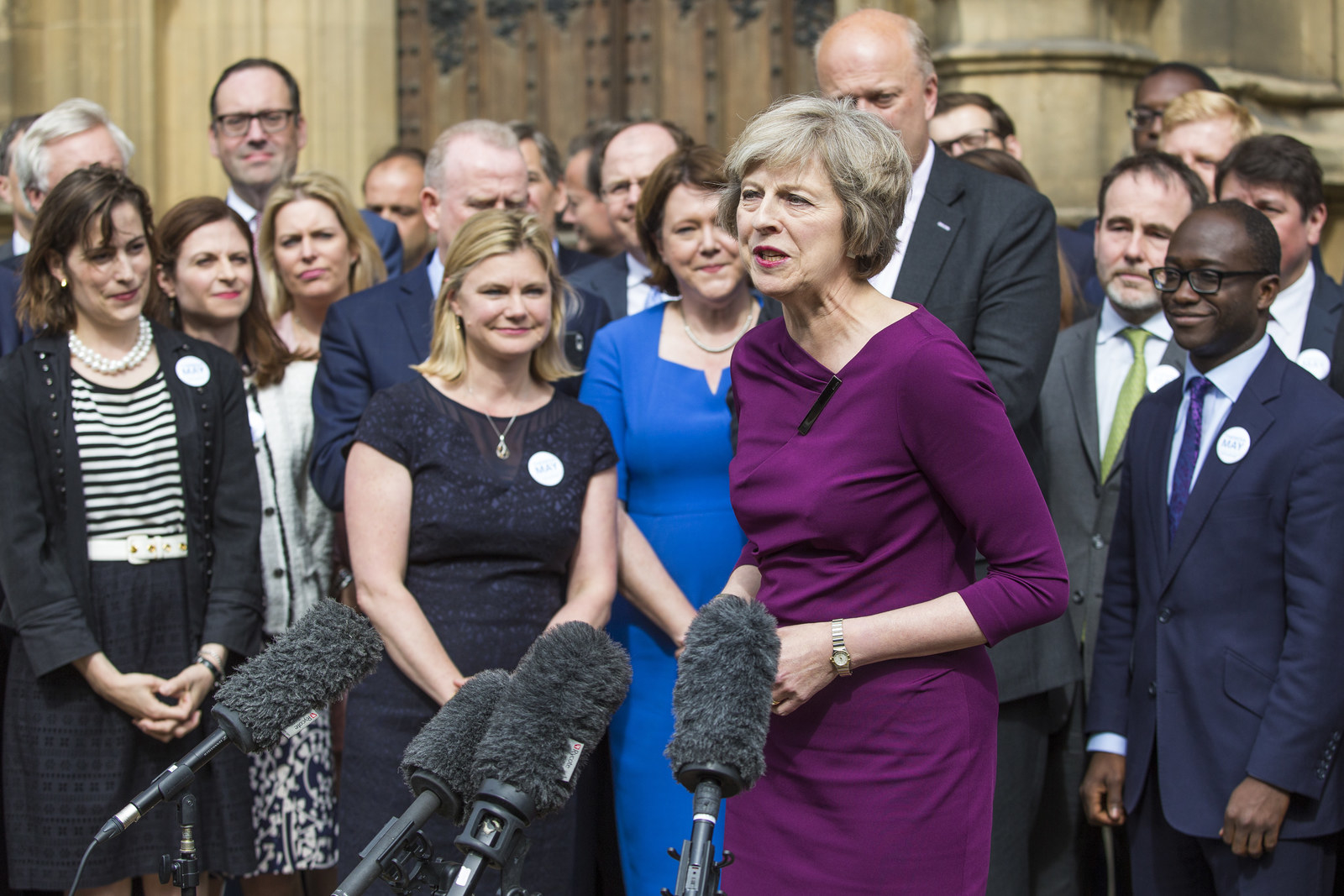 Leadsom told the Times that May "possibly has nieces, nephews, lots of people. But I have children who are going to have children who will directly be a part of what happens next."

She added: "Genuinely I feel that being a mum means you have a very real stake in the future of our country, a tangible stake."
After the comments appeared online last night, all hell broke loose.
Andrea Leadsom tweeted shortly afterwards to say she was "disgusted".
She tweeted at the Times to criticise the paper's "despicable and hateful" reporting.
Former Tory MP Louise Mensch was among those who defended Leadsom, and effectively accusing the Times of making up the quotes.
But then the Times *did* provide the transcript of Leadsom's quotes.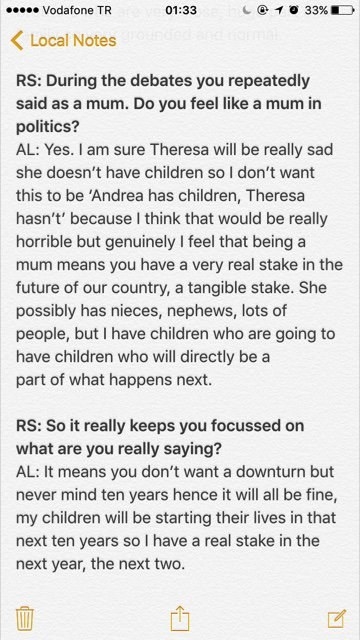 Leaving Leadsom a little lost for words.
The Times journalist who interviewed Leadsom, Rachel Sylvester, appeared on the BBC Radio 4's Today programme on Saturday morning to discuss the story, where the audio clip of the relevant part of the interview was played.
In a statement issued to the BBC, Leadsom said she the reporting of what she said was "beneath contempt".
"In front of the Times correspondent and photographer, I made clear repeatedly that nothing I said should be used in any way to suggest that Theresa May not having children had any bearing whatever on the leadership election," she said.

"I expect the Times to retract the article and the accompanying headline."
A spokesperson for the Times told BuzzFeed News: "We stand by our story, and have released the transcript and audio recording of the relevant section."

Home secretary May, 59, has hinted at sadness at not being able to have children with her husband, Philip. She told the Mail on Sunday last week: "Of course, we were both affected by it. You see friends who now have grown-up children, but you accept the hand that life deals you. Sometimes things you wish had happened don't or there are things you wish you'd been able to do, but can't. There are other couples in a similar position."

Her campaign has not responded to Leadsom's Times article, but on Saturday morning she tweeted her pledge to run a "clean campaign", and called on her opponent to join her.

It is, however, debatable as to how much of an impact the row will have on the Tory leadership campaign. Leadsom's supporters online so far seem to be backing her version of events.
UPDATE
Speaking outside her home in Northamptonshire, Leadsom said:
"In the course of a lengthy interview yesterday, I was repeatedly asked about my children, and I repeatedly made it clear that I did not want this to be in any way a feature of the campaign.
"I am disgusted at the way this has been presented. I want to be crystal clear that everyone has an equal stake in our society and in the future of our country. That is what I believe and it is what I have always believed. I have repeated my instructions to my campaign team that this campaign must at all times be principled and honourable."