You've probably noticed that British politics has been engulfed by several sexual harassment scandals this week.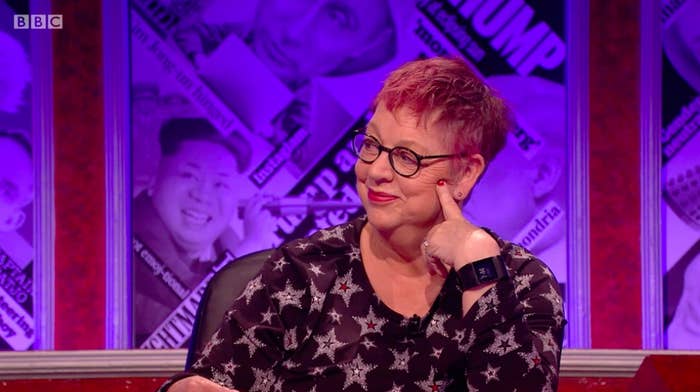 On Friday night, comedian Jo Brand presented BBC One's long-running topical panel show Have I Got News For You and had quite a lot to say on the topic.
The show featured an all-male panel, including Daily Mail journalist Quentin Letts, and were discussing the week's stories when regular panellist Ian Hislop described some of the claims being made as "not high-level crime ... compared to say Putin or Trump".
Over the past week, defence secretary Sir Michael Fallon stepped down after admitting his behaviour had "fallen short" of what was expected, MPs have been suspended by their own parties after allegations were made, and BuzzFeed News revealed how former Labour minister Ivan Lewis had apologised for his past behaviour to female colleagues.

Brand interjected to note "it doesn't have to be high level for women to feel under siege."
Brand's full quote:
"If I can just say, as the only representative of the female gender here today, I know it's not high level, but it doesn't have to be high level for women to feel under siege in somewhere like the House of Commons.

"And actually, for women, if you're constantly being harassed, even in a small way, that builds up and that wears you down."
After Brand's comments were applauded by the audience, Hislop admitted: "As you point out, with four blokes sitting around you, we're hardly in the position to say 'that's rubbish'."
Brand was praised online for the way she tackled the issue.