Two teenagers have been detained for a year after admitting trying to kidnap three babies.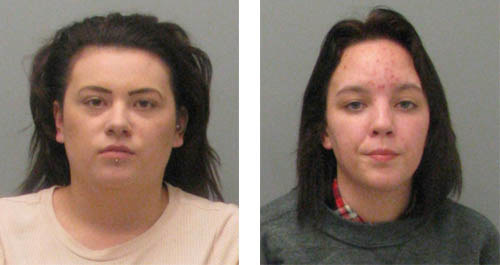 Schoolfriends Holly Kelland, 18, and Codie Farrar, 17, set up a fake Facebook page offering free luxury baby clothes to new mothers in order to get their home addresses and contact details.

They were arrested last September after arriving at a woman's house in Derby claiming to be social workers.
The mother contacted police after being told by Farrar, described in court as a murder mystery actress, that she needed to take her baby away for a 30-minute medical checkup.
When police questioned the teenagers, Kelland claimed to be pregnant, but scans revealed this to be false. It later transpired she had convinced her mother she was pregnant, and had a room in their house turned into a nursery, complete with a cot.
As well as the baby whose mother contacted police in the Normanton area of Derby, Kelland and Farrar admitted in court in March to conspiring to kidnap two other babies, one in Wolverhampton and one in Huddersfield.
District judge Jonathan Taaffe described Kelland, from Wellingborough, as the architect of the plots, and Farrar, from Evesham, as her "misguided accomplice".
Texts read out at Derby youth court from Kelland to Farrar said "Don't feel like baby chasing today" and "Did you bin the SIM [card]?"
Sentencing them to 12 months of detention and training orders, according to the Press Association, the judge said: "I'd be failing in my public duty if a custodial sentence was not imposed. This is a very serious set of circumstances that involved planning and sophistication, to take newborn babies from home addresses, that can only in my view be dealt with by the imposition of immediate custodial sentences."
Derbyshire constabulary described the case as "unique and challenging".
Detective Sergeant Duncan Gouck said:
It was incredibly serious in terms of the potential impact on the victims if the offenders had been successful in their plans to take a baby.

My team were highly motivated and worked hard to achieve a successful result. As the investigation unfolded, evidence was uncovered that one of the suspects was faking her own pregnancy, which is the strongest clue we have as to the motivation behind this offence.

The convictions would not have been possible without the assistance of the victims. I am pleased that the offenders have been convicted and hopefully this will help to restore the peace of mind of the victims.
Reporting restrictions were lifted during sentencing, allowing Kelland and Farrar to be named.
Looks like there are no comments yet.
Be the first to comment!