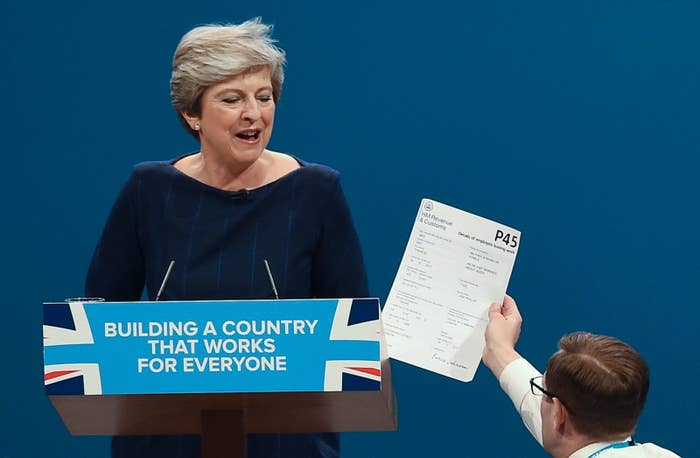 Theresa May's make-or-break Tory party conference speech was interrupted by a comedian handing her a mock P45 form midway through her address.

The prime minister accepted the piece of paper about 10 minutes into her speech after comedian Simon Brodkin, known for gatecrashing events, somehow managed to evade security to get to the front of the conference venue. P45s are used to signify the termination of employment, and are known as pink slips in the US.
Home secretary Amber Rudd said it was "very disappointing" the incident took place.
"I'm going to continue to follow what's going on, it's in the hands of the police, and we will make sure that we look carefully into how it happened to make sure it doesn't again," she told Radio 4's PM programme.

A Conservative party spokesperson said: "In light of the arrest during the prime minister's speech we are working with the police to review the accreditation process and security arrangements for Party Conference."
Tory MPs said the incident raised serious questions over the security arrangements at the conference.
Stuart Andrew, MP for Pudsey, told BuzzFeed News: "As a party we need to find out why he got a pass because that is not acceptable. It's also quite dangerous."
Plymouth MP Johnny Mercer also questioned how Brodkin had managed to get so close to the prime minister.
BuzzFeed News understands that Brodkin had a delegate pass for the conference hall venue.
Police said he had "legitimate accreditation" that granted him access to the site.
"Earlier today a man was detained by conference security during the prime minister's speech," said Greater Manchester police chief superintendent John O'Hare.
"Officers attended and the man was arrested to prevent a breach of the peace and was released a short time later."
In light of the incident, O'Hare said police would be "reviewing the accreditation process with the Conservative Party."
He added: "Even with accreditation, everyone at the conference goes through airport-style searches before being allowed entry to the site."
While being led away by security, Brodkin, also known by the name of his comedy alter ego Lee Nelson, said he had been told to give May the P45 form by foreign secretary Boris Johnson.

The mock P45 form was signed "Boris Johnson", and gave a reason for termination as "neither strong or stable / we're a bit worried about Jezza".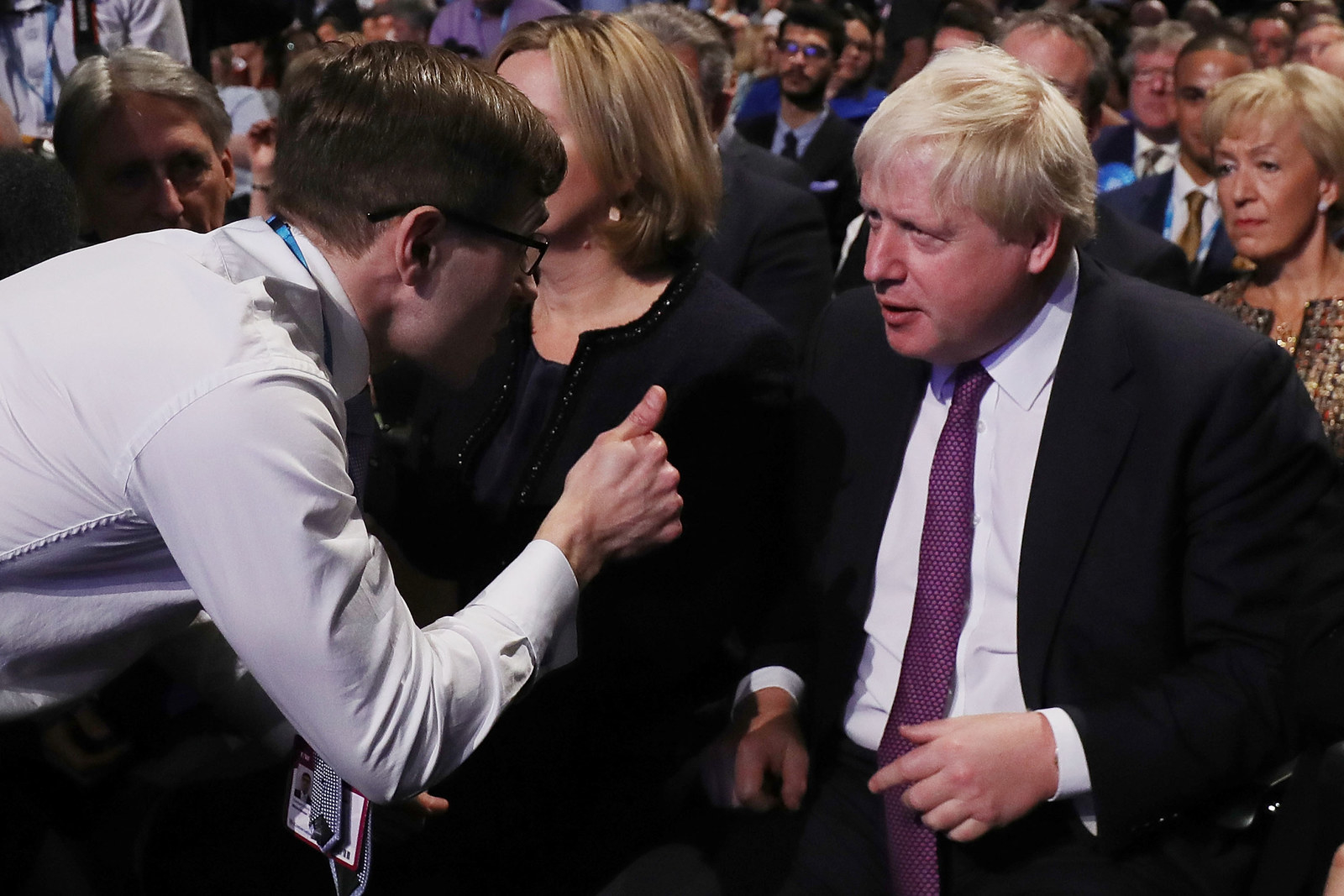 After her speech was disrupted by the stunt, May joked that the person she would want to give a P45 to was Jeremy Corbyn.

However, her speech was beset by other problems, including a persistent cough and the conference slogan behind her literally falling apart.