Boris Johnson Says UK Passport Holders Will Not Be Hit By Trump's Immigration Ban
The foreign secretary told the House of Commons "all British passport holders remain welcome to travel to the US" after the US embassy in London deleted contradictory advice from its website.
by
,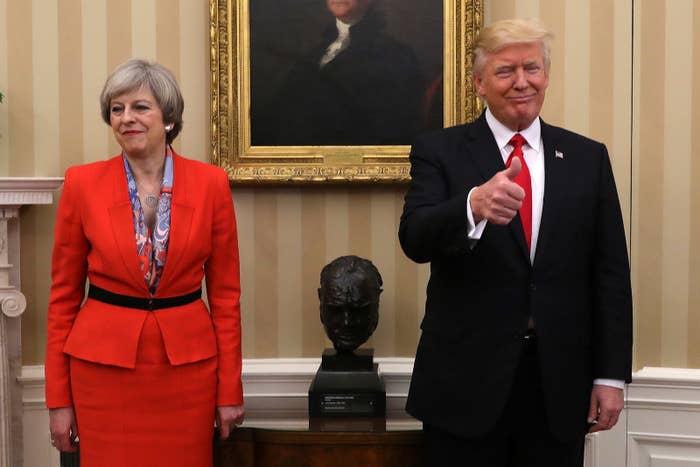 After hours of uncertainty, Boris Johnson has told the House of Commons that British passport holders will not be affected by President Trump's "immigration ban".
The foreign secretary told the House of Commons: "The general principle is that all British passport holders remain welcome to travel to the US. We have received assurances from the US embassy that this executive order will make no difference to any British passport holders irrespective of their country of birth or whether they hold another passport."

Earlier in the day, a Downing Street spokesperson told BuzzFeed News that they were "confident" the advice issued by the Foreign Office (FCO) on Sunday night was correct: Dual nationals travelling to the US from Britain would not be affected by the executive order.
However, this appeared to be contradicted by advice posted by the US Embassy in London on its website, asking dual nationals of the seven countries on Trump's list not to schedule or attend visa appointments. This advice was later pulled down from the website, and replaced by a statement confirming the UK government line.
Last night, the FCO confirmed that those travelling from the seven countries named by Trump "might" be subject to extra checks.

In a statement, the FCO said:
The Foreign Secretary Boris Johnson has today held conversations with the US government and as a result we can clarify that:


The Presidential executive order only applies to individuals travelling from one of the seven named countries.

If you are travelling to the US from anywhere other than one of those countries (for instance, the UK) the executive order does not apply to you and you will experience no extra checks regardless of your nationality or your place of birth.

If you are a UK national who happens to be travelling from one of those countries to the US, then the order does not apply to you – even if you were born in one of those countries.

If you are a dual citizen of one of those countries travelling to the US from OUTSIDE those countries then the order does not apply to you.

The only dual nationals who might have extra checks are those coming from one of the seven countries themselves – for example a UK-Libya dual national coming from Libya to the US.

The US has reaffirmed its strong commitment to the expeditious processing of all travellers from the United Kingdom.
UK residents have already been caught up in the crackdown, with a Glasgow-based vet, who holds an Iranian passport, left stranded in Costa Rica when they new rules came into force.

Tory MP Nadhim Zahawi has said he believes the ban applies to him because he was born in Iraq, while four-time Olympic champion Sir Mo Farah, born in Somalia, has said he is worried he will not be able to travel from Ethiopia, where he is training, to his home of six years in Portland, Oregon.
Luay Al-Khatteeb, an Iraqi with British citizenship from London, told BuzzFeed News, he did not know whether he would be able to fly to the US next month for a talk he was scheduled to give.

"Honestly, I don't know what to do and what will happen next, but things are not good," he said.
"I have my flight tickets and hotel all booked to travel to DC, to speak and support research efforts in the US to implement a better informed foreign policy on the Middle East. Now, we are confronted with controversial executive orders that will do more harm than good."
May has faced criticism from MPs, including from within her party, for not speaking out about Trump's ban – as other world leaders have done – although a Downing Street spokesperson said late last night the prime minister did "not agree" with the new policy.
Writing on Twitter on Sunday, foreign secretary Johnson said it was "divisive and wrong to stigmatise because of nationality".

For much of Sunday the status of British citizens with dual-nationality from one of the seven countries listed in Trump's immigration crackdown was still uncertain.

It emerged on Saturday that the 90-day ban on US visas for people from Yemen, Somalia, Iran, Iraq, Sudan, Syria and Libya could also apply to people with British passports if they had dual-nationality with those countries, or were even born there.
The Foreign and Commonwealth Office (FCO) said on Saturday it could not comment on whether dual-nationals were affected, and that was still the case by Sunday.
The Home Office, which is responsible for UK immigration, meanwhile referred queries back to the FCO when asked to comment on the status of British dual-nationals.
On Sunday afternoon UK time, as Washington DC woke up, it emerged prime minister Theresa May had asked foreign secretary Boris Johnson and home secretary Amber Rudd to speak to their counterparts in the US to better understand the travel ban.
"The prime minister held a conference call with the foreign secretary and home secretary this morning and instructed them to make representations to their opposite numbers in the State Department and the Department of Homeland Security, with the aim being to protect the rights of British nationals," a Downing Street spokesperson said.
May is also under pressure to cancel a state visit for Trump, planned for later this year, while the ban is in place.