One in ten teachers is taking anti-depressants and one in 50 has self-harmed as a result of work-related stress.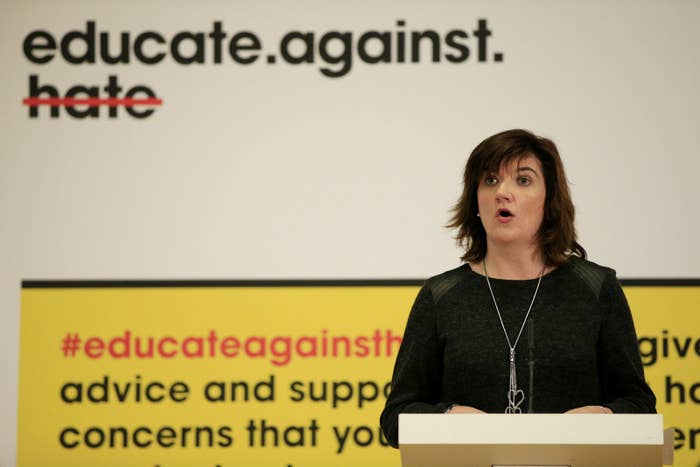 That is the "shocking" conclusion of an annual survey of more than 5,000 teachers.

The survey by teachers' union NASUWT said 47% of teachers had seen a doctor due to work-related health problems, 14% had undergone counselling, and 5% had been admitted to hospital.
Eight out of ten teachers reported experiencing work-related anxiousness, while one in five said they had been drinking more alcohol because of their workloads.
Here are a selection of testimonies provided anonymously by teachers who responded to the survey:
"Now taking anti-depressants. I feel undervalued and unable to trust work colleagues. Stress levels have increased which has impacted upon my interaction with students and the quality of my teaching. I do not enjoy being in my current school and am seriously considering leaving the profession."

"Extreme excessive workload resulted in a breakdown. I was off work for 6 months. Now on maternity. Don't know how I will cope with pressures when I return. Considering leaving teaching. It is not a job that you can do with a young family."
"Suffered from depression, anxiety and stress and therefore haven't been able to deliver as effective teaching or feel happy in my job. The demands of the job and the workload combined with bullying in the workplace has been the cause."
"I suffer from anxiety brought on by not having enough time to do all the work that has been forced upon me, I am depressed as I no longer have any kind of social life."

"On tablets for depression and anxiety. Constantly exhausted. Normal 10 or 11 hour day in school then work at home."
"I have developed anxiety as a direct result of the increased workload and the constant change to the curriculum and assessment procedures. I am currently receiving counselling and I will be having Cognitive Behavioural Therapy as well."
"Suffering anxiety and stress. Currently taking anti-depressants to overcome depression, brought on by the pressures of the workload and job."
Teachers have previously told BuzzFeed News that depression brought about by work was a growing issue.
Gary Kaye, the English teacher from North Yorkshire who recorded a punk protest song against the government's academies plan, told BuzzFeed News he had been signed off work since December due to work-related stress.
"It's very important to talk about it openly. It was a build up of work, new initiatives coming in constantly, being made to feel I'm not good enough," he told us. "A great amount of time is spent filling in spreadsheets and producing data, that's not what education is. Working a 60-hour-plus week in a mentally demanding job, people hit the barrier."
Former trainee teacher Gaby Proctor said: "There was no downtime with teaching. You have to take it home with you, you don't have a choice. I have mental health issues anyway, with depression and anxiety orders, and I found it made them so much worse. The pressure, it's crazy."
Another teacher, who did not want to be named, told BuzzFeed News they had left the profession altogether due to work-related stress.
"I still hope to return to teaching eventually, but a lot of changes would have to happen first," they said.
Commenting, NASUWT general secretary Chris Keates said: "It is unacceptable that given the increasing scale of the problem, there is still no sign of either employers or the government taking any effective action to address this."
She added: "Instead of offering support, in far too many cases we see employers introducing punitive and callous sickness absence policies. High quality education cannot be delivered by stressed and anxious teachers."

NASUWT is calling on the government to reduce teachers' workloads and put support in place to help those suffering from mental health-related illnesses.
A Department for Education spokesperson said: "We know unnecessary workload is one of the biggest frustrations for teachers. That's why we set up three review groups to address the key concerns that were raised through the Workload Challenge.
"We are working with the profession and education experts to take action on the root causes of teacher workload, including through the first biennial teacher workload survey and looking in depth at the three biggest concerns teachers have raised - marking, planning and resources, and data management. We trust heads, governors and academy trusts to plan their staffing and make sure teachers and staff have the support they need."
Education secretary Nicky Morgan is due to address the union's annual conference in Birmingham at 10am today, amid a row over the government's plans to force all schools in England and Wales to become academies by 2020.