Teachers have backed calls for more specialist training and leadership in schools and colleges to support pupils with their gender identities.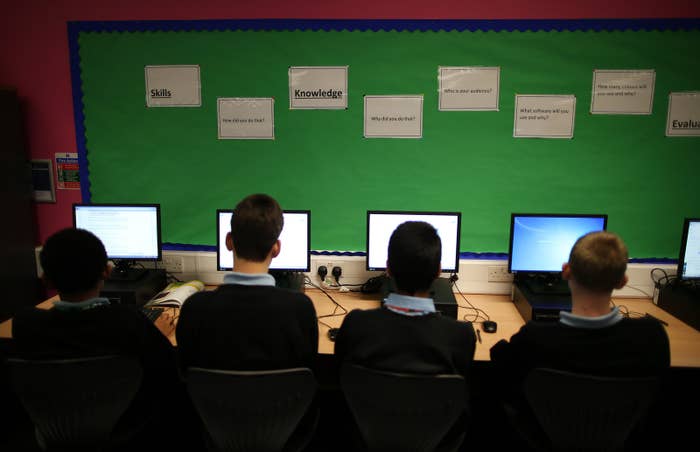 A motion passed at the Association of Teachers and Lecturers (ATL) annual conference said transgender children were not getting the support they needed in schools, as the structures and expertise required simply did not exist.

According to the charity Metro Youth Chances, 83% of transgender young people have been bullied, 35% have suffered physical attacks, and 27% have attempted suicide.
In addition, 94% of LGBTQ young people said they had learned nothing about transgender issues in school.
"We are not addressing the issues effectively in many schools and colleges," said Julia Neal, the deputy director of a sixth form in Devon who proposed the motion before the union's conference. "I want to emphasise the need for specialist training for senior managers and governors. Leaders need to be prepared to guide staff and support young people."

ATL executive member Graham Easterlow said a pupil at his all-boys school in North Yorkshire had informed staff they identified as female.
He told BuzzFeed News that while the school was "very supportive, very progressive", it was still not prepared. "We had no policy, that's what the motion is about. Schools and school leaders need to be future-proof. We need to be on the front foot, not the back foot."
Three ATL members provided anonymous testimonies about the scale of the issue in UK schools.
Dan, a transgender teacher at a school in Newcastle, said: "If a child is struggling because they're not getting enough food or sleep, there are clear support mechanisms in place. But there's nothing in place to support a child who's having gender issues. Just a knee-jerk reaction."
He explained that he was recently informed by a colleague a student was facing issues due to their gender identity:
Staff panicked. There was a knee-jerk reaction to treat it as a safe-guarding issue, which is completely inappropriate. Staff want to help but they're unprepared so feel nervous. There is no procedure in place. Teachers don't know what advice and information they should provide.

I advised which websites they should tell the student to use. But they had to be unblocked. School systems are so outdated. Lesbian, gay, bisexual and transgender are all classed as inappropriate words by school firewalls, when they're not!

The sex and relationships education (SRE) textbook was also inadequate. It classed trans as an issue of sexuality not gender. This is a prevalent misconception that should not be reinforced in education. The textbook was from a reputable publisher and not cheap! Teachers ended up creating their own Personal, Social and Health Education (PSHE) materials. But what about schools without teachers who are well informed?

This is a serious problem. We have a great pastoral structure in place but trans issues are a blind-spot and we're going to be caught out. With heightened publicity young people are feeling safe to speak out. But the majority of staff in my school admit they wouldn't know how to react. This isn't fair for teachers or pupils.

Lesbian, Gay, Bisexual and Transgender (LGBT) History Month is a really positive way of ensuring students are educated about these issues, even if it is for one or two days a year. In Newcastle we have a network of staff from different schools who really push LGBT History Month and we all share resources, which makes the preparation less time-consuming.
John is a member of ATL's equality and diversity committee, and head of an inclusion centre at an academy in the West Country. He said he became aware of a wider problem when a parent came to him for support:
I'm an LGBT activist and really thought I had inclusiveness nailed but even I was unprepared!

What struck me was how concerned the young person's mum was to do the right thing for her child. She was confused about the right steps to take and came to me for advice, clearly desperate to be supportive and constructive. But I didn't even know! Luckily I could contact ATL's lead equalities officer who suggested I signpost them to [trans charity] Mermaids. I very quickly got back to them but the delay wasn't ideal. I was backpedalling when I wanted to be a source of support and reassurance. It makes you feel inadequate. I worry that my stumped reaction could have reinforced their fears – the feeling of being 'unique; 'I'm the only one'.

The school I work in is very inclusive. The head creates a progressive ethos. We have Diversity Role Models visit us to work with our young people, staff have been trained to challenge homophobia, we display role models' photos on the wall and include LGB role models in our work.

But there's a gaping hole with trans issues. LGB has been at the forefront – bringing the "T" in is the next step. Homophobia is high profile but transphobia has less visibility.

I think role models are very important. I am an openly gay teacher and want to be a positive role model. I think if there aren't role models then you need to go out and find them. We need to embed trans role models and discussions. Staff are eager for guidance. Schools need support to get the language right and put signposting in place. Schools need to be prepared. Otherwise teachers will not be able to give the level of support they want to and young people and parents will be left feeling more alone.
Jill was an assistant headteacher at an independent school when she transitioned. She said there was an attitude of "ignore it and it'll go away":
The excuses have to be removed. When I transitioned I was tolerated, partially because I was essential to the functioning of the school and also because I was politically astute about the situation – I did everything I could to minimise the impact and prevent controversy. I provided training to senior staff and the deputy head then trained all staff. The problem was this was reduced to statutory Equality Act guidance, with no real explanation of LGBT or protected characteristics. Any LGBT colleagues and pupils were really no better off. For example it didn't stop some colleagues making jokes to each other and to pupils.

Some schools are doing a really great job. They've made trans their 'thing'. But by and large there is an attitude of, 'If we leave it alone, it'll go away, there's no one like that here, this doesn't apply to us.' The vast majority of schools think they can ignore it.

The fact SRE isn't compulsory is a big issue. SRE is often well meaning but not well informed. Trans is usually not covered and when it is, it is often confused as an issue of sexuality not gender. Trans should be addressed and not just in a statutory sense, for example noting inclusion in the Equality Act, but with SRE.

Trusted information needs to be available for young people. There is so much negativity and misconceptions in the press and online. Very few schools support LGBT History Month, which would be a positive move. Staff need training delivered by trans specialist groups. Crucially Department for Education support is needed. Without their direction schools are too able to ignore it. The excuses have to be removed and education must provide an understanding of this protected group. We can't keep producing generations of misinformed children.

Bernard Reed, trustee of the Gender Identity Research and Education Society, said there had been an "explosion" of trans issues in schools and colleges, and for the most part there was no advanced preparation.
"Although there is growing recognition that trans pupils and staff need – and are entitled to – understanding, respect, protection, and support," he said. "Recently seven schools contacted us in one day."

Mary Bousted, general secretary of the ATL, said teachers wanted to support young people but that the situation called for better training, and well-informed and inclusive SRE.
"As education staff we want to support those young people to feel confident and to get the expert help and advice they need to flourish," she said. "Let's not leave young people to educate themselves on these issues via misconceptions and bigotry so often found in the media and online.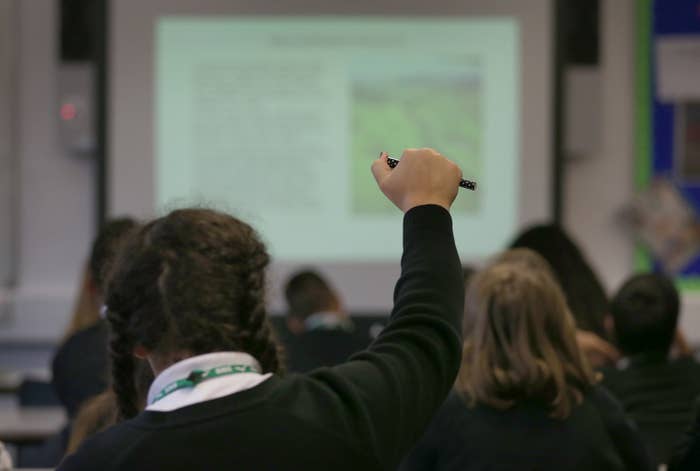 Easterlow said the pupil who informed teachers they identified as female had three or four months left at that school. The pupil told him, "When I come to leave school, that's me out in the world. Now is the time I have access to resources. Surely that's what a school is about; equipping me to be ready to face the world."

Lucy Powell, Labour's shadow education secretary, said transgender issues should be part of PSHE education. Appearing on ITV's The Agenda this week, she said "the T in LGBT, trans, is often the poor relation and is probably 30 to 40 years behind our understanding of gay rights".
"If you know anybody who is transgender, they've had a life of being marginalised, being ridiculed, being bullied, being discriminated against," Powell said.
"And they don't do that out of choice because they feel that they have any choice about it, they don't have any choice about it, it is who they are, it's what they feel. One of the things I'm very passionate about is we should be looking more closely at education in schools, and I meet young people who say to me they want more time in the school day, more time in the curriculum when it comes to things like LGBT issues. And particularly around bullying, because they feel there are still really big issues in schools. We should be talking about these things, at school and at home."
LGBT charity Stonewall said it welcomed the ATL motion, especially the need for training on inclusive language to support students who decide to transition.
"We work with more than 12,000 schools to help teachers tackle homophobic, biphobic, and transphobic bullying so that all young people, regardless of their sexual orientation or gender identity, can flourish," a spokesperson said. "Through this work we know that many school staff lack the confidence to recognise and challenge transphobic bullying and support trans pupils.
"Having age-appropriate tools to help tackle gender stereotypes and norms helps all young people feel supported and included from an early age. We want teachers to feel able to support all of their pupils so that no young person has to live in fear but can instead go to school with confidence, knowing they will be accepted without exception."

The Department for Education told BuzzFeed News it was investing £3 million to help schools deal with homophobic, biphobic, and transphobic bullying.
"Every child should feel able to reach their full potential and we know there are thousands of brilliant teachers creating supportive and inclusive environments for their pupils," a DfE spokesperson said. "We already provide advice to help schools understand how the Equality Act affects them, including specific guidance on trans issues.
"Sex education is compulsory in all maintained secondary schools – we are clear that it should be relevant to all pupils, and sensitive to their needs."