Steady Progress: How Labour Is Explaining The Election Results
While acknowledging there is a "lot of rebuilding" to be done in Scotland, Jeremy Corbyn said the party had "hung on" in England.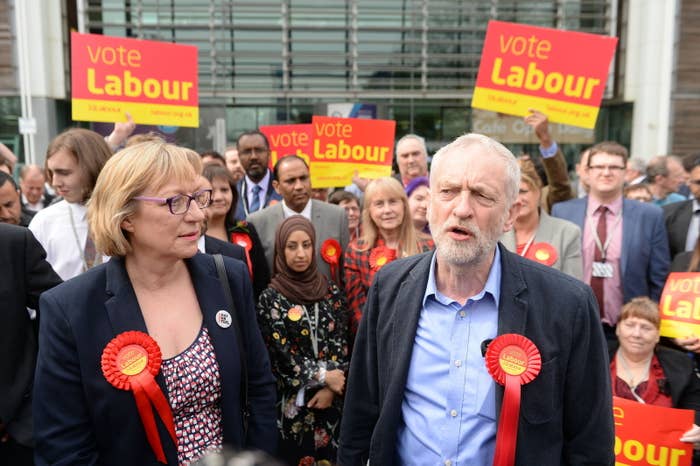 Labour leader Jeremy Corbyn has said his party has defied gloomy election predictions to "hang on" in England.

Election results across the UK were very mixed for Labour: the party suffered disaster in Scotland to slip to third place behind the Tories, did better than expected in local elections in England, and remained the largest party in Wales despite a 7.6% fall in vote share.
Corbyn told supporters at the site of Gill Furnish's by-election victory in Sheffield Brightside and Hillsborough – one of two by-election victories in safe seats for the party overnight, the other being Ogmore in South Wales – that Labour had surpassed expectations.
"All across England last night we were getting predictions Labour would lose councils – we didn't, we hung on, and we grew support in lots of places," he said.

Acknowledging the disastrous performance in Scotland that saw the Scottish Tories overtake Labour into second place, Corbyn said: "There is a lot of rebuilding to do in Scotland, and we're going to be with you, walk hand-in-hand with you, to build that support once again so that the Labour tradition in Scotland can be re-established once again. We are with you."
Speaking to BBC News earlier in the day, shadow international development secretary Diane Abbott described Labour's overall election results as "steady progress".
"If you compare [the results] to last year's general election," she said, "we have increased our share of the vote, and crucially we've held on to seats in the south like Crawley and Southampton, and people have been arguing we need to move right to hold on to those types of area – under Jeremy we've held on to them.

"Our share of the vote indicates progress – this is the beginning of something, it's not the end of everything. Remember we had a catastrophic vote last year, particularly in Scotland. In Scotland it was a long, drawn-out process of collapse, and it will be a long process of rebuilding. No other leader could have done better in Scotland."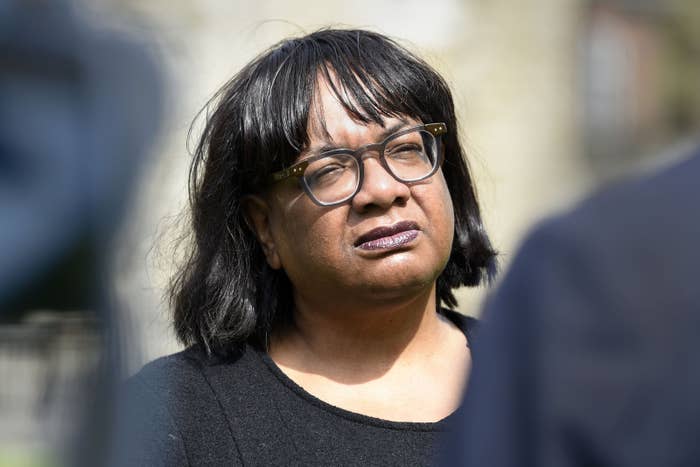 Speaking to Sky News as the results came in overnight, shadow chancellor John McDonnell had said: "We were seven points behind the Tories literally only 12 months ago in the general election. If we can narrow that gap, which I think we will, we'll demonstrate steady progress."
Labour won 30.5% of the vote nationally at the 2015 general election, and 31.6% in England.

This time around in the Scottish elections Labour won 22.6% of the vote (marginally ahead of the Tories despite Ruth Davidson's party winning more seats), which was down 9.2 points from 2011.
In Wales, Labour's vote was 34.7%, which represented a fall of 7.6 points despite them again emerging as the largest party with 29 seats.
In England, with about three-quarters of councils having declared, Labour is down 26 councillors, and has lost control of one council overall.
According to an analysis by BBC News, Labour's vote share is down by about 6% on average the last time these seats were contested, but up 4% on last year's general election.
So far, the only Labour MP to publicly speak out against Corbyn in light of the election results is Jo Cox, who was elected last year and was among the 35 MPs who nominated him for leader.
"I don't think now is the time for a leadership challenge against Jeremy, but I do think Jeremy needs to personally recognise that this isn't good enough," she told BBC News as the election results came in this morning.

"It's not good enough for Labour supporters, Labour activists who've been working so hard to get more councillors and candidates elected."
The MP for Batley and Spen added: "So he needs to take responsibility. He needs to set out a route map back to power in 2020, and let's rally first and foremost around the referendum.
"But we need to look very hard at what we've got wrong in the last eight months and put it right."
Speaking later on the same programme, Labour deputy leader Tom Watson said: "I saw you had a quote from my colleague Jo Cox, a very bright new MP. I'll say to her, when she nominated Jeremy to be leader she must have patience with the candidate she supported.

"I think our party members out there would say, even our opponents would say, after only eight months in office you've got to give Jeremy more space to develop our policies and the direction of the party."