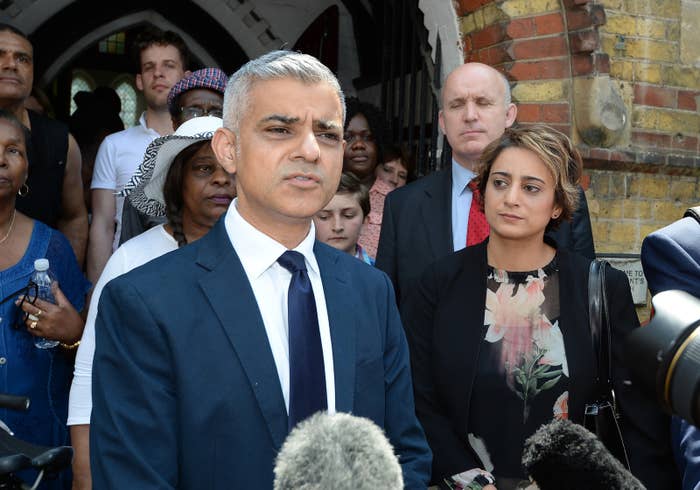 The mayor of London Sadiq Khan has said the Grenfell Tower disaster was a consequence of years of neglect by politicians.

Speaking to journalists after attending a church service in the shadow of the burned out tower block this morning, Khan said the fire that is believed to have claimed at least 58 lives was a "preventable accident".

He said the community in north Kensington, west London, was "frustrated and, yes, angry".
"Angry not simply at the poor response in the days afterwards from the council and the government, but the years of neglect from the council and successive governments," the Labour mayor said.
"There is a feeling from the community that they've been treated badly because some of them are poor, some of them may come from deprived backgrounds, some of them may be asylum-seekers and refugees."

He continued: "There's a feeling that the council and successive governments don't understand their concerns and, frankly, don't care."

Khan described the fire as a "preventable accident that didn't need to happen", adding that the "tragedy we're seeing is a consequence of the mistakes and neglect from politicians from the council and from the government."
He added: "One of the things that we must do is support those families who've lost their homes, what we must do is make sure we help those who're grieving, we must make sure we learn the lessons, we must make sure it's not so hard for people who need help, to find help."
BuzzFeed News learned on Sunday that nearby Labour-run Ealing council had been drafted in to help with aspects of the response operation to the fire.
Speaking to BBC News, Kensington and Chelsea council leader Nick Paget-Brown defended the council's response, saying officials had been "working around the clock since Wednesday", the day of the fire.
Prime minister Theresa May, who has ordered a public inquiry into the fire, has described the response to the disaster as not good enough, but Paget-Brown said no single local authority in London would have been able to deal with its aftermath on its own.