In 1916, 16 men were imprisoned in a castle in the north of England for refusing to fight in World War I.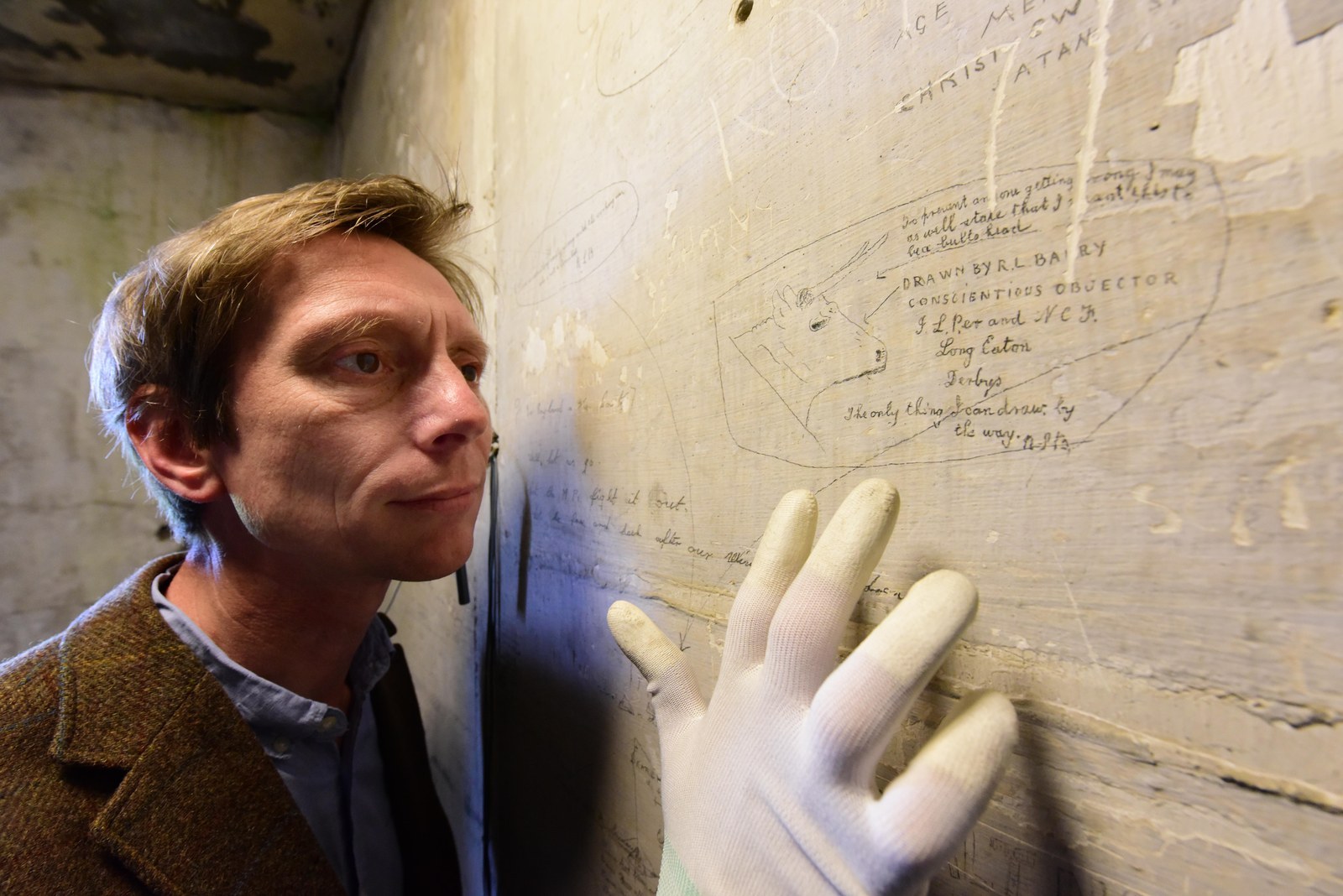 The "Richmond Sixteen", who included Quakers, Methodists, Jehovah's Witnesses, socialists, and a Sunderland footballer, were jailed in Richmond Castle in North Yorkshire before being sent to France to face court martial and a possible firing squad.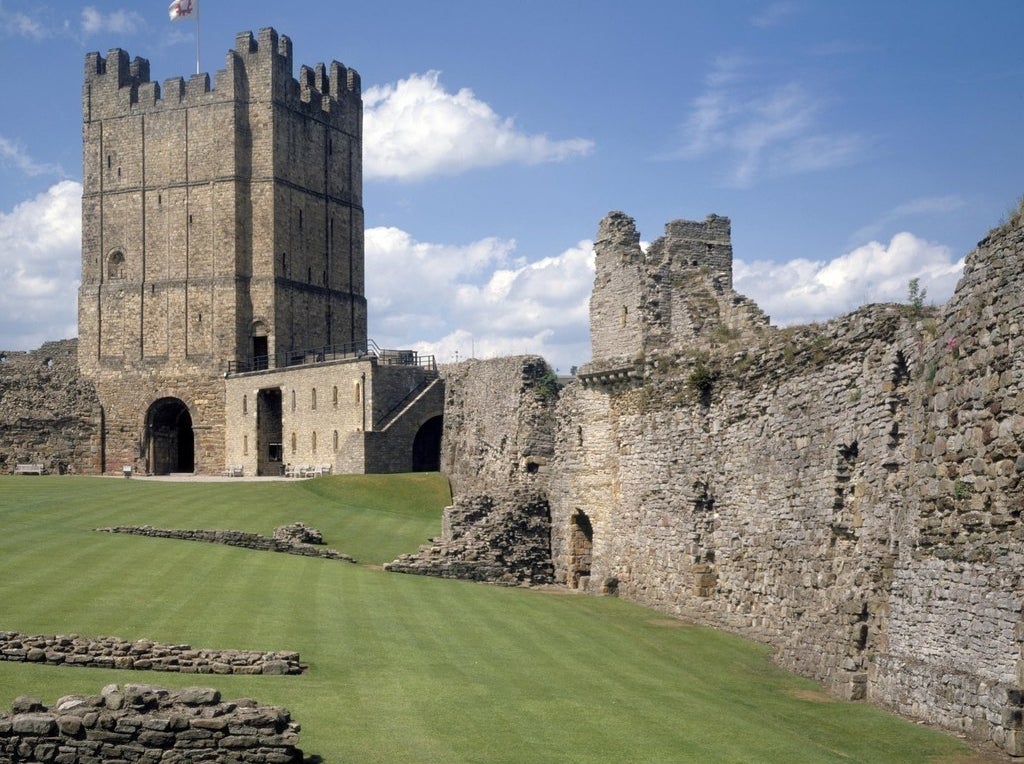 Richmond Castle, North Yorkshire
While in the castle, they drew and etched hundreds of inscriptions, drawings, slogans, hymns, poetry, and jokes on the cell walls, which, following a £365,400 grant from the Heritage Lottery Fund are going to be preserved for future generations.

Here are some of the messages being protected:

Richard Lewis Barry was a socialist conscientious objector from Long Eaton in Derbyshire. He labelled his drawing of a bull's head as he wasn't sure that anyone would be able to tell what it was.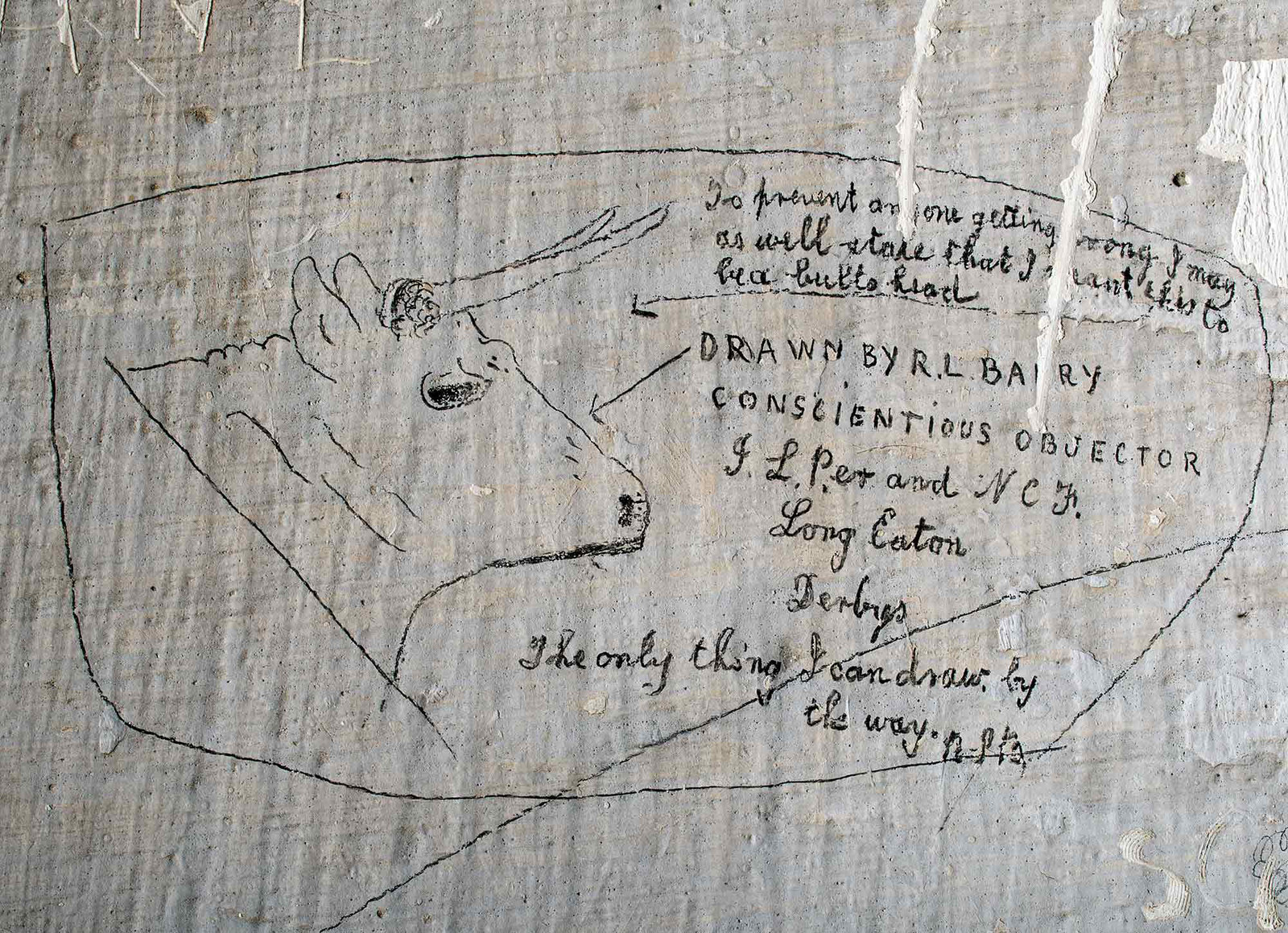 He also noted his name, address, and membership of the Independent Labour Party and the No Conscription Fellowship.

Barry also wrote this quote, which could be his own or something he recalled: "You might just as well try to dry a floor by throwing water on it as try to end this war by fighting."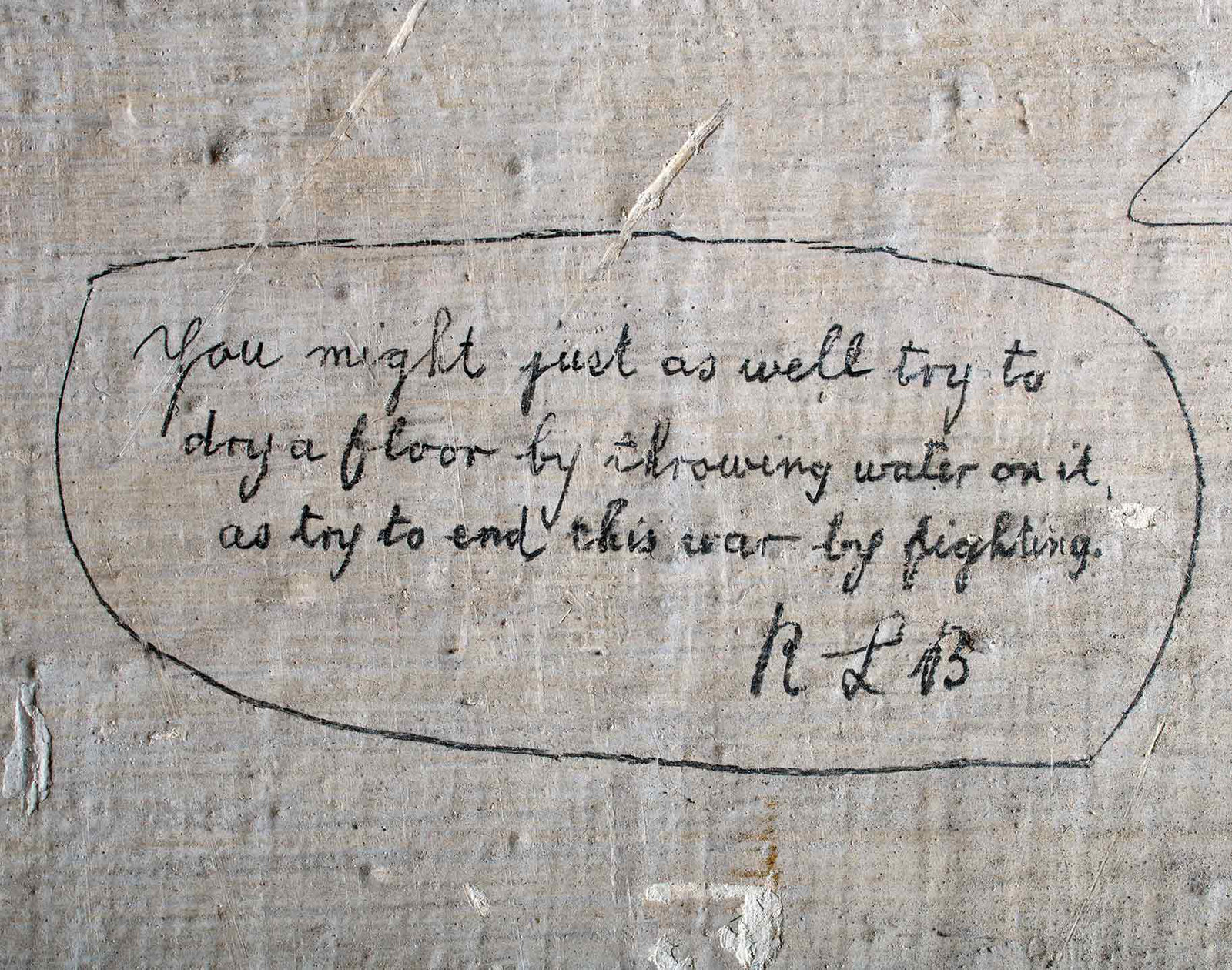 "Home Sweet Home" was one of the most popular songs of the 19th century. It's not known who wrote these bars on the walls of the cell.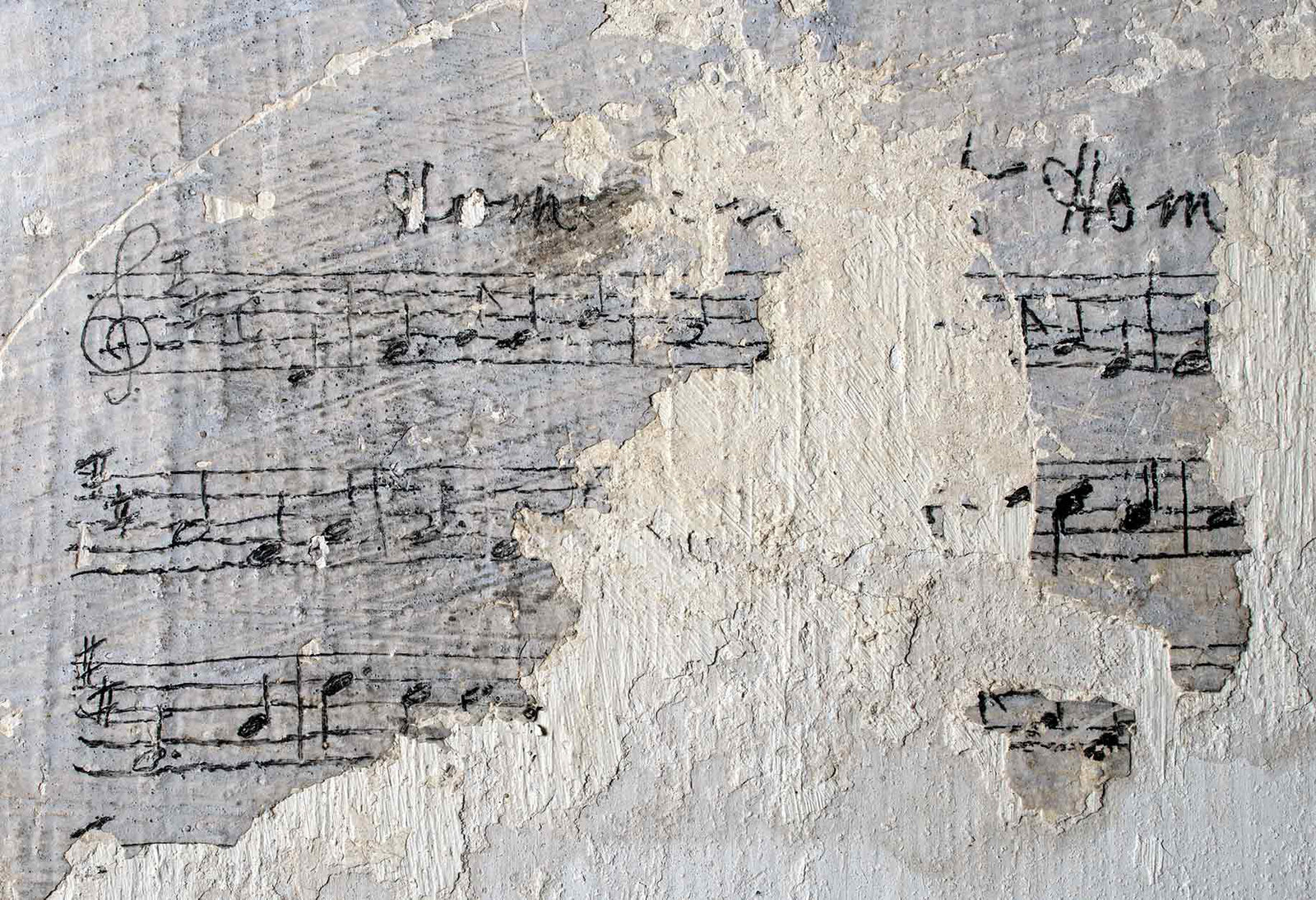 Bert Brocklesby drew this picture of fellow conscientious objector Norman Gaudie's mother from a photograph smuggled into the cells.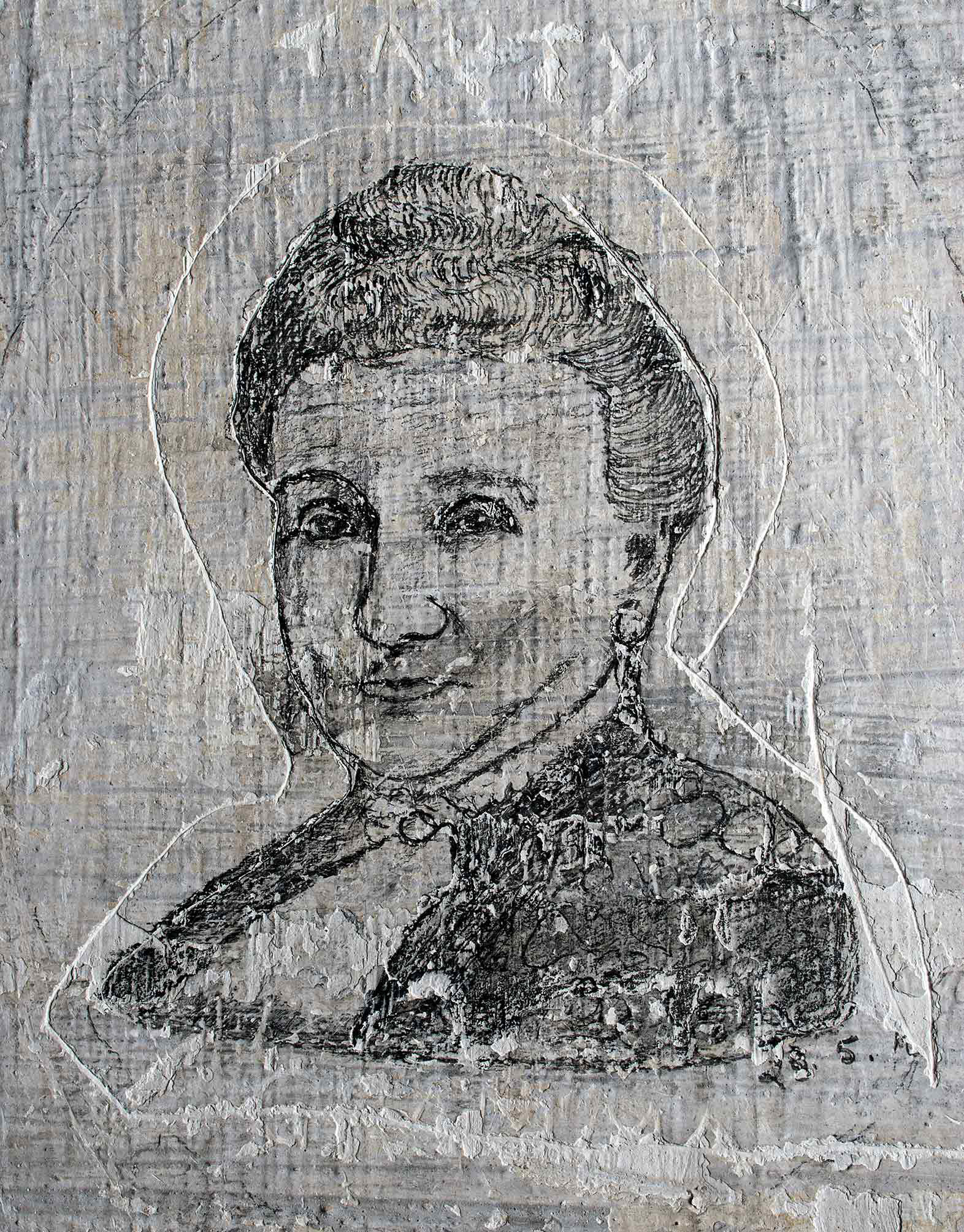 Gaudie, who played for Sunderland FC, later wrote to his mother: "I close my eyes partly and imagine it is really you."

This was written by an unknown conscientious objector.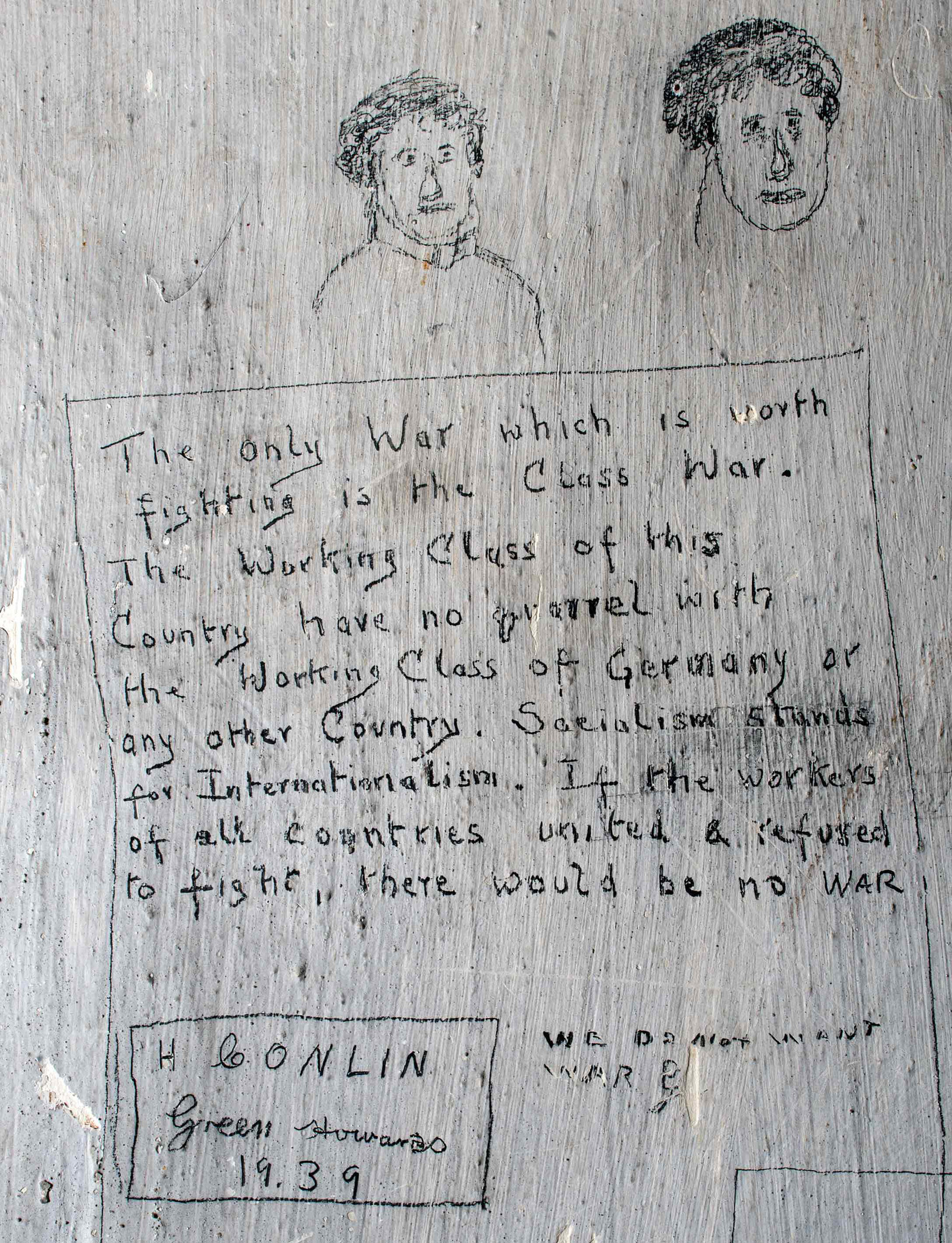 He wrote: "The only war which is worth fighting is the class war. The working class of this country have no quarrel with the working class of Germany or any other country. Socialism stands for internationalism. If the workers of all countries united and refused to fight, there would be no war."
Brocklesby also drew this sketch of his fiancé Annie Wainwright, which was later relabelled "My Kathleen" by another lovesick prisoner.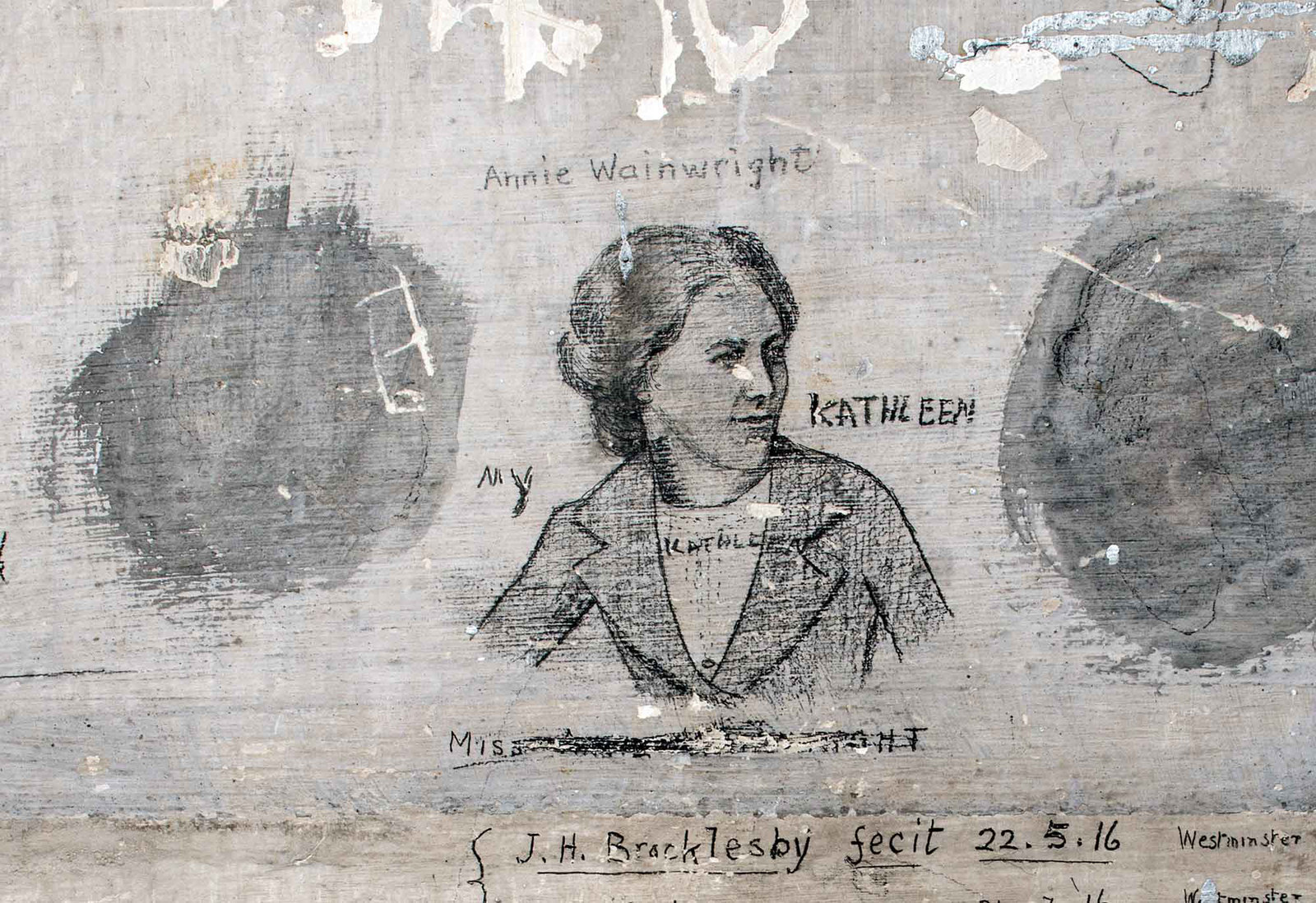 Brocklesby and Wainwright would call off their engagement after the war, when he struggled to find work at home and travelled to Vienna with the Friends' War Victims Relief Committee.

Brocklesby recorded his time at Richmond Castle with this makeshift calendar, including the 48-hour period when he was on a punishment diet of bread and water ("B+W").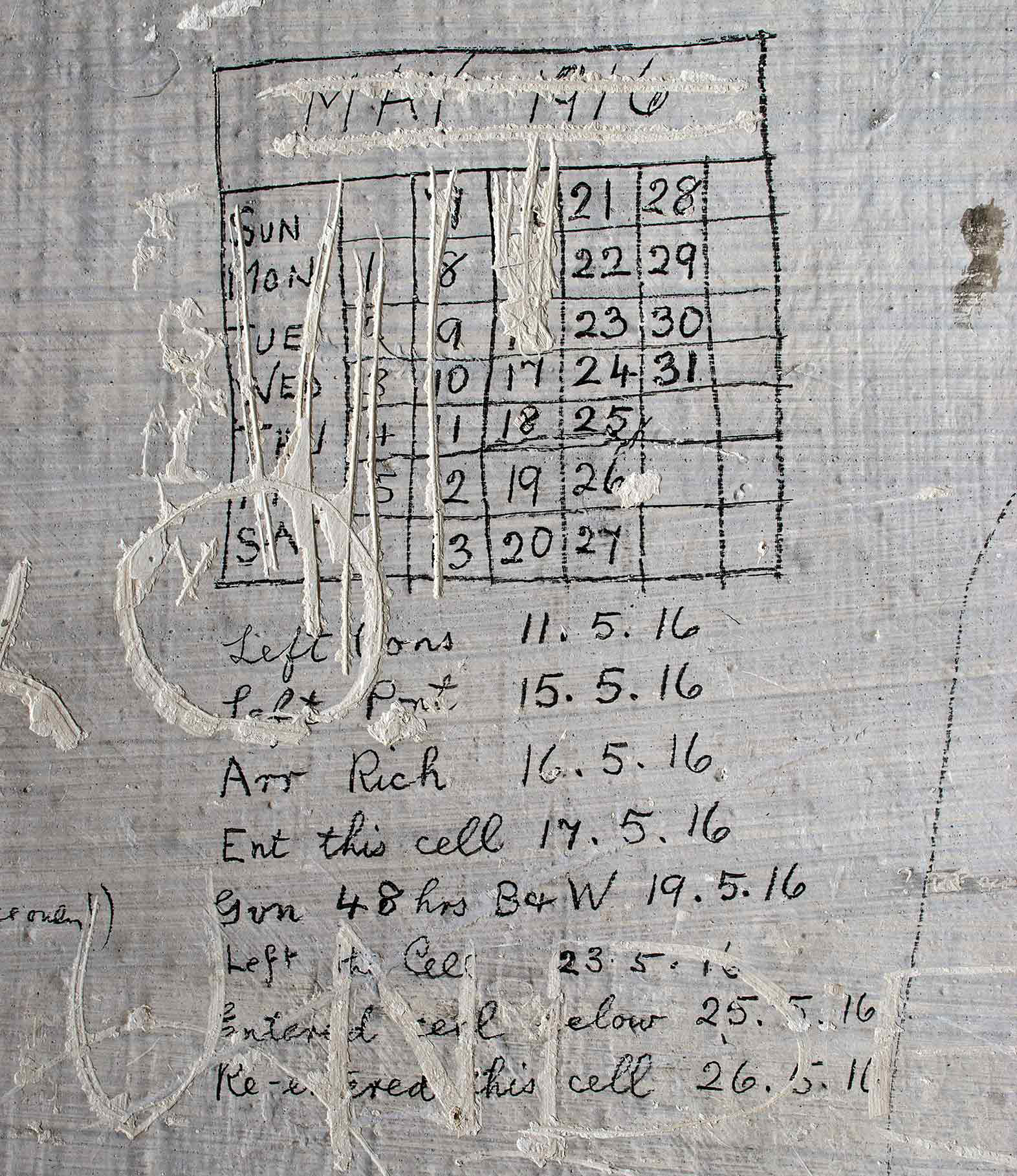 Conscientious objector William Thomas Angrave drew this floral design, which is probably a pattern for lace. He was a draughtsman for lace in Long Eaton before the war.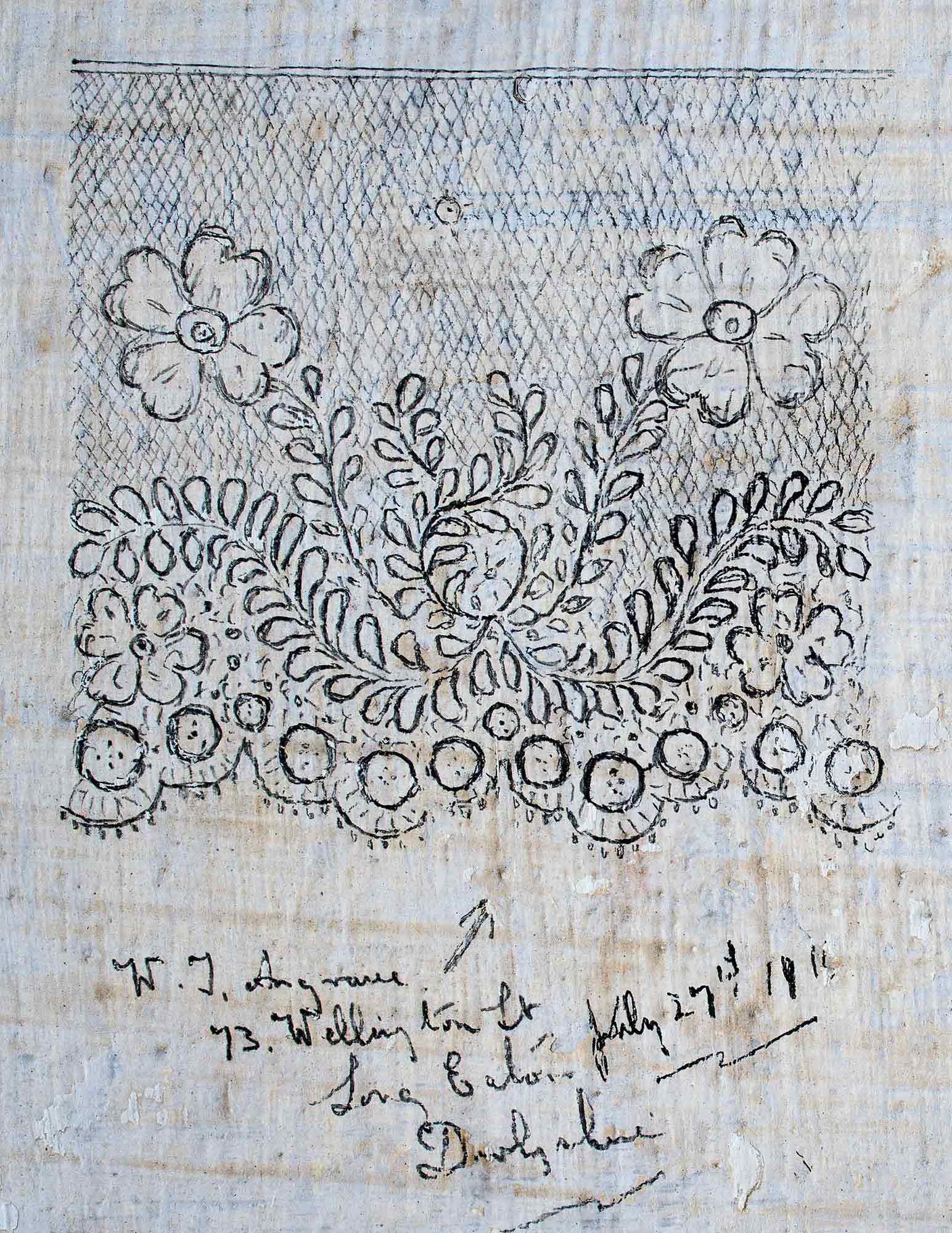 Socialist Percy Fawcett Goldsbrough wrote this message behind a door in one of the cells. He said he had been "put into this cell for refusing to be made into a soldier".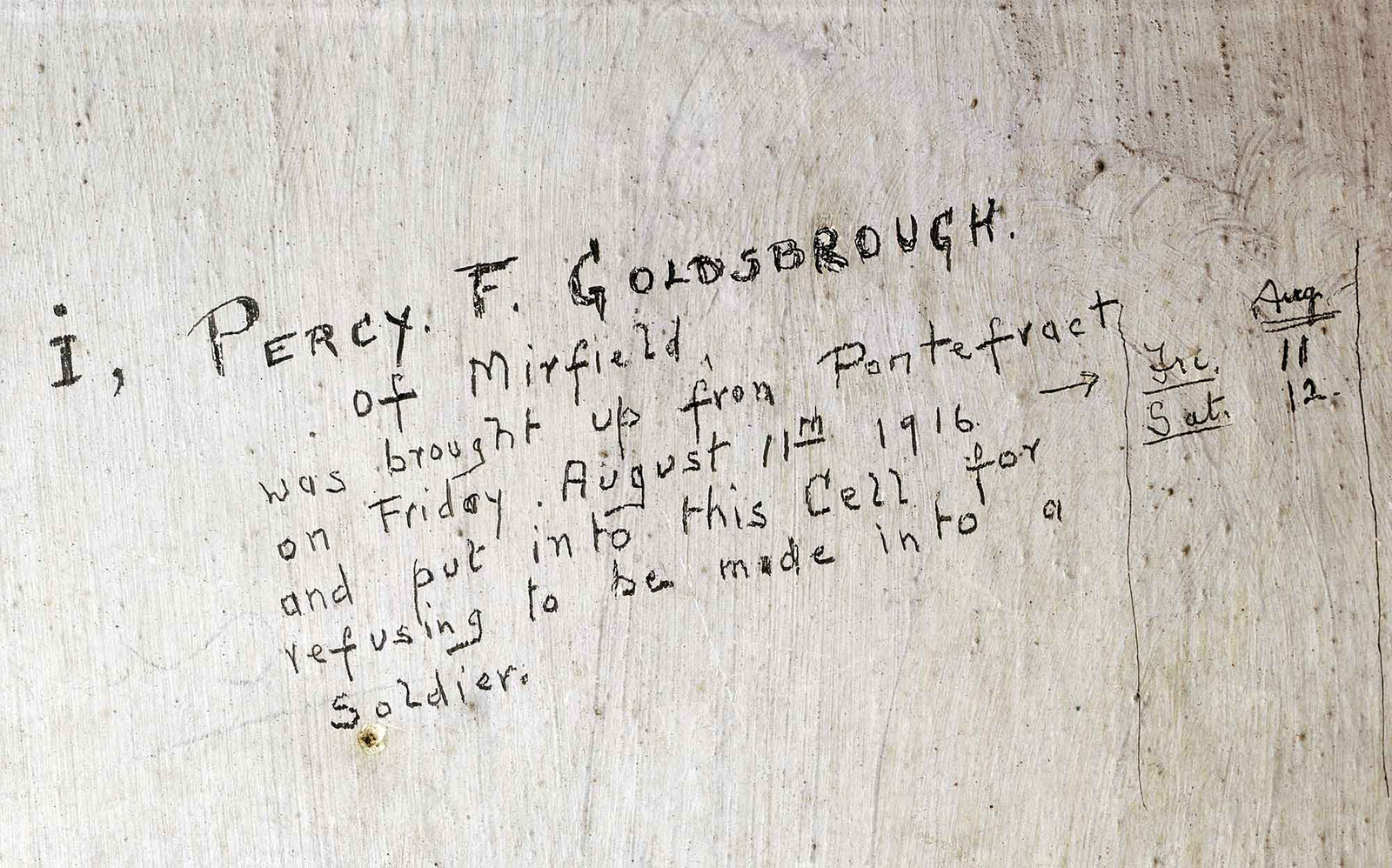 Brocklesby drew this while confined to a cell over a case of mistaken identity. Gaudie had been caught laughing while out on exercise, but it was Brocklesby who was imprisoned in his place.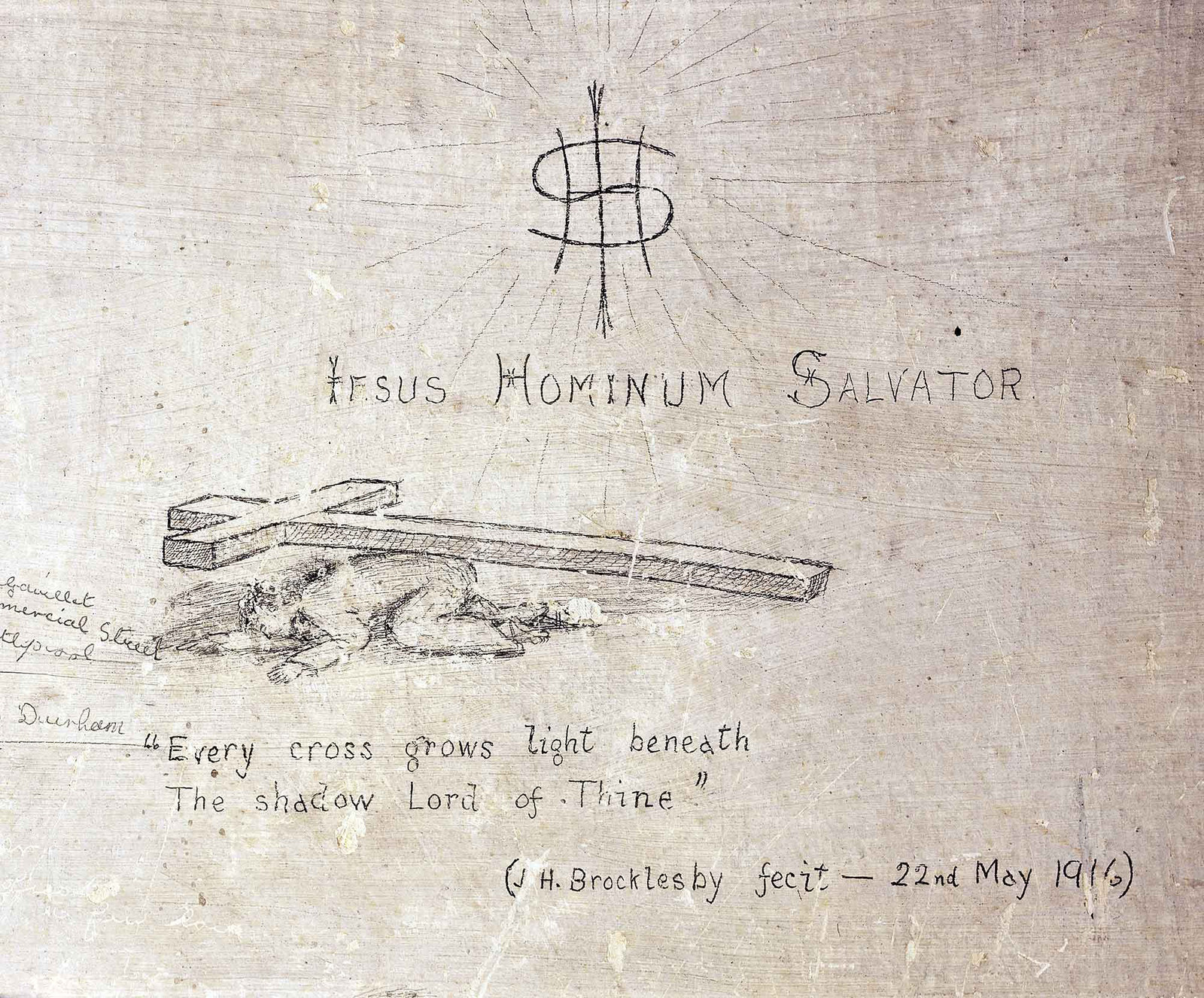 He drew a man lying under the weight of a heavy cross, with lines below from a 19th-century Methodist hymn.
English Heritage, which is aiming to make the graffiti open to the public for the first time in 30 years, described the men's graffiti as a unique and important record of conscientious objectors.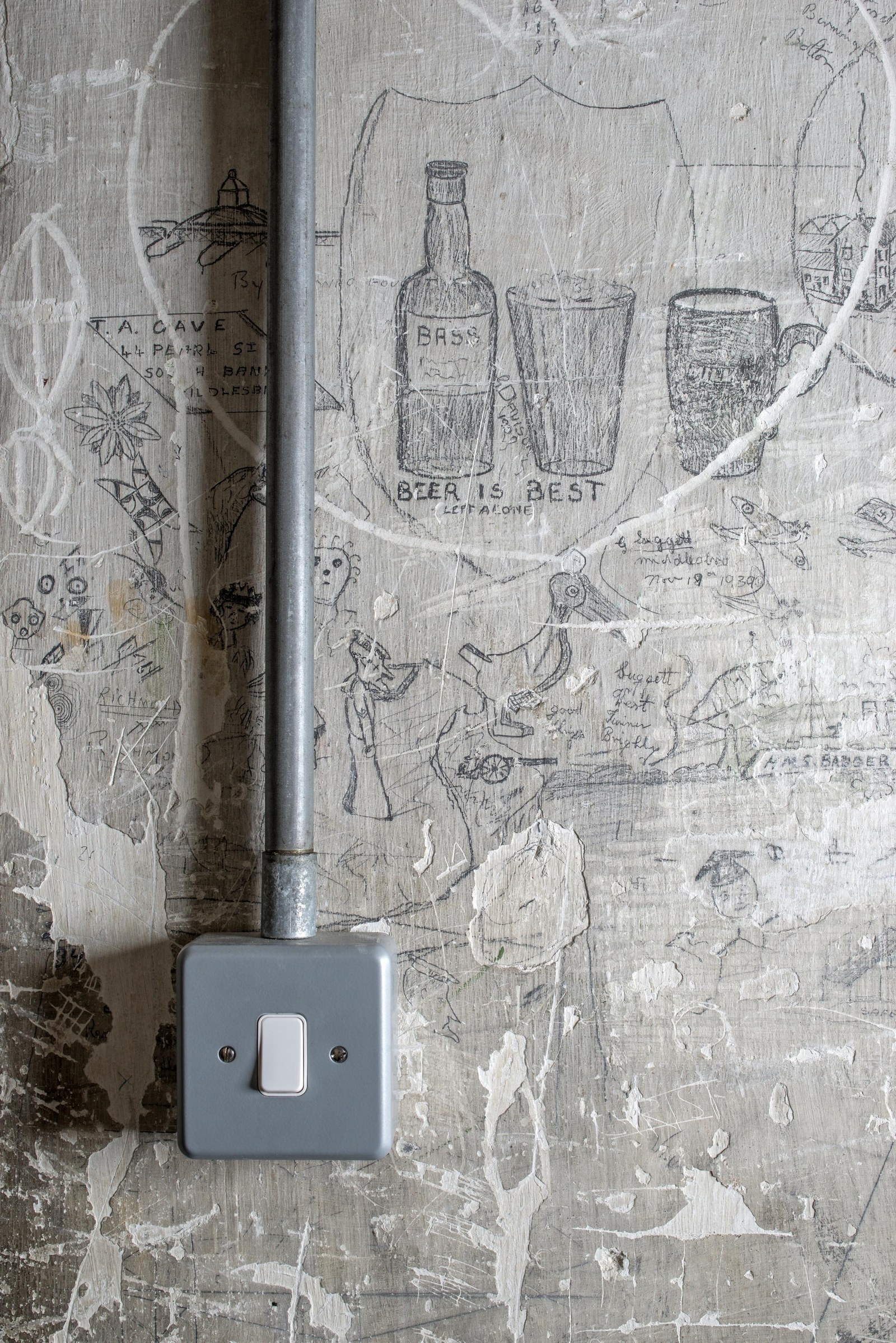 "It is remarkable that these delicate drawings and writings have survived for 100 years," said English Heritage chief executive Kate Mavor. "Now we can ensure that they survive for the next century and that the stories they tell are not lost."
Marjorie Gaudie, the daughter-in-law of Norman, said it was important to remember the men who refused to fight from the "deepest conviction that all life is sacred".
"They were courageous men. He acted from the deepest conviction that all life is sacred," she said.
"He knew it was wrong to take a life and so he refused to fight. He was prepared to die for his belief and that took immense courage."
In June 1916 the Richmond Sixteen and other conscientious objectors were sentenced to death at a court martial in France. However, their sentence was immediately commuted to hard labour by prime minister Herbert Asquith, who nevertheless hoped their initial sentence would deter other conscientious objectors.