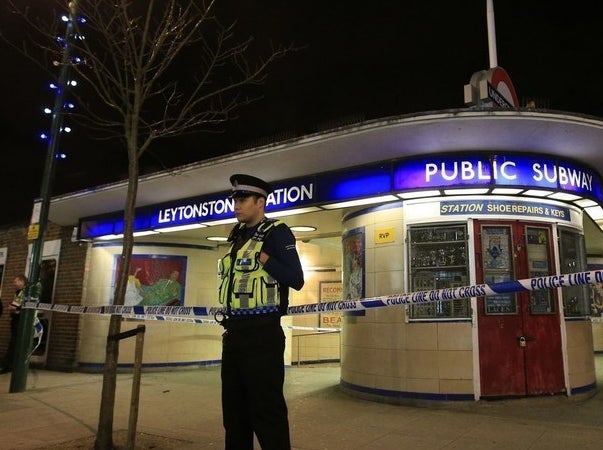 A man with a history of mental illness has been found guilty of repeatedly cutting the throat of a tube passenger he selected at random in an "unpredicted, unprovoked and brutal" attack.
Muhaydin Mire was convicted of attempted murder at the Old Bailey for last December's attack at Leytonstone underground station in London.
His victim, musician Lyle Zimmerman, 56, only survived the attack because Mire used a blunt breadknife.

Mire followed his victim off the tube to the ticket barriers, before beating and forcing Zimmerman to the ground, repeatedly kicking him in the head before using the knife to cut his neck.
During the incident, which came three weeks after the Paris terror attacks, the 30-year-old was heard to shout that his actions were in revenge for the bombing of hospitals in Syria.

In the aftermath of the attack, an onlooker was heard to say "You ain't no Muslim, bruv", which became a rallying call in the following days.
During a week-long trial, the court heard Mire, who admitted four separate counts of attempted wounding after lashing out at other tube passengers on 5 December last year, had received hospital treatment for paranoia in the past, and suffered from psychosis that led him to believe he was being persecuted by the security services for his religion.
It emerged shortly after the incident that Mire's family had raised concerns about his behaviour in the weeks leading up to the attack, but police said no action had been taken because there was nothing in the information supplied to suggest radicalisation.
The four separate counts of wounding relate to when Mire walked out of the tube station and back in after attacking Zimmerman, including one person who filmed Mire on his smartphone.
Police praised those who intervened to prevent Mire from hurting anyone else, and coming to the aid of his victim, including a junior doctor who gave medical aid as he lay bleeding on the floor.
"This was Londoners responding calmly and sensibly to a very dangerous individual and all should be praised," said Commander Dean Haydon of the Metropolitan police's counterterrorism command.
"The officers who detained Mire were faced with a man armed with a knife and with blood on his hands, using their Taser, they were able to disarm him quickly and effectively, but I have no doubt it took immense bravery to go forward at that moment."
Mire was not accused of any terrorist offences, but police said he may have been "inspired by extremist ideology" based on the comments he made during the attack, and images of murdered British soldier Fusilier Lee Rigby and ISIS executioner Mohammed Emwazi, known as Jihadi John, found on his phone.
Zimmerman gave evidence during the trial to say he had no recollection of his throat being cut.
Mire, a former minicab driver from Sansom Road in Leytonstone, east London, was remanded in custody until sentencing on 27 July.