Labour MP Jo Cox has died after being shot in her constituency.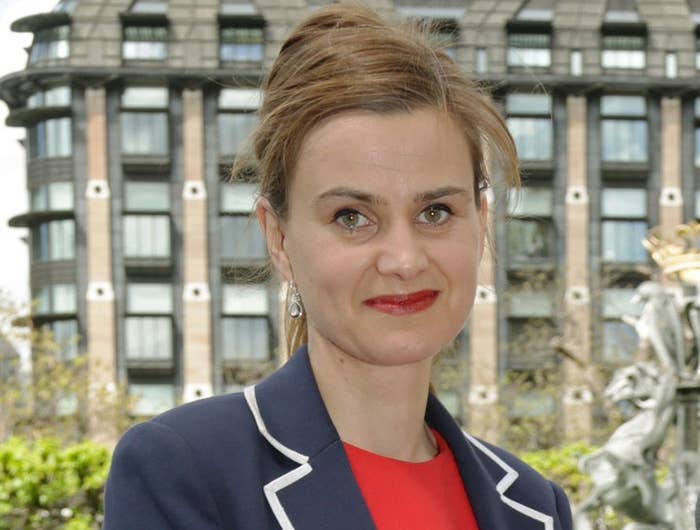 Dee Collins, the chief constable of West Yorkshire police, announced at a press conference that Cox died at 1.48pm, around an hour after a shooting outside a library in Birstall, near Leeds.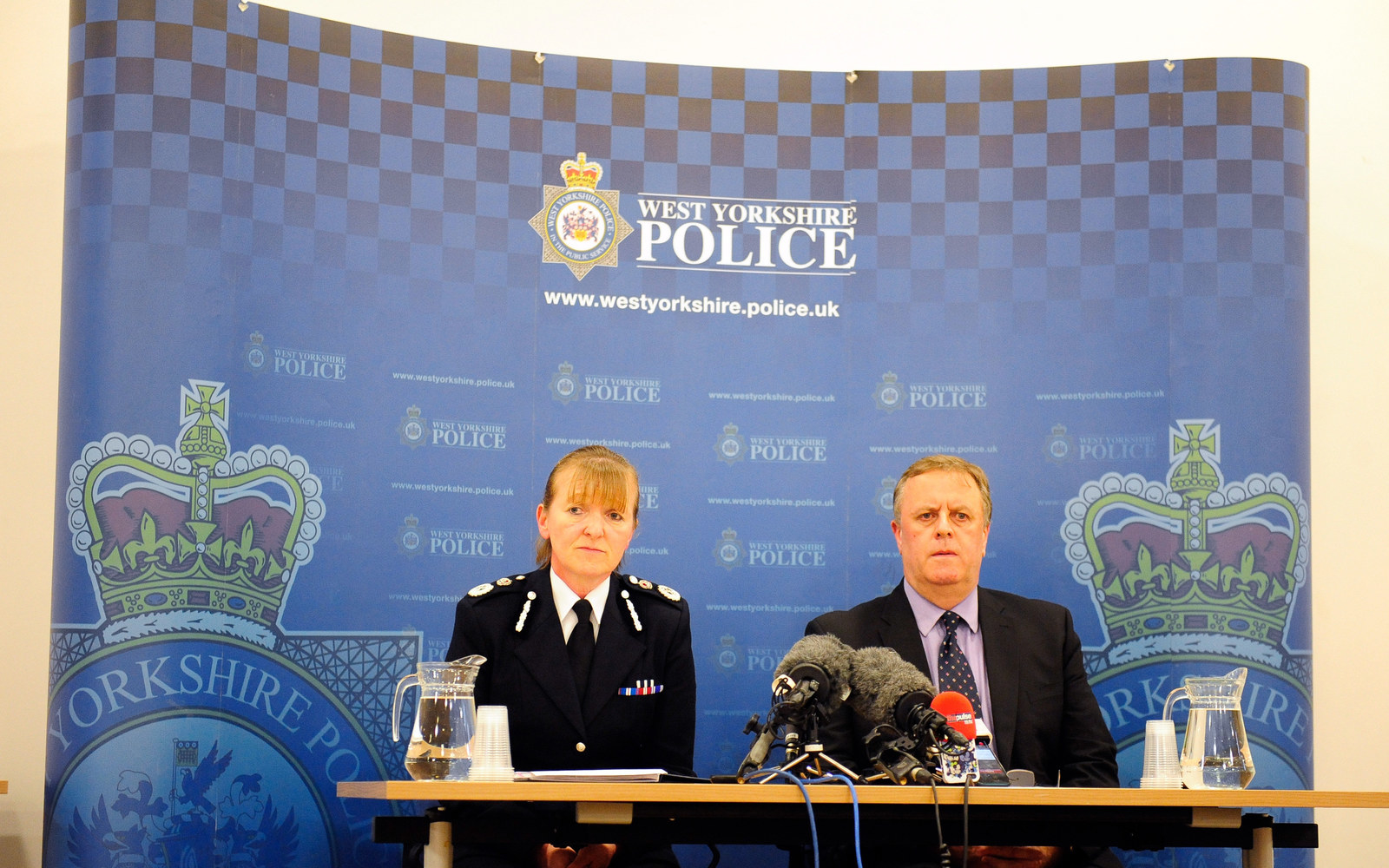 A 52-year-old man, named locally as Tommy Mair, is in custody over the attack.
"We are not in a position to discuss any motive at this time. We are not looking for anyone else in connection with this incident," Collins said. Police would not comment on the identity of the man in custody.
At the press conference Collins expressed police's "deepest sympathies" to Cox's family and friends.
"Jo was attacked by a man who inflicted serious and sadly ultimately fatal injuries. Subsequently there was a further attack on a 77-year-old man nearby who has sustained injuries that are non-life-threatening," she said.
"Shortly afterwards a man was arrested nearby by local uniformed offices. Weapons, including a firearm, have also been recovered."

Labour leader Jeremy Corbyn said the whole country would be in "shock and grief at the horrific murder".
"Jo was dedicated to getting us to live up to our promises to support the developing world and strengthen human rights – and she brought those values and principles with her when she became an MP," he said in a statement.
"Jo died doing her public duty at the heart of our democracy, listening to and representing the people she was elected to serve. It is a profoundly important cause for us all."
In a statement, Cox's husband Brendan said his wife "believed in a better world and she fought for it every day of her life with an energy, and a zest for life that would exhaust most people".
Police had earlier announced that a woman in her forties had been shot in Birstall.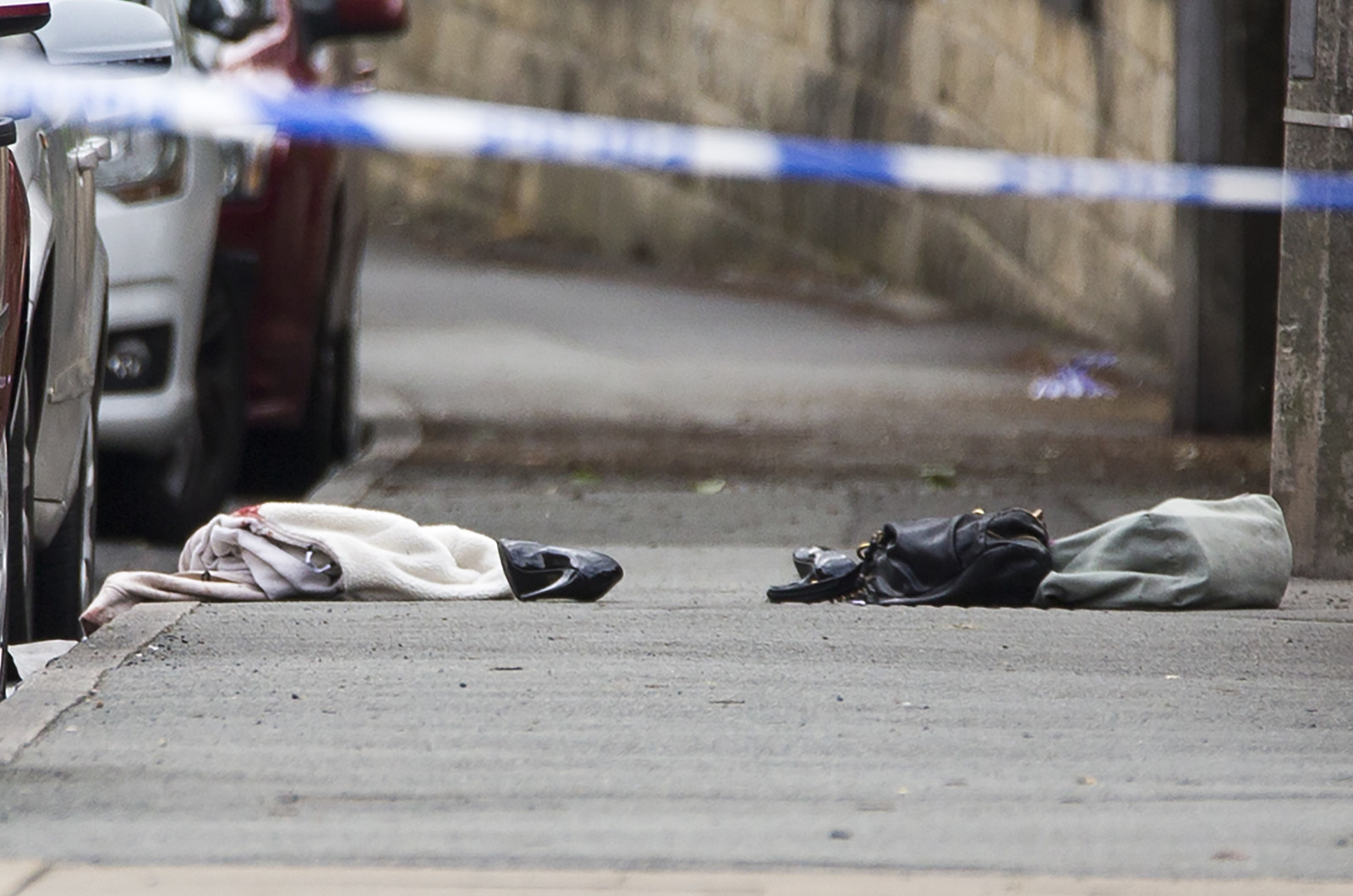 Police said in a statement: "At 12.53pm today, police were called to a report of an incident on Market Street, Birstall, where a woman in her 40s had suffered serious injuries and is in a critical condition."
The MP for Batley and Spen had been due to hold a surgery for constituents at the library between 1pm and 2pm, according to her website.
Cox was taken by air ambulance to Leeds General Infirmary, where armed police were stationed outside.


Three separate sources claimed the suspect shouted "Britain first" during the attack, which people have interpreted as a reference to the far-right anti-Muslim campaign group of the same name.
In a statement, Britain First said it was "not involved and would never encourage behaviour of this sort. As an MP and a mother, we pray that Jo Cox makes a full recovery."
West Yorkshire police said they would investigate the claim.

An image believed to have come from a Snapchat video from the scene is thought to show the moment of arrest.
Police are searching a house owned by a man with the same name, Tommy Mair, on the Fieldhead estate in Birstall.

On the street where the suspect lived, young children scattered the streets playing as neighbours peered through windows at the growing presence of press. Locals said that although the community knew each other well, the suspect was a "loner" who "kept himself clear of us". Several mothers said he was "aggressive" towards children, and that if a child's ball fell into his garden, he'd come out and spike it so it deflated.
Further the road from the suspect's house, Katie Evans, 33, a mum of four, knew of him only by appearance.
"He'd leave his home every day around 9.30, and come back in the afternoon, carrying two Lidl bags, every day, like clockwork," she said. "He'd always wear a cap, and barely ever wore a coat, even when it was colder, except his army jacket every so often. He'd chase my kids off – the kids around here all knew who he was, they'd play every day outside the garages that are behind his house."
Prime minister David Cameron was among those paying tribute to Cox.
Stronger In, the official Remain campaign group, said it was suspending its campaigning for the day, as did Vote Leave.
Cameron also said he would cancel a planned campaign stop in Gibraltar later today. Cox had campaigned for Britain to remain in the European Union.
Eyewitness Hichem Ben Abdallah, 56, told the Press Association he was in a café next door to the library shortly after 1pm when he heard screaming and went outside.
"There was a guy who was being very brave and another guy with a white baseball cap who he was trying to control and the man in the baseball cap suddenly pulled a gun from his bag," he said.
"He was fighting with her and wrestling with her and then the gun went off twice and then she fell between two cars and I came and saw her bleeding on the floor."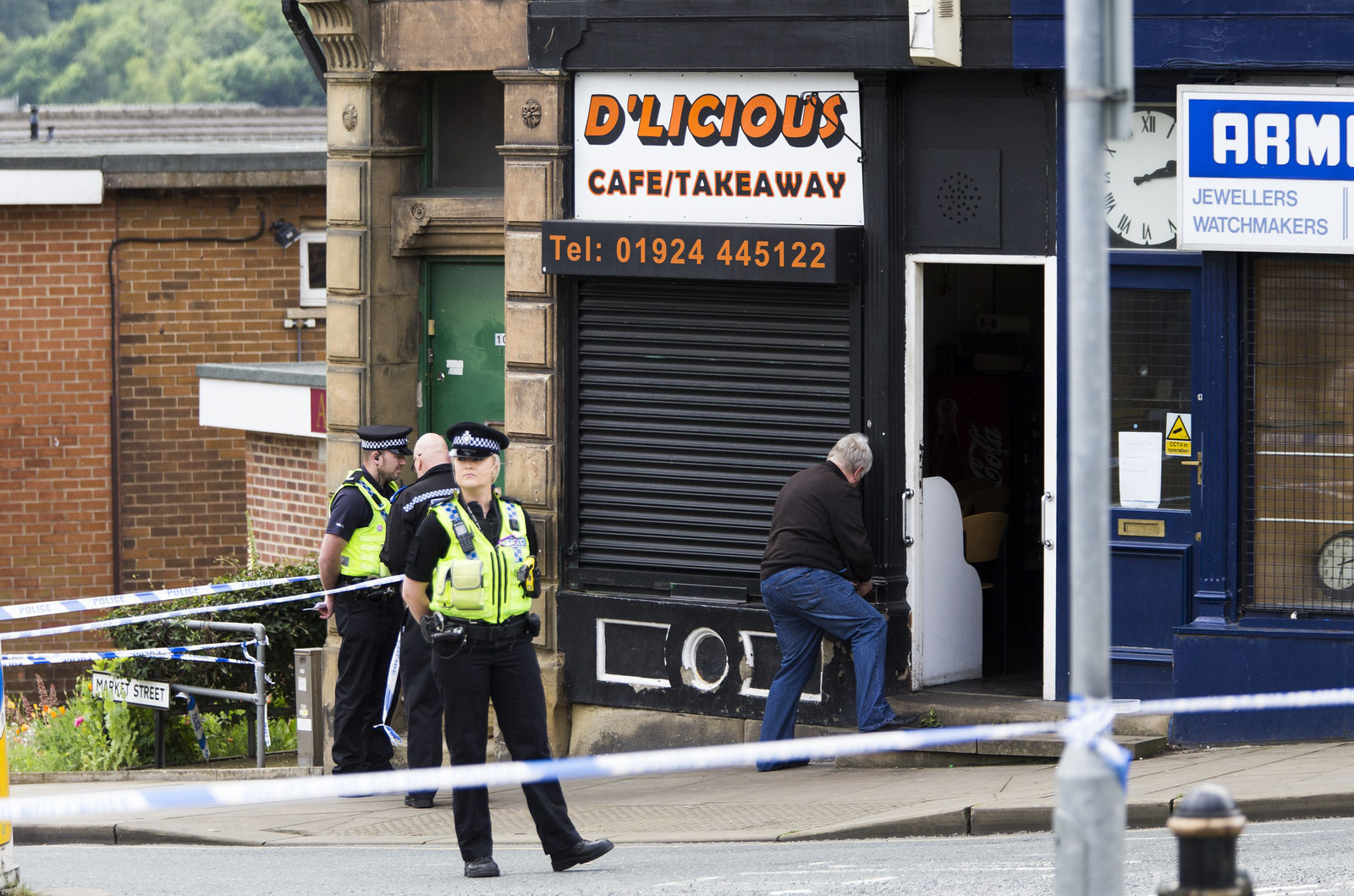 Eyewitness Clarke Rothwell, who runs a nearby café, told BBC News: "I was outside the local sandwich shop in Birstall and could hear a loud popping noise which sounded more like a balloon bursting.
"I looked around and there was a man stood there in his 50s with a white baseball cap on, with a jacket and a gun – an old-fashioned looking gun in his hands. He shot this lady once and then he shot her again and she fell to the floor, leant over, shot her once more in the face area. Someone tried grappling and wrestling with him and then he wielded a knife, like a hunting knife, and just started lunging at her with a knife."
He added: "People were screaming and running from the area. People tried running towards him and as they ran towards him he was just lunging with the knife at everybody. When the gentlemen with the bald head in his 50s actually got fairly close on him and he lunged forward and stabbed him straight in the stomach. He was trying to reload his gun to shoot people nearby again and then people tried to surround him... other people tried to get close but being a gunman with a knife you couldn't get too close."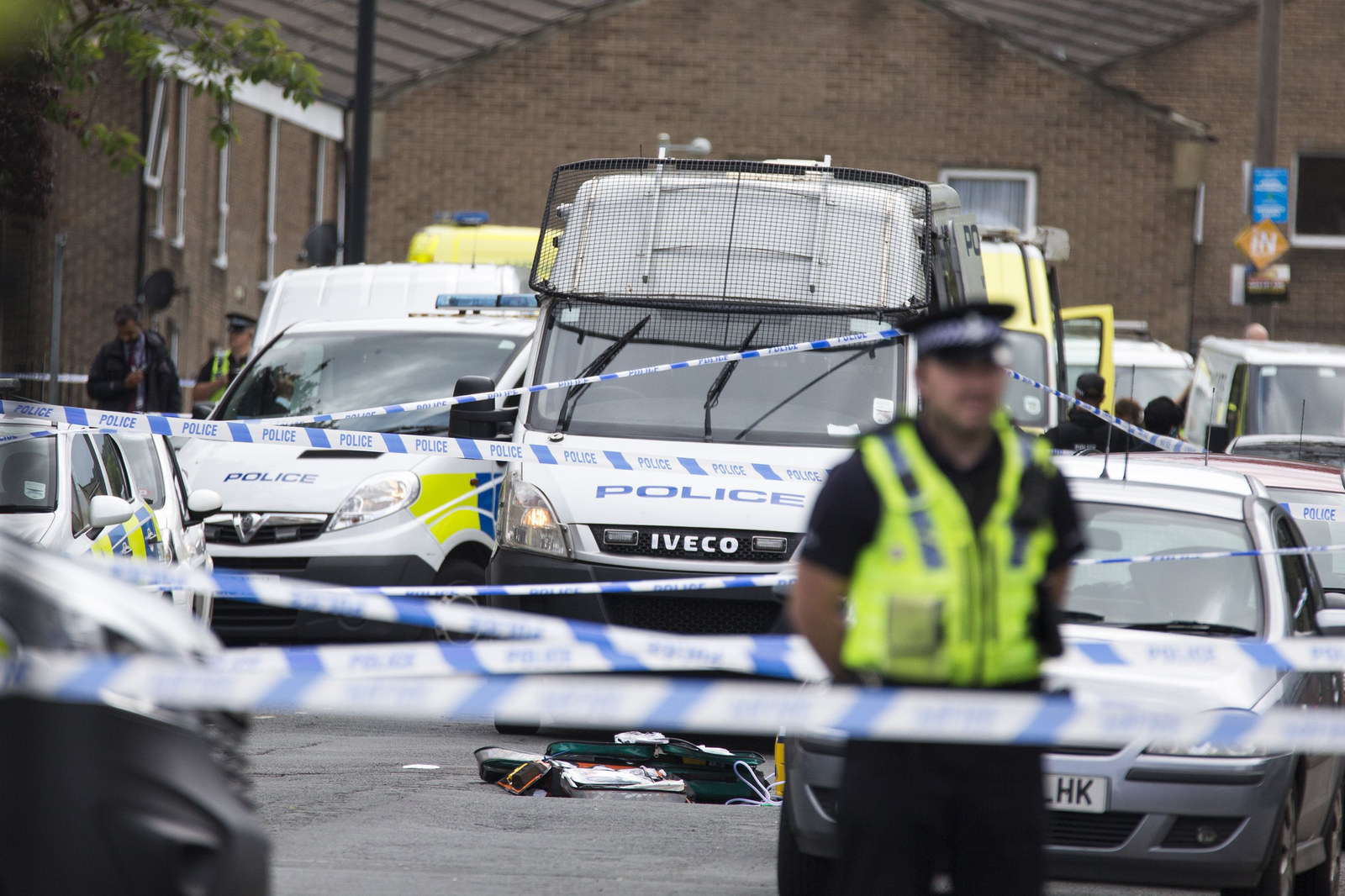 Sanjeev Kumar, a local shop owner, told BBC News Cox was shot outside the library, and was bleeding from her mouth and nose while lying on the floor.
A worker at a Co-op store round the corner from where the attack took place told BuzzFeed News: "There are a lot of police here outside, questioning people. People that are coming in are stunned – it's shocking, we're absolutely gutted. Nobody wants to be on their own."
Ishmal, 35, drove from Batley to the street of the crime scene.
He held a sign that read: 'Rip Jo Cox, an angel has flown today.' He described Jo the type of person who was "down to earth, fantastic, a humanitarian."
"She did a lot for the Muslim community, and was well known," he said. "She understood our viewpoints, and cares about things we cared about like Syria. She's come to the mosque and lend an ear.
"I saw her come down to our community, and it was clear she was genuine about her cause. She is a martyr, a modern day martyr."
Cox was elected as the Labour MP for Batley and Spen in May 2015.
The 41-year-old mother of two was born and raised in the area before graduating from Cambridge University and becoming the head of policy for Oxfam.
She was a senior adviser to anti-slavery charity Freedom Fund and chaired the Labour Women's Network before joining parliament. In parliament, she was a committed campaigner for the people of Syria.
While in London she lived with her husband and two children in a houseboat on the Thames.
Barbara Love also lived in the community, which contained just 18 boats. She told BuzzFeed News that Cox had been planning her birthday party in Wales this weekend: "We were all incredibly proud of her. Both of her kids were born when she lived on the mooring. She's been here for a while and we all knew all about her. She was a really nice, lovely, smashing woman who was very bright and very passionate. I saw her on Monday night. She was having a party and was in a great mood and was saying how excited she was for the weekend."
In his full statement, Corbyn said:
In the coming days, there will be questions to answer about how and why she died. But for now all our thoughts are with Jo's husband Brendan and their two young children. They will grow up without their mum, but can be immensely proud of what she did, what she achieved and what she stood for.

We send them our deepest condolences. We have lost a much loved colleague, a real talent and a dedicated campaigner for social justice and peace. But they have lost a wife and a mother, and our hearts go out to them.
Yesterday Cox tweeted a picture of her family joining Remain campaigners on the Thames.
Her husband, Brendan Cox, tweeted this picture of his wife shortly before 4pm, two hours after she died.
In the statement he released after her death was announced, he said:
Today is the beginning of a new chapter in our lives. More difficult, more painful, less joyful, less full of love. I and Jo's friends and family are going to work every moment of our lives to love and nurture our kids and to fight against the hate that killed Jo.

Jo believed in a better world and she fought for it every day of her life with an energy, and a zest for life that would exhaust most people.

She would have wanted two things above all else to happen now, one that our precious children are bathed in love and two, that we all unite to fight against the hatred that killed her. Hate doesn't have a creed, race or religion, it is poisonous.

Jo would have no regrets about her life, she lived every day of it to the full.