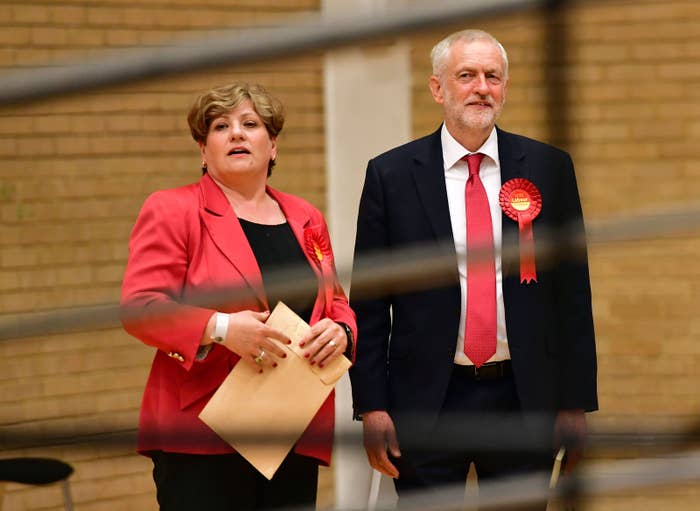 Labour on Sunday accused Theresa May of "squatting" in Number 10 Downing Street and reiterated it was ready to form a minority government of its own.

Leader Jeremy Corbyn said he still believes he could be prime minister, while his shadow foreign secretary Emily Thornberry said the party would "love the opportunity to serve".
When asked whether he could find his way into Downing Street despite winning fewer votes and seats than the Tories, Corbyn told the Sunday Mirror: "This is still on. Absolutely."
May is clinging on to power after losing her party's majority in parliament in the snap election she called for the sole purpose of trying to increase her support.
Talks with the Democratic Unionist Party (DUP) will continue next week in the hope of establishing a confidence and supply deal that would effectively give May a wafer-thin majority.
Appearing on Sky News' Sophy Ridge on Sunday programme, Thornberry said: "We've got Theresa May squatting in Downing Street, we've got a full rebellion going on in the Conservative party, we've got no idea as to what's going to be in this Queen's Speech."
Thornberry said Labour was "absolutely on our toes" about the possibility of forming a government.

When asked by presenter Ridge whether she accepted that Labour lost the election, Thornberry replied: "Well, no. I don't think that we did. I think that we did extraordinarily well."
Labour enjoyed a surge of support in the election, performing well above expectations, but still earned almost one million fewer votes than the Tories, claiming 262 seats to the 317 May's party won.

And even if Corbyn's party convinced the Scottish National Party, the Liberal Democrats, Plaid Cymru, and the Green Party's solitary MP to join some sort of governing arrangement, it would still not have an overall majority.
But Thornberry said Labour was not interested in any deals, and was only interested in forming a minority government. "We're in unchartered territory," she said. "Our manifesto is popular, our vision for Britain is right. They have no idea of what they're doing, we are waiting in the wings. We will step in if we are required, if we are called upon to serve."
Asked whether Corbyn could be prime minister in a month, she said: "Who knows? We'll see."